Amazon Q4 2018 Holiday Selling Guidelines
Stock up for the Amazon holiday season
Discuss fourth quarter to an Amazon seller and it would bring out feelings of anxiety and apprehension. In truth, you should be extremely enthusiastic about the potential for amazing profits because the Amazon Q4 is one of the most adrenaline-charged times of the year.
Amazon brought in $35.13 billion in revenue during Q4 of 2017 and they had a record-breaking holiday season for Prime orders. Amazon doesn't have any plans to hold back during the 2017 holiday season and is anticipated to break the previous year's records yet again. If there were any year to grab a piece of the pie, this is it!
As a seller, going into the 4th quarter, opportunists think of it as "WINNING TIME". According to Amazon's quarterly sales information, 4th quarter sales upsurge of at least 30%! There's a saying that goes something like this "As the tide rise, the boat rises with it". It's on you how you handle this increase in sales and the pressure that comes with it.
So as Batman say "Business is the same as sports; you just don't go into the field without proper prep time and a game plan and expect to come out on top".
Amazon recently sent guidelines to its FBA sellers regarding "How to plan their shipments to Amazon on time?"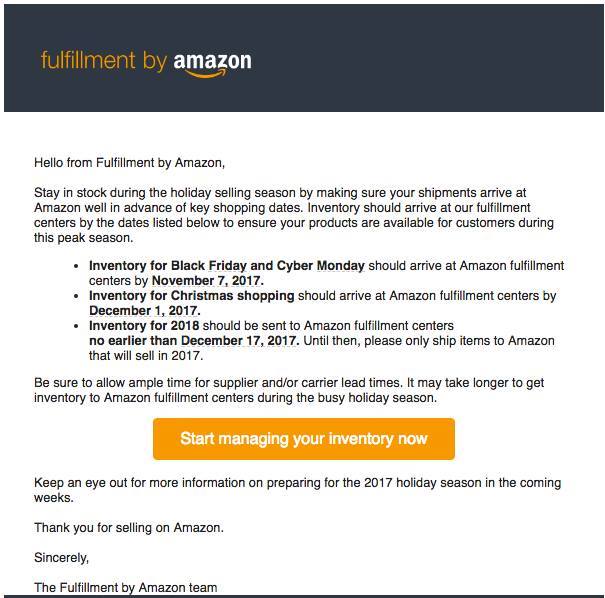 "Inventory for Black Friday and Cyber Monday should arrive at Amazon fulfillment centers by November 7, 2017.

Your Inventory for Christmas shopping should arrive at Amazon fulfillment centers by December 1, 2017.

Inventory for 2018 should be sent to Amazon fulfillment centers no earlier than December 17, 2017. Until then, please only ship items to Amazon that will sell in 2017."
Amazon takes its deadlines for shipment pretty seriously and doesn't accept any shipments once the deadline is up. So make sure your shipments are on time.
You need to ship your products at least 5 weeks prior to the deadlines given by Amazon if you were to ship them by sea. Assuming that you have a 30 days delivery window and your shipment needs to go through customs clearances, ground transportation, and last mile delivery. It should take more time if you are shipping to your own warehouse or 3rd party fulfillment center before moving the goods to Amazon's FCs
If you were to ship by air and assuming 5-10 days delivery, you should ship them at-least 2 weeks in advance for customs clearances and other things.
In summary, remember that Amazon Q4 is a golden opportunity to have huge sales for your business. But don't let the Grinch steal your Christmas! Make sure to place your purchase orders early and consider longer lead times as the entire supply chain is at peak capacity leading up to the holidays. Also, check your margins to make sure you can absorb the higher freight costs during the peak period. By doing this you will be a strong position to WIN Amazon Q4 for your business.
Plan for Post Amazon Q4 Sales and Returns
Just because the holidays end, it doesn't mean the hard work does. Plan your post-holiday sales and returns with SellerApp and read the full article on how to plan the post-holiday sales here
8 Mistakes To Avoid For Amazon Q4 2018
The holiday season is just around the corner, and a majority of Amazon Sellers tend to make more money in Q4 than all the other quarters put together. With unending holidays like Black Friday, Cyber Monday, Christmas and New Years, Amazon is expecting a 41% increase in sales during the holiday season alone.
Still, some sellers make the mistake of not taking Q4 seriously and miss out on huge sales opportunities.
Ankitha Nagaraj, the Customer Success Head at #SellerApp, lists down 8 reasons why sellers fail Q4, and also gives handy tips and tricks on setting up a good Amazon sales strategy for the holidays.
Enjoy the Holidays!
The holidays aren't all about sales. Don't forget to breathe and take in the holiday season. It can be incredibly busy and rewarding, yet you should also make sure to spend time with loved ones. After all, that's what the holidays are all about!
Was this post helpful?
Let us know if you liked the post. That's the only way we can improve.
Customer Success Head at SellerApp
Customer success leader with expertise in coordinating between cross-functional teams in product development and strategy, professional services, sales, marketing and content to deliver excellent customer experience and accelerate growth within the company by ensuring clients' success.