Amazon Prime Day 2020 Seller's Plan of Action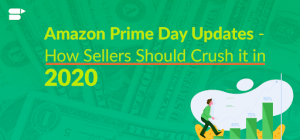 When is Amazon Prime Day 2020 – is one of the most pressing questions of e-tailers right now!
Amazon has delayed Prime Day several times in 2020 due to COVID-19. It is postponing the Prime Day event until at least this October.
Despite being exclusive to Prime shoppers, Amazon Prime Day is the second largest shopping event for Amazon sellers after Black Friday and Cyber Monday. Now that we know the event won't kick-off for a while, we have ample time to prepare ourselves for Prime Day in 2020.
At SellerApp, we provide consultation and management services to our clients. So we know how the Prime Day uncertainty would affect the inventory and sales of our customers. We want our sellers to balance these shopping events in Q4, and create compelling offers to their buyers. For all of you who want to prepare for the Amazon Prime Day in 2020, read this post.
Quick Guide:
When is Amazon Prime Day 2020?
Amazon had previously targeted September as potential timing for Prime Day. However, a recent email to 3P sellers confirmed that the date could be pushed back to another month. The email advised sellers to use October 5th as a 'placeholder date' for Amazon Prime Day promotions and coupons.
Every year, Amazon announces Prime Day at the end of June, and it's usually scheduled around the middle of July. However, Amazon did not announce a definite date for this year.
Will coronavirus impact Prime Day 2020?
Amazon has become synonymous with the e-commerce industry, especially in the US. However, coronavirus continues to disrupt supply chains all over the world, and Amazon is no exception. Since January, Amazon has gone from experiencing supply chain issues to warehouse strains and product availability issues. Though Amazon has been trying to stabilize the marketplace, the unforeseen disruptions will indeed push Prime Day in 2020. At this point, it's impossible to say if Prime Day happens at all. Let's see!
Will Amazon Prime Day get canceled in 2020?
After assessing the current e-commerce landscape, we can say that there are slim chances for Amazon to cancel Prime Day entirely. This e-commerce giant is doing everything in its capability to get a grip on its logistics. So we think outright Prime Day cancellation is unlikely, but if it happens, we'd expect a huge amount of deals and sales lining up for Black Friday and Cyber Monday. This could also expand the sales window of Black Friday and Cyber Week.
A short introduction about Amazon Prime Day
In 2015, Amazon launched Prime Day as a day filled with deals and sales to celebrate its Prime members on its anniversary. The first Prime Day lasted for 24 hours. Since then, Amazon Prime Day continued to expand in size and scope by including more items. The sales event continues to be a massive success. Amazon Prime members purchased around 175 million items worldwide during Prime Day 2019 (Source).
Last year, Amazon Prime Day was celebrated across 18 countries including the US, UK, Netherlands, United Arab Emirates, Mexico, Singapore, India, Germany, France, China, Canada, Luxembourg, Japan, Italy, Spain, Belgium, Austria, and Australia.
Why you should prepare for Amazon Prime Day 2020?
With 2020's unpredictability, sellers often get these questions – Is it still relevant to sell on Amazon? Do we really need to prepare ourselves for the Prime Day event in 2020?
We say it's noteworthy for all the sellers waiting for Amazon Prime Day in 2020.
Let's see why!
Prime Day has become eminent for many reasons. Along with sellers, the shopping event is creating myriad opportunities for retailers like Walmart, Target, eBay, and Google. This halo effect has boosted online sales of small-medium sized entrepreneurs (SMEs) by a significant rate. In 2019, Target announced deal days on Prime Days – July 15th and 16th. On the other hand, eBay announced "crash sale" on July 15th, while retail giant Walmart offered special promotions from July 14th-17th.
Clearly, these retail giants took advantage of the halo effect of Amazon Prime Day, and saw a surge in sales compared to a regular day in July. It means businesses opting for multi-channel selling can further accelerate their sales during this period. Furthermore, we can expect a lot of investments related to marketing, live events, and content curation in 2020 as well. So all these events collectively create a huge opportunity for sellers on Amazon Prime Day.
Pro Tip: As we approach Q4, as a seller, you need to prepare your business to maximize profits. Watch this video, as Ankitha Nagaraj from SellerApp talks about the strategies and mistakes sellers need to avoid while preparing for Q4.
Amazon Prime Day Statistics
Amazon Prime Day 2019 was a record-breaking event. To see how Prime Day played out in 2019, we've underlined a few of the important statistics for you.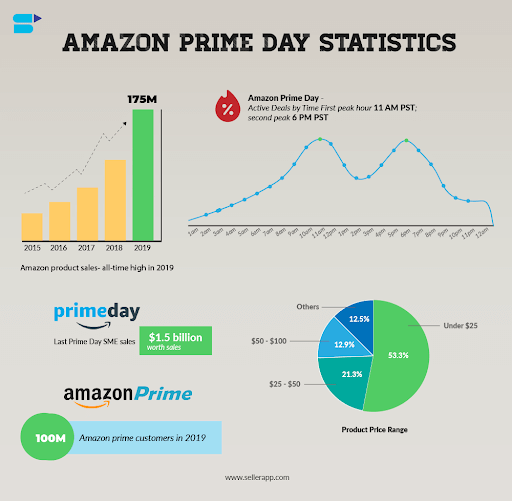 Though Amazon did not disclose the total gross sales, the retailer mentioned that the product sales crossed 175 million in 2019. This surpassed 2018, when 100 million products were sold.
Amazon Prime Day sales grew more than 70% in 2019 compared to the previous year (Source).
As of 2019, more than 100 million customers have Prime membership in the US, accounting for 62% of the total Amazon customer base (Source).
Based on active deals, the first peak was 11 AM PST, followed by the second peak at 6 PM PST. This time was expected to be the most active duration for shoppers during the day and after work.
Amazon US and Japan had the most products available on Prime day – 300,000 items each.
Products were commonly priced under $25, followed by $25-50, and $50-100 (Source).
Electronics, Clothing, Shoes and Accessories, and Home & Kitchen were the most popular segments on Prime Day 2019. These categories are followed by Health, Home & Improvement, Beauty & Personal care, Mobile & Accessories, and Toys & Games.
On the last Prime Day, SMEs sold up to $1.5 billion in sales in 36 hours.
All these figures show that Prime Day's success grew over the years.
However, Amazon Prime Day 2020 wouldn't be the same as the previous year as COVID-19 has changed the entire dynamics of the e-commerce platform. Consumer buying behavior has changed, and there's a sharp shift in the entire marketing ecosystem.
Unsurprisingly, online shopping grew more than ever before. This creates a tug between supply and demand which may lead to delayed shipping and product availability issues. So we can probably say that the Amazon Prime Day delay is for the best interest of the Amazon sellers. This gives them enough room to prepare for Prime Day by reinforcing their inventory operations and addressing the changes caused by COVID-19 disruptions.
Amazon Prime Day deals
Though nothing is off the cards when it comes to Amazon Prime Day deals, we can expect one thing – Top brands as well as Amazon will focus on exclusive deals and product launches on the future Prime events.
While Amazon will be the bedrock for Prime Day 2020, we can see other retailers throwing their hats into the ring. Retailers like Walmart, Best Buy will reduce prices to cash in on Prime Day demand. These deals will include electronic items like Apple iPads, Fire TV Sticks, MacBooks, 8K TVs, and 4K TVs. In these, Amazon owned-products like Amazon Echo, Amazon Kindle, Fire TV Stick, etc will see a huge slash in prices. Along with these, kitchen appliances such as Instant pot, KitchenAid, and OXO can be seen as a part of Amazon Prime Day deals.
Since COVID-19, we've seen some major shortages in a few product categories like fitness gear, kitchen gear, home-office equipment like laptops, and gaming consoles like Nintendo Switch. If coronavirus continues to impact these product categories, we may expect a shortage, or we won't be able to see much of Prime Day deals in these categories. However, with the projected Amazon Prime Day shifted to October, Amazon might bring normalcy to these categories and deals.
Note: As Amazon started investing heavily in gaming, you can expect potential deals in pre-order form on gaming.
How should sellers prepare for Amazon Prime Day in 2020?
There are countless brands trying to leverage a massive customer base on Amazon Prime Day. Whether you are a novice seller or an experienced e-tailer, it's easy to miss out on a few things which can maximize your profits. As you compete with millions of sellers, it gets harder than it looks. So we came up with a few Amazon Prime Day tips to boost your sales in 2020.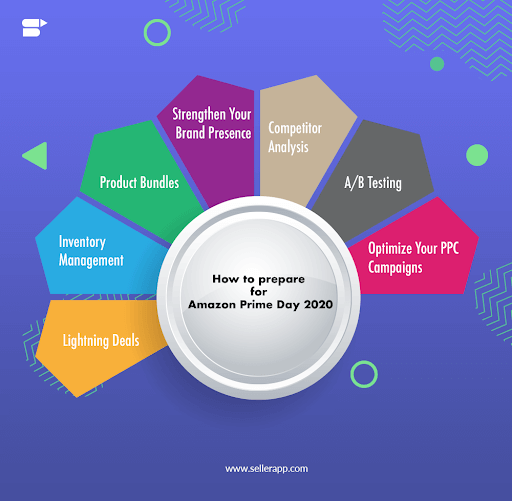 Inventory Management
Evaluate your Amazon FBA (Fulfillment by Amazon) inventory ahead of time. Getting your inventory sorted will help you avoid unnecessary headaches related to inventory management. Besides, if you have a broad inventory, Amazon thinks that you offer more value to your customers.
If you're an experienced seller, look at the past sales trends to correlate the trends and plan for this year's Prime Day. However, if your products are listed in the aforementioned categories affected by COVID-19, the trends may vary slightly.
Lightning deals
Lightning deals play a prominent role during Prime Day. Amazon Prime Day lightning deals are an excellent way to boost your product sales quickly. Though they run for a limited time span, they are a powerful way to increase your sales momentum, and thereby, sales figures substantially.
Note: Lightning deals may not be useful for new sellers, you need to build some reputation beforehand.
Multiple Amazon Prime Day deals
If you're serious about Amazon Prime Day sales, you should definitely consider submitting deals for multiple products with effective prices. Amazon will be flooded with multiple deals on Prime Day, and it might choose only a few of your submissions. So make sure you do enough research and give your best out there.
Create Product Bundles
Your primary goal on Prime Day must be to boost your sales by moving your inventory as much as possible. The best way to achieve this is to create product bundles that complement each other.
Read more about Product Bundles here.
Leverage Social Media
Leveraging your social media channels to build quality traffic to your listings. To make the most out of it, start when you have 2-3 months for Prime Day. Connect with influencers and take measures to build your brand presence on social media. If you have a strong social media presence, you can drive some of that traffic to your listings. You can also highlight any of the promotions you offer.
Competitor Analysis
While doing competitor analysis, you need to keep a few things in mind.
Identify the competitors that are selling alternate products to yours. Identify the major differences in product listings and bridge the gap in your listings to generate more sales.
Identify competitors' brands with high search volume who sell similar products like yours. Track their keywords and target their ASINs with Amazon Sponsored Ads.
These strategies would be beneficial for newly launched products in building decent traffic.
Pro Tip for saturated markets: Depending on your product portfolio, identify at least 5-6 ASINs, and create product targeting & category targeting campaigns to drive new customers to your listings.
A/B Testing
When you have ample time for Prime Day and Q4, start doing A/B testing with listing and prices. Experiment with Amazon A+ content and description to capture buyers' interest. Perform A/B testing with higher and lower prices.
Optimize Your PPC Campaigns
Optimizing Amazon PPC campaigns is a crucial step in your Prime Day preparation. Here is a list of things you need to keep in mind:
Create manual campaigns to increase the search visibility of keywords that drive maximum ROI.
Set up automatic campaigns to find the latest keyword trends and negative keywords.
Group keywords based on their purpose and customers' choice. This makes it easy to understand your audience and track campaigns.
Download search terms report and track it regularly for better conversions.
Final Thoughts
With effective research and planning, you can win half battle. The amount of smart work you put will definitely pay off and create a huge impact on your product sales. With our tips, you'll be able to scale up your Amazon Prime Day sales.
If you're not sure about how to start preparing for Amazon Prime Day or if you need help with your listings, you can talk to our Amazon expert. SellerApp is happy to help!

Customer Success Head at SellerApp
Customer success leader with expertise in coordinating between cross-functional teams in product development and strategy, professional services, sales, marketing and content to deliver excellent customer experience and accelerate growth within the company by ensuring clients' success.
Subscribe to SellerApp Newsletter