The pandemic has led to some dramatic shifts in the way we shop and changed how buyers and sellers interact. To remain relevant, many sellers are moving online to grow and reach new customers.
Today, we have two leading giants in the e-commerce industry: Amazon and Shopify. They both are different and offer diverse opportunities for sellers online. Amazon has over 2.5 billion shoppers visiting every month, while Shopify powers over 1 million businesses through its platform. With figures like that, it can be hard for you to pick the right platform to sell in.
If you are planning to sell online, the starting point is crucial. One of the earliest decisions you need to take is choosing the right marketplace to sell on.
In this article, let's look at the major differences between Amazon and Shopify. Let's see how you can benefit from these two e-commerce platforms.
Quick Guide:
What's the major difference between Amazon and Shopify?
At this point, you already know that you can make money with both Amazon and Shopify. However, you might be thinking that you only have to pay a monthly subscription fee to sell your products on their platforms.
That's not entirely true!
Amazon and Shopify may seem similar, but they work in different ways. You need to bear in mind that Shopify is an e-commerce platform while Amazon is an online marketplace. Millions of people shop on Amazon, so you'll get access to its huge customer base. With Shopify, you get your own space to set up and run a business. Due to these differences, Amazon and Shopify cater to different needs of sellers.
Let's take a deep dive into what they have to offer.
Fulfillment and Shipping
Fulfillment is a huge part of selling online. If it's not up to par, it can hurt your business reputation.
One of the best features of Amazon is FBA – Fulfillment by Amazon. FBA handles everything from storage, packing, fulfillment to customer service. Also, they can fulfill orders across multiple channels.
Shopify is also building its own fulfillment network to rival FBA. However, Amazon's trusted FBA network and free two-day shipping to most of its Prime customers give a tough fight to Shopify. It will take a while for Shopify to meet the standards set by Amazon FBA.
Conversion rate optimization
If you plan to sell online, the conversion rate is your #1 metric to consider. In general, conversion rates on Amazon are insane. Conversion rate optimization is something that Amazon is good at. If you find the right search terms to land in front of your customers, you are going to reap profits.
On a Shopify store, in general, the conversion rates tend to be lower. If you want to convert your customers in the same way as Amazon, it takes a lot of effort to get things right in the first place. So there's really not much upside to consider Shopify in this case.
Additional Read: How To Improve Your Amazon Mobile Conversion Rates.
Amazon FBA vs Shopify selling plans: Which is cheaper?
Amazon offers two selling plans: Individual and Professional selling plans. If you opt for an Individual selling plan, you need to pay a $0.99 fee for each item you sell. This plan is suggested for sellers who sell under 40 items. On the other hand, the Professional selling plan costs you $39.99. Besides, you have additional selling and storage fees for FBA.
Shopify offers you three plans:
Basic Shopify
It costs $29 per month, plus transaction fees
Transaction fees of 2% on all sales that don't use Shopify payment. This comes in addition to credit card fees.
You get features like two staff accounts, an online store with a blog, 24/7 support, discount codes, manual order creation, SSL certificate, fraud analysis, unlimited product listings, third-party POS, and hardware support, etc.
Shopify plan
It costs $79 per month, plus transaction fees
Transaction fees of 1% on all sales that don't use Shopify payment, plus credit card fees.
You get five staff accounts and everything that's a part of the Basic plan. Along with this, you get gift card options, USPS Priority Mail Cubic pricing on qualified shipments, professional reports, register shifts, etc.
Advanced Shopify
Under this plan, Shopify charges $299 per month, plus transaction fees.
Transaction fees of 0.5% on all sales that don't use Shopify payment, plus credit card fees.
You get 15 staff accounts and everything included in the Shopify plan. Besides, you have a report builder and third-party calculated shipping rates.
Along with the above, Shopify offers two more plans: Shopify Plus for high-volume merchants, and Shopify Lite for entrepreneurs.
Shopify offers numerous options for sellers. It gives great flexibility to build your e-commerce business. When it comes to Amazon, costs depend on individual sellers. However, it's hard to calculate the overall costs and budget. You can check out SellerApp's Free FBA profit calculator to estimate the costs and profit margins, and understand if FBA works for your business.
Additional read: Spend the right amount at the right time with Amazon Budget Rules.
Amazon vs Shopify: Which is easier?
In short, Amazon FBA is easy to set up as you won't have to worry much about the selling process. All you have to do is create an Amazon account, list, and sell the item within Amazon's guidelines. That's all. Amazon FBA handles order fulfillment and customer service.
On the other hand, with Shopify, the process can take a while before you set up your own store. Although you can pick a default option to save yourself time, if you really want to take advantage of the options available on Shopify, you need to spend more time.
The answer, however, depends on what you're looking for. If you want to sell online without spending much time setting up, Amazon FBA is your go-to choice. If you want to explore advanced options to improve your online store and customer experience, Shopify would be a better option.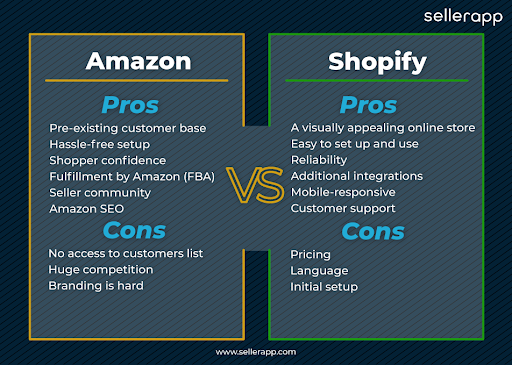 Shopify: Pros and cons
Here are a few advantages of Shopify:
A visually appealing online store
Shopify offers diverse templates to make your online stores unique. You can create a UI-rich store with an exceptional UX.
Easy to set up and use
Instead of relying on other platforms for hosting and developing your store, use Shopify to make your life easier. It is easy to set up and use. The platform admin interface is quite intuitive and user-friendly.
Reliability
Security and reliability are paramount for any e-commerce platform. Shopify is your best bet when it comes to dealing with financial and confidential information. This hosted solution takes care of everything from maintenance to upgrades.
Additional functionalities and integrations
Shopify enables you to customize your store easily. You can also integrate the platform with other apps. This further adds value to your store.
Mobile-responsive
As per Alexis (Editor at Techiecious), Mobile responsiveness is the key to the success of your e-commerce store.
Related: How To Improve Your Amazon Mobile Conversion Rates.
Customer support
Shopify's customer support is commendable. They offer 24×7 customer support from experts. You can get in touch with them through live chat, phone, and email. This ensures that your business runs smoothly and flawlessly.
Disadvantages
Here are a few disadvantages of using Shopify:
Pricing
You need to consider a few elements when it comes to pricing. The first is the monthly fee, then you have the transaction fee, and a credit card fee. Along with this, the platform will charge you for the additional features that you want to use for your store. It can cost you a fortune if you don't see that coming.
Language
If you are just starting and are not technically proficient, Shopify's jargon can trouble you. You need certain technical know-how to carry out the process. This not only applies to their platform but also their categorization and customization rules.
Selling on Shopify definitely demands a learning curve.
Initial set up process
Initial setup on Shopify can be time-consuming. Although the retail platform offers predefined templates to make it easier for brands to set up their stores, it takes a lot of time and effort to get there. You need to make yourself familiar with the platform during the setup process.
Selling on Amazon: Pros and cons
Selling on Amazon comes with its pros and cons: Here are a few of the advantages of selling on Amazon:
Pre-existing customer base
Starting a new business or taking your business online means your marketing funnel needs to be built from scratch. With millions of customers and a good conversion rate, Amazon's SEO strategy makes it easier to rank and sell your products.
Hassle-free setup
Any seller can get started on Amazon. Get your account details right and follow Amazon's guidelines, you are good to go. Setup on Amazon involves fewer steps than Shopify.
Shopper confidence
When it comes to shopping online, customers tend to be reluctant to purchase from unknown stores. With Amazon, sellers benefit from its brand authority and reliability.
Fulfillment by Amazon (FBA)
With over 100 million Prime customers in the US alone, Amazon FBA gives an edge to sellers to gain more sales. Consumers are more inclined to purchase from a listing that is "Fulfilled by Amazon."
Seller community
While Amazon doesn't offer an e-commerce university like Shopify, it does provide a seller forum where sellers can communicate and learn from one another.
Amazon SEO
I can't stop emphasizing the significance of Amazon SEO.
Your product listings need to be well-optimized with relevant search terms. The higher you rank, the better sales you generate. Also, since your listing pages are hosted on Amazon that has high domain authority, chances are that your listings will be visible on Google as well.
Disadvantages
Few disadvantages include:
Access to customers' list
Amazon keeps the customers' contact information private. So it's hard to optimize your sales funnel and understand your customers' shopping behavior.
Huge competition
Amazon is highly competitive when it comes to pricing. Don't forget that you'll be competing against established sellers and some big brands, including Amazon. These brands will have supply chain and cost advantages when compared to you.
Branding
With features like EBC (Enhanced Brand Content) and amazon stores, Amazon is trying to improve branding elements. However, the templates and options are not customizable.
Shopify has a clear advantage when it comes to customization and brand development. It provides everything from business name generator, logo creator to custom URL setup to customize and develop your brand.
Recommended Guide: The Power of Branding on Amazon.
Amazon vs Shopify: Our Verdict
Should you go all-in on Shopify or Amazon? I would rather say not to. I wouldn't advise putting all eggs in one basket. You don't want to miss out on the mutually exclusive benefits of each platform. So incorporating both Amazon and Shopify into your business makes better sense.
For most sellers, Amazon is a better option, especially if you are just starting. For an existing seller, it's nice to take control over Shopify. However, driving traffic is a huge part of selling online, and gaining visibility is a daunting job. Though most sellers may not realize, with millions of shoppers, Amazon makes it easier.
You should use Amazon if:
You are a new seller without a customer base and want to scale your business
You are looking for a hassle-free way to start almost immediately
You don't mind having competition
You should use Shopify if:
You want to build your online presence
You can put extra effort into building your online store
You are not keen on competition
You can wait before you have a consistent customer base or if you have an existing customer base
Using Amazon with Shopify
When both Amazon and Shopify serve their purposes, why don't you use them both?
Yes, you can integrate both Amazon and Shopify. Build your e-commerce empire and capture the shoppers from the world's largest marketplace at the same time in just a few clicks.
If you want to know how to integrate Amazon with Shopify, check out this article.
Final Thoughts
If you want to know which platform to use, you need to figure out how much control you want, how much time and effort you can put in, and ultimately, how you want your business to grow.
The decision gets simplified when you know what you want most for your business in the selling process.
Additional Read:
Hypercharge Your E-commerce Brand With Revenue-Based Financing!
How to Skyrocket your e-commerce conversion rates
Was this post helpful?
Let us know if you liked the post. That's the only way we can improve.