Amazon warehouse deals are one of the most effective, affordable, and ideal ways to find great deals on some of the most popular and latest products. Most of us either settle for the highest prices or wait until the new version of the product is launched so that we can buy the actual one for cheaper.
However, there are some (probably cleverest) who prefer to buy used items (that look like new) instead.
Used items certainly have a stigma attached. If you take tech products in specific, people are often worried about buying used stuff due to certain issues. This could be smartphones with cracked screens, speakers with audio problems, or laptops with out-of-date software.
However, the reality of "used items" is much beyond its negative connotation. Often, what is considered as "used" might have never been used at all.
Items that are open-box & refurbished fall under a broad umbrella term, and most frequently are in amazing condition.
Let's say someone would have received an iPad as a gift but would have really wanted it in another color. So, what do they do? They return it. Since they have opened the new box it cannot be sold as a brand new product.
This is exactly when the price of that product goes down – although it is in perfect condition. This is exactly where Amazon Warehouse Deals come to play.
So, let's understand it in detail.
Quick Guide:
What Are Amazon Warehouse Deals?
Amazon Warehouse is one of the most reliable places to source out open-box & refurbished products. It boasts a wide range of collections from gadgets to large appliances.

Every item comes with a 30-day return policy, which means that you don't have to be worried about keeping that item if you still feel that it isn't that great. You can return it if you no longer wish to keep it.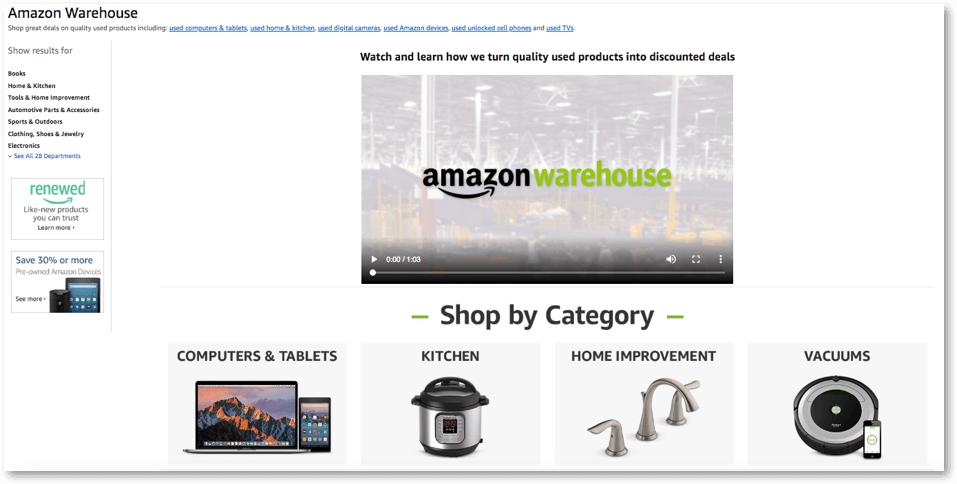 In simple words:
Amazon Warehouse Deals is an integral part of Amazon.com, which specializes in providing big discounts on products that are warehouse-damaged, returned, refurbished, or something that is still in great condition but failed to meet Amazon's rigorous standards to be "new."
Amazon Warehouse Deals offers items in open-box and new conditions.
Any product listing listed on Amazon Warehouse section is inspected and graded before it is sold.
Amazon has a 20-point inspection process to determine its quality before it is sold at a discount.
Purchases made here are backed by its exclusive 30-day return policy.
The best thing about Amazon Warehouse Deals is that every product that they have is inspected properly and given a complete description of its condition so that you will know what to expect when it arrives at your doorstep.
In addition, if you are a Prime member, you will get free shipping on any Warehouse deal that you choose to buy. Be it unlocked phones, Amazon devices, kitchen appliances, or smart home devices, the range of deals at Amazon's Warehouse is something you should check out.
How Does Amazon Warehouse Deals Work?

Credit: Amazon.co.uk
The way Amazon Warehouse Deals work is simple and straightforward:
Amazon receives the product inventory from the seller.
Amazon-qualified representatives check for the product's working ensured.
They test, inspect, and grade the product to determine its quality.
Products are put up for sale at a huge discount for the customers to purchase.
Listing Conditions Of Amazon Warehouse Deals
Every product listing shown on the offer's listing page of Amazon Warehouse Deals is mentioned under a specific condition to help potential shoppers realize what they can expect at the time of purchasing.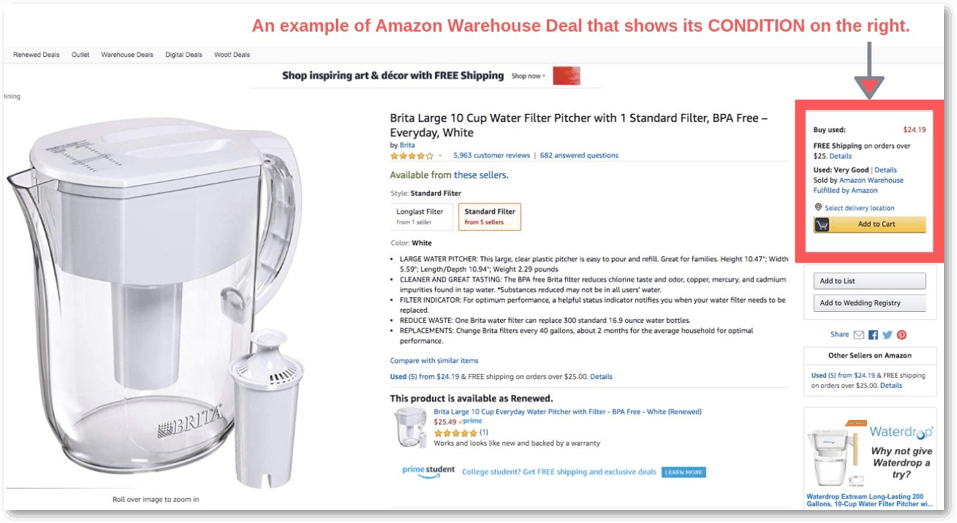 Every item listed on an Amazon Warehouse offer page is described based on these 4 condition types:
1. Used
If an item is categorized as "Used," then it means that it is like New / Open Box and is in ideal working condition.
What to expect?
The item's authentic or protective wrapping might be missing.
The packaging can still be intact.
The product works in a good condition but can have minor damages.
Its instructions will be included.
2. Used – Very Good
If an item is well taken care of, has seen limited use, and works in a great condition, then it is listed under "Used – Very Good." However, it might arrive with a few damages in packaging or the repackaging for some accessories can be missing. However, the missing accessories will be defined clearly for every item.
What to expect?
The item will have very less wear & tear.
The item has minute scratches or damage.
The packaging might be damaged.
The item will still work in an amazing condition.
3. Used – Good
If an item is listed as "Used-Good," then it means that it has been used consistently but still remains in a good working condition. However, the outer packaging can arrive damaged.
What to expect?
The item has been used consistently and might have wear & tear.
The actual packaging of the product will come damaged or might have been repackaged.
It might be marked, which means that it has identifiable markings on it.
A few accessories of the item might be missing like instruction manual or screws (if the product is "furniture").
The item will function properly.
4. Used – Acceptable
If an item is listed under "Used – acceptable," then it is worn out fairly but still continues to work in a good condition. It will show a few signs of wear and tear.
What to expect?
The item might arrive damaged or can be repackaged.
The item will work in a proper condition.
There might be some aesthetic issues like dents, worn corners, and scratches.
A few parts or accessories might be missing such as USB cable (if it is a laptop) or screws (if it is a furniture).
5. Renewed
If an item is categorized as "renewed," then it means that it is a pre-owned product, which has been tested and inspected properly to work as well as look like a new product.
Every item listed under "renewed" will be inspected by Amazon-qualified suppliers, who could be:
A vendor
A seller
Amazon staff
What to expect?
The item comes with a warranty.
The item will have minimal signs of wear.
The item will come in a white or brown box with its accessories (but generic).
It doesn't have visible imperfections or issues when seen 12-inches away.
The item comes with a refund or replacement option but within 90 days of purchase. This is accepted only if the item fails to work as expected.
Any exception about its condition will be mentioned in the DESCRIPTION section.
Some items under "renewed" also qualify for Amazon Renewed Guarantee.
Note: DLC (Downloadable Content) for codes of online play might not be included or redeemed. They might need extra purchases. Also, the missing activation code for any bonus content online might be expired or missing.
About Amazon Renewed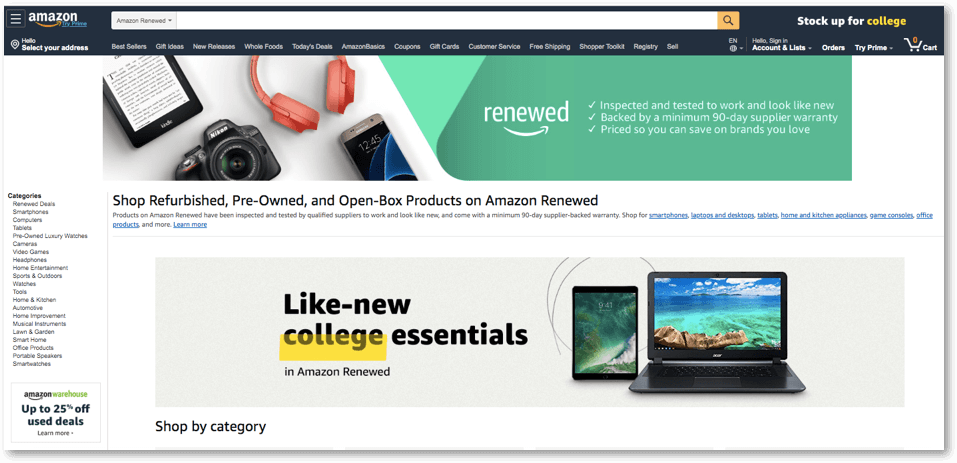 Every item that is listed as "renewed" will be tested and inspected to make sure that it is in:
Good condition
Works properly like a new product would
This job is executed by an Amazon-qualified & performance-managed supplier. As said above, this could be:
Amazon themselves
The actual seller
Third party vendor (when Amazon.com sells sources and sells items from third-party vendors).
The testing & inspection process usually includes:
A complete diagnostic test
Replacing any defective part
An in-depth cleaning process (by Amazon or the supplier)
The items are inspected in such a way that they will have minimum or no signs of imperfections or wear when held twelve inches away.
The items will be packed either in a brown or white box with their accessories (generic). However, wireless devices will not include headphones.
In addition, batteries will also be tested to make sure that it has a minimum capacity of 80%, relative to a new piece. Any exception will be stated clearly on the product's detail page.
As said earlier, any item on Amazon that falls under Renewed will come with a 90-day warranty backed by the supplier. This means that Amazon's qualified supplier will give a refund or replacement within 90 days from the date of purchase if the item doesn't work as expected.
Amazon Renewed Guarantee
The option of Amazon Renewed Guarantee is applicable only on selected Renewed products, which will be clearly mentioned on the product's information page.
It usually covers hardware issues, which weren't caused by the owner like defective parts. Accidental damage, software issues, data loss, and theft aren't covered under this guarantee.
Amazon Renewed Guarantee provides you:
A refund or replacement within 90 days from the day of purchase if the purchased product doesn't function properly.
The same return policies (standard) is applicable on renewed items if they don't look new.
A fast and hassle-free support for claims.
Free troubleshooting from Amazon's single point of contact.
Claim Procedure for Amazon Renewed Guarantee
A customer can contact Amazon's support at any time at its toll-free number 1-800-362-5703 through the "Your Orders" page.
Step 1: Go to the Your Orders page.
Step 2: Click on the button – Get Product Support, next to the renewed item your purchased.
Step 3: If you don't see this button, you can contact Amazon from the toll free number mentioned above.
When you do these steps, a customer associate will troubleshoot your issue with the product.
If this troubleshooting process fails to fix your problem, you will get another unit as a replacement if it is available.
But if the unit is not available, you will receive a complete refund. Keep in mind that the option for replacement is available only for products that are Fulfilled by Amazon (FBA).
You will have to return the defective unit though but without any charge. But if you don't return the item within 90 days from the day of purchase, you might be charged with the actual amount you paid for it.
If you choose to receive a complete refund and buy a new product, which has an applicable shipping cost, then, it should also be paid.
Note: If the defective product happens to be a smart gadget, make sure to take a backup of all the data, turn off phone tracking features, and do a quick factory reset (so that all your personal data are removed) before returning it. If you don't do these steps, the device won't qualify for a refund or replacement.
Amazon Warehouse Return Policy
Items shipped from Amazon Warehouse can be returned within 30 days from the date of shipment. However, a few items can have different requirements or policies associated with them.
Open box or used products bought from Amazon Warehouse can also be returned within 30 days from the date of shipment. However, a few items can have different requirements or policies associated with them.
Certified Refurbished products can be returned within 90 days from the date of shipment.
Amazon Warehouse Deals: What Does It Mean To Sellers?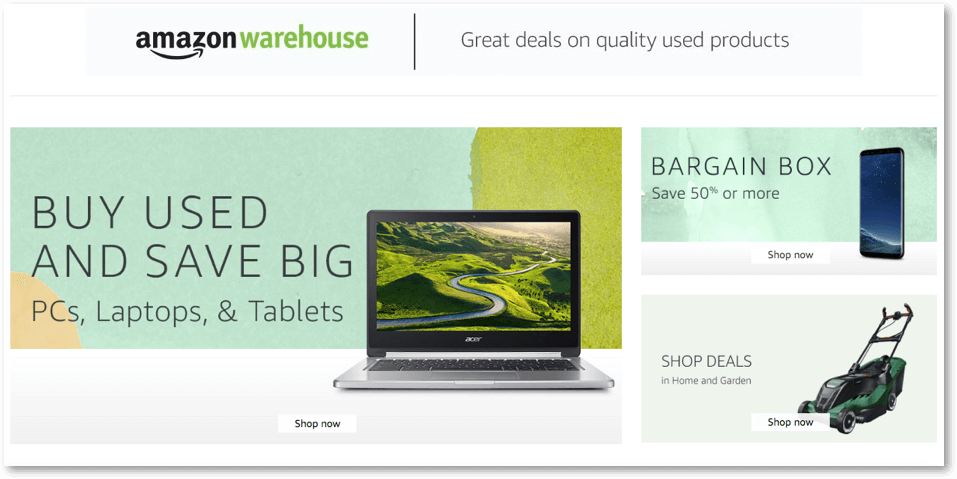 Certainly, Amazon Warehouse Deals won't be able to compete against Buy Box. Also, according to FBA's Lost & Damaged Inventory Reimbursement Policies, a seller can reimburse only for items that are lost/damaged but under the control of Amazon.
Recommended Guide: Amazon FBA Reimbursement.
What is FBA lost & damaged inventory reimbursement policies?
Whenever your inventory is damaged or lost, especially when it is under the control of Amazon (damaged by Amazon's partnered carrier, or at the time of delivery, or in the fulfillment center), Amazon will either:
What will be the replacement value for sellers?
Amazon takes multiple factors into account while determining a product's value, even including:
A seller's sales history
Average selling price of FBA on Amazon
The sales history of a particular ASIN
Now, if they do not find adequate information that could determine the product's value, then the value for replacement is evaluated based on the default replacement.
If you receive a default replacement value and further, choose to request for a reevaluation, then, Amazon might request further information like:
Note: The replacement value won't exceed 5000 USD for any item.
If an item is valued to be above 5000 USD, Amazon recommends you to consider buying a third-party insurance.
What Does Open Box Products Mean?
When you see a product marked – open box – it means that the item has been opened. And it has been likely returned for certain reasons, but not because it is damaged.
Based on a research report published by Accenture, only 5% of returns are associated to product defects. So, an open-box item could just be something because a shopper might have changed his or her mind about it. Or maybe, the buyer might have returned it because he or she would have decided to go for another color or another brand.
Therefore, to shoppers, this could mean like buying a brand-new product – unused – and for a good discount.
An open-box item is typically returned goods or floor models, which have been tested, inspected, and graded to ensure that it works like its new version.
However, this might not be the case always. Unlike Amazon, most stores let you return the items only after a couple of weeks. Consequently, these open-box products would have noticed some use.
Probably, a little cosmetic damage or wear than it was originally. Open-box items can also be some floor models, which a particular online store might have used to display the items to its buyers.
7 Things to consider before purchasing an Open-Box
Before you buy an item that says "open-box," make sure to consider these points:
1. Return policy
Though most open-box items will work fine, a few might not. This is where "return policies" play a key role. So, make sure that the open-box product comes with a proper return policy.
2. Cost to return
If an online store has return policies, you will also have to check whether there is a fee for restocking, or you might have to pay for returning the purchased item.
3. Warranty
At times, the warranty from the manufacturer might be still applicable to an open-box product that you have purchased. However, this is not the case all the time. So, check for this factor too.
4. Location it comes from
Try to find if the item was actually a return. If yes, what was the reason behind the return? Was it a floor model? Or perhaps, something else? These answers give a great hint about the product's condition.
5. Damage
If you are in a physical store, you can see the damage or ask the representative before you purchase. However, this is not the case with an online store. At such times, look for pictures properly.
6. Accessories
Sometimes an open-box item might not include its user manual or accessories. Though you can easily get those manuals online from the manufacturer's official website, the case with the accessories are different. So, make sure to look for that.
7. Worth
You might think that all the open-box items are big deals, However, this isn't the case always. Unless you are getting a nice discount, open-box might not be worthy enough.
Where to buy open-box items?
The best place to buy an open-box product is from:
Amazon
Best Buy
Newegg
eBay
Our Pick: Amazon
So, what's with Amazon Open-Box Deals then?
Since it is Amazon, you don't have to worried about the quality. Though it sells open-box items to customers, it always double-checks to ensure they are in proper working condition. Moreover, they offer 30-day standard return policy just as you get with any other item after you purchase.
Other FAQs of Amazon Warehouse Deals
Here are a few frequently asked questions related to Amazon Warehouse you might want to make a note of:
1. What is Amazon Warehouse?
AW (Amazon Warehouse) is a part of Amazon's business, which:
Sells used products at great quality
Rents used textbooks
It is a trustworthy and best place to look for deals on used items.
2. Why should you buy from Amazon Warehouse?
Shoppers can locate big deals on thousands of used products (high-quality) on Amazon Warehouse. Every item listed here is tested, graded, and inspected with the help of its stringent 20-point quality inspection process before it is put up for sale at a discount.
It comes with dedicated customer support and a 30-day return policy just as you buy any new product on Amazon.
Trust: You can shop with confidence even if it is a used item.
Great deals: You will receive amazing deals from its wide range of collection.
Sustainability: Buying used items is eco-friendly.
3. Do items sold on Amazon Warehouse (AW) have a warranty?
No. Generally, any used item will not come with its manufacturer's warranty. However, it is Amazon who is selling it and hence, it is backed by its 30-day return policy.
4. What is the replacement policy for Warehouse products?
Every product is unique and so is its nature. Therefore, Amazon does not offer replacement options for items bought via its Warehouse. However, customers can choose to return the item if it doesn't work properly, within 30-days from the date of purchase and get a full refund.
5. Do products sold on Amazon Warehouse have Free or Prime Shipping?
Yes. A few items qualify for prime or free shipping.
6. How to evaluate an item's condition?
Amazon tests every item thoroughly to make sure that its condition is right before selling it to its customers.
7. Do products on Amazon Warehouse deals eligible for super-saver delivery?
Yes. Amazon's standard shipping policies and rates apply to these items, even including Free & Super Saver Delivery but only for qualifying orders.
8. Why does the inventory on Warehouse Deals keep changing?
Since Amazon specializes in warehouse damaged, returned, refurbished or used products, they cannot predict a future availability of any item. Therefore, if you truly want a product, make sure to check frequently.
Conclusion
Amazon warehouse is one of the best ways to look for used items but yet in great working condition. It is a great way to save money. So, what is your take on used items and from where do you buy it, and what was your experience like? Share with us in the comments section.
Additional Resource:
Buying an Amazon FBA Business.
Amazon Average Order Value (AOV).
How to Turn Your Amazon Side Hustle into a Full-Time Gig
Was this post helpful?
Let us know if you liked the post. That's the only way we can improve.