Third-party sellers who source their products via arbitrage and resell on Amazon choose the popular models: online arbitrage or retail arbitrage,
What is online arbitrage? What is retail arbitrage? In this article, let's look at these two popular business models.
Quick Guide:
What is Arbitrage?
Arbitrage is a way of reselling in which a reseller researches and gathers information on a product's selling price before making a purchase. The reseller capitalizes on the price differences in different markets.
In this model, the merchandise is usually paid upfront, and the reseller may not pay to place minimum orders.
Amazon arbitrage is a reselling technique that is increasingly popular among sellers. Amazon sellers find products either in retail stores or online stores that sell cheaper than the prices on Amazon. Few sellers use a scanning application to identify profitable inventory.
When it comes to Amazon arbitrage, there are two ways to go about it: online arbitrage and amazon retail arbitrage.
Online arbitrage vs Retail arbitrage
The good thing about arbitrage is that you don't have to choose or stick to one specific method. Instead, you can use both at the same time or at your convenience.
What is Online Arbitrage?
In online arbitrage, you buy a product online for a lower price and sell it at a higher rate.
Online arbitrage is easy, and you can do it in the comfort of your home. You might find some popular products on marketplaces like AliExpress and list them on Amazon at a decent markup. 
You have to pay for shipping and other additional costs on each item sold. You will be left with a small profit. Make more sales, and you can build a solid customer base, which can lay the initial foundation of your e-commerce business. At times, we also see established e-commerce businesses opting for online arbitrage when they run out of stock or are looking to expand a new range of products.
In short, in the online arbitrage model, you spot pricing disparities across different marketplaces or online stores and capitalize on them. The entire process takes place online, and sellers won't even have to touch the product.
Most online arbitragers take advantage of the large customer base of Amazon and sell the products on the marketplace along with the other marketplaces.
What is Retail Arbitrage?
Retail Arbitrage on Amazon is another yet simple concept. You go to a retail store to find a product, purchase it, and sell it at a higher price. This way, you'll get some profits.
Some liquidation stores sell products at very low prices compared to Amazon retail prices. Merchants buy these goods and sell them for a profit. This model works because most of the consumers do not have access to such liquidation stores and choose to pay full price on Amazon.
Scalability with retail arbitrage
Traditionally, retail arbitrage is a quick way to start a business and make some extra cash using eBay or Amazon. With minimal risk, it's a gateway to Amazon FBA.
When it comes to inventory, you can stock the items in any quantity you want, and you don't have to wait for the item to be manufactured or shipped. All you have to do is get the items to the Amazon FBA warehouse, list them, and sell them. The process is simple making it easier and the most popular way to start a side hustle with low investment.
Once you establish a successful retail arbitrage business, you can venture into other models like private label, wholesale, brands, or a mixture of all.
In financial terms, as a new seller, it may be hard for you to make large investments to build a private label business or your own brand. Retail arbitrage is a great way to get started with your e-business.
Recommended Post : Amazon Warehouse Deals: A Complete Guide
What's the problem?
There are a handful of issues when it comes to scaling your retail arbitrage business. The main thing is that it eats up your time.
You spend time to:
Find deals, coupons, and sales on different platforms
Scan barcodes on shelves of retail giants like Walmart
Layout and sort the items you brought
Package all the items in bubble wraps and boxes
Retail arbitrage isn't that bad when you are starting out. Moreover, packing and selling the products can give you a sense of accomplishment. However, the time spent going to the retail outlets, scanning shelves, prepping, and shipping the products consume a lot of time and effort. But, the sales rolling in can be uplifting and offers motivation to get going.
What Do You Need for Online Arbitrage?
You need some time to invest before setting up your online arbitrage business. You can also use some tools to stay productive and save time.
Product research
Exceptional product research is essential to find what's new or what's sustainable in the market. Usually, consumers are not sure about the new products' prices. So this offers an opportunity to gain high margins. Use Google Trends to find trending and in-demand categories. You can also use SellerApp's product ideas to find trending and profitable products on Amazon.
Analyze competition
You need to track certain metrics to analyze competition on Amazon. Look at sales trends and the number of sellers that you have to compete with.
Use pricing tools to monitor a product's price over time. Set up alerts for listing, pricing, and others.
Go to SellerApp's dashboard > Tools > Business alerts
Add a specific product of your choice, and set alerts for pricing, reviews, ratings, or more.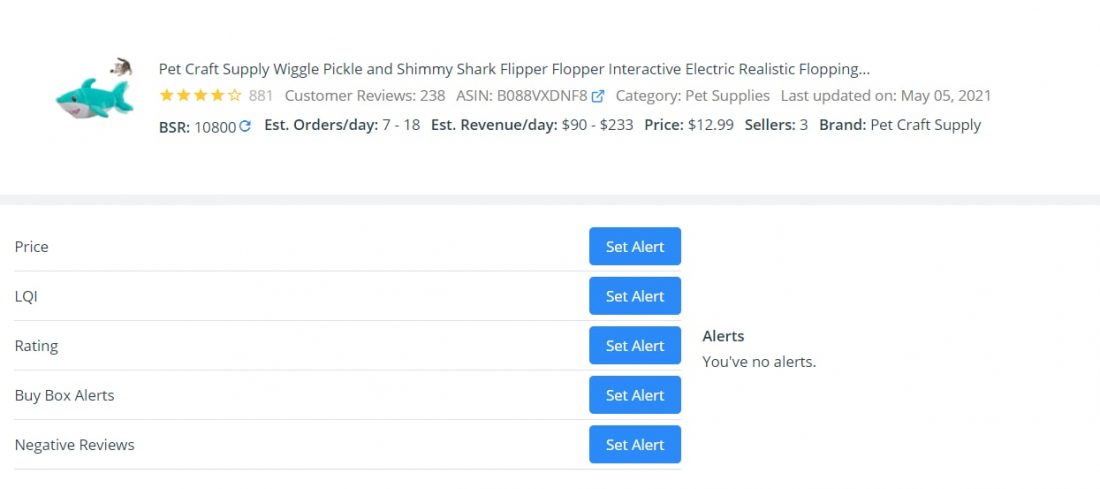 You can use SellerApp's Chrome extension on the go. Install our extension, log in, and open a product page on Amazon. You can also estimate your profit margins, and track keywords on the go.
Have a set of Amazon selling tools handy, so you can scale your efforts. Sometimes, these seller tools may demand a learning curve, so you can try different tools and make yourself comfortable. On the other hand, you can also check out SellerApp's free tools that are very user-friendly for beginners.
Beware of costs

One of the common reasons why sellers fail in the arbitrage model is that they are more focused on revenue and not on the actual profits.
No matter how many sales you close, when you deduct all your costs, you still have to make a decent profit to be successful. To stay profitable, here are a few essential costs that you need to keep in mind before starting an online arbitrage business.
Purchase costs: This is obvious. You need to factor in the cost of purchasing your inventory.
Marketplace fees: Amazon charges you $39.99 as a monthly subscription fee, along with that, you'll have referral fees. It could be anywhere between 8% and 17% of your selling price. Other products such as CDs and books have a closing fee. So ensure you are familiar with all the Amazon seller fees.
Fulfillment costs: With Amazon FBA, you can have the retail giant take care of your picking, packing, shipping, and customer service needs. Using FBA offers advantages such as Amazon Prime access, Buy Box visibility, etc. However, they come at a certain price. You need to pay fulfillment fees, storage fees, and long-term storage fees. If you don't choose FBA, calculate your costs separately along with the customer supports costs.
Other costs: It includes all other costs like subscription costs, wages, and marketing costs.
When you are starting, Return on Investment (ROI) is a critical metric to watch out for. You can aim for a minimum of 35-60% depending on your niche. This way, you can quickly become profitable.
General Selling Questions on Online Arbitrage
Can you be successful with online arbitrage?
Many gurus or platforms may say that online arbitrage is easy. However, one should keep in mind that it is not a get-rich-quick scheme.
The main part of it is being able to source your products at a lower price. Sellers need to invest some time, money, and effort. It may take a few months to see real results.
Is online arbitrage legal on Amazon
Yes. You should identify the brands that allow only authorized resellers. Avoid sourcing counterfeit items as Amazon's strict rules are against them.
Final thoughts
Online arbitrage or retail arbitrage can be a profitable business or side hustle. If you're selling on Amazon, you have to make the best use of some free tools available for Amazon sellers.
Was this post helpful?
Let us know if you liked the post. That's the only way we can improve.