When it comes to online retail business, one of the most vital aspects is handling the "payment" process. Talking of this, you must have heard about amazon receipt generators. So, what are they and how can you get a copy of your Amazon invoice in order to manage your business more effectively?
Let's understand every little aspect related to Amazon Invoices today.
Quick Guide:
Overview of "Pay by Invoice"
Amazon Business has helped and connected millions of sellers to reach new customers. Besides their massive reputation and dominance in the online retail market, they recently made an announcement of offering an exclusive payment method known as "Pay by Invoice" to all its Business Customers.
What is Pay by Invoice?
"Pay by Invoice" is one of the most useful and new payment methods available for all Amazon Business customers.

Pay by Invoice gives capable or qualified Amazon's Business customers an option to get a clear invoice with an extended due date for payment.
It signifies a new and better growth opportunity for sellers by making Amazon the main channel for all B2B purchases.
How does Pay by Invoice work?
Whenever an order ship, as a seller, you will be sent a clear, itemized invoice. However, the payment will be still due to Amazon.
Customers can view this invoice from their Your Orders page > Your Invoices page.
Also, you can track your invoice status & due dates within the Order History Reports or Your Invoices page. You can also pay for the invoices through:
ACH (Automated Clearing House)
Check
Wire transfer
Who can access Pay by Invoice?
As said earlier, Pay by Invoice is available currently for Amazon Business customers.
With "Pay by Invoice," you can:
Place an order on an open account instead of a credit card.
Look at your account balances, payments, and invoices online in a single place.
Set up different buyers and then, track how they spend on Amazon.
Streamline account reconciliation with the help of itemized invoices.
Generate enhanced or detailed reports via inbuilt analytic tools.
Search & download payment invoices by transaction amount, date, and purchase order.
What does this mean to sellers?
As an Amazon seller, you don't have to do anything in order to make your products available for purchase via Pay by Invoice. Instead, your items will become available automatically for invoiced purchasing without any effort or added fee.
This means that Amazon will take care of everything associated with the invoicing process, even including:
Billing
Collection activities
Credit risk assessments
For every transaction that you do through Pay by Invoice, Amazon guaranteed all your payments, even if Amazon's Business customer delays it or defaults their payments to Amazon.
In addition, for any invoiced order, which you get on Amazon, your payments on this type of order will be credited to your Selling account once the respective customer's payment is processed.
This means that you will get your payments even faster.
Amazon is trying to extend its ability to get your payments faster for all your invoiced orders.
With this option, your payments for all your "Pay by Invoice" orders will be credited to your Selling account right after the shipment with a processing fee of 1.5% of the total invoiced amount of an order.
How to set up Pay by Invoice?
Note: An approved Amazon Business customer can purchase products on credit through Pay by Invoice. However, this is available only after you receive an invitation from Amazon.
In simple words, Pay by Invoice is a well-known payment method, which gives approved or qualified Amazon Business customers an option to buy products on net terms.
So, what happens is Amazon sends a clear and single invoice for all items that are shipped within 5 days. The payment information and due date for the same will be included in the invoice.
If your business qualifies for Pay by Invoice, the account admin receives an e-mail for approval along with the payment terms, credit limit, and guidelines on how to set up.
Step 1: Click on the link given in the approval e-mail.
Step 2: Once approved, you will have to set up your invoice templates.
Step 3: Enable the "shared settings" for your account as well as any group that needs Pay by Invoice.
Here's how you can enable shared settings: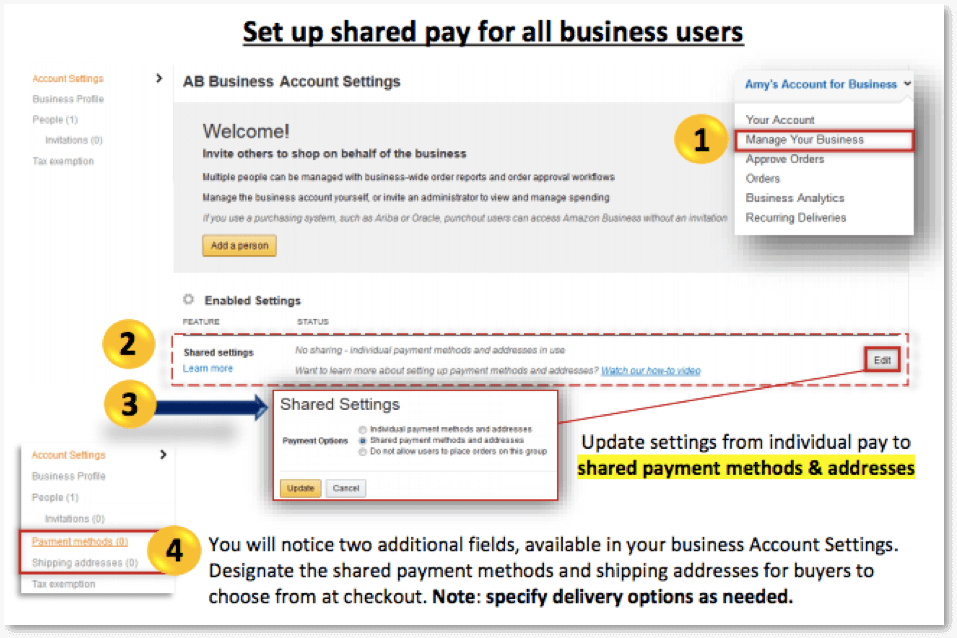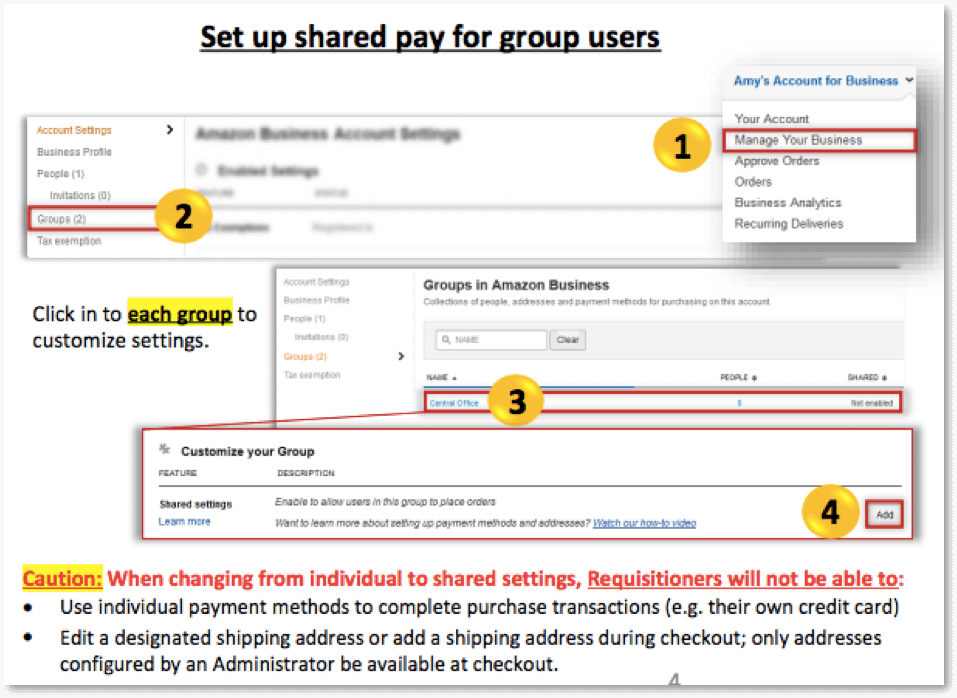 Shared settings will include shared payment methods. These are added as well as managed by the administrators. However, it can be used by anyone associated with your business/group.
By default, an Amazon Business account will be set to individual pay automatically, meaning that a business user can place an order using his or her individual, own – rather than a –shared payment method.
Note: "Pay by Invoice" will only work after you enable the shared settings.
Step 4: Configure the "Pay by Invoice"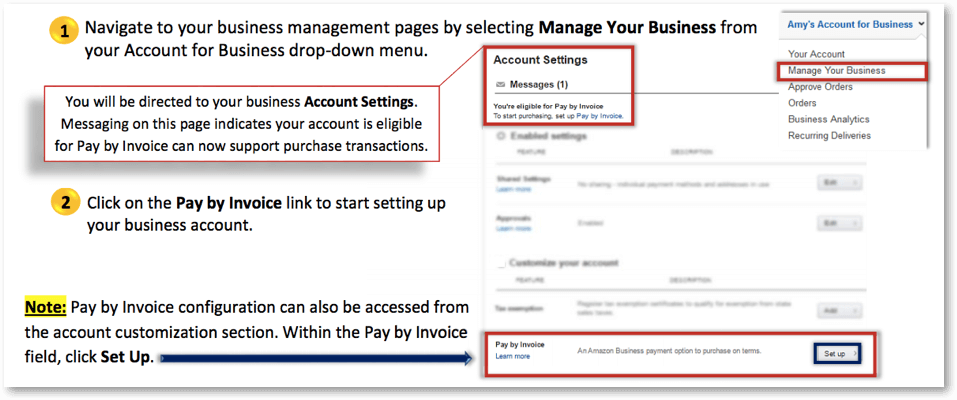 Credit: amazon.com
Configure your Amazon Business (AB) account and set up your purchase settings.
Step 5: Add your "Bill-To" contact details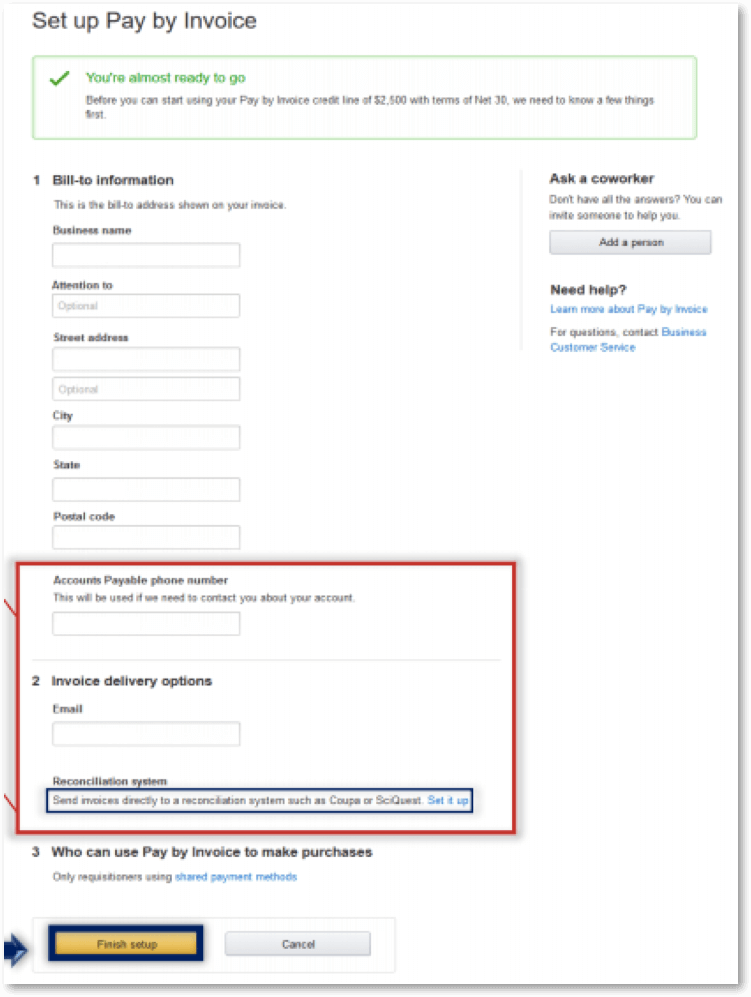 The name & address entered in this stage will show up on all the invoices. The "Bill-To" contact details should have correct contact information, which Accounts Payable will require on each invoice.
In the field named Accounts Payable phone number, enter the right number, as this serves as a POC (Point Of Contact) during issues like payment not received.
Note: The email address and phone number entered here don't have to be affiliated with any of your existing business user.
At the bottom, you will see something called Reconciliation System. This enables the option to send digital invoices to the reconciliation system (internal) directly. If you want this option to be enabled, click on Set it Up.
Finally, click Finish setup.
How to place an order using Pay by Invoice?
At the time of checkout, you will see multiple payment options available for you to pick from.
Verify your desired payment mode:
Step 1: Select Pay by Invoice radio button as your payment method.
Step 2: Click on the continue button to proceed further.

Step 3: Once you click the continue button, you will be redirected to a detailed summary order page where you can review your orders and update an order detail if you want.
Step 4: Select the button – place your order – once you complete the purchase transaction.

How to receive invoices?
You can use invoices to reconcile your orders and shipments. Once the products are shipped, you will get an email, which will contain your invoice's PDF copy as an attachment. The summary of the emailed invoice will include links to see your order information and itemized invoiced details. Click on the View invoice button to see your invoice details.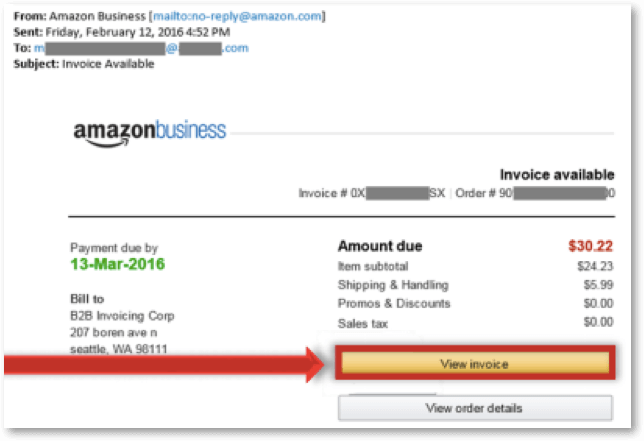 On the other hand, if you get a credit to your account, this information will be sent to you in another email along with the details of your credit memo.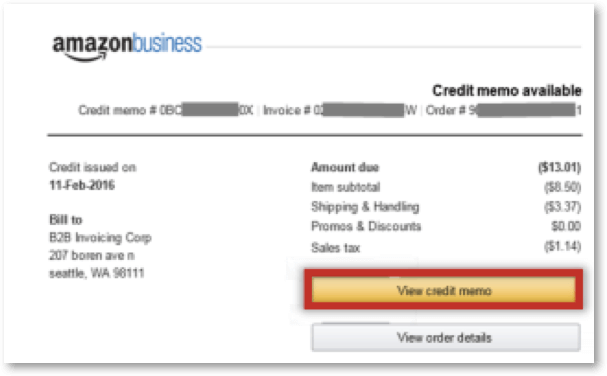 To access your invoice, go to your Account for Business dropdown menu.
Select the option Your Account.
Click on the button – Your Orders.
Click on the option called View order details.
How to remove a Group from an invoice template?
If you wish to disable Pay by Invoice for a group, you can do it any time by eliminating the invoice template for that particular group. However, the group might continue to use its shared settings with other payment modes (example: a credit card that is shared).
In order to remove a particular group from the invoice template and disable Pay by Invoice for that particular group, here is what you need to do:
Step 1: Sign into your business account. Choose Business Settings.
Step 2: From the Billing & Shipping section, click on the option Pay by Invoice.
Step 3: Find your group's invoice template that you wish to remove it. Select it.
Step 4: From the drop down menu called Actions, select Remove.
Step 5: Now, choose the group that you wish to remove. Click Remove groups.
Note: In order to check which receipt or invoice preference has been assigned to the group, an admin can go to the drop down menu Actions and click Add groups for an invoice template. This shows the list of all the groups as well as the invoice templates, which they are using currently.
How to add Accounts Payable Contact Information?
A business admin can add a primary & secondary (dedicated) Accounts Payable contact details to their respective Pay by Invoice account. When this information is added, it ensures that Amazon is contacting the right individuals in your company for payment related reminders or questions.
To set up Accounts Payable contact, here is what you need to do:
Step 1: Sign in to your business account. Select Business Settings.
Step 2: Go to the page – Pay by Invoice.
Step 3: Click on the Pay by Invoice settings. Choose Change.
Step 4: Now, update your Accounts Payable contact details.
Step 5: Choose your country from the drop down list. Next, enter your correct phone number.
Step 6: Click on the Update button to save the changes.
Note: The Accounts Payable contacts will not get any invoice or credit memo unless they're authorized users. This is in accordance to the Pay by Invoice Policies.
How to view invoices & account balance?
You should be an admin for a business account in order to view the invoice and account balance.
Now, if you are an admin for a specific group, you will have access to such details only for your group.
An admin can take the following steps in order to view the invoice and account balance:
Step 1: Sign into the business account.
Step 2: Select Business Settings.
Step 3: Select the option – Your Invoices for Pay by Invoice.
How to reconcile your invoice?
Business & group admins can use Amazon Business Analytics in order to reconcile their purchases made via Pay by Invoice.
Business Analytics let admins to download a report, which shows details about their purchases made via Pay by Invoice, including Invoice Due Date, Invoice Status, Invoice Due Amount, Invoice Issue Date, Payment Date, Payment Reference ID (or Invoice ID), Payment Amount invoice details.
In order to view invoice in report view, follow these steps:
Step 1: Sign in to your business account. Choose Business Analytics.
Step 2: Under the option Show, choose Orders.
Step 3: Once the necessary data is chosen, click on Download CSV.
Step 4: Open the downloaded CSV file. View the information about your purchase(s).
Step 5: The purchases made via Pay by Invoice will show in the column – Payment Instrument Type.
Note: You can download the PDF Invoices in bulk. Just Select all orders and click Download.
When Does Amazon Ask For A Supplier Invoice?
As of now, Amazon is asking sellers to show invoices from their suppliers quite frequently. Now, this type of invoice request can trigger a lot of complaints around authenticity, condition, and quality.
Besides this, Amazon also asks for invoice after you make your first sale, especially if its algorithm decides that complaints may arise in the future.
So, why do they do this?
Well, to protect the marketplace's integrity and to prevent buyers from selling counterfeit products on Amazon. They want to know if your products are new, safe, and of course, whether you have purchased them from a legitimate supplier or not.
It is that simple.
So, when does Amazon requests for a supplier invoice?
An invoice request from Amazon can occur when when a brand or a buyer files an inauthentic product complaint against you. However, Amazon will also request for an invoice whenever there is:
A complaint about the item's quality
A complaint about the item's authenticity
An item that is not in the condition as it is described to be
A problem with the item's condition like "used sold as new"
A concern about the item's safety
A typical request from Amazon will look like this:
"We removed a few of your product listings due to buyer complaints on the products they ordered and purchased from you. These items failed to match the description or of the item mentioned in your product's detail page.
The complaints about such listings are attached with this email.
Include the information for every ASIN with "Used Sold as New" complaints:
—Receipts or Invoice copies from your suppliers that were issued in the last 1 year.
— Contact details of your supplier, including phone number, name, website, and address."
Amazon also verifies the product's authenticity earlier during the process of seller vetting. Now, they frequently request for invoices as well as supply chain proof prior a product makes a sale.
Though there hasn't been any complaint in such cases, the automated tools of Amazon flag the listings for a verification upfront. This is indeed an aggressive and new move but less than a nightmare for drop-shippers because they will not have any invoice until they make a sale.
How to tell if Amazon will accept my invoice or not?
Firstly, do not give an opportunity for investigators to reject or disapprove your invoice, or perhaps, even make them suspect your supplier's legitimacy.
Before sending the invoice to them, you double-check and try to look if there is any unclear information or gaps that can make investigators wonder and make them figure out a few things.
A bad documentation of your supply chain can lead to more troubles and isn't only about blocking your product listing.
If your account annotation shows similar issues in the past, note that your whole selling account will be a potential risk.
It is important to have all your documents handy, before Amazon could even request for them. Also, if you have those authenticity letters from your supplier on a proper letterhead handy, that's ideal.
As far as the invoices are concerned, check with your suppliers against these points prior sending them to Amazon:
1. Dated within 1 year
Maintain a complete record of when you bought the stock. Now, if you have your inventory just sitting in their fulfillment centers and which Amazon considers as an "aging inventory," you will have to discard it before it reaches the 1-year mark.
An invoice that is more than 1-year-old will not be accepted. So, having an inventory older than this period is a potential risk.
Just for one ASIN, you probably don't want to put your whole selling account at risk. However, if this issue repeats, Amazon will do a complete review eventually followed by an account suspension. And you definitely don't want that to happen.
2. High quality & legibility
Check if your invoice can be easily read. Assume yourself as an investigator and check it.
As an investigator, will you want to see a smeared PDF that were badly scanned and blurred photos?
Certainly not!
So, how can you expect investigators to do the same?
Your invoice should look professional and clear so that investigators can locate every piece of information that they require.
Specifically, ensure that the supplier's logo is not blurred and the colors exactly match what is on the brand or supplier website.
Pixelated logos, or placing it in the wrong place, or color mismatches creates doubts that they have been moved or changed. This triggers further concerns and says that you have photo-shopped the document.
Also, ensure that the lines intersect correctly and don't look as if someone has edited the numbers or texts. You don't want Amazon to think that you have generated fake invoices.
3. Handwritten documents
Never ever do the mistake of sending Amazon handwritten invoices. Even if you say that your supplier has sent you the same, it won't do any help either.
Amazon never accepts handwritten documents. So, make sure that you get a proper and clear invoice ready from your supplier. Old-fashioned invoices won't work anymore.
4. Link of the supplier's website
Make sure that your supplier includes a link of his or her website in the invoice. Until 2017, the Product Quality team of Amazon didn't insist on this, but now they want the website URL there in the document.
So, make sure that there is a proper link included, as this helps prevent the feared email that says – "cannot verify supplier."
5. Matching addresses
Most sellers fail to do this, but it is something very important to do. Double-check if your address mentioned on the invoice matches the address given in the Seller Central.
It takes a minute for Amazon to reject an invoice if there is an address mismatch. So, keep this information updated.
Also, suppliers' addresses should also match with what is given on their website. If this factor fails, Amazon rejects the invoice and says it to be "unverifiable."
6. Professional website
Ensure that your supplier has a professional-looking website. Make sure that their website URL doesn't say – "underdevelopment" or "under construction" or land to another page.
Investigators will check for every little information to be sure where you are sourcing all your goods from. Therefore, a supplier without a website will be discarded. Amazon consistently sends emails saying that your supplier is "non-verifiable," especially if they cannot detect any online presence.
7. Sale quantities should match the invoice
The quantities mentioned on your invoice should match your sales on Amazon. Now, if your sales volume exceeds the total units mentioned on your invoice, Amazon rejects them and disallows future listings for that particular ASIN.
To be safe, ensure that you give adequate invoices for 90 days (at least) worth of sales.
Will Amazon contact the suppliers directly?
Undoubtedly, YES!
An Amazon investigator will constantly call the supplier over the phone as well as check online for their presence. They do this to make sure that your supplier is legitimate. Sometimes, they will email, but mostly, they will do a phone call and have a conversation with your supplier.
So, this means that you will have to provide the proper phone number of your supplier to Amazon.
Tell your suppliers that they can get a call anytime from Amazon. If Amazon suspects a roadblock while talking to them, they will reject your invoice.
What happens if you don't have any invoice to send to Amazon?
The answer is straightforward. You will not have any access to the ASINs that Amazon has taken away from you. This will also create further doubts and will ask for proper documentation for other items that you have listed.
What about dropshipping then?
A person who does dropship will not have any invoice until he or she generates a sale. Now, if Amazon desires to check them prior to the sale takes place, then you are certainly out of luck.
Note that any product listing, which Amazon flags it for a review, whether it is a sale or an order, it results in an invoice request. If you do not have proper papers to show, it is a huge risk to sell or list those products on Amazon.
What is with the "Private Labeling" then?
Never fall into the trap by thinking that just because you are making your own products and a private label seller, Amazon will not verify your invoice.
You might have got a big deal with a huge manufacturer from China, however, check if they can give you proper documentation as well. This document serves as proof of legitimacy for your products.
Amazon often receives more "inauthentic" and "fake" complaints on items where there is a sole company making as well as selling the item.
So, make sure that you have proper documents handy.
What happens if you create a fake invoice or try to edit the document sent to you by the suppliers?
Fake invoices or editing or photo-shopping or tampering with the documents is the fastest way to have your account banned. Do you want that really?
Investigators receive proper training just to refine their proficiencies and develop good a knack for detecting a manipulated documentation.
If they suspect that you have edited them after you have received them from your supplier, it doesn't take much time to annotate it as a "forged invoice" message you about it.
If you have created any such invoices earlier, and still selling them on Amazon, remove those products from FBA immediately and delete your listings because you can be asked for those documents any time and you don't want to get caught and kill your selling account for sure.
If you are suspended for this behavior, do not expect any reinstatement.
Amazon VAT Invoices: For Buyers/Customers
The information for getting a proper VAT invoice for your order differs from one seller to the other. You will get an invoice along with the delivery if Amazon sells and dispatches it.
However, if Amazon sells and dispatches an order to a customer and is also marked as a gift, the package includes a clear packing slip with all the older titles.
Even if you don't receive one, you can easily access it from Your Account.
How To Get A VAT Invoice From Amazon?
Getting a VAT (Value Added Tax) invoice for any of your past purchases on Amazon is easy and also helps you to claim the VAT back on your purchases.
Undeniably, Amazon is a huge marketplace with millions of products being sold online. So, the items sold are stocked either by Amazon or a seller on its "Marketplace."
There are many ways to get your VAT information for all your purchases.
Step 1: Check inside your box
Once your package is delivered to you, check if there is an invoice inside the box. Usually, both the third-party seller and Amazon will include a clear VAT invoice in the package.
However, a few sellers might not include this detail for different reasons. If you don't see your VAT invoice inside the box, check your email. But ensure that you have checked the
confirmation email to receive VAT information from Amazon.
Step 2: Log in to your Amazon account
Go to Your Account and click Your Orders.
Step 3: Select the time period
The next step is to select the time period with the help of the drop-down menu, present on the screens' left side. Though Amazon will display the order list for the last 30 days automatically, you can still click dates to back to your order history. Once this is done, click on the "Go" button.
Step 4: Get your VAT receipt
Next, scroll down to the list of orders and go to the one that you want to get the VAT invoice
for. Once you have located that order, click the button called "View Order Details," which will on the screen's left side and below the order's date. On the screen's right side, you will see that the VAT details for that order will be included.
Step 5: Print the VAT invoice
If you wish to print this VAT receipt, click the button "Print Order Summary" in the "Payment Information" section. Print the document if required.
Step 6: Contact the seller if there isn't any VAT information
There might be times when you might not see any VAT information included in the "Your Account" section. In such cases, you can contact the respective seller by sending an email and requesting the VAT details for the product you purchased. The seller will respond to you with the correct details.
If you still have issues or need clarity on the VAT invoice, feel free to contact Amazon customer care support. Amazon will give you a clear invoice for your purchases made at the marketplace and even handle any dispute that you have with your seller.
Free Amazon Receipt Generator
One of the most vital aspects of any online business is managing the payment process. Now, talking about payments in detail, receipts are very important. This is Amazon invoice generators come into play.
The right tool will help you to create invoices without any effort and further send as well as track them easily.
Finding an ideal Amazon invoice generator s time-consuming. So, here is a list of tools that we have picked for you.
With these tools, you don't have to take huge efforts or spend much time to create a professional invoice. You just have to add the details to the pre-designed Amazon invoice templates. It's that simple.
1. Online Invoice Generator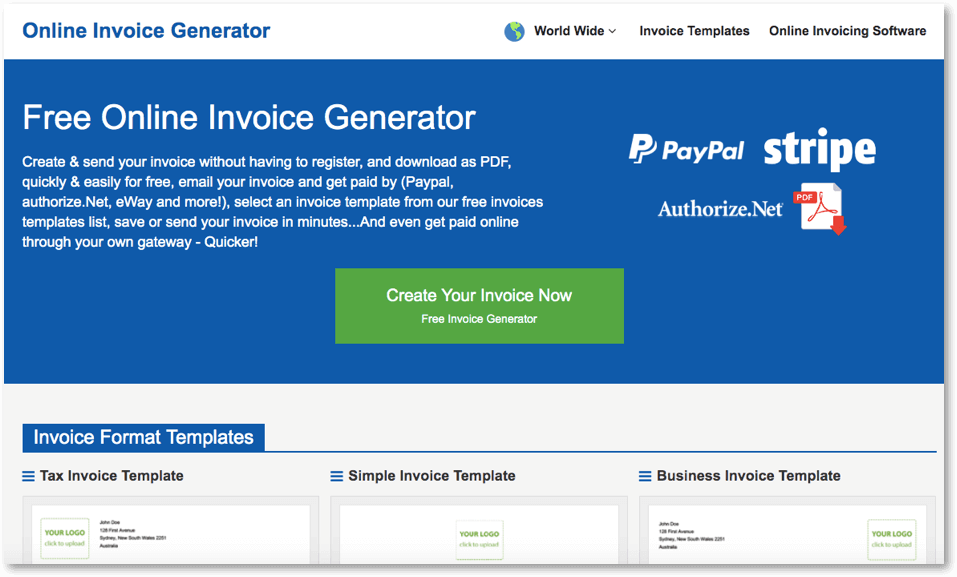 With this tool, create and send your invoices without registering. You can download the invoice as a PDF easily and quickly for free. It has plenty of features to offer and is one of the perfect tools to choose from.
It offers incredible templates, which can be easily customized to meet your invoice needs and the best thing is that it gives an option to make payments online and offers platforms like Paypal, eBay, authorize.Net, etc.
Pros:
Free to use
Create invoices without signing-up
Print, download, and send the invoices for free
Includes payment integration from different platforms to make things easier
Cons:
You have to create an account for accessing the extra payment features
2. Free invoice Creator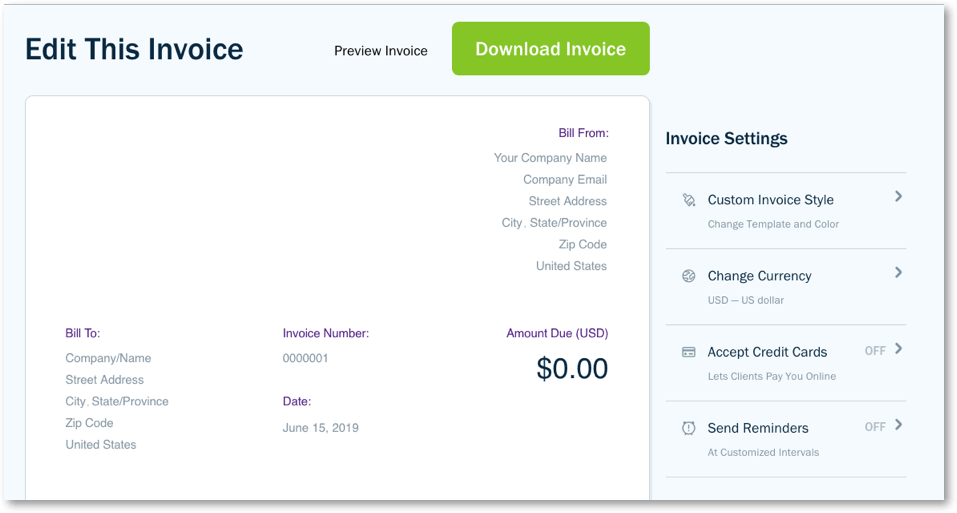 With this tool, creating invoices is simple, free, and fast. This is a handy tool for your business and makes your job easier. You will save plenty of money and time when compared to bookkeepers, expensive tools, or standard invoice templates.
Pros:
Send invoices to your customers directly
Fully customizable invoice templates
Organize and track your business finances
See all your earnings
Specify the billing schedule
Maintain your client details
Download and save an invoice as PDFs
Cons:
Free templates do not allow you to use accept online payments
3.Billdu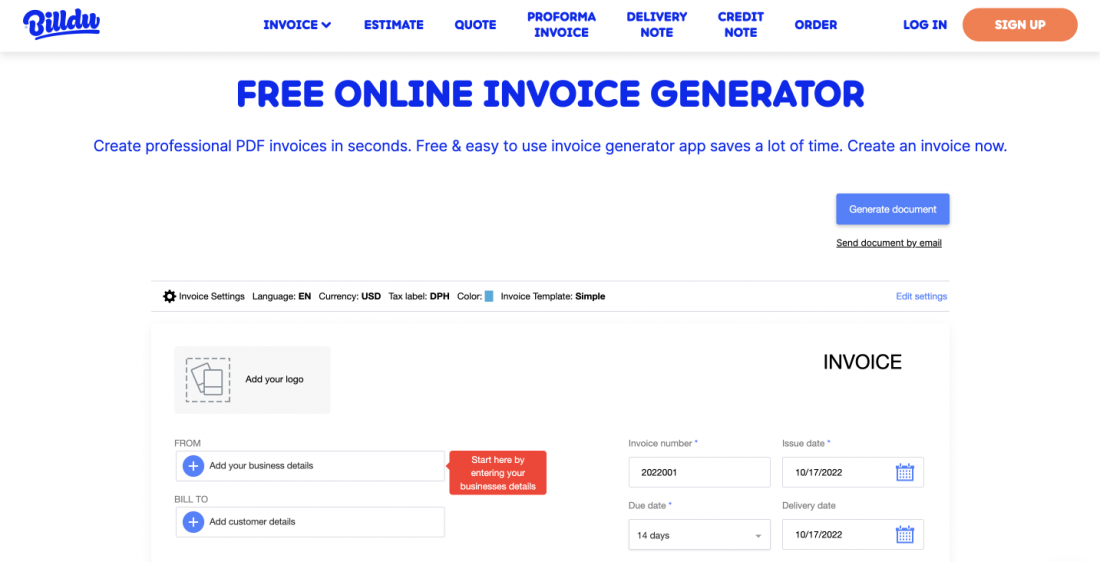 With Billdu you have two options. You can use their free invoice generator, with no registration needed, or you can register to use the feature-packed invoicing solution. Using Billdu you can create professional-looking invoices, estimates, purchase orders, delivery notes, and other documents your amazon business needs in a few seconds.
Pros:
It offers an intuitive design and works on all your devices
Customizable professional-looking invoice templates
Advanced features – recurring invoices, payment reminders, online payments, expense management, invoice status tracking – everything you need to run and scale your business
Cons:
Advanced features are available only on paid plans
4. Zoho Invoice Generator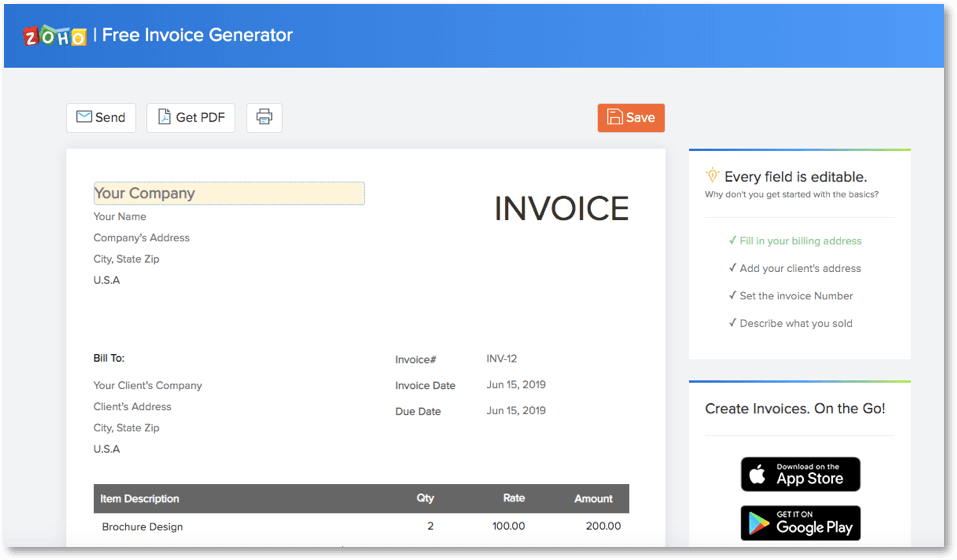 Zoho Invoice is one of the best tools to create invoices in a hassle-free and quick way for your business. You can sign up for free and create your Amazon VAT invoices within minutes.
Pros:
Send recurring invoices
The free version lets you send a maximum of 5 invoices to the customers
Includes expense tracking and time tracking
Multi-currency support and customer portal gives better control
Cons:
You will have to sign up even though it is free
The free version allows only up to 5 invoices and not more
5. Invoice Generator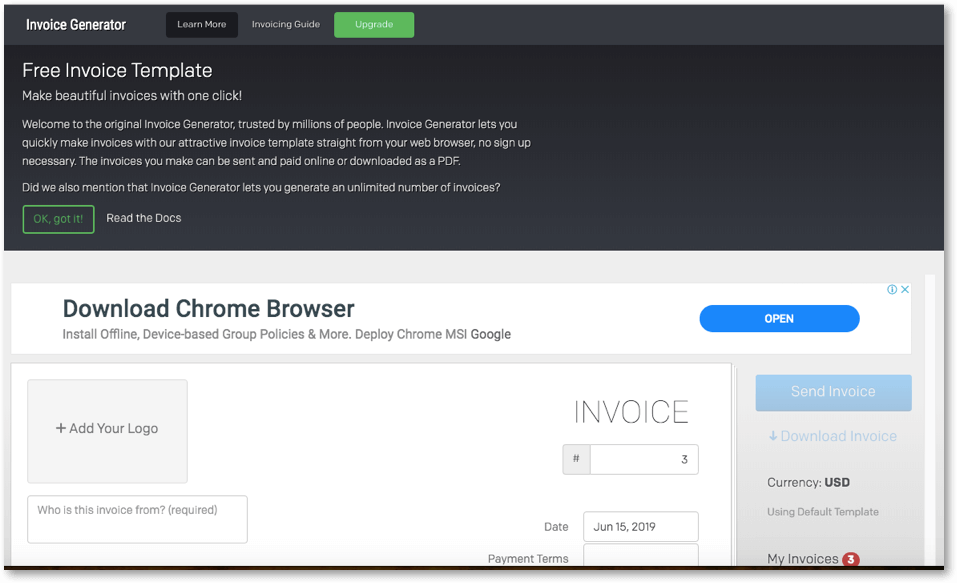 Invoice Generator is one of the best Amazon receipt generators out there. The tool provides free service and helps you to create phenomenal and yet professional invoices. They can be sent to your customers at any time.
The best thing about this tool is that you don't have to sign in just to create invoices. The moment you get into the website, you can start creating them.
Pros:
You don't have to sign up
Create as well as download the invoices anonymously
Gives a detailed guide on invoicing
Download and save the invoice as PDF or send them to others online
Cons:
To access ACH (Automated Clearing House) & credit cards, you have to buy its premium version
The free version doesn't allow the option of recurring payments
6. Invoicely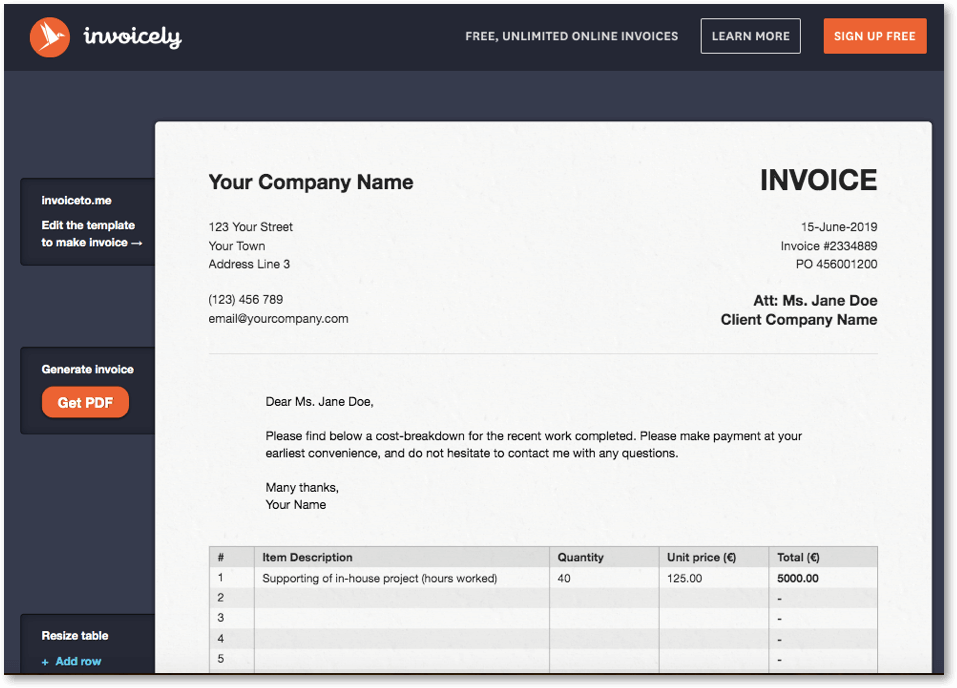 Invoicely is one of the perfect services to create invoices absolutely for free. The templates in it are customizable and are a great way to is modifying the details on the templates. You can download, send, and save the invoice as a PDF.
Pros:
Send invoices unlimited for free
Templates can be easily customized and used
Cons:
You will have to sign up
A few integration features like PayPal are not available in the free version
Hope the information given here is useful. If there is any other detail that you feel will help other readers feel free to drop them in the comments section.
Related Posts:
How to Turn Your Amazon Side Hustle into a Full-Time Gig
Was this post helpful?
Let us know if you liked the post. That's the only way we can improve.