How To Contact Amazon Seller Support & Customer Care Explained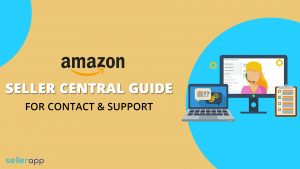 Whether you have an issue with finding a customer's shipping address, you are struggling to cancel that product listing that you have launched, or even want to revoke the suspension of your account, try dialling the Amazon seller central phone number.
Within a few minutes, the Amazon Seller Support team will help you fix the issue. How do they do it? Let's dig out the details.
What Is Amazon Seller Support?
The Amazon's seller support team assist sellers from their registration process to becoming an approved seller. However, it is not limited to this.
While some sellers sell their items but choose Amazon warehouses for their goods to get packed and delivered to the respective customers, others prefer selling and shipping their products to customers on their own.
While executing these tasks, sellers might face issues and seller support help them in all ways.
In fact, even to an extent that if a seller has an issue with a customer, the team helps him or her to connect.
What Is The Amazon Seller Central Phone Number?
After proper research, we found that there is no direct phone number or helpline to contact Amazon customer support, especially for sellers.
The only way you can contact them is to login to your seller account and request for a contact. (Here is the link)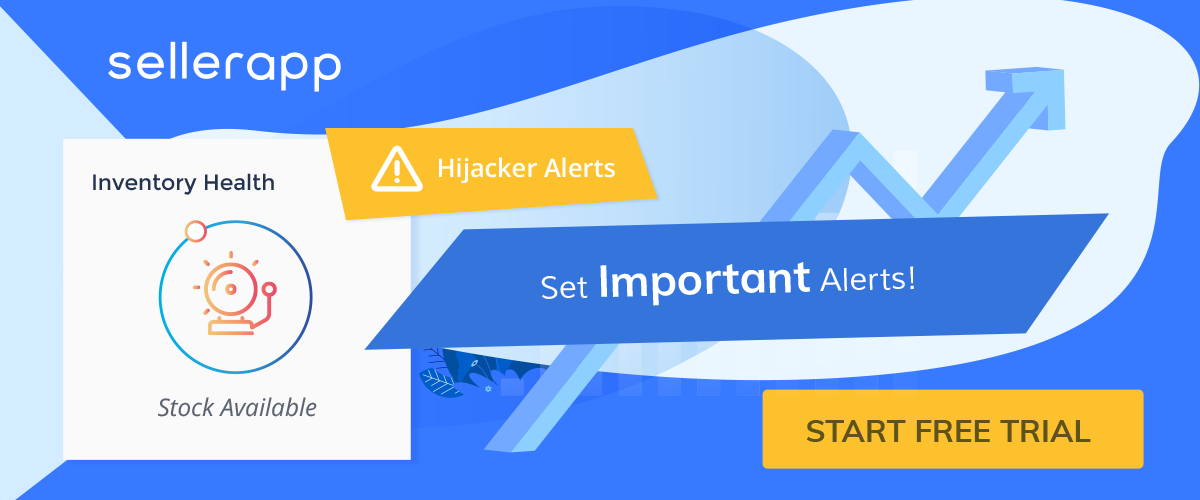 If you are a seller on Amazon and have questions about your seller account, you can contact – Seller Support US.
If you are a seller in United Kingdom (Amazon.co.uk) and have queries about your seller account, you can contact Seller Support Europe.
If you are a seller in Japan (Amazon.co.jp) and have questions about your seller account, you can contact Seller Support Japan.
If you are selling in India (Amazon.in) and have queries about your seller account, you can contact the customer support at Seller Support India.
Note: Though we have taken the phone number from their official website, there might be times when these phone numbers may not work.
The best way is to contact the support team within the Amazon Seller Central. To do this, follow the instructions given below:
Step 1: Sign in to your Amazon Seller Account by clicking this link.
Step 2: When you connect to Amazon Seller Central customer service, it is important to first choose what your problem is associated to. Generally, you will see two options:
Selling on Amazon –Select this option if you have queries related to selling or listing on amazon.com.
Advertising & Stores – Select this option if you have queries related to sponsored brands, stores, and sponsored products.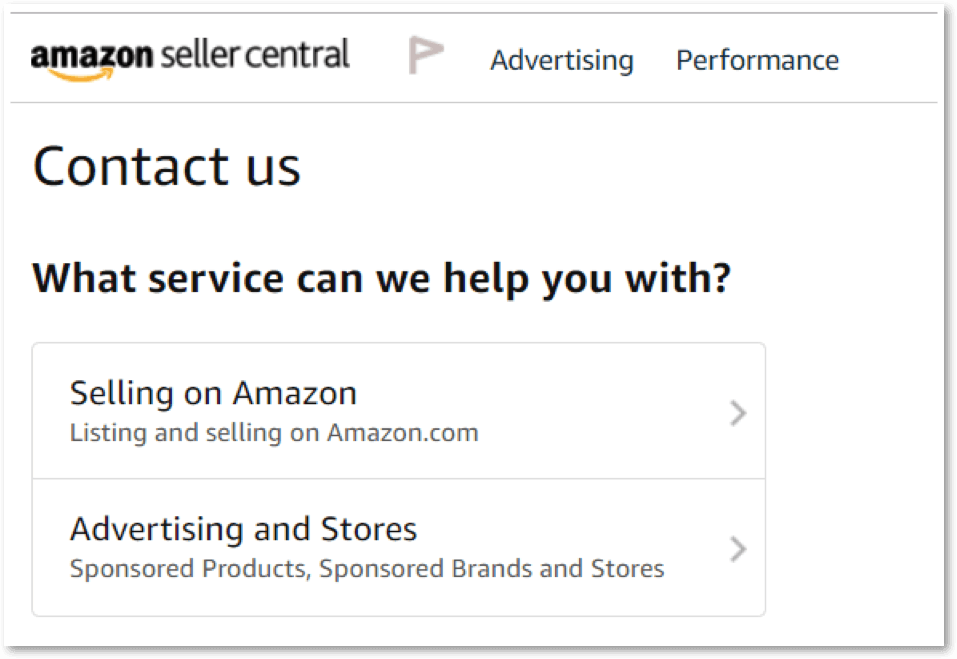 You have to be specific about your issue that you are facing in the Seller Central. So, choose the respective option.
Step 3: After you click any one of the above two options, you will be redirected to a detailed page, which has a search bar and a list of common questions as hyperlinks.
Step 4: Look for the questions displayed and if it is something that you want to ask, you can directly click and get the answers. However, if your question is not listed, type the issue on the seller support's search bar and press the enter key.
Step 5: If your issue still doesn't show up on the search results, then on the left pane, click on the dropdown option named "Other account issues."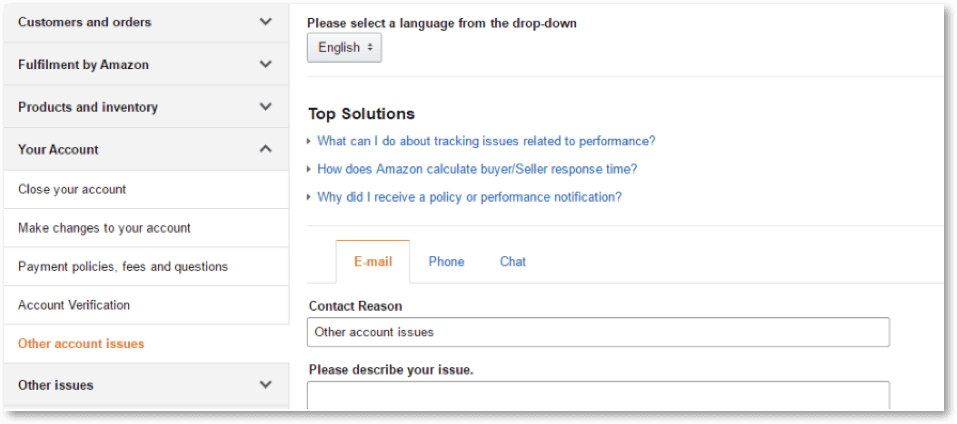 Step 6: Upon clicking the above option, on the right pane, you will have a dropdown to choose the language you want to communicate in. Choose the respective language.
Step 7: At the bottom, you will see three tabs to communicate the customer support team – Email, Phone, and Chat. Choose any one.
Step 8: When you click the email tab, you should write the reason for contact and describe the issue that you are facing in a few lines. Click on the submit button. The email will be then sent to the customer service team and they will reply to your email within 24 hours or less. Note that you will receive the email on the ID that you have registered your seller account with.
Step 9: When you click the phone tab, you directly get the option to talk to any of the Amazon associate directly. All you have to do is to select the country from the dropdown menu provided. Enter your contact number. If you feel that your issue needs to be addressed immediately, check the box that says "this issue is urgent and requires immediate attention." Along with these details, you need to write a few lines about the issue and press the button "call me now."
A member from the customer support team will call you in a few minutes and you can communicate about your issue in detail and get proper assistance.
Telling them multiple issues at the same time lead to confusions and he or she might not be able to give the right solution.
Also, doing this might cause further delays and nothing might be fixed on time because your issue will move around from one department to the other.
In addition, there might be chances that a few issues would still not be addressed. And definitely, you don't want that to happen.
Moreover, it is important to note that Amazon has clearly-crafted algorithms that base the kind of support you will get. This depends on 3 factors:
The kind of issue you are facing
For how long has your issue or ticket been open
How many responses your issue received from the time it was opened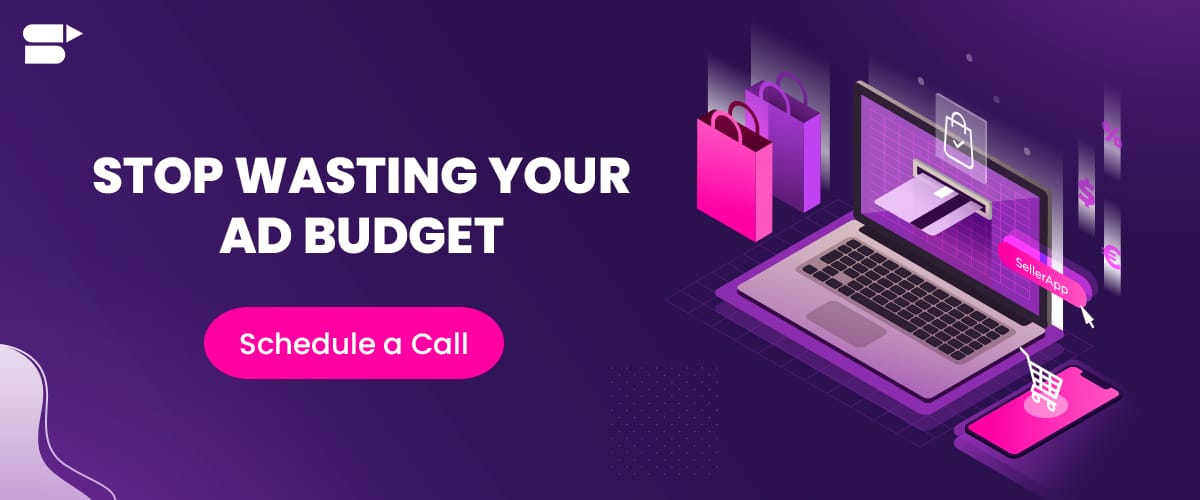 When you talk to the customer support team, keep the following things in mind:
Before you decide to talk to the Amazon seller support team, ensure that you have a few things handy, as they are required while describing your questions or issues:
Keep your seller account details and billing information handy, as the representative might ask you for it.
Before talking to the representative, ensure that you have your unresolved order open on the computer screen, especially if you are calling to talk about an order or a dispute that you have with a customer.
Keep a notepad or a paper and a pen handy to jot down some details that the representative may give you. This information might be required to follow up the issue to get it resolved.
When send an email to the seller support team, keep the following things in mind:
If you feel that writing all your issues clearly will help the representative to address each of the issue, then it is better to go with the option – email – than to have a phone call. Now, keep the following tips in mind while writing an email:
Explain the issue as clearly as possible.
Do not deviate the topic because again, writing about different things will make your email move to different departments.
Be precise and give as much as information you can.
Phrase your sentences properly and logically.
If you have multiple issues, order them one by one, and explain each one clearly.
Provide your interpretations of what might be causing the issue so that they can have an idea.
The right time to get started with your business is now. SellerApp makes it easy to understand the market, customer dynamics and product building, so as to keep your Amazon sales in a supercharged model.
Related Content –

Difference Between Amazon Seller Central and Vendor Central 2020
Amazon FBA: What it is? How does it work?
FBA Amazon: How To Start Selling Guide With Latest Updates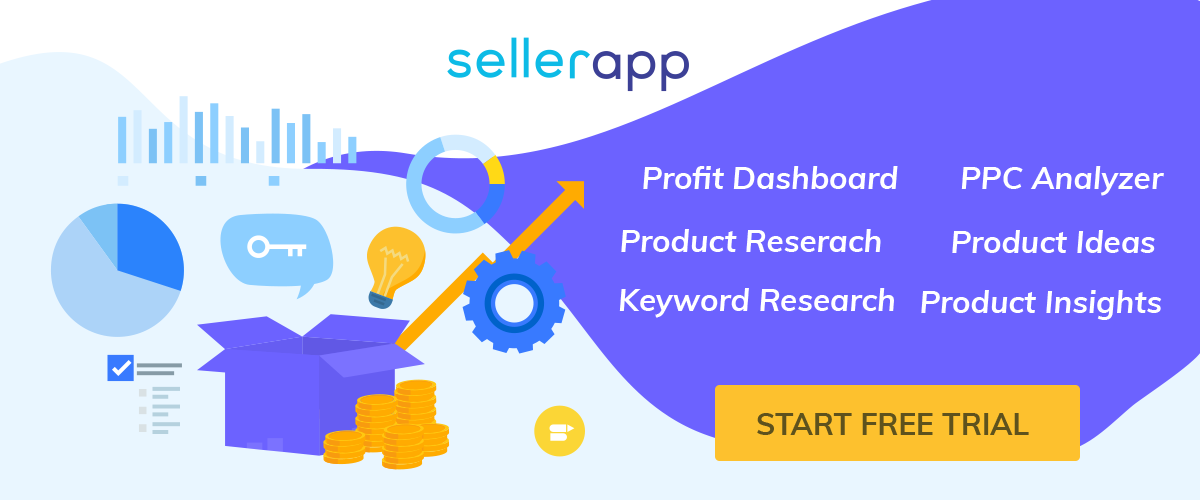 Arishekar N has over five years web development experience and is the senior digital marketing strategies at SellerApp, Specialist in SEO, SEM and best conversion rate optimisation strategies that deliver industry leading ROI. Arishekar has helped companies through more effective search engine marketing and SEO strategies. He is most passionate about working with e-commerce companies.
Subscribe to SellerApp Newsletter