Understanding Amazon Vendor Central reports is no easy task. With so many data points and metrics to track, it can be hard for a few to make the best use of the platform. However, failing to do so will negatively impact your brand on Amazon.
At SellerApp, we build robust reporting tools and use them to hit our clients' business KPIs and maintain them with excellence. With this article, we want you to be aware of how you can interpret Amazon Vendor Central reports and analytics.
Quick Guide
Amazon Vendor Central Reports

Amazon Search Terms Report
Repeat Purchase Behavior
Market Basket Analysis
Item Comparison and Alternate Purchase Behavior
Alternate Purchase Report
Demographics
Customer Reviews
Sales Diagnostics page
Sales Performance Trends
Geographic Sales Insights
Net PPM
Pre-orders
Traffic Diagnostic
Real-time Sales
Forecast and Inventory Planning
Inventory health
Operational Performance
Amazon Vendor Central Reports
You can find analytics within the Reports section. It is divided into three main sections:
Sales and Traffic
Operations
Consumer Behavior
Let's start with the Customer Behavior section.
Amazon Search Terms Report
Amazon Search Terms report
helps you find products that get the most clicks and conversions for the customer search terms. Understanding what search terms your customers use is vital to winning better sales. Use this report to find the relevant keywords for your products. You can also identify negative search terms that are draining your ad spend.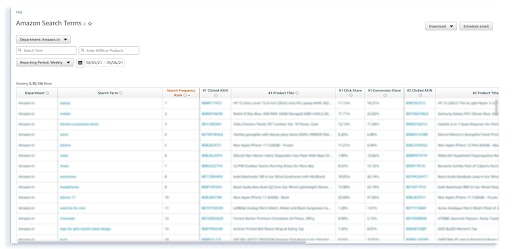 Repeat Purchase Behavior
This report shows the number of orders from unique vs. repeat customers. Brand owners can use this data to identify the percentage of customers that bought the product for the first time vs. repeat customers within the given time frame.

Market Basket Analysis
This report highlights the products that are bought frequently with your products. This will help you find potential opportunities to bundle, cross-sell, or cross-market the products.

Item Comparison and Alternate Purchase Behavior
This report gives insights into competitive intelligence by helping you understand the items that are frequently viewed along with your products as well as the items customers purchase after viewing your products.
By looking at this report, you'll be able to answer:
Who is your competition?
What products are purchased instead of yours?
What competitor product customers most often compare with yours?

Alternate Purchase Report
Alternate Purchase Report helps you find the products Amazon customers frequently purchased on the same day they viewed your products but did not purchase them. The report has the details about the top 5 products most frequently purchased products along with the percentage of time they are bought as an alternative to your product.

Demographics
The demographics data helps you understand your target audience more effectively, so you can identify opportunities to personalize the products. You can find metrics including age, household income, education, gender, and marital status.
Customer Reviews
Reviews are a powerful tool and social proof for your products and business. Customers heavily rely on them. So tracking customer reviews and ratings will help you to optimize your customer experience.
Sales Diagnostics page
This is a part of the Sales and Traffic dashboard. This page will help you identify the sales opportunities for your products.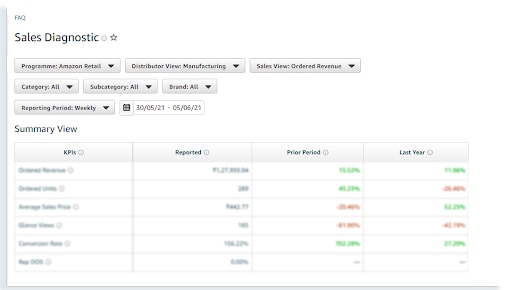 The summary view and the detailed view will help you compare the metrics over time.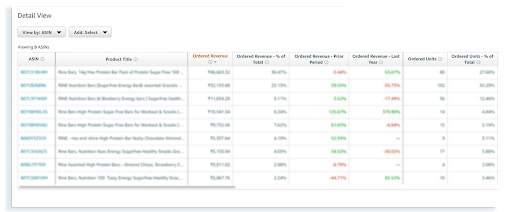 Sales Performance Trends
With the help of the Sales Performance Trends report, you can monitor glance views, revenue, units sold, conversions, etc. KPIs within this report will help you identify the trends and factors influencing your sales performance.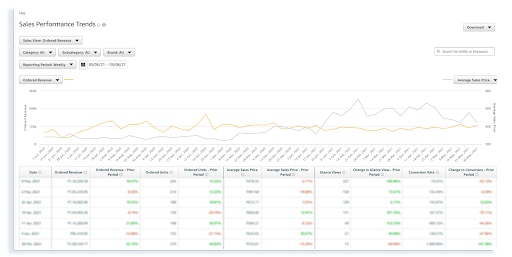 Geographic Sales Insights
This report helps you find insights by geography. You can quickly identify and respond to the top geographical trends. The report gives details on the state, city, and ZIP where your products got shipped.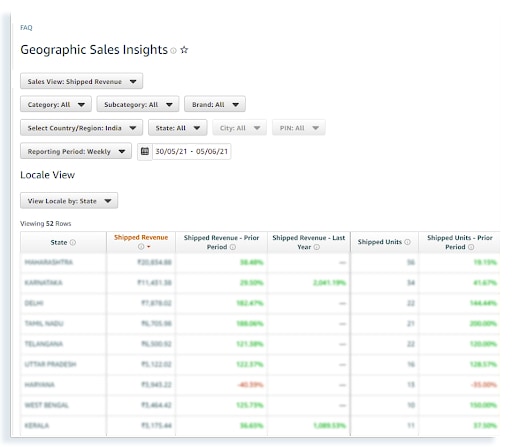 Net PPM
Net PPM (Pure Product Margin) will help you identify the products that are bringing in profits. It is the margin that you get after deducting the cost of goods sold (COGS) and other services.
Along with that, you can quickly look at the following metrics:
Percentage of total
Prior period
Previous year
These metrics will help you get an overview of the profitable products.
Recommended to read: Amazon Profit Margin: All that Finally Matters.
Pre-orders
This function helps you understand the performance of your newly launched products.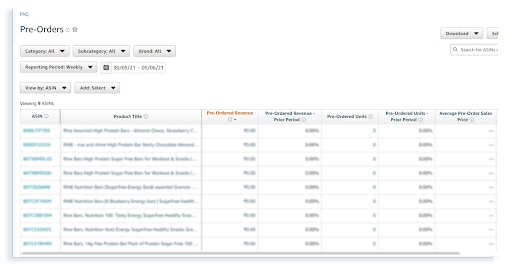 Traffic Diagnostic
This report helps you quickly analyze the change in glance views and conversions by looking at the industry benchmarks, prior period, and previous year.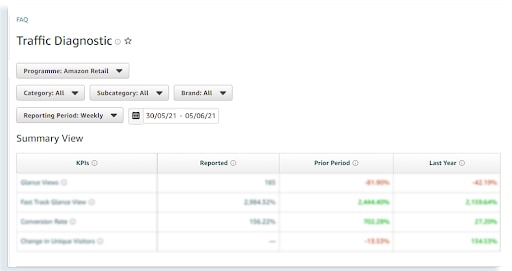 Real-time Sales
You get the real-time sales data over the last 24 hours when you enter an ASIN.
Recommended guide: How to Convert Amazon ASIN To UPC.
Forecast and Inventory Planning
Use data-driven inventory planning to assess your inventory levels for the upcoming period. Prevent overstock, understock, and out-of-stock issues that negatively impact your revenue and sales momentum on Amazon. You can find four types of forecast reports:
Mean Forecast: Best estimate of customer demand
P90 Forecast: It shows a 90% chance that Amazon will buy the demand level indicated or less, and there is a 10% chance that Amazon can buy more.
P80 Forecast: It shows an 80% chance that Amazon will buy the demand level indicated or less, and there is a 20% chance that Amazon can buy more.
P70 Forecast: It shows a 70% chance that Amazon will buy the demand level indicated or less. And, there's a 30% chance they will purchase more.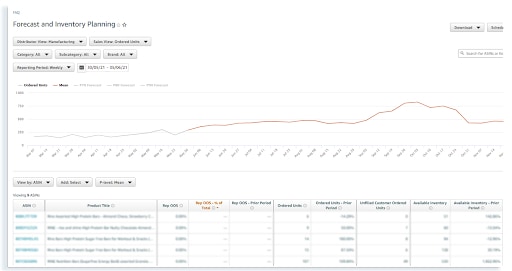 Inventory health
Track the inventory health of your products and get notified through weekly updates. This will help you to quickly identify and respond to critical product and inventory trends. For this, you need to monitor KPIs such as sell-through rate, open purchase order quantity and sellable on-hand inventory, etc.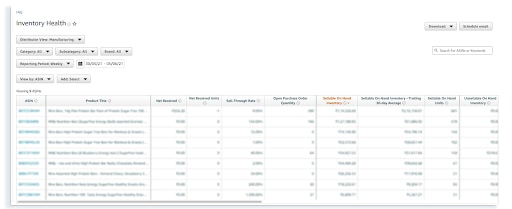 Operational Performance
Amazon looks at a number of metrics related to the Vendor's shipments to analyze their operational performance. Using this report, you can track any operational issues that may have occurred during your inventory in transit to Amazon's fulfillment centers. If Amazon's standards are not met during the purchase order fulfillment process, you will experience problems within the metrics. Amazon will also issue chargebacks if your account shows poor operational performance constantly.
If the chargebacks are 'waived,' you can consider it as a notification, and you should keep an eye on the waived metrics. Go to 'View Defect List' on the top right of the page to review the chargeback details. You can also choose to dispute a chargeback if you think you're wrongly charged.
Amazon Vendor Central features
If you are new to Amazon Vendor Central, here are a few things to know about the Amazon Vendor Central Portal:
Vendors on Amazon can manage their businesses and track their Amazon business reports and metrics with the help of the Amazon Vendor Central portal. Vendors can:
See invoices and remittances
Update the product information like description, images, and prices, etc.
View new orders
Manage marketing activities of their products
Access analytics and reports
Related Post: How to smartly negotiate the Amazon Vendor Agreement
Common features of Vendor Central and Seller Central
While selling on Amazon, here are a few things that you should know about Amazon Vendor Central and Seller Central.
How Amazon Vendor Central works
These are the common features you can find in Vendor Central.
Vendor Central is an invite-only program
Amazon controls the price of your products
You sell directly to Amazon
Logistics options are limited
Diverse advertising formats
How Seller Central works
These are the common features you can find in Seller Central.
Anyone can sign up for the platform
You control the price of the products
You sell directly to customers on Amazon marketplaces
Logistics is flexible
Limited advertising formats compared to Vendor Central
Along with these two options, manufacturers and distributors are selling on Amazon or new to the platform can also reach Business customers with Amazon Business. Small-mid businesses can reach large customers with huge orders using this program. Amazon Business customers include 55 out of the top 100 Fortune companies within the US. So this is a huge opportunity to expand your business on a global scale.
Related post: How to Diversify your business with Amazon Global.
A quick tip: Want to know if selling on Amazon Business is the right fit for your business? Check out SellerApp's Business Product Opportunity (BPO) reports. These BPO reports are unique to the SellerApp platform. They use customer demand signals to help you identify product demand within your category or niche.

Learn more about SellerApp's BPO reports here.
Final thoughts
Understanding Amazon Vendor Central reports is the first step to revamp your strategy and grow your business on Amazon. We hope this article will help you get on the path to success.
Additional Read:
The 5 Pillars of Successful Amazon Advertising Strategy
Was this post helpful?
Let us know if you liked the post. That's the only way we can improve.