Buying products from Alibaba and selling on Amazon has become one of the most favored processes because of the convenience factor and profit margins. Alibaba, the Chinese e-commerce giant has become a highly coveted product sourcing option for sellers from all over the world.
Alibaba provides sellers with a massive database to choose manufacturers and suppliers that suit their needs within a quick time frame. Its primary function is to bring together buyers with manufacturers and wholesalers.
If you're a seller pondering over how to sell Alibaba products on Amazon, this article is aimed at solving all your queries and concerns so that you can make informed buying decisions.
Quick Guide
What is Alibaba?
Product sourcing
From Alibaba to Amazon FBA is one of the building blocks of your Amazon sales. This is because it entails high profits for sellers owing to the extremely low prices of products in the Chinese marketplace as well as other markets around the world. SellerApp has partnered with Alibaba to simplify your product sourcing process even further.

You may be a seller with brilliant product ideas but without a strategy in place for product sourcing, it can become very difficult to take your Amazon FBA business forward. This is where Alibaba comes into play because you can choose from various suppliers of different price ranges. But you need to be wary of fraudsters and fake suppliers as it is a major concern among sellers who use Alibaba for sourcing their products. This concern too will be addressed as your progress through this article.
How to buy products from Alibaba and sell on Amazon?
Whether you're searching for economically priced products or the right manufacturers for your products, Alibaba facilitates eliminating the intermediaries. It allows for easy communication directly with wholesalers and manufacturers.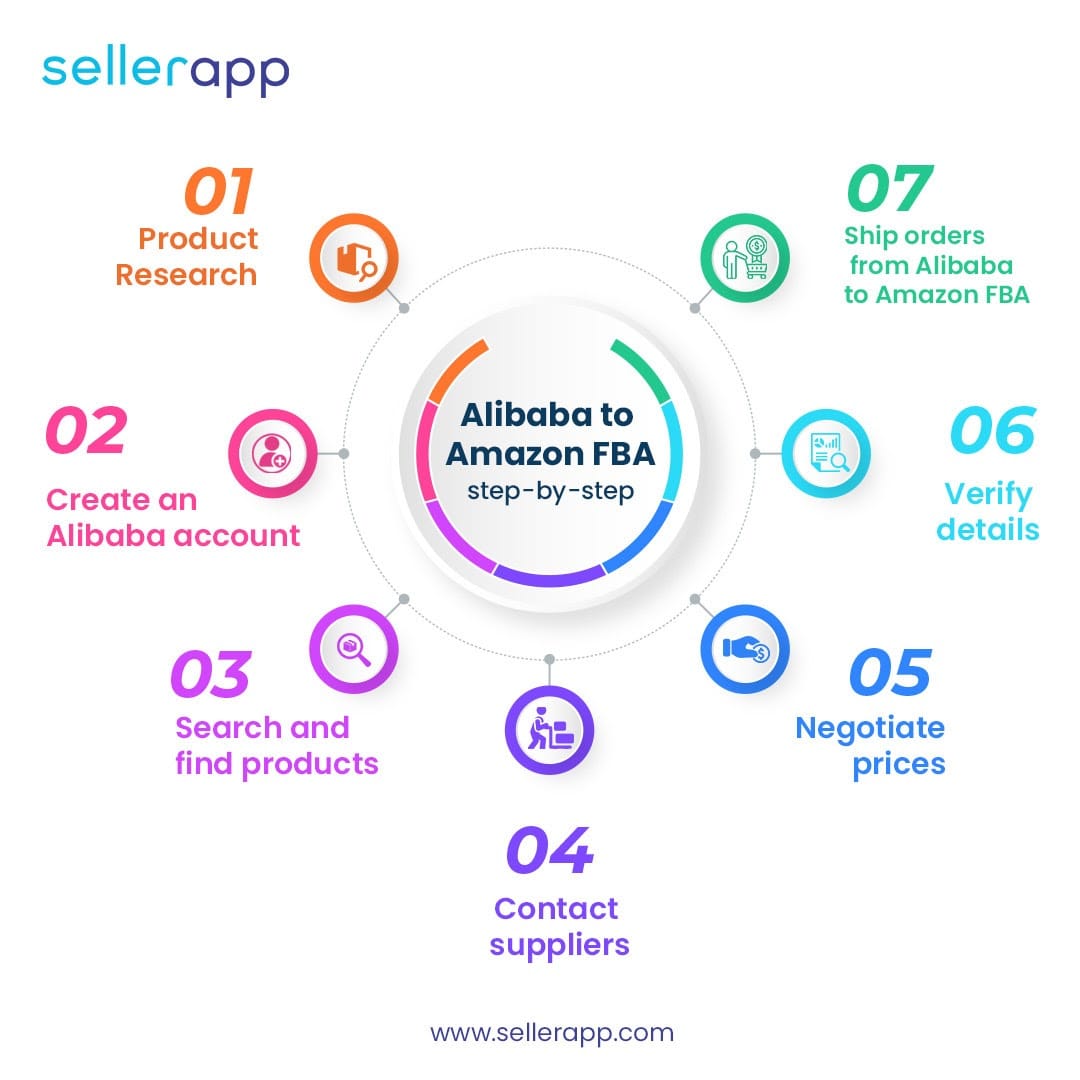 Product Research
Your entire selling process begins with finding the right product. SellerApp offers tools to help you with product research. Your research should focus on finding products that have good potential to generate high-volume sales. You should be able to source it at low costs and be able to sell it at a price that earns you a good profit.
Recommended: How to do Profitable Amazon Product Research.
Make use of Amazon Best Seller lists and analyze competitor products for more insights. Additionally, focus on product niches that are not too saturated to avoid going head to head with multiple other sellers. Especially if you are a novice seller, you should try and find a gap in the market, so it will be easier for you to break in and start earning profits. If you are still finding it hard to identify what products you want to sell, SellerApp has a tool to provide you with ideas for products.
To know about SellerApp's freemium click here.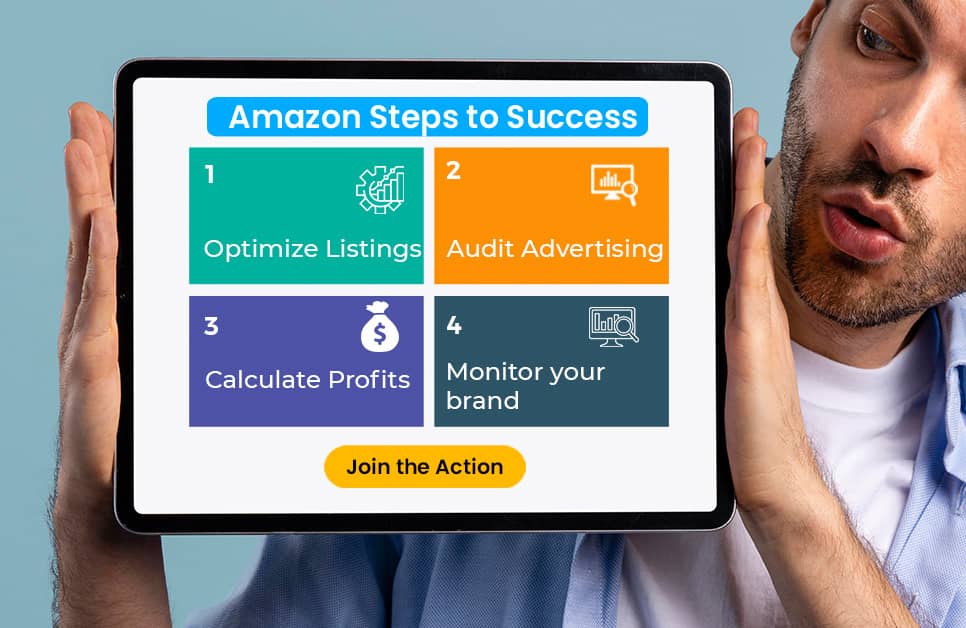 Additional Read: What are the most popular products to sell on Amazon?
Head to Alibaba
Once you have decided on what products to sell, you can then head over to Alibaba.com and start looking for manufacturers and suppliers. Decide what price range you want to set for your products. You can then start looking for quotes accordingly and narrow down your search for suppliers that fit within your price range.
Firstly, set up an account on Alibaba. You don't have to pay any charges or fees to do so. Creating an account allows you to easily communicate with suitable suppliers.
You can then begin by using the search bar to find the exact item that you are looking to sell. Alibaba will provide you with similar product categories and manufacturers. You can click on any one and additional information will be displayed about the product like any certifications, images of the manufacturing process, the length of the term that the manufacturer has been associated with Alibaba, etc.
You can also conduct your search by looking for suppliers instead of products if you're looking for a more specialized, expert manufacturer.
Now, you can go about getting quotations and samples. Get in touch with sellers using the "Chat Now" option for more information about the quality of the product. Ask for samples as they are important to assess the product quality. Shortlist all the suppliers you want to contact, and ask them for quotations using the "request for quotation" option or contact the supplier manually.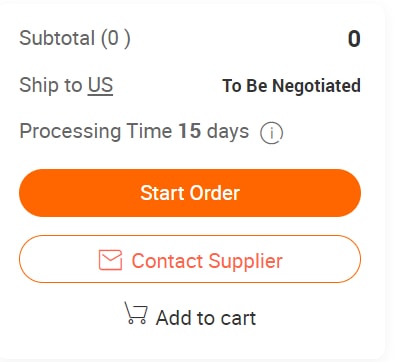 You can then go about negotiating the prices and the MOQ (Minimum Order Quantity) as there are different prices quoted accordingly. Negotiation is an important part of sourcing from Amazon while also ensuring that you don't compromise on quality as is the case very often.
When you find suitable suppliers, make sure you verify all the necessary details like whether they have the necessary shipping authorizations, trade insurance, and most importantly, they need to be familiar with the requirements of Amazon FBA.
Once you have acquired all the necessary manufacturer/supplier information, you can then proceed to finalize your purchases. The next most important question that many people have is "Can I ship directly from Alibaba to Amazon FBA?" Yes, you can have your orders shipped to an Amazon FBA warehouse. You must also take into account shipping costs from Alibaba to Amazon FBA. Your Amazon Seller Central account will have to be updated with all the information on the 'Manage Inventory' page. Mention the order quantity and do what is required with respect to product and shipping labels. Take into account customs as well and then just have your products shipped directly to the Amazon warehouse.
How do you pay Alibaba suppliers?
You can pay suppliers through different payment methods on Alibaba. Alternatively, you can also settle payments outside of Alibaba depending on the terms that your supplier agrees to. Be mindful of the fact that there are several fake suppliers, so paying outside the platform is even more of a risk as it will be all the more difficult to hold anyone accountable. It will also be deemed illegal when you make payments through other portals that do not fall under the international transactions category.
Here are some of the popular payment options that Alibaba offers
This method is the fastest but entails a high level of risk especially when the whole payment is made before the start of the production process. So the best thing to do is pay part of the amount in the beginning and the rest after you receive the shipment. You need to ensure that you have all the correct information related to the supplier, like his name, personal and bank address, bank identifier code, etc. The downside to this type of payment is that there are delays in processing (usually 3 days to start the process as well as delays due to holidays) and there is a slim chance of getting your money back in the event of any problems.
This is a suitable payment method if you're dealing in large order quantities, typically above $20,000. It is the most effective way to acquire products that are of the stipulated quality. It also guarantees payment to the supplier owing to the documents involved in this mode of payment, which consist of clearly stated terms.
Escrow, which is now called the Alibaba Secure Payment service, is a low-risk level payment method. In this, a buyer's payment is held until he receives and approves the order being delivered according to adequate standards. This method works in favor of both buyers and manufacturers as it ensures the satisfaction of buyers concerning products' conditions while suppliers are guaranteed secure payments.
If product quality or delivery is unsatisfactory for some reason, then the suppliers will not receive payment from the buyer until an inspection is conducted.
PayPal is another low-risk level payment method especially with regard to international transactions. It is known to offer secure payment protection to users, it is not complex to use and there are no delays in the transfer of payments. The only limitation is that it doesn't offer equal convenience to suppliers owing to high tax rates and other difficulties associated with money withdrawal, but you can count on PayPal to assist you with getting your money back in the event of any mishaps.
Alibaba Trade Insurance is another payment option that aims to protect buyers. It is applicable only so long as you use the secure payment gateway on Alibaba.com and not through any outside channel. This option compensates for any losses you may incur in case of delay in shipping time, damaged or wrong products, etc. It protects buyers from fraudsters and ensures refunds. The problems with Trade Assurance are that all suppliers are not willing to participate in it and the ones who do, have higher prices for products as a result of partaking in this policy method.
Is it safe to source products from Alibaba to Amazon FBA?
Now that you know the basics of how to sell on Amazon from Alibaba, it would help to know some profound safety concerns. Alibaba is a well-known marketplace that eliminates the middlemen or at least tries to because there are a lot of fraudster middlemen that one may find who are not manufacturers but actually resellers.

There are a lot of procedures in place to safeguard both buyers and manufacturers.
Trade Assurance is one such feature. With verified suppliers, this option provides for a money-back guarantee in case your order is not satisfactory in terms of quality and shipping time. Gold suppliers are another option to look out for in terms of quality.
Suppliers that don't partake in the Trade Assurance program also have to go through different levels of a verification process. Each supplier is given a badge according to the level of verification they pass and buyers can view it on product listings for trustworthy ones.
Alibaba lets you communicate with manufacturers so use this option wisely by asking for business licenses, verifications, and contact information. Ask as many questions as possible relating to products, request for sample products to be sent as well as factory photographs to assess legitimacy. All this enables you to make safe buying decisions.
There are anti-fraud programs in place that work towards preventing innocent buyers from getting scammed, and you can always report supplier problems to Aliba, and they'll deal with it the right way.
Risks associated with sourcing from Alibaba and how to avoid them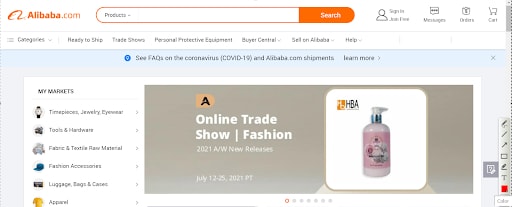 Even though Alibaba is a reputable sourcing option there are some risks involved mainly involving fraudsters, scammers, and payments frauds. You need to look out for products that have below-par quality.
Choose Gold suppliers because they are reliable, reputed, and have successfully been in the Alibaba business for a long period. If you go for other suppliers you'll have to gauge them by asking multiple questions about products and the legitimacy of their business.
The quality standards that products need to adhere to vary from country to country. If you skip out on requesting samples and product testing, you might end up with something that looks and feels very different from what you expected.
Online transactions are faced with increased risks of hacking, so you might wind up paying a hacker if you don't cross-verify your manufacturer's bank details along with what is provided on Alibaba.
There is always the risk of miscommunication while contacting manufacturers from around the world due to the language barrier, so care has to be taken to ensure that you convey your messages properly.
Look out for how the quotations are given. You can tell a real professional manufacturer apart from fake ones by looking at how detailed their quotations are and by analyzing how they answer specific questions. If they can give you customer testimonials or references, that's a plus point. But if you notice anything odd about any of these factors, then back off as it might be a scammer.
Final thoughts
All the factors, risks, and information provided above are meant to give you a clearer perspective on sourcing products from Alibaba to sell on Amazon FBA. As an Amazon seller, you need to be wary of the quality of products you're sourcing and not compromise on it while also ensuring good profit margins. Keeping all these points in mind, you are better equipped to run your Amazon business.
Happy selling!
Additional Resource:
Buying an Amazon FBA Business.
How To Get The Amazon Best Seller Badge.
Amazon Holiday Selling Strategy 2022
Why It's Important To Vet Your Customers
Was this post helpful?
Let us know if you liked the post. That's the only way we can improve.