Engaging Shoppers with Amazon Demand-side platform (DSP)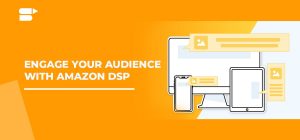 Amazon advertising options are a lot more effective than you think. Your shoppers may not be there yet, but Amazon advertising options can get you right in front of them. This is because their ad solutions are not limited to the platform.
Amazon has over 2 billion visitors per month (Source). If you are a brand willing to expand and reach new customers beyond Amazon, then Amazon demand-side platform (DSP) can be your answer.
What is Amazon DSP? How are they beneficial? Why should you try them? Let's cover them all.
Quick Guide:
Understanding Amazon DSP
Amazon demand-side platform is a display advertising platform that allows you to programmatically reach relevant shoppers on Amazon sites and applications as well as third-party publishing partners.
Before you understand this completely, you should know what programmatic advertising is.
Programmatic Advertising
Programmatic advertising is an automated way of buying and selling digital ads rather than buying directly from a publisher.
The main goal of programmatic advertising is to promote transparency and efficiency among publishers and advertisers through automation.
In 2021, it is estimated that around 88% of digital display marketing will be transacted through programmatic advertising (Source). The rising effectiveness of programmatic advertising ticks all the boxes of advertisers' checklists. Advertisers can easily scale, consolidate and optimize their targeting, influence, and convert shoppers.
Programmatic advertising uses a dynamic Cost per thousand (CPM) model. A dynamic CPM model automatically adjusts the price of your campaign based on the ad spot and competition. So you will be able to bid on the best price feasible without going higher than the bid limit you set.
In a standard CPM model, on the other hand, regardless of the demand, advertisers pay the same price per thousand impressions.
Here are a few features of programmatic advertising to help you understand better:
The buying process is automated
Pricing is based on a dynamic CPM model
Advertisers bid on impressions rather than clicks
Supply is not guaranteed and competition affects the price
Advantages of Amazon DSP
Coming back to Amazon, DSP is designed in a way to reach audiences across Amazon sites, apps, like IMDB, Twitch, etc, and their publishing partners.
Marketers who are well-versed with Amazon's advertising console would sometimes wish that Amazon offers targeting options by:
Geography
Data and time
Segmentation capabilities
Demographics
Though sponsored products and brand ads may not have the same targeting options, Amazon DSP can offer more potential features including:
A/B testing creative
Mobile versus desktop specific ads
Ad frequency per unique visitor
Ad placement, above or below the fold
Specific domains (can exclude or include)
ZIP code
In-market audiences
Precise targeting across devices
Amazon DSP ads appear on websites in the form of display ads on mobile and desktop. The mobile app ads and banner display ads appear on iOS, Android, and Fire Tablet. Mobile interstitial ads are displayed inside mobile apps for a short time period during natural transition points. A user can dismiss them by clicking the "close" button in the upper right-hand corner.
When it comes to video ads, Amazon plays them only on Amazon-owned properties like Fire TV offering a "brand-safe environment."
Dynamic targeting
Using data to determine where an ad can show up is a powerful thing in the current age. This is extremely effective. It will help you determine the shift in the landscape quickly and you can use it to tweak your strategy accordingly. You can use it to move your ad placements, redirect your spending on creatives, or move your domain ads in a way to reach the audience who are interested in your product. This is a potential yet flexible benefit of DSP.
Audience insights and analytics
Amazon's robust data capabilities will allow you to get in-depth insights into your campaigns before, during, and after campaigns. You will have access to key performance metrics like total purchases, add-to-cart rate, product units sold, and more, to help you understand what's driving results and what isn't.
Retargeting
Gaining new customers is essential to growing a business so as maintaining the existing audience. However, retaining the existing customer base is a cheaper way to spend your ad dollars than bringing new customers.
With Amazon DSP, you can generate brand awareness by educating your customer about your products. However, you can also reach out and retarget potential customers who have purchased or engaged with your product or similar ones within the category.
In a nutshell, you can use Amazon DSP for:
Top-conversion funnel – Improve visibility and drive attention to your brand
Mid-conversion funnel – Increase consideration of your product over a competitor
Low-conversion funnel – Re-engage and retarget shoppers to win a sale
Here are some things you can do with Amazon DSP retargeting capabilities:
Behavioral: Audience who showed specific behaviors such as browsing similar products or products in a category in the last 30 days
Lifestyle: Audience who showed specific search and buying behavior associated with a common lifestyle. E.g, Veganism
Remarketing: Audiences who nearly bought your product or a competitor's, i.e., audiences who searched for, viewed, or added your product or a competitor's to the cart
Audience Lookalike: Audiences who display similar shopping behaviors as your customers or your competitor's customers
Contextual: Audiences who showed an interest in your product by browsing relevant products on other websites
Advertiser Audience: Audience given by the brand by using their website data with a tracking pixel, data from CRM database, or a hashed email list
You see, for all these reasons, Amazon DSP can be a great option for you.
What's the difference between Amazon DSP and Amazon sponsored display?
While both sponsored display and demand-side platform are a part of Amazon, there are quite a few differences between them.
The sponsored display is a self-service advertising platform, while Amazon DSP is an advertising product that allows you to purchase programmatic ads that include, but are not limited to display ads.
Amazon DSP works on a dynamic CPM model, and Amazon sponsored displays are charged based on CPC.
Why Amazon DSP?
Amazon DSP offers unique benefits to brands and advertisers. For one, the reach of Amazon DSP is quite effective compared to other display networks. Second, Amazon DSP will help you get specific audiences who are interested in your product, therefore they convert well.
You can also leverage first-party insights and observe audience behavior across their purchase journey. It helps you plan your advertising next steps.
Amazon DSP: Getting Started
You have two options to choose from:
Amazon Managed Services: Amazon's advertising team will manage the advertising campaigns, Brands with less DSP advertising experience will benefit from this service.
Enterprise Self-Service: It allows brands to control their advertising campaigns, albeit through an agency.
Should I try Amazon DSP?
According to eMarketer, video, social media, and native ad spend that are a part of programmatic advertising setup are fueled by double-digit growth. By 2021, advertisers will ramp up their programmatic average investments due to technological advancements, including connected TVs.
The best way to look at Amazon DSP is – it's the next step to grow your established brand beyond Amazon. Amazon DSP may not be an ideal choice for beginner sellers.
However, if you are a brand trying to grow your business on Amazon, you should consider SellerApp's PPC management services and listing optimization services. SellerApp's experts know the best way to maximize sales and visibility with the allocated budget. Be it driving ACoS down, facilitating growth to increase sales and revenue, results-driven approach, using different sponsored ads to drive the best ROI, SellerApp got you covered!

Co-Founder At SellerApp 
Senior IT executive with over 13 years of product development and global consulting experience in large-scale, complex systems and deep technology delivery and management.
Subscribe to SellerApp Newsletter