The only way to grow your Amazon business is with actionable data. Instincts never pay off. From inventory management to pricing, Amazon gives you all the information you need to make informed decisions. Regardless of where you are in your seller journey, it is essential to use Amazon inventory reports if you're looking to grow.
In this article, we'll walk you through the different inventory reports you can download from Amazon. We'll also look at how you can use these reports to supercharge your sales.
Quick Guide
What is an Amazon inventory report?
An inventory report is a summary of the products that you have put up for sale on Amazon. The report provides the stock-keeping unit (SKU), price, quantity, and ASIN for each of your current listings. The data you receive will be from the time the report was run. This means that the report could be outdated by the time you receive it. Therefore, it is recommended that you compare your Amazon orders and inventory reports to your own inventory records.
Only professional sellers can download Amazon inventory reports.
The most recently requested report will be available for 30 days on seller central. After 30 days, the reports will be removed from the account.
Types of Amazon inventory reports
Depending on the information you're looking for, Amazon allows you to download the following inventory reports:
Active listings report: A snapshot of all your product listings on Amazon, including the ones with no inventory.
Canceled listings report: This report contains details of all the listings canceled by Amazon.
Open listings report: It contains any current merchant-fulfilled open listings available for purchase.
All listings report: It provides a snapshot of all your products, including listings that are active, inactive, and incomplete.
Sold listings report: It provides details of your items sold on Amazon.
Inactive listings report: This is the opposite of the active listings report. It provides information about all your products that are inactive.
Listing quality and suppressed listing report: This report covers listings that have quality errors. Listings with major errors are suppressed (hidden) from search and browse until the errors are fixed.
Fulfilled by Amazon (FBA) Sellers also have access to the following inventory reports:
Inventory reconciliation report: All inventory details for a specific time period (up to 18 months.)
Recommended removals: Receive details of inventory at risk of being charged a long-term storage fee.
Amazon fulfilled inventory: A snapshot of your inventory in Amazon's fulfillment centers at the time the report is processed.
Daily inventory: Daily inventory report of products in Amazon's fulfillment centers, including quantity, location, and disposition.
Monthly inventory: Monthly inventory report of products in Amazon's fulfillment centers, including quantity, location, and disposition
Received inventory: Inventory that has been 'received' at Amazon's fulfillment centers.
Inventory event detail: The history of inventory events such as receipts, shipments, and adjustments by SKU and fulfillment center.
Inventory adjustments: Information on corrections and updates to your inventory in response to damage, loss, receiving discrepancies, and inventory transfers.
Inventory health: Detailed data about sales, sellable and unsellable products, inventory age, and weeks of cover left.
Manage FBA inventory (archived): Listing, condition, disposition, and quantity information on your products. Information about archived listings can be applied for separately.
Inbound performance: Information about the inventory you have sent to Amazon FBA centers
All inventory reports can be generated by following these steps:
Log in to your Amazon seller central account
Navigate to 'Inventory'
Select 'Inventory Reports'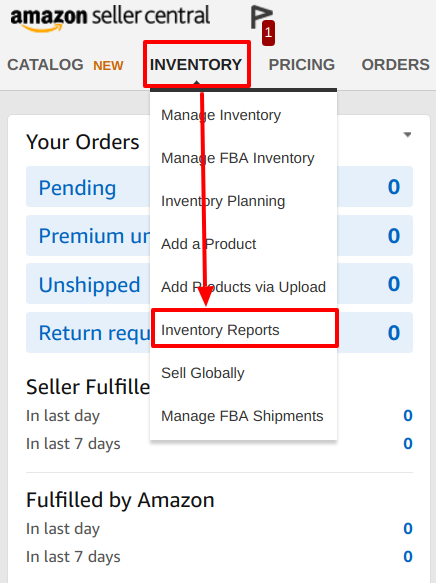 Select the required report from the drop-down menu
Click on 'Request Report' to download the report
The report will not be generated instantly. Once it is ready, you will be able to download it as a text file (.txt format). The file can be opened using most spreadsheet or database programs like Microsoft Excel or Microsoft Access.
Important Amazon inventory reports
While every inventory report provides valuable information to sellers, not all of them are created equal. There are some reports that you're likely to use more than the others. Let's take a look at the key inventory reports at your disposal.
Amazon active listings report
The active listing report is the most important one in your arsenal. It provides a snapshot of all your product listings on Amazon, including the ones with no inventory. It also provides information about the products your listings are matched to on Amazon. This includes the product title and product identifier.
ASIN is usually used to identify a product. However, industry-standard identifiers, such as ISBN, UPC, or EAN may also be used.
Recommended guide: How to update UPC on Amazon.
There are 27 columns in the report, but not all of them will have data. These are some key data points revealed by the report.
Item-name: This is the title of your product listing on Amazon. The column will only display 80 characters, so long product titles are cut-short.
Item-description: This is the product description of the listings that you have created.
Listing-id: It is an internal id created by Amazon to track a product listing.
Seller-SKU: This field gives the details of the SKU allocated to your listings.
Quantity: This shows the number of units you have available for a product.
Price: Product price, but no currency is mentioned.
Open-date: This provides the date and time of when a listing was created. It is displayed in the YYYY-MM-DD HH-MM-SS format.
Product-id-type: This id is generated when you are creating a listing.
Asin1: ASIN of the item listed.
Will-ship-internationally: This column refers to your shipping settings, 1 = Yes, and 0 = No.
Product-id: This details how the product is identified. For example, whether the product ID is ASIN, ISBN, or EAN/UPC among others.
Fulfillment-channel: This column shows your fulfillment settings. Amazon corresponds to FBA, and Default implies fulfilled by the seller/merchant.
The active listing report can be used to delete, edit, and update data using an inventory loader file. You can also update your inventory management software or spreadsheets with stock levels and other relevant inventory-related information.
Since it generates the report for all active listings, this is a great way to ensure that products are appropriately listed. It also lets you keep an eye on whether products are sufficiently stocked.
The active listing inventory report also helps sellers with the following functions. So, what are the ways in which you can use this inventory report?
Edit sales price
Lowering the price of an underperforming product is a great way to clear your inventory. With your active listings report, you can do that in bulk. Here's how
Download the inventory loader file (you can sort by category)
Copy the ASIN(s) and SKU(s) from the report into the corresponding columns in the inventory loader file.
On the inventory loader file, navigate to the 'Price' column, and update the values.
Upload the file.
You can then enter a discounted price for products for a defined duration. This is an easy way to set prices if you're looking to launch a seasonal sale.
Edit dispatch latency in bulk
During the holiday season or shopping festivals, it can be hard to keep up with demand. Just like editing prices, you can also edit your lead time to ship orders. This will give you more flexibility when it comes to shipping times and help you avoid costly suspensions.
Canceled listings report
The canceled listings report contains all listings that Amazon has canceled or disabled. It does not include items that are sold out, removed with inventory loader, or canceled by sellers.
You cannot find out the reason behind why a listing was blocked. Despite that limitation, it is still a great way to keep tabs on your listings and fix any underlying issues if a listing is disabled or canceled.
The report can be generated periodically. This means you can get the report at the end of every day or every week to keep stock of your listings and inventory. This is a great way to keep track of your listings and ensure that your products are always up for sale.
Inventory health report
The inventory health report is an FBA exclusive. This report gives detailed data about sales, sellable and unsellable products, inventory age, and weeks of cover left. Keep in mind, the information is often 24-72 hours outdated.
By taking sales velocity into consideration, this report will give you an estimate of how long your existing inventory will last. This is extremely important if you want to keep up with your stock. Your inventory health directly affects your chances of winning the Buy Box, so make sure you go through this report on a regular basis. The report includes the SKU, ASIN, product name, product condition (new or used) sales rank, and product category.
Your inventory age is another major factor covered by this report. Your inventory is segregated into products that have been at the fulfillment center for 0-90 days, 91-180 days, 181-270 days, 271-365 days, or more than a year. The inventory health report will also alert sellers about products that are liable to be charged for long-term storage fees.
You also get information about the inventory that is being processed for removal. Sales information for the last 24 hours, the last 7, 30, 90, 180, and 365 days are also available through the report.
In short, the report provides an overall holistic view of your Amazon inventory. Track your sales, inbound inventory, inventory age, and inventory status, all with the click of a button.
Related Post: Guide to Removing Inventory From Amazon FBA
Final Thoughts
Data is the key to success on Amazon. There is no doubt new sellers may have difficulties unpacking large inventory reports. But, these reports are key to growing your Amazon business and cannot be ignored. If you're an FBA seller, you'll receive even more granular data and details about your listings and inventory. This is great for planning your sales velocity and streamlining your inventory management.
This is all the more important because running out of stock can drastically reduce your chances of winning the Buy Box.
How do you use inventory reports, and how have they impacted your business strategies? Let us know in the comment section below.
Additional Resources:
Best Stock Inventory Management & Optimization Techniques!

Was this post helpful?
Let us know if you liked the post. That's the only way we can improve.