Choosing the right inventory management software that aligns with your Amazon FBA is important to maximize your efficiency. If you've poor management skills, it's time to change.
Do you know that retailers who opt for inventory management software boost their efficacy substantially? Well, that's true. Whether you are a new seller or an experienced one, managing your Amazon inventory is one of the most important aspects of your business. You need to ensure that you place the orders at the right time to avoid overstocking and understocking issues as they are costly errors to make.
Fortunately, there are plenty of e-commerce tools to automate your tasks. Similarly, Amazon inventory management tools are crucial for streamlining your supply chain and ensuring effective management of your stock. In this article, let's take a look at the best options available.
Quick Guide:
Why do you need an Amazon inventory management tool?
While selling on Amazon, you must be aware of the inventory issues you are likely to face. A few of them are:

Quicker depletion of your inventory
High order volume affecting fulfillment
Poor performance leading to account suspension
Out of these, the opportunity cost of mishandling inventory is quite high. Besides, your customers expect their products to be delivered as early as possible. Fulfillment delays may result in negative reviews at times. Therefore, a seller needs to have a comprehensive Amazon inventory management system in place to succeed on Amazon.
How SellerApp helps you with your inventory management
SellerApp profit dashboard gives you an overview of your stock levels. With the inventory management feature, you will be able to get:
The total number of products in your inventory.
The total number of units in stock.
The sourcing or manufacturing costs of your inventory.
And, the net retail price of your products based on your current listing price.

You can also track your inventory based on the filters available, which include status (active, inactive, incomplete) and fulfillment method (Amazon, merchant fulfilled, both).
List of Inventory Management Tools to Ease Your Work
1. Skubana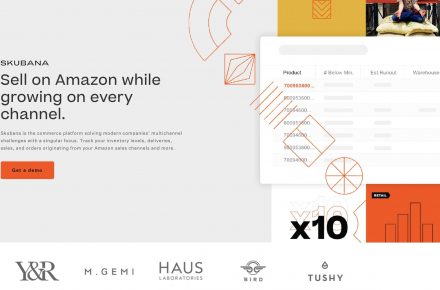 Skubana is the leader in e-commerce operations software. With native integrations into Shopify, BigCommerce, Amazon, Walmart, eBay, and more, Skubana enables brands and retailers to grow beyond their primary storefront and compete in a multichannel, multiwarehouse world. The cloud-based platform unifies backend orders, purchasing, and inventory data from across your network of sales channels, fulfillment partners, and warehouses. Powerful automation tools handle order routing, accounting, shipping, and inventory management to improve operational efficiency and lower overhead costs.
Skubana's customers include some of the fastest-growing D2C brands and marketplace sellers including Tushy, Haus Labs, Snowe, Caraway, Nomad Goods, and LastObject.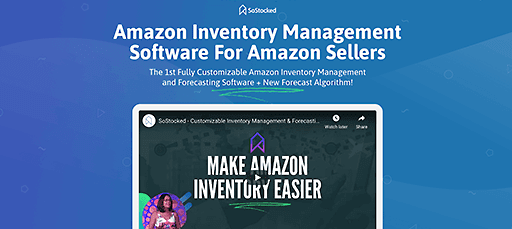 SoStocked is an Amazon inventory management software that makes it easier for Amazon sellers to forecast and manage inventory. Forecasting can be highly accurate because SoStocked can factor in things like seasonality, past stockouts, past sales, and future marketing plans. Whether private label or wholesale, you can tweak the forecast to fit your business. Their fully customizable KPI dashboards are cool as well, helping sellers to get a high-level view of inventory levels, tracking, and when to reorder.

Linnworks is an eCommerce platform that automates sales management, order processing, inventory control, financial reporting, and shipment tracking. With Linnworks, you can integrate your e-commerce store and platforms to unify your inventory updates. Once the orders are created, tracking information is automatically sent to relevant channels through Linnworks. Overall, you can operate your sales channels with maximum efficiency and save costs considerably.


Sellbrite is a multi-channel solution for online platforms such as Amazon, Walmart, eBay, BigCommerce, and others. The software is ideal for sellers who are selling on more than three platforms and want to scale their operations. It allows you to prevent stock-out and ensure your pricing is in place. Any changes in your inventory will be automatically updated in your listings.
Sellbrite also creates powerful reports to analyze and improve your business operations.
5. Veeqo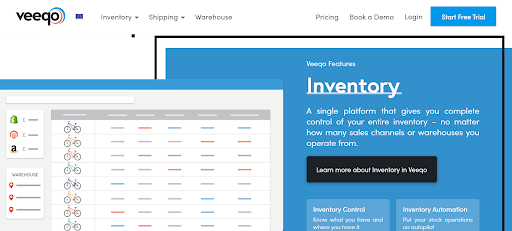 Veeqo is a centralized inventory management system for retailers selling across multiple sales channels along with Amazon. Their interface is quite user-friendly. You can connect all your sales channels to Veeqo and manage shipping labels, orders, and inventory from one platform. On the inventory side, you can get better visibility of your stock and have granular control over the inventory operations. You can also pick and pack your orders with the help of barcode scanners.
6. Expandly

Expandly helps you manage listings, orders, shipping, and inventory. The platform is quite cost-effective, and it allows you to integrate platforms like Etsy, Amazon, and Wish, etc. This is a good option for sellers who want to manage multiple sales channels with the help of one single platform. Besides, Expandly provides excellent customer support and their reports will show deep insights into overall performance.
7. Forecastly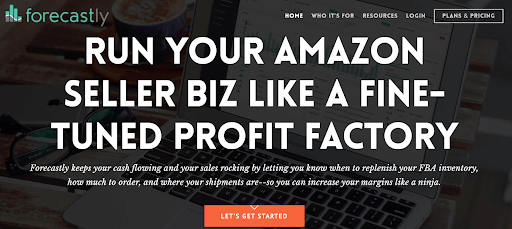 Forecastly helps Amazon sellers keep a better tab of their inventory. You can take a look at the stock levels in one go. It saves lots of time with inventory projections and reorders. The inventory management tool gives you access to features like advanced replenishment statistics, inbound shipment, account dashboard, and much more.
They offer three packages for sellers ranging from $80 per month to $240 per month along with a large enterprise edition. The pricing varies based on the stock levels and can be expensive for sellers who are just starting out.
8. Brightpearl

Bright pearl is an inventory and order management solution mainly for retailers, multichannel sellers, and wholesalers who sell via website webstore, or online platforms like Amazon, eBay, and others. One can integrate the software with CRM, shipping and fulfillment, accounting, warehouse, and POS too. It has a good reporting capability and extensively helps in invoicing and inventory control.
Conclusion
Tracking your Amazon inventory manually using Excel or spreadsheets can be time-consuming. You may end up making errors that cost you a fortune. An inventory management software that manages your tasks effectively is extremely helpful. You can't afford to lose the ranking and reputation of your Amazon business with poor inventory management. So, it's time to reinforce your Amazon business with robust eCommerce integrations. And, we hope our suggestions will help you with it.
Additional Read:
Hypercharge Your E-commerce Brand With Revenue-Based Financing!
How to Leverage Amazon Inventory Reports – Step-By-Step Guide
The Best Guide to Using the FBA Business
Best Stock Inventory Management & Optimization Techniques!
How fashion eCommerce retailers can reduce online returns
SellerApp Recognized to Deliver Great User Experience for eCommerce Software.
Was this post helpful?
Let us know if you liked the post. That's the only way we can improve.