Amazon Logistics was launched in 2015 with two objectives in mind:
Make their customers happy
Lessen the shipping time
If you thought that Prime was an astounding idea, then you haven't experienced the excitement of virtual shopping and having the order arrived at your customers within 2 hours yet, and that too on Sundays.
The infrastructure of Amazon Logistics can either sabotage or help third-party sellers. It can considerably improve their capability to serve lots of customers and provide faster delivery. But if not done executed correctly, it can hurt their feedback or ratings to a great extent.
The result differs from one seller to the other, and it all comes down to how every seller uses the Amazon Logistics program wisely and how proactive he or she is in the approach.
As a seller, if you want to ensure that you are getting the most out of Amazon Logistics, without damaging your reputation or sales in the process, then, let's look at it from all perspectives.
So, let's get started.
Quick Guide:
What is Amazon Logistics?
Amazon Logistics is a well-known shipping & delivery service, which complements existing providers such as USPS, FedEx, and UPS.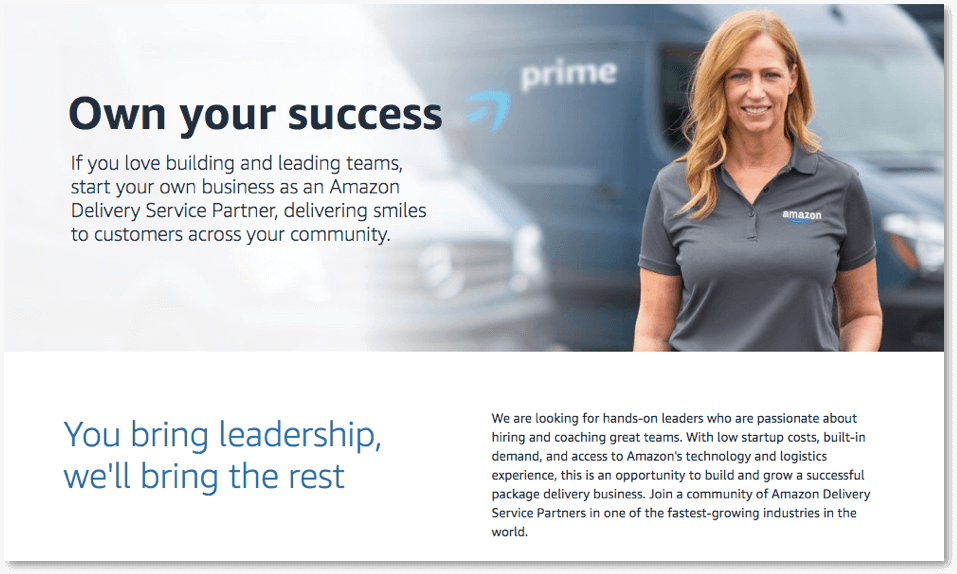 In simple words, Amazon Logistics is more of a "last mile" shipping & delivery service, which gets packages delivered to their customers. So, it does the same work that national postal services like Royal Mail, USPS, and commercial carriers such as UPS & FedEx do.
However, Amazon Logistics isn't a big corporation like FedEx. It is a technology-driven marketplace or network, like Uber, where Amazon is the buyer of delivery services, and independent delivery services and individuals are the suppliers.
The "capacity" of delivery is given by:
Individual drivers who use Amazon Flex for delivering shipments (for some hours) whenever they want to. So, this is more like the "gig economy" model of Uber.
Independent delivery services, also known as Amazon DSPs (Delivery Service Partners), who have their own vans and fully employed drivers for delivering shipments for Amazon every single day.
Note: Both the above delivery types (individual drivers & independent delivery services) are NOT Amazon's employees. They stay under Amazon's contract and operate under their standards but more flexibly.
The program offers two types of delivery options:
The "individual drivers" and 3rd-party logistics partners are spread throughout the country for making things happen–even including bicyclists, motorcyclists, and walkers in certain regions. Amazon has some stipulations for third-party providers (in terms of vehicle sizing, licensing, insurance, and safety training). However, it is crucial to remember that they aren't Amazon employees.
Instead, they are independent logistics providers, who are under Amazon's contract to pick up packages from Amazon warehouses and deliver them to the respective addresses. They use Amazon's app for work guidance and register their deliveries. And the best part is that they enjoy flexible timings by picking up shipments at their will.
Recommended Guide: 10 ways to reduce your Amazon pick and pack fees.
What is Amazon Flex?
With Amazon Flex, workers are paid for the number of hours they work – and it is a temporary "gig economy," where they are free to opt for flexible "blocks," meaning that they can work whenever they want to.
All they have to do is follow the process of Amazon and adhere to their performance standards. This is indeed an incredible opportunity for generating an extra income. No wonder it is highly appreciated and has a great response even today.
Why Did Amazon Launch Their Own Logistics?
Well, the answer is pretty straightforward. When it comes to eCommerce, "shipping" is certainly the most unreliable and disorganized part. Unless the shipments leave the warehouses, the seller can control everything.
Then, the seller might encounter these situations:
Other delivery companies, who execute things in their way
Vehicles that would have met an accident or there would have been a breakdown
Customers who are not at home during delivery
Roadwork and traffic conditions
And the list goes on.
So, there is a lot that can go wrong. No wonder a majority of customer complaints are towards shipping. Say, for instance, late deliveries, damage during shipping, inconvenient delivery time, etc.
But when Amazon has its network for delivery, it can completely control and monitor through technology. In addition, they can address various concerns of customers.
Also, it cuts costs and increases their delivery capacity. Amazon spent a whopping $21.7 billion in 2017 just on shipping.
How Is It Different From Conventional Carriers?
Many delivery companies are seen as reliable, steady, and gradual to change. You can expect these services to:
Deliver packages on usual working hours
Deliver packages on usual business days
Deliver only if the recipient signs the package
Place security above comfort
Amazon Logistics inquires about these conventions to make sure that they don't break them. A few of these services might be unprofessional or sloppy, compared to other established deliveries.
However, the same practices, most of the time, have greater customer satisfaction, which includes:
Deliveries during weekends, evenings, and holidays
Option to leave orders to neighbors to make sure that the package is "safe" rather than leaving it on the door unattended
Not taking signature for the delivery
How Does Amazon Logistics Work?
Amazon Logistics targets to give shoppers an alternative same-day shipping & delivery option. But these benefits are there only for Prime members. Even non-prime members can get these perks but after paying an additional charge.
They make deliveries all 7 days per week, the entire day from early mornings to late evenings, making it perfect for shipments, which need a signature. They treat every delivery driver like a third-party service provider, who is contracted via Amazon.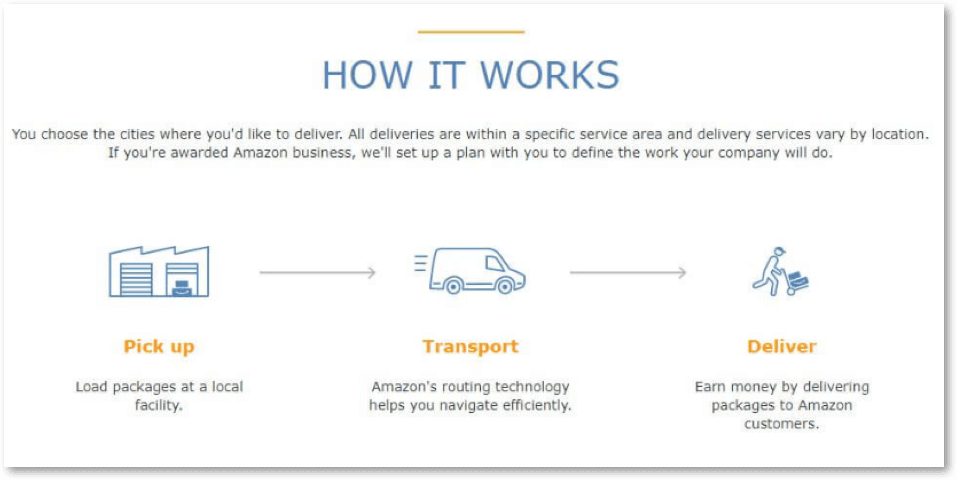 Amazon Logistics depends on different third-party contractors for running this service. However, with fewer professional requirements. Therefore, there isn't any cost associated with becoming an official Delivery Provider of Amazon. Instead, the company or the individual should meet these criteria:
They should be licensed with automotive and Commercial Insurance, Cargo Legal Liability, and Workers Compensation. To put simply, they are conventional last-mile delivery services.
The company should have experienced and skilled drivers with proper documented safety training & policies for drivers in place.
In addition, the company should have cargo vehicles in proper condition, where every cargo truck or van should hold 200 cu.ft. of goods minimum.
Amazon has placed this program more like an investment opportunity, targeting entrepreneurs especially to become their Delivery Service Partners (also called DSP).
So, the basic criteria to qualify for Amazon's DSP program include:
You need to have a minimum investment of $10,000
You are completely responsible for hiring your team
You are responsible for developing your team
You should be able to manage at least 40 vans & 100 employees
You need to make sure that the shipments are delivered 7 days a week throughout the year
For a startup cost of $10,000, Amazon projects that DSPs with 40 vans should have annual revenue figures between $1M and $4.5M and profits between $75K and $300K.
According to Amazon, for a startup with a $10,000 cost, the project that the DSPs with at least 40 vans will earn an annual revenue from $1M to $4.5M, with profits from $75K to $300K.

Note that the perks of Amazon Logistics are primarily intended for their shoppers. When it comes to customer experience, they put nothing as "excellent."
So, this means that a third-party seller will not be at the top of the list. But that doesn't mean you cannot make things work.
Think of Seller Feedback ratings, for instance. The main factors of it are:
Shipping time
Delivery expectations
Now, if you can get those packages fast than what has been listed, possibilities are that you will have customers who are more likely to leave favorable reviews for you.
However, on the flip side, you will not receive a precise delivery time while using Amazon Logistics. Therefore, you need to stick with the estimated timeframes as of now (probably, it will change in the future?).
Amazon hits their goals within 1-2 hours usually of what they estimate. So, you will have wonderful ideas of what exactly to tell your customers.
What Does This Mean For Amazon Sellers?
Amazon Logistics' shipments appear as AMZL_US in tracking. Deliveries with this title are sent to special sorting centers where Delivery Service Partners can pick up these packages from any close by the facility and deliver them to customers on time.
They make the drivers install Amazon's mobile app, which helps them to plan, get route directions, and handle the customer service. The program relies completely on third-party providers. Therefore, the service level differs from one DSP to the other.
On the other hand, providers such as UPS, USPS, and FedEx, have standard service, which customers are well acquainted with and know what to expect. However, the delivery experience of Amazon Logistics can be a hit or a miss. This makes it a problem for sellers at times.
Possible negative consequences for Amazon Sellers:
Undeniably, Seller Feedback rating is a huge and critical factor of any third-party seller's achievement. From contributing to winning the Buy Box to shaping a buyer's opinion towards a seller, shipping plays a huge role.
Therefore, damaged & mishandled packages can easily lead to bad seller feedback.
Happily, sellers who are using FBA—or Seller-Fulfilled Prime—Amazon handles item replacement and customer support if an order is damaged or lost. Moreover, Amazon's A-Z Guarantee Claim shields buyers who buy from 3rd-party merchants.
Sadly, an avid shopper is more likely to write negative feedback based on anger and frustration with his or her delivery. And a seller cannot choose which logistic provider he or she to use to ship the packages. So what should sellers do?
Well, sellers have to be more active.
As a seller, you should message each shopper once at least. You can reduce bad reviews if you follow up with your customers timely. And the best way to achieve this is with the help of a good Buyer-Seller Messaging system that automates all your tasks.
Pros and Cons of Amazon Logistics
Just as a coin has two sides, this program also has its own set of benefits and drawbacks.
Pros:
Your orders are delivered faster, allowing you to access programs like Amazon Fresh, Lockers, Prime Air, and Flex to provide expedited service. Options such as 2-hour & same-day shipping are also available but only in some geographic locations.
Amazon added enhanced map tracking to Amazon Logistics for customers to track their order and get photo confirmation once the parcel is delivered.
When other delivery services slow down during seasonal or high shipping volume, Amazon Logistics still keeps up with the demand and prevents the warehouses from overcrowding.
Also, the combo of internal teams & external partners enables for better global growth and initiatives like these:
Amazon Fresh: Grocery pickup & delivery service exclusively available for Prime members but only in selected cities.
Amazon Flex: Courier service available in 50+ cities in the U.S., which offers same-day delivery. To start delivering, the couriers need only a smartphone, a car, and a simple background verification.
Amazon Lockers: Self-service and secure kiosks where users can pick up their Amazon.com shipments at a place and time that is suitable for them.
Prime Air: This delivery system is exclusively developed to deliver orders to customers in 30 minutes with the help of unmanned aerial vehicles, also known as drones.
Cons:
A seller can't pick and select a delivery provider to ship your orders. So, this means that any negative experience with the provider possibly be repeated.
Any mishandled or late delivery can impact the seller's feedback grade. This can affect your sales performance significantly.
A seller doesn't have any control on Amazon Logistics.
Currently, the program operates getting no seller input. This could neglect insightful suggestions for improving the process.
Many independent delivery services don't always follow their protocols correctly if an order is undeliverable.
How To Minimize The Risks Of Amazon Logistics?
Know that your reputation and sales are always at stake. So, the best action plan needs to be as practical as possible right from making a sale to delivery.
Implement a good automated messaging system for requesting seller feedback right after the customer receives his or her product. Once an order is marked "delivered," generate that message!
Ensure that your customer has various options for contacting you. Once they know that you are always there to assist them with any disappointing service or shipping mistakes, seller's negligence shouldn't be the cause. Give them multiple links for tracking, Amazon's storefront link, or review link, etc.
To deprioritize Amazon Logistics as the customers' least preferred method for shipping, you can try contacting the customer service. This might push customers towards other shipping methods.
This means that you should communicate with your customers frequently. If you start implementing these ideas, you can prevent negative reviews and disappointing feedback from your customers and still be able to benefit from the Amazon Logistics program.
Conclusion
So, it looks like Amazon is persistent to create a denser and larger shipping network, competing with many well-known national carriers in the market.
Analysts say that this can even take decades to beat the competition. And if logistical leaders fail to keep up with the innovative platform, which Amazon is creating, they could see an unavoidable takeover in terms of fulfillment front.
Since Amazon is providing drone deliveries already, you could imagine what the future of the delivery system will be like. Their operational tactics could even magnify into freight forwarding unless they are holding your products from beginning to end.
Managing a bigger volume of orders ultimately paves the way for Amazon to have better control over every step of the supply chain, allowing them to meet their demands for growth.
Amazon Logistics grows every month and we firmly believe that this program now delivers about 2 percent of all the packages. You can utilize this to succeed in your business.
Additional Read:
Amazon Prime Day 2021 surpasses
Was this post helpful?
Let us know if you liked the post. That's the only way we can improve.