Wondering how to start selling on Amazon UK? You've come to the right place.
Check out this detailed guide to learn about how to start selling on Amazon UK.
What we cover
Selling on Amazon UK – Overview
What's the best part about selling on Amazon UK? You don't just have access to the UK marketplace.
With just the click of a button, you can also sell products to all five European-based marketplaces at once, including:
Amazon Spain (Amazon.ES)

Amazon Germany (Amazon.DE)

Amazon Italy (Amazon.IT)

Amazon France (Amazon.FR)

Amazon Netherlands (Amazon.NL)
Selling on these marketplaces gives an added advantage to boost your visibility without the extra work. Let's learn more about the selling process and policies that you should be aware of.
How to sell on Amazon UK – Selling plans
If you want to sell on Amazon UK, you can choose between two selling plans: Basic or Individual plan and Professional plan.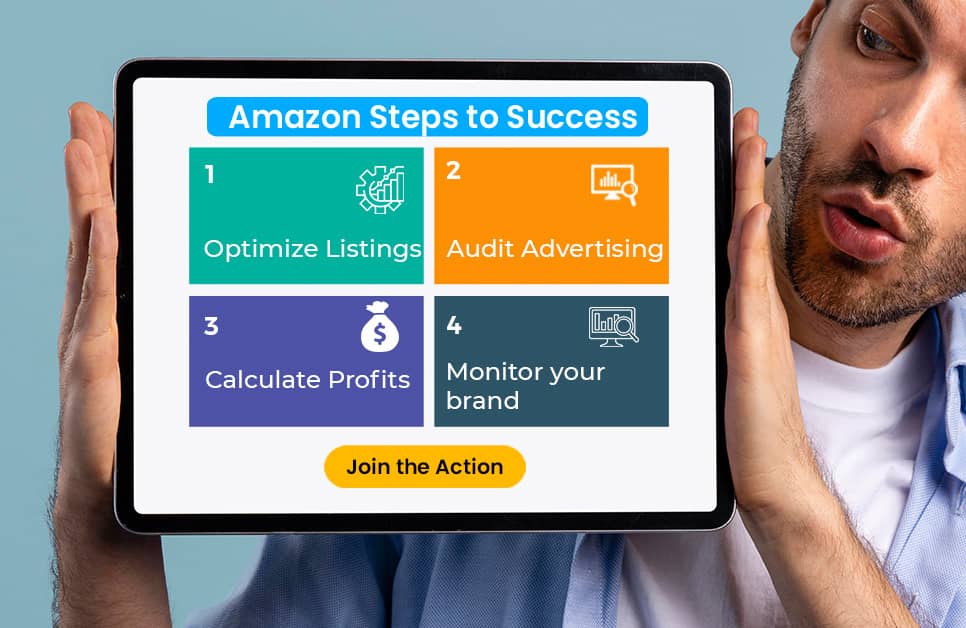 In the basic plan, you can sell 35 or fewer products per month. You will have to pay a completion and referral fee for each item you sell.
Professional sellers, on the other hand, can sell higher volumes. They can sell multiple products and will have access to bulk listing tools.
Related Post: How to Sell on Amazon as an Individual Seller – Step-by-Step Guide
How much does it cost to sell on Amazon UK?
Basic or individual sellers (less than 35 products per month) pay £0.75 per product sold plus additional fees. In the Professional selling plan, you are charged with a monthly subscription fee of £25, excluding VAT, regardless of whether you list or sell anything. This fee is non-refundable and additional charges are applicable.
For more information about Amazon UK selling fees, you can check out the seller central fee details page.
Why is it worth selling on Amazon UK?
Amazon has unified its European marketplaces. This means you can create and manage orders across the other 5 marketplaces along with the UK.
While ramping up your business revenue is one benefit, you can also test your product fit in these marketplaces without much investment. Therefore, you can increase your market share across borders with less effort.
Sending and receiving international payments
Selling on Amazon UK is a low-cost opportunity. Once your business is up and running, you need to send and receive payments and file taxes. If you use a domestic account for international payments, Amazon will charge a currency conversion fee whenever you want to withdraw foreign currency. Thankfully, you can find alternatives like TransferWise.
These borderless currency accounts like TransferWise will help Amazon sellers by allowing them to transfer their money at a low cost, securely, and quickly. You can add your borderless account details to your Amazon seller account and take payments in British pounds or any other currencies as you expand your business.



Amazon UK – Fulfillment method
Once you decide on your product, the next thing you need to choose is the fulfillment method. You can either manage the product delivery (FBM) yourself or let Amazon take the charge. If you choose to deliver the items, Amazon will send an email notification when an order is placed.
Once it is placed, you need to pack and deliver the product. So ensure you do enough research about reputable third-party distribution centers to understand shipping and storage costs. However, choosing this option means that you won't be eligible for Prime.
Amazon FBA
If you don't want to fulfill your products, you can opt for the Fulfilment by Amazon (FBA). You sell the item and Amazon ships it for you. With Amazon FBA, you can store the products in Amazon's fulfillment centers, and the retail giant will pick, pack, and distribute them, as well as handle the customer service.
You don't have to pay any additional set-up charges or subscription fees for FBA, but you'll need to pay the fulfillment and storage fees. Fulfillment fees may vary based on the weight, dimensions, and type of item (media or non-media), as well as the shipping method, used.
Here, the inventory storage fee can be classified into two types. From January to September, sellers need to pay £0.30 per cubic foot, per month; between October and December, the fee rises to £0.40 per cubic foot per month, considering the holiday rush.
Amazon FBA – Is it useful?
Amazon FBA can be cost-effective. However, it depends on your business model, a number of products, and the type of products you sell. Before you decide on the fulfillment method, you need to find out whether the service would be beneficial. For this, you should add up the overhead costs you spend on packing supplies, labor, handling returns, warehouse space, and customer service, and analyze which method works well for you.
If you want to consider Amazon FBA, you can use our free FBA calculator to estimate your profit margins.
Within Amazon FBA, you'll have several options such as the PAN-EU Program. In this program, you only pay a local fulfillment cost, even if you ship an order to a different European marketplace.
You could also choose the European Fulfilment Network (EFN). This option allows you to store your items in one fulfillment center and sell them in other European markets. For this, you have to localize your listings for different countries.
Amazon provides a great deal of guidance on the FBA options available. Pick the right one that'd be best for you.
How unification works with Amazon FBA?
When you register on one marketplace, in this case, the UK, you will be able to sell on the other five (French, Spanish, Netherlands German, and Italian) marketplaces. You need to choose your source marketplace – Amazon UK, and you'll be able to sell your inventory on the other European marketplaces. That means you can manage your products under the same seller central account. All your orders are visible to customers of different EU regions.
Note: Businesses selling on Amazon UK and EU should stay informed of the Brexit changes, and prepare their businesses accordingly.
If you are a beginner seller, check out this video about selling on Amazon UK. In this SellerSpeak series, Prabhat Shah explains the step-by-step process of everything you need to know to start your e-commerce business on Amazon UK.
Your checklist to getting started on Amazon UK
To succeed on Amazon UK, make sure you take the advantage of all the seller tools available on the marketplace. You need to keep a few things in mind.
Handle your legal obligations or find someone to do it
In many cases, Europe's product compliance and labeling regulations are stricter than the US. Besides, the product restrictions and compliance rules can be distinct within each country. You may do enough research and contact the appropriate overseas parties, however, it may consume a lot of time and effort. So investing in quality insurance can save you from any legal nightmares that may arise.
It is worth hiring a lawyer who specializes in international law and helps you outline the legal, compliance, and tax obligations you must follow in the UK and other countries you sell in. With the right kind of help, you should be able to determine the specific EU labeling requirements and warranty laws that you are required to observe.
Pricing your products on Amazon
While setting a price to sell your product, you should factor in the demand and condition of your product. Along with that:
Check out your competition and see how they are pricing.

Estimate the product demand and set you prices based on your variable and referral fees, delivery costs, etc.
Keep in mind that the right product pricing should strike a balance between your profit margins and the perceived value of your customers.
Start small and test new markets
If you're new to selling on Amazon, your learning curve can be steep. So test the waters first by understanding your customers in different marketplaces, demand, payment, and customer service, then expand your business further.
Optimize your listing for the right audience
Once you decide to sell on different marketplaces, you should localize your content and use relevant keywords to rank high in the organic search results. The best content will attract your customers and persuade them into buying your product. You can try:
Using your top relevant keywords in the product title, bullet points, and description

Including all the information required for your customer to know about your product

Adding detailed and accurate information

Using social media and other networks to build your audience.

Using A+ content to depict your brand story
Address language barriers
Although you don't need to provide customer service in the language of the country you sell in, doing so will boost your customer experience. Furthermore, it will create a positive impact on your sales. If you sell on FBA, Amazon handles the customer service.
Whether you sell using FBM or FBA, you should effectively address the language barriers in the product listings. Though English is spoken across the UK and the US, there are different colloquialisms and words that you should keep in mind while finding the right keywords and optimizing your listings. For instance, if you are selling a torch on Amazon UK, you should use the term 'flashlight' in your US (Amazon.com) listing. The best way to handle these differences would be to hire a local copywriter or use a reputable translation service to get the job done.
Seeking help to optimize your listings or accelerate your sales? You can always write to us using support@sellerapp.com
Ready to start selling on Amazon? We'd like to know your stories.
Let us know by posting in the comments section below.
Was this post helpful?
Let us know if you liked the post. That's the only way we can improve.