Amazon's catalog boasts more than 12 million products. In fact, it is one of the popular product search platforms out there. So Amazon has become crucial for many e-commerce sellers who want to scale their business. However, it can be hard to stay organized and understand all the factors at play.
This article will help you understand everything about an ASIN, UPC, and how you can convert an Amazon ASIN to UPC.
Quick guide:
What is an ASIN?
ASIN stands for Amazon Standard Identification Number. It is a product identifier used by Amazon and has ten characters that include alphabets and numbers. Amazon and its partners use this unique product identifier. They are a part of Amazon's selling policies that help shoppers find the items they want.
If you don't use ASINs the right way, you can end up violating Amazon's selling terms and may even lose your eligibility to sell on the Amazon Marketplace.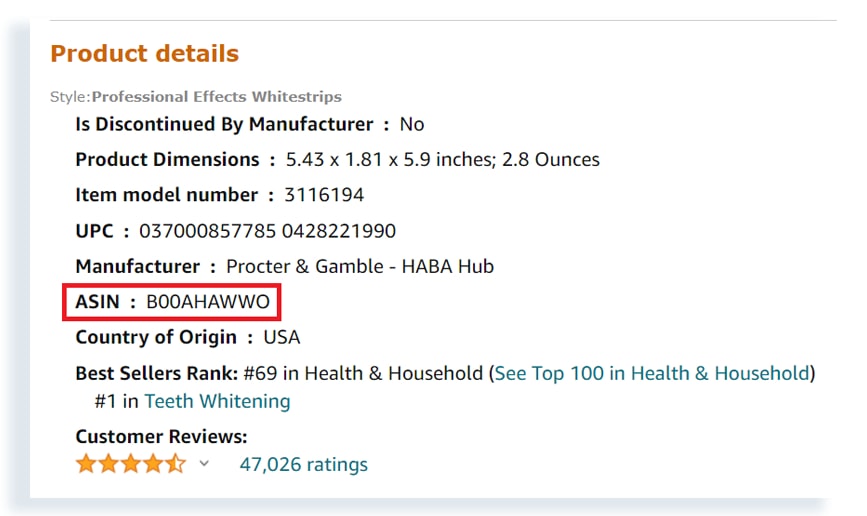 However, instead of an ASIN, an ISBN (that stands for International Standard Book Number) is used for books on Amazon.
What is a UPC?
UPC, also known as Unique Product Code, is a unique code assigned to each product on Amazon. It helps in distinguishing a product from millions of other items on the marketplace. These codes work similarly to barcodes you see in a local marketplace. However, they are unique to Amazon's database. Using these codes, it is easy to identify individual products sold on Amazon.
Why do you need a UPC?
They have several benefits:
They help buyers and sellers to identify products
These codes are used for inventory management and tracking
These codes will help in tracking products or consignments during shipping
With the help of these codes, it's easy to search products online and in warehouses
To learn more about Amazon UPC and how to buy one, check out this article.
Where do you find UPC on Amazon?
Without UPCs, you can't sell on Amazon. When you list a new product to sell, you need this code to fill your 'Product ID' section. Before you give the details, make sure you select UPC from the drop-down menu. You can't list a product before you provide the UPC details.
UPCs and EANs are the standard product IDs used on the Amazon marketplaces, including the US, UK, Canada, Australia, and other European countries.
The role of product identifiers
Product Identifiers, like EAN, UPC, and ASIN are universal, so most marketplaces like eBay, Walmart, and Amazon use them to determine if the same item is being sold on other marketplaces. They are useful if you want to keep track of your products and inventory and quickly look at other product details. If you have more products in your portfolio, these identifiers can help you efficiently order, store, and move your inventory.
When you start selling on Amazon, you need to provide ASIN to list and rank your product in Amazon SERP. To make things easier, you can share your product UPC, so Amazon will automatically add the appropriate ASIN to your listing.
Converting Amazon ASIN to UPC
When you are selling on multiple platforms, you may want to convert from one barcode to another. If you want to find an existing product that is listed on Amazon, you need to pick a UPC to ASIN conversion tool to serve the purpose.

There are also cases when you have an ASIN, and you need a UPC to order the product from a manufacturer. In such cases, you need an ASIN to UPC converter tool.

Most of the ASIN to UPC converters are free to use, so you don't have to pay anything.
How to use these UPC to ASIN converters
There are multiple free Amazon UPC to ASIN converter tools if you want to look up an ASIN and UPC or vice versa. All you have to do is input the ASIN to get the UPC.
You would also need a Professional Seller Central to account for using these free ASIN to UPC converters. You can also find bulk converter tools and APIs where you can upload a list of ASINs in an Excel file or a . CSV file.
Recommended Guide: Amazon Manufacturer Part Number.
Other important APIs for your Amazon Business
If you are a business or a developer who wants to find APIs for your Amazon business, here is a list of Amazon APIs that SellerApp can offer you.
Note: You can also find the entire list of Amazon APIs here.
Product Trends API
How do you know if a product is profitable to sell?
SellerApp's Product Trends API offers a list of top-selling products on Amazon based on ratings, reviews, estimated revenue, prices, and bestsellers over a period of time. You will be able to find the macro and micro trends using this API.
You need this API:
To analyze competitor strategies on Amazon
To find profitable product ideas
Listing Quality API
This API helps you identify the attributes that increase or decrease your product page conversions. You will get all the information to optimize product listings on Amazon.
You need this API:
If you want to analyze your competitor's listings on Amazon
If you want to optimize your product listings
Amazon Profit Calculator
This API will help you estimate your profits on Amazon. All you need to do is input values such as custom warehouse costs, including pick & pack fees and other operating costs. Our profit calculator will give a detailed breakup of the fulfillment costs, Amazon selling fees, net profit margin, etc.
This API is helpful if you want to:
Create custom pricing strategies
Estimate product profitability on Amazon
Final thoughts
We hope that after reading this, you understand how ASIN, UPC, and their conversion work. In addition, you need to ensure that you provide relevant product information when you are listing a product and optimize all the fields for SEO.
Additional Read:
Is Amazon Pay Good For Sellers?
Was this post helpful?
Let us know if you liked the post. That's the only way we can improve.