Here's a detailed guide that will skyrocket the Amazon reviews that you can get the right way.
Reviews always play a very significant role whether you're a kickstarter or you're an experienced seller. The more reviews you get, the better the competitive edge you will have in the vast Amazon market.
Amateur or veteran, this guide will give you all the edges you need to organically increase your product ranking & reviews by targeting your review count.
Importance of Amazon Reviews:
Reviews can be a bit tricky for newbies. It's not always that Quality or Quantity top the other.
Here's what I mean:
Consider the two below products, the products have nearly the same price, but a customer's mind will scream asking him to buy the product with the higher review count. That's how human psychology works. Most people are doing it, so why not me? They're probably right, aren't they?
That's how important reviews can influence human behavior. They feel safe and secure, and they know they're making the right choice. Thus, you, as a seller will get a higher click-through rate and thereby a substantial increase in the percentage of reviews you can get.
On average, it is accepted that you can acquire 2% reviews for every 100 customers. Following the below strategies can lift your acquired reviews by quite a bit.
What else influences the reviews?
As a seller, it's mandatory to ensure that your products are highly ranked and have a high visibility rate on Amazon. Without a solid review base, you'll never be on the first page. And owing to which, your product might not be visible to your customers and the conversion might never happen.
Not to mention having Amazon tags like "Amazon Choice" or "Best Seller" with a proper registered Brand on Amazon has its own added perks.
Now that we've talked about the importance of reviews. I'll walk you through about the various ways an Amazon Seller can collect reviews.
Here's our list of White Hat techniques – The righteous way!
Technique 1: Amazon's Early Reviewer Program
For the newbies, let me quickly explain this in a nutshell. Amazon encourages verified customers (actual customers who purchased from the seller) to share their legitimate reviews in exchange for a small token reward of $1-3 from Amazon.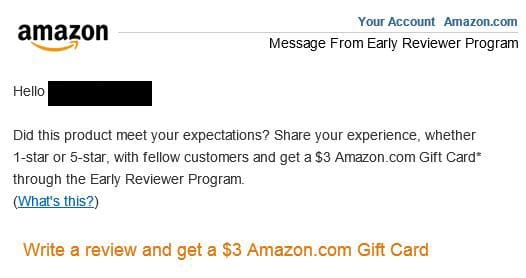 This is the perfect way to get your very first reviews just for a fee of $60 to participate in the program. Do note that your product should have a registered brand, should be over $15 and your current reviews should not be greater than 5. This is a quick way to get a quick heads up on your new products and be a solid competitor to the rest.
Is Amazon early reviewer program worth it? – Find out
Technique 2: Using Product Inserts
Product Inserts are a simple yet efficient way for sellers to get reviews from your Amazon Customers.
An insert which is well-made and one which contains all the relevant information like Brand Name, Logo, Thank you message, and also request for review. The more effort you put into this, better is the conversion.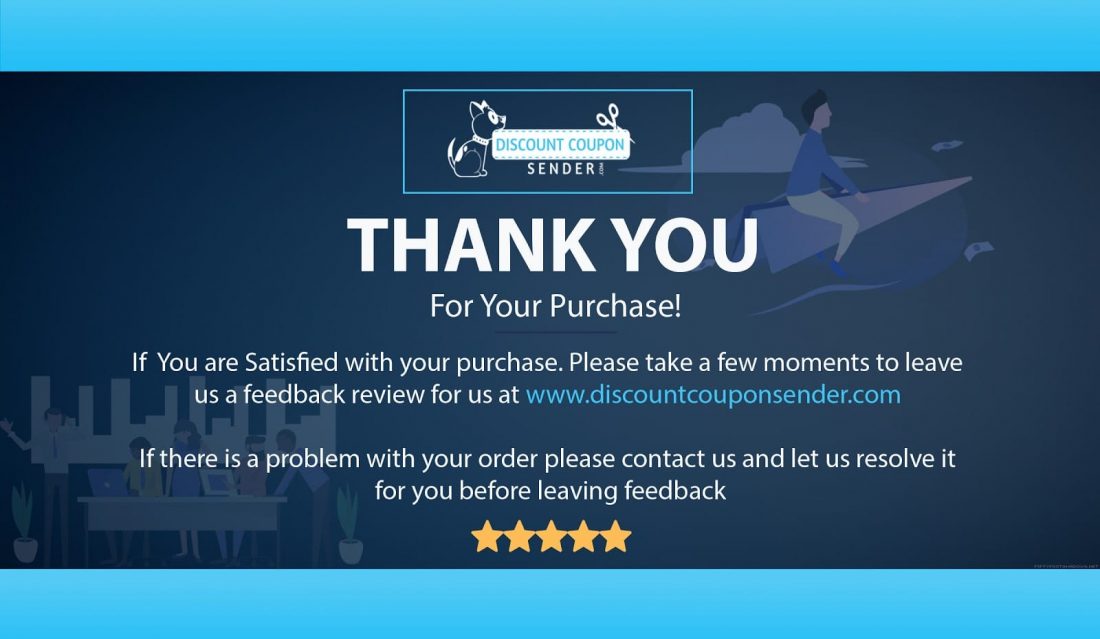 A bonus tip you can use here:
You could collect their email ID's by asking them to register for say: An extended warranty and using this information by linking it to your Autoresponders and collecting a review later on.
Please ensure that you provide details to your customer review page and extend your complete support. This will minimize the probability of your customers leaving a negative review behind.
On a very serious note, please ensure you are always Amazon Compliant here. Here is a link to Prohibited seller activities and actions.
Technique 3: Using Email Review Follow-up!
Using Landing Pages – Amazon exclusive sales funnels like Discount Coupon Sender will substantially increase your sale by organically boosting your product rankings & reviews.
By using a sales funnel, you can create a Landing Page which acts as an intermediate page between you and Amazon and acts as a platform for you to gather customer emails before they're redirected to Amazon.
Two big reasons why you need to use a Landing Page:
You collect their emails prior to them becoming Amazon customers. this is legal, it's not the same after they become Amazon Customers.
By using a landing page, it's statistically proven that the chances of conversion are higher than those customers who directly visit your product page.

So once you capture and send your coupon via your landing page by using Discount Coupon Sender's URL Builder to ensure maximum conversion and a significant increase in product rankings & reviews by using our two-step URL's, you will need to step up an E-mail Follow-up!
With Discount Coupon Sender's Email Review Follow-up feature, you can follow up and send emails to your customer's real email and thereby reminding them to leave a review. And the best part is that this is completely customizable to your liking and that uniqueness and personalization give your end customer a feeling of importance.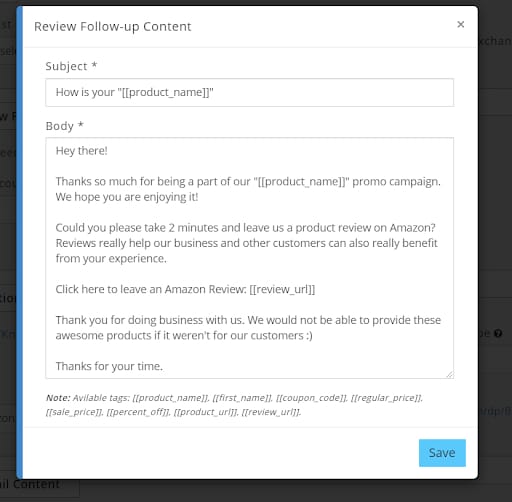 Email marketing Follow-up is cost-efficient but the open rates of the same quite low (10-30%) in comparison to the (70-90%) open rates of Facebook Messenger open rates. Let's check it out.
Technique 4: Using Facebook Messenger to collect Emails & Review Follow-up via emails to stay Messenger Compliant!
The high open rates of Facebook Messenger lead to higher engagement rates(44%) leading to a higher chance of obtaining more reviews.
To comply with Amazon's terms and conditions, you will not be able to collect a customer's email address after they convert on Amazon. So, the best method of collecting email ID's of customers is by using a Landing page which delivers coupons via Facebook Chatbot.
Facebook Messenger changes post Jan 15, 2020 has removed the extra follow up which worked in our favor, so we need to find ways that are completely compliant to collect our reviews.
At Discount Coupon Sender, there's a solid sequence of messages which are totally customizable using which customers click through to Amazon.
These Emails are in turn used to trigger the Email follow sequence to collect Reviews via an Email to ensure compliance.
Technique 5: Retargeting customers via Facebook Ads
What's more expensive but works better than Facebook Messenger is Facebook Ads. This is owing to its much higher visibility compared to the rest.
Using Discount Coupon Sender's will help you capture a customer's email in the collected leads option as displayed below.
Once you obtain your leads, you can upload them on Facebook. The leads are obtained by using Discount Coupon Sender's Landing page and are captured in the "Collected Leads" specific to your campaigns, so you can personalize your target customers in Facebook Ads.
Also, you can integrate your Facebook pixel to your landing page, you will be able to track a list of people who claimed your coupon and those who are redirected to Amazon.
Technique 6: Amazon Giveaways
Amazon Giveaways is another efficient way to increase your revenue significantly. Giveaways are the Amazon sanctioned program, with a number of winners receiving your product free of charge and non-winners getting an offer to either buy a full price or a discount.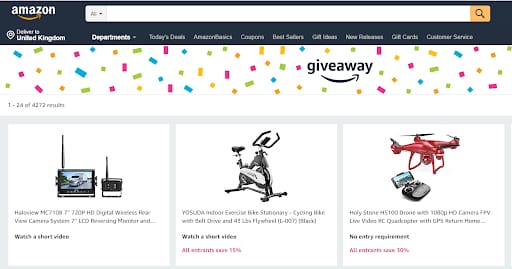 There are also discount and rebate clubs which push the limits of white hat tactics but still comply TOS technically. RebateKey is one of these services ' most famous. The purpose of these services is often more to get vendors complete sales cost loans than reviews per se, but a large proportion of buyers actually leave reviews
Technique 7: Convert seller feedback to product reviews via Customer Engagement
Amazon gives its customer to leave a review for both Products & Sellers. But what if they get confused and leave your product reviews in the wrong place?
It's your responsibility to keep track of your customer and ensure they're well guided. However, should you face this issue, reach out to your customers thanking them for their review and gently request them to add a product review on the respective product listing.
Customer Engagement is also a stepping stone for obtaining reviews. Engage via customer queries, support for servicing and engagement, etc.
The Black Hats – Stay away, unless you want to risk it!
Loophole 1: Friends and Family
Amazon closely monitors the IP and shipping addresses of customers. This is to ensure reviews aren't accumulated from their loved ones. Amazon terms & conditions is strictly against the same.
Should Amazon be able to detect any suspicious activity, they will prevent not publish the same.
Loophole 2: Finding out who our customer is via Amazon shipment reports
It's against Amazon's compliance to reach out for sellers to reach out to Amazon. However, by collecting a customer's address and looking them up in Big data databases chances are you can track their email and network to your customers via social media.
Loophole 3: Review trading websites, Facebook groups, & forums
One of the other ways to stacking up reviews for products that pique customer interest is by using websites which offer Amazon deals. However, this is quite risky.
While it sure is an effective way of acquiring reviews fast, it will totally backfire if the products aren't appealing to the customer. Not to mention the fact that it's risky.
To add on, while it's perfectly fine to advertise a product in large forms, but DO NOT incentivize for reviews.
Loophole 4: Fake accounts, fake reviews?
Fake accounts (Zombie accounts which are not used by real customers) are used by Amazon sellers to purchase cheap products which are relatively priced low and chances are you will be framed by Amazon's constant ever-changing algorithms which are being significantly improved over time.
Loophole 5: Negative review deletion with overseas employees
Amazon employees from countries like China, India are bribed for deletion of negative reviews. This predominantly occurs in large scale and could result in total a total account suspension.
It's really expensive as well, and it is not something you should attempt.
The Do's – This is what you should be doing!
Tip 1: Understand all of Amazon's guidelines
As a seller, you must completely be aware of Amazon's terms of service to ensure you're always Amazon compliant. Be a know-it-all in general with extensive knowledge in your niche.
Tip 2: Spread the word
Don't spam your posts everywhere in the name of marketing. Target the right relevant crowd for your products. Once you're the SME of the house, the traffic will automatically follow.
Running more promotions & discounts will also significantly increase your sales, there by more the chance of you getting reviews from verified purchasers.
Tip 3: Be the seller of a Top-Notch Product
Offering a product that has a higher quality will increase the customer satisfaction rate of a customer. Selling a low-quality product will work against you as the customer might leave a negative review.
Speaking about reviews, it's a good idea to keep your eyes peeled on competitors who sell similar products to always check for their customer's feedback to stay on top of your game and figure out room for improvements.
Tip 4: Open communication channels & Don't pester your customers
As an Amazon seller, ensure you provide maximum support to your customers, always have an exclusive support team if you can to ensure your customer stays happy.
But also remember not to go overboard by annoying them. If things go back, you'll never be cross-selling to them in the future or hey, chances are, they might even leave a negative review which totally works against you.
Tip 5: Make them feel special – Product Packing
Make your customers feel special by giving them a top-notch packing. This will give them a feeling of bliss, even if the product they've bought from you is not so high end.
It's a human tendency to have an adrenaline rush to open a product especially when it's a product they're using for a first time/niche product, so we have one chance, one opportunity to seize everything we ever wanted.
Once you're customer is that happy, all you need to do is plan wisely and that positive review is definitely yours. Goes without saying, a high quality product should tag along with the perfect packaging.
Tip 6: Enroll in Amazon Vine program
Amazon's Vine Program is an invite-only group of reviewers that receive products for free in exchange for impartial reviews. They will often receive products before they are released. Anyone who is a member of the Vine Program will have a badge on all the reviews they leave on Amazon distinguishing them as Vine Voices.
You can check out more details about the program here.
The Don'ts – Avoid these!
This is 2022 and not 2016!
A quick wake-up call to everyone: Amazon banned incentivized over lack of impartiality.
This was mainly caused due to the fact that sellers started giving products to customers free in exchange for a positive review, but Amazon is tracking down and taking action against these parties as product reviews play a major role in the revenue of the seller.
The only legit way of doing this is via the Amazon Vine program.
Don't promote helpfulness of reviews or degrade reviews on a competitor's product.
Amazon considers seller votes biased, it's probably not a good idea to promote the helpfulness of reviews. It's not a very good idea to comment negative reviews on competitors' products either.
Other Interesting articles:
How To Get The Amazon Best Seller Badge.
Why It's Important To Vet Your Customers
How to deal with Negative Reviews on Amazon
Was this post helpful?
Let us know if you liked the post. That's the only way we can improve.