Amazon Virtual Product Bundles Program – Your Secret Strategy to Boost Sales 2021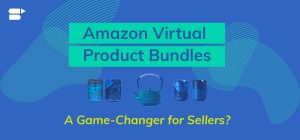 What's the one thing that your customers love while shopping? Getting a good deal.
How do you give it to them? With product bundling.
Product bundles offer value to both shoppers and retailers. Amazon Virtual Product Bundle Program is a powerful tool to increase your revenue per sale. With this post, I want to give you a heads-up about the 'Amazon Virtual Product Bundle,' how it works, and how to use it to increase your orders and sales.
Quick Guide:
How does Product Bundling work?
Product bundling has always been a strategy that increases your average order value. Searching for multiple products multiple times can be a painful task for buyers. Reducing this pain is extremely important for sellers.
Product bundles are more successful if you create them with the items that are frequently purchased together. Do you know that 35% of the purchases on Amazon come from product recommendations? (Source) Did you know these recommendations have a 60% success rate? (Source)
At the root, Amazon's recommendation system works on a simple concept: what have shoppers bought in the past? What did they view while purchasing a product? What items do they have in their shopping cart?
Here's the key takeaway: use Amazon's product recommendations to upsell and create your product bundles. This is a powerful way to grow your revenue and increase the number of repeat customers.
Example: If you are selling child safety drawer locks, Amazon may offer corner guards in recommendations. You can consider these ideas to up-sell and create bundles.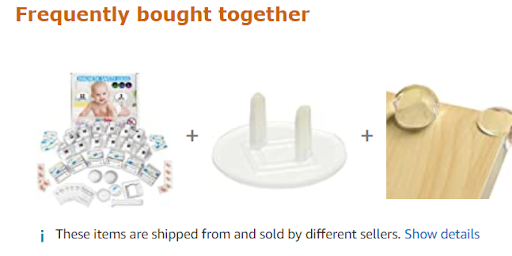 Keep in mind that a well-crafted product bundle should simplify customers' search process for products.
What is Amazon Virtual Product Bundle Program?
The Virtual Product Bundles tool allows you to create product bundles with multiple ASINs. You can bundle two to five complementary ASINs and sell them from a single product detail page. With the help of this tool, brand owners can offer product bundles without packaging them together or changing the FBA inbound inventory.
For example, if you are selling an 'electric guitar' as one ASIN and 'tuner' as another ASIN, the Virtual Product Bundles tool allows you to create a bundle of both the items under one ASIN and sell this deal. When a customer orders your product bundle from the product details page, Amazon ships these two items from your inventory. You don't need to pack the products together.

Why did Amazon introduce the Virtual Product Bundle tool?
Inventory and fulfillment are the crucial components of Amazon's business. This e-commerce giant is investing in strengthening its inventory operations, by providing features like product bundles, to gain an edge over Walmart and other brick-and-mortar retailers.
The Product Bundles pilot program is a much-needed feature for FBA sellers. Amazon will automatically update the quantities depending on the availability of the lowest-stock item in the bundle. Amazon assigns a unique SKU for the bundle, and you can create/edit the product title, description, price, and images accordingly.
The Product Bundles Pilot Program is still in beta, meaning Amazon may refine it further. Also, it is an invite-only at this point of time. So it's a good idea to consider using the Virtual Bundles pilot program to see how it influences your sales and marketing strategies.
Note for vendors: As the program is still in beta, first-party vendors should keep an eye on this feature.
What are the benefits of using Amazon Product Bundle?
Prepackaged inventory: One of the significant benefits of the Amazon Product Bundle tool is that it allows you to create combinations without sending prepackaged inventory to Amazon. You also don't have to create UPC for the product bundles.
Cross-promote your product-line: Product bundles allow you to offer more variations within your portfolio, thus increasing your digital portfolio without much labor and cross-promotions.
Attract price-sensitive customers: When the price of your product is already known, and a discount is provided, product bundles help price-sensitive customers get what they want at a discounted rate. Shoppers enjoy the convenience and savings they get from a deal.
Eligibility & Requirements
Amazon's virtual product bundle program is currently available to brand owners. It identifies the sellers who meet the criteria. To be eligible:
You need to be a brand-registered seller, and the ASINs must belong to your brand.
ASINs need to have active FBA inventory in the 'New' condition.
You cannot add gift cards, digital items like music, videos, and books, and renewed/used ASINs in a virtual bundle.
You can create product bundles only in the Amazon US store.
Note: Amazon says that the tool works well with Chrome or Firefox. Currently, the 'Make it a Bundle' widget is available for desktop only. It does not show on the mobile app.
How to set up your product bundle?
Log in to the Amazon Seller Central. Go to the Product Bundle page.
Choose from your brand-registered products, select two to five ASINs that you want to bundle.
You can upload up to 9 images for the listing. The component products you have entered in the previous step will automatically populate the images, so you can add these for the 8 images. However, it's suggested to upload an original image for the main image of the listing. This image should depict the entire bundle.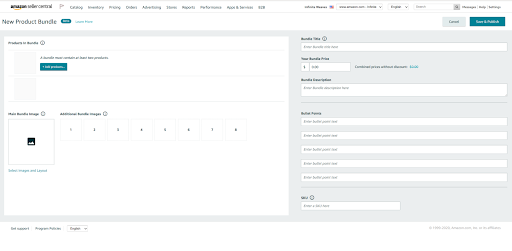 Now, enter the bundle's title, description, and price. The title field has a maximum limit of 200 characters. Product bundles can be priced lower than or equal to the sum of the total prices of the components in the bundle. If the price you offer is more than the sum of the bundle's individual items, then your bundle will lose the Buy Box eligibility. As a seller, you need to track the price changes and update the bundle price if there are any changes in the components' prices.
The 'Bundled Price' section tells you how much discount you are giving from the total price.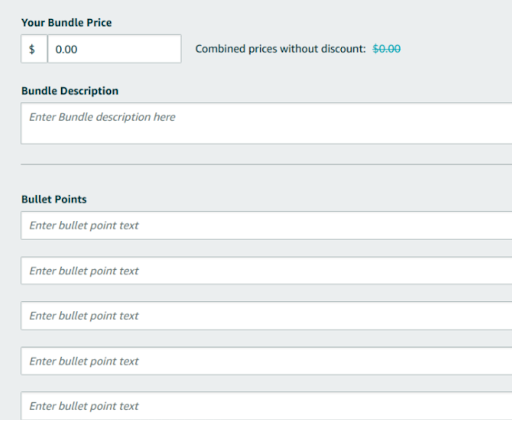 Finally, you want to enter the description, bullet points, and SKU for the product.
Note: You can edit the title, description, price, images, and bullet points after creating the listing. However, the main component, products that make up the bundle, and the bundle's SKU cannot be edited once saved. As part of your listing, it's vital to use the relevant and high-volume keywords as they drive the right traffic to your listings. Consequently, the right traffic allows you to convert into more sales.
Pick the right keywords with SellerApp's keyword tool
Since you only have the front-end of the listing, you need to choose the keywords carefully. Make sure you check out SellerApp's keyword tool to get high-volume keywords for your listing. This keyword research tool helps you to find the relevant keywords based on your shoppers' search behavior. You can filter the trending keywords by search volume, CPC, and competition. The best part? It's absolutely free to use.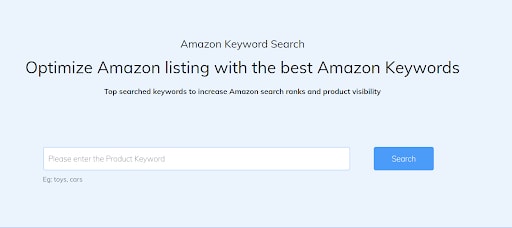 Track your performance
Amazon is not recording virtual bundle sales reports in Seller Central at this point of time. Instead, the sales are passed through to each component of the bundle. With this, Amazon makes it easy to manage your inventory without tracking new SKUs. However, you may not be able to track the performance of your bundle.
To keep a record of bundle sales, Amazon sends you an email once a week with a link to download your bundle sales from the past 90 days in CSV format. This report contains:
Date: Given in the format of Year/Month/Day. If there is no date, the bundle has no sales recorded.
Bundle ASIN
The first 100 characters of the bundle title
Total sales: Sum (bundle price * bundles sold). This column gives ordered product sales for the bundles.
The download link will expire in 6 days after the email is sent.
Bundling products is a smart strategy – But here's the catch
Product bundling is pervasive in most of the niches. It works well with many products. All you need to do is pick the right products to bundle.
But there are scenarios where customers value individual products more than bundles.
Let me explain this with an example –
Let's say, you are selling a video game console and a DVD game as a bundle along with the option to buy each product individually (called mixed bundling). Then the mixed bundling increases your orders at a significant rate.
On the other hand, if the bundle you provided is the only option for your customers (pure bundling), then chances are high that the orders will drop. (Needless to say, Amazon allows product bundles with existing individual ASINs.) So this is something you might want to keep in mind, when you are selling off Amazon.
Why is this?
Customers know that they can put off buying and wait for a better deal. They might wait for the prices to drop or look for a (similar) competitor's product at similar prices. In a way, you're either competing with yourself over time or you are losing your sale to a competitor.
This is true, especially for price-sensitive customers.
Therefore, it's important to give flexibility to your shoppers.
Conclusion
It's still nascent to say if the Amazon virtual bundle program is a game-changer but it's a much-needed tool for FBA sellers at the moment. Ensure your product bundles create value for customers – the higher the value, the better the order rate.
Have you tried the product bundle tool yet? Do you think product bundling is a valuable strategy for your FBA business? Let us know your thoughts. We'd love to hear from you!

Customer Success Head at SellerApp
Customer success leader with expertise in coordinating between cross-functional teams in product development and strategy, professional services, sales, marketing and content to deliver excellent customer experience and accelerate growth within the company by ensuring clients' success.
Subscribe to SellerApp Newsletter