Adding UPC, EAN, or ISBN to your product listings will ensure a high-quality experience on Amazon. Sellers need to update the UPC of a product on the marketplace. In this article, we'll tell you how.
Quick Guide
What is UPC?
UPC stands for "Universal Product Code." It is a unique code assigned to products on Amazon. It helps to distinguish the product from the other items on the marketplace. Typically, the 12-digit UPC is printed as a barcode on the packaging or label of each SKU (Stock Keeping Unit). Instead of UPC, European brands use an EAN (European Article Number), and EAN uses a 13
digit barcode.
Most categories on Amazon require a GTIN (Global Trade Identification Number), which can be UPC or EAN. These identifiers may vary with category. An SKU must have an EAN or UPC to list on the Amazon Marketplace. Once you create a product listing on Amazon, Amazon generates the ASIN, Amazon Standard Identification Number, a 10-character alphanumeric unique identifier. This unique identifier is used within the Amazon ecosystem.
Individual SKUs can have unique ASINs. However, each ASIN is sold by different sellers. So, in addition to the ASIN, Amazon will also generate an FNSKU (Fulfillment Network SKU). This FNSKU is unique to sellers. For example, when you get an order, Amazon takes the item from your inventory rather than other sellers. The FNSKU helps in this process.
Why is UPC important?
The selection of products and customer buying experiences are important to Amazon. When you associate a product with its unique identifiers like UPC or EAN, it promotes product page accuracy and listing quality of the product and existing Amazon's catalog. 
Have more questions on Amazon UPC? Check out this article.
Why do you need to update the UPC?
Here are a few common reasons why you need to update the UPC on Amazon.
Errors
When you create the listing with incorrect UPC details, it causes issues. You will also face issues when you try to generate an FBA shipment.
Uploading a new product
You can get UPC errors while uploading a new product. When you upload the details of your brand, product, etc., you may get an error message stating that the UPCs are not matching with the products you are trying to list.
What you should do
If this is the case, chances are that the product is recently purchased. So it may take some time to update information on Amazon from the GS1 database.
Another issue while uploading a new product is the value specified is invalid. If this is the case, you need to:
Ensure to enter the complete code without any unnecessary gaps, spaces, or dashes.
Make sure to select the appropriate GTIN format.
If 12 digits, select UPC.
If 13 digits, select EAN.
If 14 digits, select GTIN.
In-house labeling
If you add a new in-house UPC to the SKU, then you need to update Amazon with relevant information. For example, your brand sells a specific product in the US and the UK. For better inventory tracking, let's say you started using a different UPC for the same product in the UK. So you will need to notify Amazon in such cases.
To learn more about selling on Amazon UK read this article.
Is it ok to create a new listing in the place of the incorrect listing?
According to Amazon, there should be no duplicate listings. So you cannot create a new listing in the place of the old one. There are two pitfalls:
Amazon eventually identifies the duplicate listings and merges them. This may result in the loss of existing reviews.
On the other hand, you will have the advantage of linking the same product by the same ASIN across all the marketplaces you sell in. So your reviews across the marketplaces are linked as well.
Let's take an example. Let's say you are selling product A, and it has 20 reviews on Amazon.com. When you launch the same product on Amazon.ca, the ASIN will be the same across the two marketplaces in this case. Although product A has zero reviews on the new marketplace Amazon.ca, Amazon shoppers in Canada can get insights into product reviews from the US marketplace. These reviews help you build trust in the new marketplace, which, in turn, helps to gain the initial sales momentum and conversions.
If you're using a different (or wrong) UPC, your listing will not be able to get the 'top reviews from other countries' feature.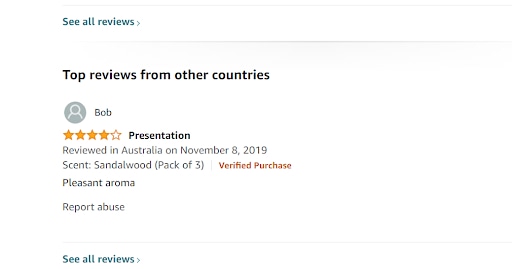 If there are any changes to the SKU, Amazon wants the seller or vendor to use a new UPC, and simultaneously, create a new listing. For example, you are selling a Horween leather handbag and later updated it to faux leather. You cannot continue using the same listing even if you update the listing description. The existing customer feedback on the listing page can be confusing and misleading. Depending on the category you sell in, you can create a child variation on the existing listing, or create a new parent ASIN.
However, if there are small changes related to new product inserts, product packaging, you may not create a new listing with a new UPC.
Apply for GTIN exemption
If your product does not have a product ID or GTIN, you can ask for an exemption. However, you need to check the existing catalog on Amazon. If your product matches the existing one, you can add your offer to the existing listing. If not, you need to request a GTIN exemption on Amazon. Then, you can add products.
A few cases where you can apply for GTIN exemption:
If the brand, manufacturer, or publisher of the products you are selling does not provide a GTIN, then you can apply for a GTIN exemption.
Amazon private label products or handmade items can come under this case.
If the manufacturer, brand, or publisher of the products you are selling does not have barcodes for the products, you can apply for a GTIN exemption.
You wish to sell product bundles. It can be a bundle of a wallet and a hat. In such cases, you can ask for GTIN exemption.
Additional Read: Converting Amazon ASIN to UPC – All you need to know
Ask for help
When in doubt, we'd recommend taking the help of seller support or vendor support. Forums such as Amazon Seller Central and FBA Reddit have invaluable information for sellers. Make sure you check out those forums if you need more help.
We hope this post adds value to your Amazon business. Make sure you check out our free tools that will help you scale your Amazon business.
Happy selling!
Related Posts:
Amazon Attribution For Better Conversions.
New Product Launch Pro Tips For Amazon Sellers
Was this post helpful?
Let us know if you liked the post. That's the only way we can improve.