Amazon variation listings are one of the best ways to improve your product's discoverability and conversion funnel on Amazon. Not all customers have similar preferences while purchasing from Amazon and if you have multiple variations of the same product, there is no other way to showcase them but leveraging the listings variation or parent-child listings of Amazon.
Adding variations to your listings can significantly enhance customers' experience by simplifying the process of purchasing for shoppers. When you provide shoppers with multiple buying options in one place, you make it much easier for them to locate what they want in one place, instead of having to browse through hundreds of products across search results.
So, how can you add variations to your Amazon listing, and what are some fundamentals to this process? Before, we deep dive into its technicalities, let me give you a brief overview of what we are going to cover in this blog –
What is variation in Amazon listings?
According to Amazon, variations, or parent-child relationships are different product options available for sale under one listing. The products may be somewhat similar to each other but they have different attributes in terms of size, color, flavor, and so on.
Look at the example below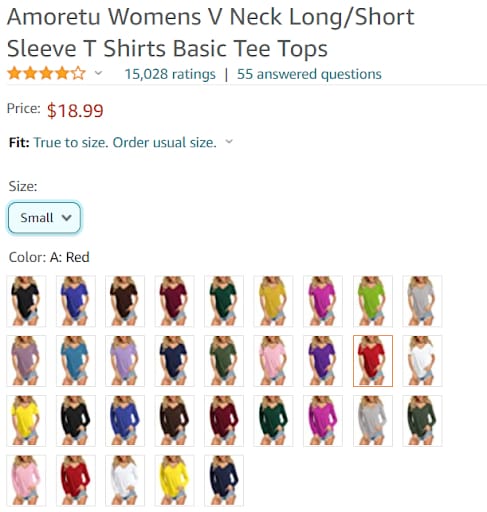 Here, instead of having 32 separate product listings for women t-shirts that come in different sizes, the seller has grouped them together on the same detail page. They have set multiple ASIN variations that are showcased as color choices.
Amazon considers this to be a good strategy as it believes that products that come in different sizes and multiple colors indicate good variation families.
Elements of Amazon Listing Variation
A listing variation relationship comprises three major components. They are:
1. Parent listing
The parent listing or parent ASIN is a holding place for the variants or child products, and it is a non-buyable entity. Amazon catalog uses parent listings to link it to its variants. For instance, if two t-shirts have the same parent, then they are considered child products.
2. Child ASINs
Child products or ASINs are the actual variants of the parent product that you are able to buy. There can be multiple child products associated with a single parent ASIN. Every child variant can be distinguished from each other in some way, either in terms of color or size or shape or flavor, etc.
3. Variation theme
The variation theme is the type of variation that determines how related products are different from each other, i.e. what is the factor that separates them from one another. Your variation theme may differ based on the category under which you list your products. For instance, child listings in the makeup can differ from each other by size, shade, color, etc. In the fashion category, child products can vary in color and size.
You may also apply two variation themes in specific product categories. For instance, if you want to list t-shirts in multiple sizes and colors, you can use the "SizeName-ColorName" variation theme. Some examples are:
Large Blue T-Shirt
Small Pink T-Shirt
Extra Large Black T-Shirt
Medium Green T-Shirt
This allows customers to select their size and color choices without having to search for single products.
What are the Benefits of Amazon Variation Listing?
Listing multiple new variations or adding variations to an existing listing can be very advantageous to your overall Amazon SEO, as they come with great benefits. Some of them are:
Boost conversions
The biggest advantage of adding a listing variation is that shoppers have several options available to them in one go without having to scroll through crowded search results for the desired size/color/flavor etc. This eventually boosts your conversion rates and adds to overall revenue to a good extent.
How to Skyrocket your e-commerce conversion rates read here.
Increases child listing visibility
Combine low-performing or newly stocked products with higher-performing listings to improve the visibility of your under-performing listings. For example, if you have added a new lipstick to your inventory, instead of creating a new amazon product listing, you can simply add your new listing as a variation to an already existing lipstick ASIN.
The biggest benefit to this strategy lies in the reviews. Wondering how? Well, 95% of shoppers read reviews before making a decision and since your high-performing listing already has some good reviews, customers assume that its child ASIN will also be equally good, considering the positive reviews its parent listing has received.
Related Post: Amazon sales strategy for brand owners
Combined sales history to improve organic ranking
Amazon automatically ranks products with good ratings on the top. Therefore, when every sale that has taken place on your parent-child listing amalgamates with the overall sales history of the child listings, it impacts your organic ranking to a great extent.
How to list multiple variations on Amazon?
Before you create your first parent-child listing on Amazon, do check the product categories that are eligible for listing variations.
The major listing categories that allow variations are:
Pet Supplies
Toys & Games
Sports & Outdoors
Grocery
Health & Beauty
Clothing
Accessories & Shoes.
Once done, you will realize that creating a listing variation on Amazon isn't as hard as it seems to be. If you are a registered Amazon seller, follow the below-mentioned steps and your parent-child listing will be created in no time.
There are two ways to create listing variations on Amazon. You can either do it manually through Amazon Seller Central or download and fill an inventory file.
In this article, we will talk about how to add variations to your Amazon listing using the Amazon inventory file template and everything you need while adding your variation to existing products.
It is the most recommended procedure for Amazon sellers, and you can easily modify, update, add, or delete child ASINs to it, as and when required.
Let's begin with the procedure –
Step 1: Log in to your Amazon Seller Central Account.
Step 2: Click on the 'Inventory' tab and select 'Add a Product from the drop-down menu list.
Now, click on 'I'm adding a product not sold on Amazon.'
Here, you can either screen the categories to select your listing type or scroll down to the search option and find your desired category there, directly. Once you've found it, select your matching category.
Step 3: Fill in the important details
Next, fill in the 'Product Name', 'Brand', and 'Manufacturer' details. Since you will be adding various ASINs, leave 'Product ID' blank.
After you have completed filling the 'Vital Info' section, click on the 'Variations' tab and select your 'Variation Theme.'
Add all the colors you want to sell click on 'Add Variations.'
Now, enter the product ID, product ID type, condition, price, and quantity. (If you are an FBA seller, the quantity should be zero.)
After you have added all the necessary information, click on 'Save & Finish.'
Now, wait till 15 minutes to view your listing variations in the 'Manage Inventory' section!
Step 4: Upload the right inventory file
To begin with, go to your Seller Central dashboard, hover over 'Inventory', and then click on 'Add Products via Upload.'
Now, add your product, select the right category, and click on 'Generate Template.'
The template will look something like this:
There are multiple tabs at the bottom of the spreadsheet. Fill in all of your product information in the 'Template' tab correctly. It may sound like a very difficult task but Amazon provides plenty of helping materials to assist you in this process. We suggest you go to the 'Example' tab to see how you should insert the variation information.
Some important tips Amazon provides on filling up the inventory file are –
Make sure you only enter an image URL for the product item, not the size, color, type, variation theme, or parent SKU.
When it comes to the parent product, do not insert data such as weight, time-to-ship, price, and so on, as the child product data already have them.
Make sure to enter the size, price, weight, etc., for your child ASINs separately as it will be different for each. (Amazon Seller Central).
How to add variation to an existing Amazon listing?
If you wish to add variations to an existing Amazon listing, the steps are similar to what was laid out above.
Follow these steps to combine multiple ASINs into one variation –
1. Download the appropriate category template for your category using the Product Classifier or Templates for Specific Categories. Skim through the 'Valid Values' tab in the template to know the available variation themes.
2. In the inventory template, create parent and child SKUs.
3. On the parent item:
Insert the required values for all sections, including SKU. This can be any alphanumeric string of 40 characters or fewer but shouldn't be a copy of your other SKUs). Sellers may choose to combine "-parent" to their base SKU to keep a note of the parent SKU.
Leave the 'Parent SKU' column empty.
Insert the value of "parent" in 'Parentage' and enter an appropriate value in 'Variation Theme.'
Leave 'Relationship Type' empty.
Leave everything else blank.
4. For each child item (ASINs to be appended to convert them into one variation family):
Insert appropriate values for necessary sections.
Enter required details in the 'Parent SKU' section using the value from the parent's SKU (value must be the same for every child item).
Add "child" in 'Parentage,' and add "variation" in 'Relationship Type.'
Go to the 'Variation Theme' section, insert the same value that you added for 'Variation Theme' on the parent (value must be the same for every child item).
After you have entered all the necessary details, correct the errors, if any, and then upload the completed file.
Tips to drive sales from Amazon Listing
As you have learned, adding parent-child listings makes way for a better customer experience, here are some vital tips you can use to improve your sales volume deploying listing variations –
1: Make the best product as your main listing, so that potential shoppers click on your product and also view your child listings.
2: Use A+ Content. Amazon says that A+ content helps improve the overall sales volume of products by 3 – 10%. This is because shoppers have higher customer satisfaction with products when they know more about them.
3: Make sure that you add multiple product images with clear and high quality that can help convert. According to SellerApp's findings, the sweet spot is 6 images.
4: It is a great idea to have an amazon keyword tool that not only gives the stats of what buyers are searching on Amazon's search box but also helps you improve your overall Amazon SEO. SellerApp's " Amazon keyword research" feature can help you find some of the top searched keywords on Amazon to gain that competitive edge in the industry.
5: You must monitor and manage your listing quality after you have listed your products. This will help you determine the level of desirability and discoverability of your listing variation.
An excellent way for you to keep track of your Amazon listing quality, and see if your variations are ranking high enough or not, is by using SellerApp's Amazon Listing Quality Score Dashboard.

Related Post : Perform Keyword Research For Amazon Products? – Using SellerApp
Conclusion
Amazon variation listing is highly beneficial to both Amazon sellers and shoppers. They have the power to improve the customer experience for potential shoppers by providing them with multiple product options all on one amazon product detail page.
Listing variation helps sellers to generate more sales, drive greater ROI, and improve organic rankings on Amazon search results.
So, what are you waiting for? Simply follow all the steps listed above and utilize robust Amazon intelligence tools to create your first listing variation on Amazon today. You will eventually notice the results and witness what they can do to your Amazon SEO optimization strategy.
Additional Read :
The Amazon Wish List – Everything You Need To Know
Amazon Attribution For Better Conversions.
Top 5 Problems Encountered by Newbie Amazon Sellers
How To Use Amazon Product Category Tree To Optimize Listings
What is Geo Ranking on Amazon – Tips to Rank Higher on Amazon
Was this post helpful?
Let us know if you liked the post. That's the only way we can improve.