We are aware that Amazon is one of the largest e-commerce retailers out there but what most of us don't know is that it is a search engine and is subject to most algorithm rules just like Bing & Google subscribes to.
Hence, it is important to know how to perform keyword research for Amazon products to increase visibility.
But the question is how and where to look for potential keywords?
Before we tell you the tricks to expand your product's visibility with the right keywords, there are a few important things that you need to know first.
So, here is a quick guide to what you are going to learn from this blog today.
Quick Guide:
What Are Keywords?
Generally, "keywords" are topics and ideas that describe or outline what your content is all about. But in terms of SEO (Search Engine Optimization), they are phrases and words that internet searchers enter into the search engines while searching for something.
Keywords are also known as "search queries" or "search terms."
This way people are more likely to click on your page provided that your content is of supreme quality, and you have the right information/product/whatever they intend to look for.
Why Are Keywords Important?
Well, keywords serve as the linchpin between the content that you provide and what people search for. Keywords fill this gap.
Whether you are selling at Amazon marketplace, have your e-commerce, or are into blogging, your goal is to rank on the top result's page to increase organic traffic. The keywords that you pick to target determine the amount of traffic (or visitors) you get.
In this video, Ankitha tells you exactly how to do Amazon Keyword Research to help you to dominate rank better in Amazon search and also for PPC and SEO in 2019. WATCH:
Why Should You Care About Using Keywords?
Search engines understand what people are searching for only through keywords. It's only with the help of keywords that a search engine knows what websites to show up or what products to display.
So, why should you care about using keywords on your page?
They say that a cool piece of content works.
Isn't it just enough to have high-quality content?
Why should I worry about using keywords?
Well, just having an attractive piece of content won't work.
You have to ensure that the people who are looking for your website/product/service can locate you.
But how? Well, with keywords.
This doesn't mean you have to just scatter your keywords around your web page.
Creating captivating content is all about offering real value to real people. Hence, when it comes to keyword usage, there are specific rules to be followed before you start.
What Are Amazon Backend Keywords?
Amazon backend keywords are something that most sellers fail to overlook when they start to sell on amazon fba.
Some sellers don't fully comprehend the way it works or even knows if something like this even exists.
Most sellers think of Amazon only as a massive selling platform. Therefore, sellers assume that to become successful, Amazon product listings should revolve only around:
Competitive pricing
Aesthetics
Of course, these two aspects are vital and play a key role in ranking your products on the Amazon SERP (Search Engine Results Page).
But as said earlier, Amazon is also a popular search engine, and most sellers fail to understand that. As far as any search engine is considered, using appropriate keywords helps the pages to gain more visibility to their target audience.
Amazon backend keywords are usually "hidden" keywords, which can only be used from the backend part of your Seller Account.
The concept is to provide Amazon with extra details about a product listing. Think of these as a website's "HTML tags," which cannot be seen. Amazon backend keywords aren't physically visible to people viewing an Amazon page. However, their influence to help a product listing to rank organically is tremendous, given that you have formatted them properly.
Backend keywords have their purpose. They work like HTML tags and are commonly referred to as "meta tags."
Meta tags are code snippets that websites use extensively to get higher search visibility. Amazon backend keywords And meta tags pretty much serve the same purpose.
They help in informing and confirming with Amazon's A9 algorithm that a product listing is going with a particular keyword.
Yet another vital factor for a product listing is the "aesthetics." A few years back, sellers would stuff keywords, excessively on the description and title, and further, make them virtually unreadable. This was called "cloaking."
Though it did work in ranking the keywords but served no purpose in providing a great user experience. However, just practices are no longer used and even if you do, you will only be hit by a big "penalty."
Consider this, Amazon offers the option of backend keywords, where sellers can include other keyword variations apart from the main (or primary) keyword.
Say, for instance, if you are selling plus-size clothing for women, then you would use "plus size clothing" as your targeting keyword, right?
But there might be people who would search for big-size clothing or clothing for obese women.
So, how can you include these keywords?
This is where the backend keyword section comes in handy.
How To Add Hidden Keywords On Amazon?
To add your product's hidden keywords, you can easily do them through Amazon Seller Central's User Interface.
Step 1: Log in to your Amazon Seller account.
Step 2: Click the tab named inventory.
Step 3: On the right side, click the button edit.
Step 4: From the tab named offer, click on keywords to open your hidden keywords section.
Step 5: From the tab named offer, click on keywords to open your hidden keywords section.
What Is Amazon Platinum Keywords?
The Amazon platinum keywords are only used by the merchants that have Amazon Platinum Accounts to build their storefronts.
A platinum keyword allows a seller to customize the product's structure in a way that their customers want to see while visiting the storefront. A seller uses this feature to maintain a proper relationship with the keyword choices.
Amazon explicitly states that platinum keywords can only be filled by platinum-level merchants. So, a usual seller account will not be taken into account.
What to do if you aren't a platinum merchant?
You can use potential keywords in your product listings, which shoppers search for. Do proper research on the data and figures while choosing the keywords.
If you are finding that hard, use a good keyword tool that gives you all the numbers in no time.
Who Are Platinum Merchants?
Every Amazon seller falls into any one of these three categories:
Individual Seller
Pro Seller
Platinum Merchant
1. Individual Seller
These are small sellers who sell only a few products in a month. They do not pay a monthly subscription fee but rather pay a fixed fee. For every sale that they make, Amazon takes a commission. They work based on the pay-as-you-go system.
2. Pro Seller
Also known as "Pro Merchants," Pro Sellers are high-volume and experienced sellers. They pay a monthly fee to upgrade their plan to Pro Merchant. This status comes with a list of perks. A pro seller can create his or her product pages, which Amazon themselves aren't selling. They even get to sell in permission & restricted categories.
3. Platinum Merchants
The highest-tier sellers on Amazon are the "gold & platinum merchants." So, the perks are going to be completely different from other sellers.
These are sellers that have remarkably excellent sales history, incredible feedback metrics, great customer support, and huge revenue.
Gold & Platinum status is offered only to merchants who reach extraordinary sales thresholds. However, the criteria to award this ultra-premium level are known solely to Amazon.
You cannot buy or upgrade your account to platinum because it is an invite-only program, meaning that only if Amazon sends you an invitation to become a platinum merchant, you become one.
The metrics that Amazon uses for determining whom to invite for this program are kept secret intentionally. Therefore, there aren't automatic thresholds to become a Platinum Merchant.
Additional Read: Amazon Advertising Grading Checklist for 2023.
Benefits Of Using Keywords
A keyword analysis is a foremost and most important step to execute before creating a product listing on Amazon.
If you do not know what search terms your audience is using to discover your product, how are you ever going to generate sales?
Optimizing your keywords has a noteworthy impact on your organic rankings.
You will be surprised to know that 75% of internet users never scroll to the second page of the search results. (Source)
So, there are good reasons your keywords should be analyzed and utilized correctly. When your organic rankings improve, your product listing is automatically discovered and this, in turn, draws more traffic.
Keyword analysis not only affects the search rankings but also offers various benefits. On that note, here are five quick advantages of efficient keyword analysis:
1. Engaged Audience
So, the foundation for developing appropriate content is by understanding which keywords can drive more traffic to your listing page. You can quickly do this by using a keyword tool. Check what your target audience is interested in. Create an engaging product description and bullet points around it.
2. Brings Qualified Traffic
Attractive product image, compelling title, and clear description will not only attract potential shoppers towards your listing but also attract qualified visitors.
If your product page provides real value to potential buyers, it is only going to give you a higher conversion rate.
3. Higher Organic Rankings
After you have shortlisted your potential keywords for your products, placing them at the right spots can have an incredible impact on Amazon SERPs. Organic search engine rankings are important for long-term success.
77% of online users click on organic links than paid ads. If you are going to rely only on paid product ads, then it isn't going to work either because you will still be losing a huge portion of the traffic. So, both are equally important. (Source: PPC.org)
4. Better Insights About Trends
Analyzing the keywords will give you better insights into consumer behavior and present marketing trends. Keep your page updated on what is popular and vital to your target audience. Utilize them to keep your product's content relevant.
5. Increases Sales
When your product listings rank for the right keywords, then you are going to gain a good amount of traffic to them. When you have potential buyers looking for your product, and if they are attractive and useful enough to put their money on, your sales are going to skyrocket.
What Is Keyword Research?
One of the most integral parts of Amazon SEO is keyword research. The phase entails researching all the relevant keywords for your product.
These so-called "relevant" keywords will be the search terms that customers use to search for your products on Amazon.
Say, for instance, if one buyer searches by typing the keyword "best swimwear" whereas the other could type "best swimsuit." However, both mean the same and both are potential keywords. You need to include them in your listing.
Factors To Consider While Researching Keywords
If you improve your keyword researching strategy and skills for your online selling business, you are going to get a huge benefit from the organic traffic that you get from the search engines.
So, what to look for while researching keywords? Here are a few to make a note of:
1. Search Volume Of The Keyword
Evaluating a keyword's popularity is one of the best ways to begin your research. The more people search for a particular term, the higher will be the number of visitors coming to your listing after you rank on the results page.
Granted, earning higher rankings isn't that easy as it sounds, but it isn't impossible either. The more popular keywords, the higher will be the volume.
Yes, of course, you can use SemRush or Google Keyword Planner for this, but those tools give you details based on the users searching in Google search engine. But that's something you don't want if you are targeting to rank on the Amazon search engine.
The search volume for a keyword is something you need to pay attention to. You don't want to choose a keyword that has no searches. Pick something that has decent search volume and is not too competitive to rank.
Try to use a tool that gives accurate keyword trends exclusively for Amazon. If you have no clue about it, scroll through the next section to see how you can get this done.
2. Search Volume Trends Of The Keyword
Does the search volume for a keyword change over time? Well, yes! You will get to know this if you experience a few of your product listings underperforming for some search queries.
Look at the monthly trends for a keyword to see how the traffic from several search queries has fluctuated in recent times.
Though not all keywords have noteworthy upward or downward trends, most do — especially if your keywords are seasonal. For example, the best Christmas gifts or best new year gifts for women.
Also, if you take home improvement keywords, they may rise during summer & spring, and decline during the winter.
3. Keyword Difficulty or Competition
Of course, choosing high search volume keywords is a great first step. But will this high-search-volume keyword rank on the Amazon SERPs or not is something you need to estimate.
But how?
The answer is a good keyword tool that fetches search trends on Amazon.
Check for the keyword's competition. This number will give you an idea if there is a chance for ranking your product listing.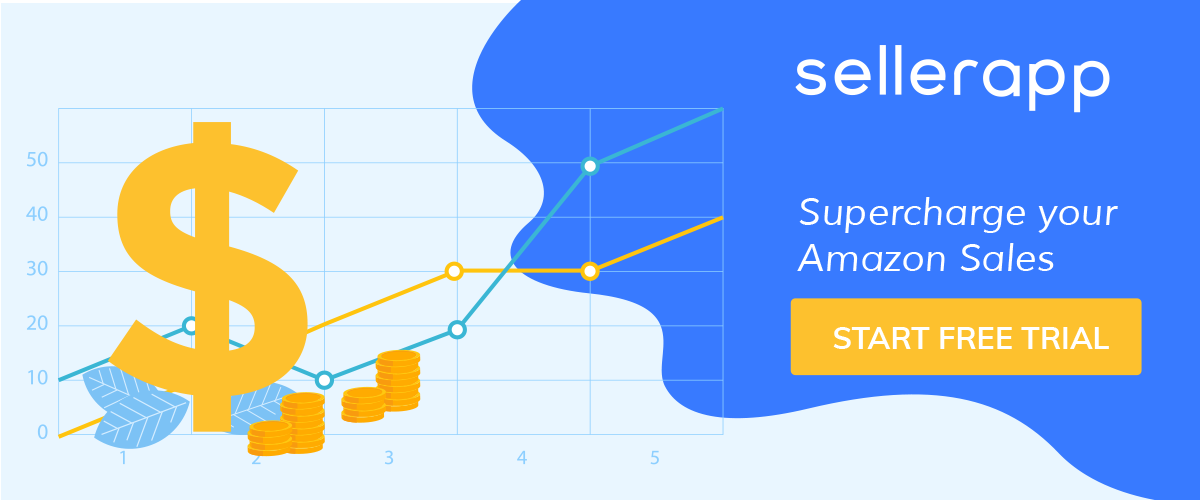 How To Perform Keyword Research For Amazon?
When it comes to keyword research, there are two types of keywords that you need to check for:
Primary keyword (or main keyword)
Secondary keywords (or LSI – Latent Semantic Indexing)
The primary keyword is something that you are going to target for the product title whereas the secondary keywords (can be multiple) will be included in the description, bullet points, features, and so on.
So, what techniques can you use to come up with the best possible keywords for your product listings?
Here are a few ways to achieve this:
1. Personal Experience
Now, this might sound a little clickéd but putting yourself in the customers' shoes is one of the best ways to get this done.
Take some time to think about your potential shoppers and ask yourself these questions:
When will they buy your products?
What terms they might use to search for your products?
What questions will they have while looking for your products?
What other related items they might prefer to buy apart from your products?
Besides the quick keywords that come into your mind, it is also a great idea to tap into social networks. Check around Facebook groups or Reddit to see what shoppers are talking about your product.
Perhaps, they frequently use brand names rather than the generic name of the product. Say, for instance, Kleenex rather than saying facial tissues. Look for acronyms or abbreviations that are commonly used within the community.
2. Try Amazon's Auto-Complete Feature

Even if you don't have much money to invest in a high-end tool (though we do not recommend this because a tool is a right way to fetch all the potential keywords for your product listing), there is still something that can come in handy and that too for free – its Amazon itself.
Go to Amazon's search box and quickly type something that buyers would probably type while searching for your product and as you type, there you go – Amazon's autocompleted feature suggests you with potential keyword combinations.
You can also use this as a part of your keyword research.
The moment you start typing some letters in Amazon's search box, you will have a list of suggestions. This auto-complete feature isn't generated arbitrarily, rather, Amazon shows up the terms that people search the most.
So, it does make sense! The autocomplete feature gives you a set of valid or authentic keywords.
Note: This technique requires refinement and patience. Be systematic while doing this and go slow.
3. Analyze Your Competitor's Listings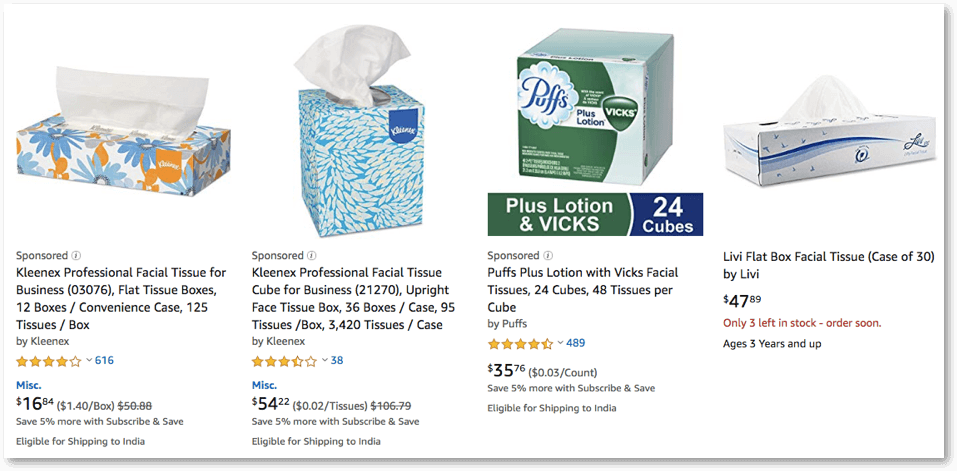 A great inspiration source for keyword research (and something that is most often ignored) is your competitor's product listings.
Check how they have listed their products and what kind of key terms have they included in the title, description, and bullet points.
This will give you an idea of what keywords to use in your product listings. Just a quick skim through the product titles will give you an idea of different keywords that you might have forgotten.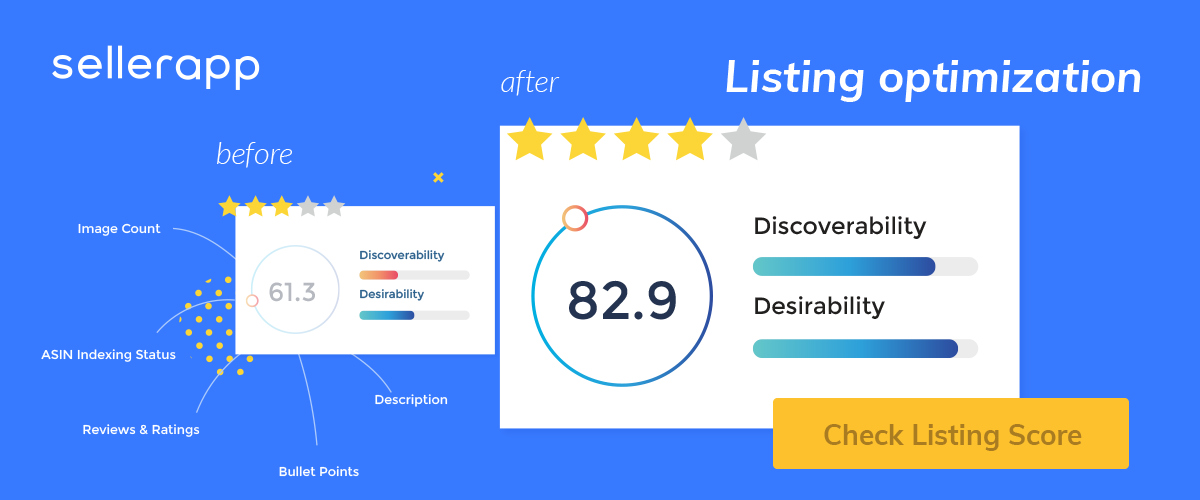 4. Use A Keyword Tool That Shows Amazon Search Trends
Note: Some sellers often look at the metric – competition – and conclude how hard it is going to be to rank a specific keyword. However, this metric reveals a different story. The "competition" refers only to the competition level of paid ads and not organic ranking difficulties. This is why it is best to have a keyword tool that shows clear data about keywords.
Though the online market is flooded with different keyword tools, it is important to have something that shows accurate numbers based on the Amazon search engine. Sellerapp's keyword tool is a great way to accomplish this.
Once you become its member, the clean dashboard allows you to perform multiple actions – from analyzing your PPC campaigns to fetching product ideas, and whatnot.
The tool is exclusively designed to give a detailed insight into keywords that you are trying to research.
You can research based on any one of the criteria:
You have a filter option to search for keywords based on a product category.

What metrics does it show for a keyword?
Search volume of the keyword
Number of results (or product listings) published for the keyword
Search volume trends for the keyword
CPC of the keyword
Related products associated with the keyword
Average reviews for the keyword entered
Average ratings for the keyword entered
Estimated sales achieved per day
ASINS with the keyword in the title
Interest for the keyword over time
Competitor ASINS and their details (brand, price, ratings, reviews, price, and sellers)
Filters to apply
Export the list of keywords in an Excel file
The moment you enter a keyword, it splits and shows the metrics in 4 sections:
A. Overview

The "overview" section shows the following details for the entered keyword:
Total search volume
Number of results for that keyword
Product category associated with the keyword
Search volume distribution
Keyword distribution
Besides displaying these metrics, it also shows:
Long-tail keyword suggestions for the entered search term
Related products for the keyword entered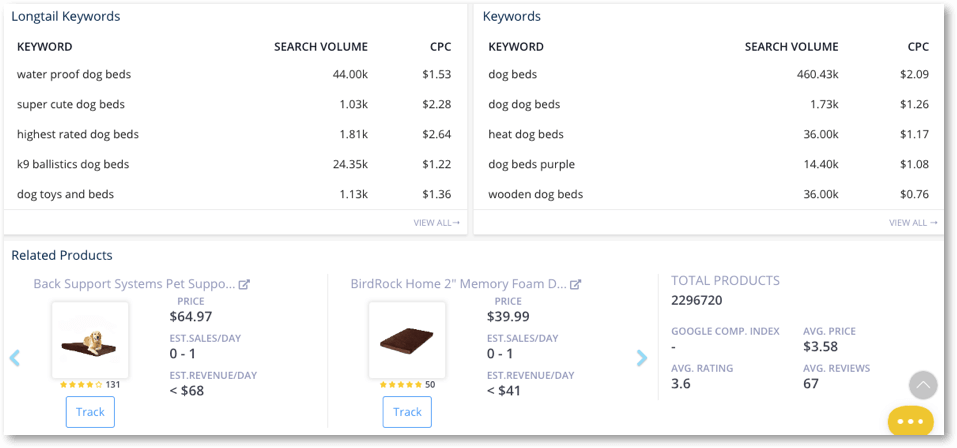 B. Keywords
The "keywords" section displays all the relevant keywords that Amazon customers or potential buyers search for the search term that you have entered.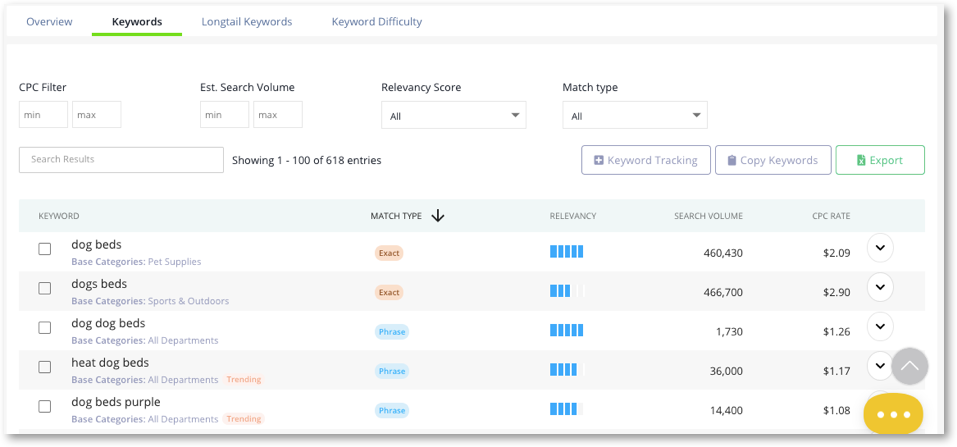 Here you can:
Apply filters based on CPC, estimated search volume, relevancy score, and match type
Sort the list based on "match type," either in ascending or descending order
Track the selected keywords
Copy the selected keywords
Export the keyword list in an Excel file
C. Long-tail Keywords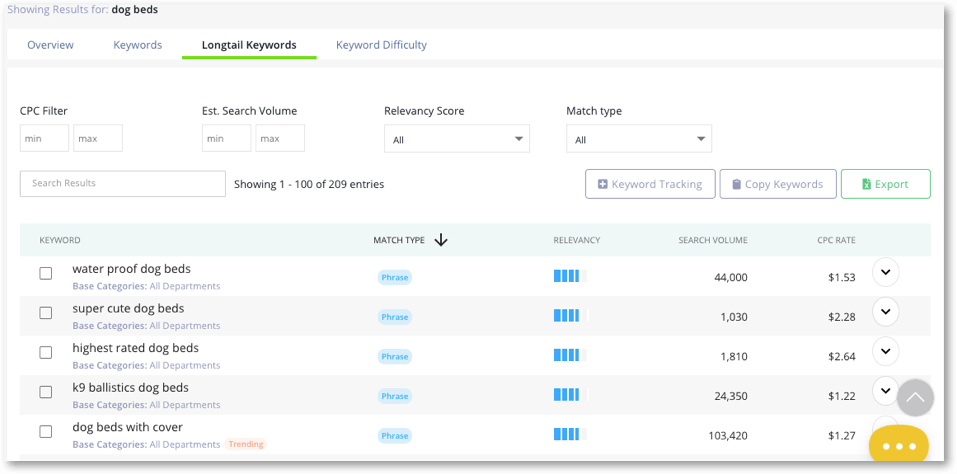 This section is pretty much similar to the "keywords" section. However, the only difference is that it displays all the long-tail keywords for the search term you have entered.
Here you can:
Apply filters based on CPC, estimated search volume, relevancy score, and match type
Sort the list based on "match type," either in ascending or descending order
Track the selected keywords
Copy the selected keywords
Export the keyword list in an Excel file
D. Keyword Difficulty
The "keyword difficulty" is one of the best parts of this tool. With this section, you get to determine how difficult it is to rank a particular keyword.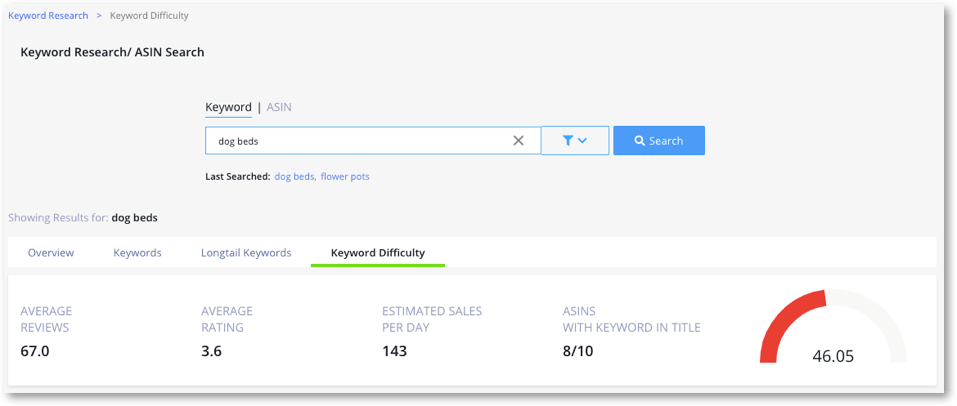 The section shows the following data:
Average reviews that sellers have received for the keyword that you have entered
Average ratings that sellers have received for the keyword that you have entered
Estimated sales per day that sellers make for the keyword that you have entered
Out of the top 10 results, the number of ASINS that have optimized the keyword in the product title
The actual keyword difficulty score
When you scroll down, you will see a graph featuring "interest over time" for the keyword that you have entered. This gives you an idea of the popularity of the keyword has inclined or declined in recent times.

When you scroll down even further, you will see the list of competitor ASINS associated with the keyword you are trying to research.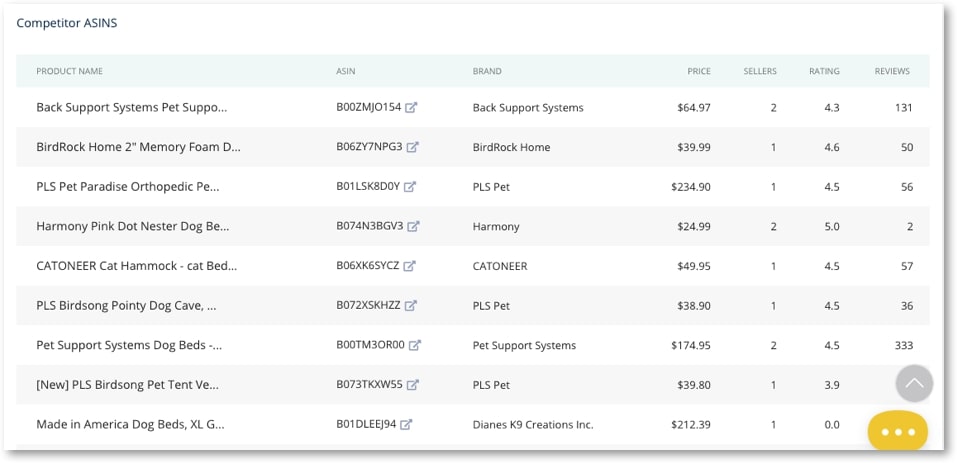 This is a one-stop solution for all that you need to perform your keyword research. Here is a step-by-step guide to discovering the best keywords on SellerApp for your products.
How To Optimize Keywords On Product Listings?
Once you have shortlisted the potential keywords to include in your product listings, what's the next step?
Well, you have to put them in the right places. This is called keyword optimization.
Your primary keyword goes into the following:
Product title
Product description
Product image filenames
Your secondary keywords go into the following:
Product title (if possible)
Product description
Product image filenames
Recommended Guide: Amazon Product Listing Requirements & Guidelines
Conclusion
Don't feel overwhelmed or bogged down. Spend a little time effectively and put effort daily into SEO. This will help your listings to be more visible. Keyword research isn't clear-cut or easy. It takes some time but will pay off in the end.
Try to follow the guidelines given in this article to come up with the best keywords for your products.
Related Content:

Walmart SEO Guide: Best Ways To Rank Walmart Product Listing
Amazon OTT
Amazon Average Order Value (AOV)
How Voice Search Will Affect eCommerce SEO
How to boost sales and increase Amazon conversion rate
Amazon Product Targeting
Everything You Need To Know About Amazon Restricted Categories


Was this post helpful?
Let us know if you liked the post. That's the only way we can improve.