The eCommerce industry is expected to grow to $2,854,203m by 2023. That's a lot of sales, a lot of customers, and a lot of competition. Reaching online shoppers before your competitors do is crucial to your future success and, luckily, the eCommerce experts at Deliverr are here to explain how something as simple as fast shipping can help you to reach more customers, convert more sales, and drive more profits.
Why fast shipping reaches more customers
Before delving into how you can use fast shipping to reach more shoppers, let's take a quick look at why fast shipping reaches more shoppers.
Customer expectation
63% Of online shoppers expect fast delivery whenever and wherever they're shopping. But, fast shipping is more than motivation – it's an expectation. Accordingly, consumers will shop in places that meet this expectation, and if you're not there, you're drastically limiting your potential audience.
Increased visibility
But, it goes beyond shopping in the right places. Shoppers unwilling to compromise on delivery speeds will use filtered search functions to show only listings that satisfy their fast shipping requirements. Take a look at Kids N' Such – by including themselves in Walmart's fast-shipping filtered search results, they tripled their sales from $15,000 per month to $43,000 per month. Again, if you're not part of the party, your listings won't reach those customers.
Fast shipping programs
Customers paying for fast shipping subscriptions, such as Amazon Prime, want to make the most of their monthly fees and will shop accordingly. If you're not an Amazon Prime seller, you simply won't be seen by this audience.
Capturing last-minute buyers
And what about your loyal customers, not motivated by speed? While they may stay true to your brand for the time being, as soon as they forget an anniversary, book a last-minute trip or underestimate how quickly Christmas would arrive, they'll head straight to your fast delivering competitor.
Fast shipping matters – you've just got to achieve it.
How to reach more customers with fast shipping
There are two ways to boost your customer numbers, using fast shipping:
1. Increase your standard delivery speeds
No one is excited about slow shipping speeds – so why are you still offering them? 58% of shoppers will choose a different retailer because of more delivery options – it's as simple as that. Remove any delivery speeds over one week from your own websites and then offer your customers a variety of delivery speed and cost combinations, so that they can choose the option that satisfies their needs, without needing to head elsewhere.
2. Sign up to fast shipping programs
Once you've increased your delivery options on your own website, you need to increase your delivery options on your online marketplaces – and this is where fast shipping programs come in. Online marketplace fast shipping programs power you to reach more customers by shouting loud and proud about your fast delivery speeds. The main ones are:
Walmart Free 2-Day
Walmart Marketplace customers have access to Walmart's shipping program, offering free two-day deliveries. Walmart Free 2-Day Shipping Sellers receive:

A green fast shipping tag;
Better search result placement; and
Buy box eligibility.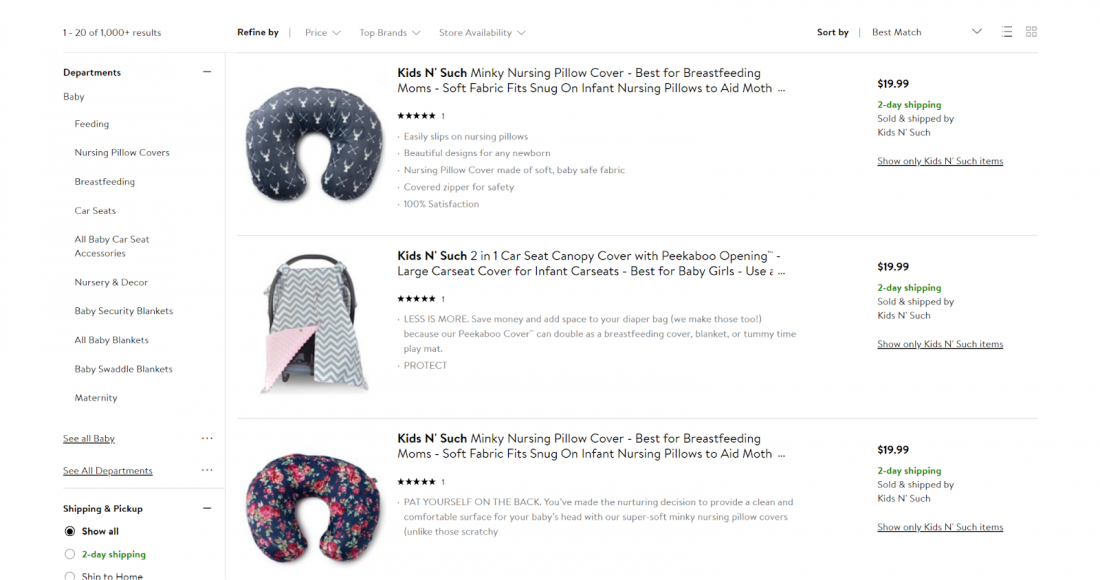 (Source: Deliverr)
Amazon Prime
For a monthly or annual subscription fee, Amazon Prime customers get free two-day (soon to be one-day) shipping. Amazon Prime Sellers get:

A blue Amazon Prime badge on their listing;
Higher search result ranking; and
Increased chances of winning the buy box.
Shopify 2-Day
Shopify's new US-wide, two-day shipping program will be in place by the end of the year, providing Shopify users with:

Use of Shopify fulfillment centers to meet two-day shipping speeds;
Use of Shopify's in-built shipping features to set specific shipping rules and pricing; and
Access to Shopify's machine learning expertise to predict demand and allocate inventory across the country.
Find out more about how you can sell on Amazon using Shopify – Step-by-Step Integration Process.
eBay Guaranteed Delivery
eBay's shoppers can filter search results using eBay Guaranteed Delivery to receive their items in one, two, or three days. eBay Guaranteed Delivery sellers get:

Placement in fast shipping-filtered search results; and
Fast N' Free fast shipping tags.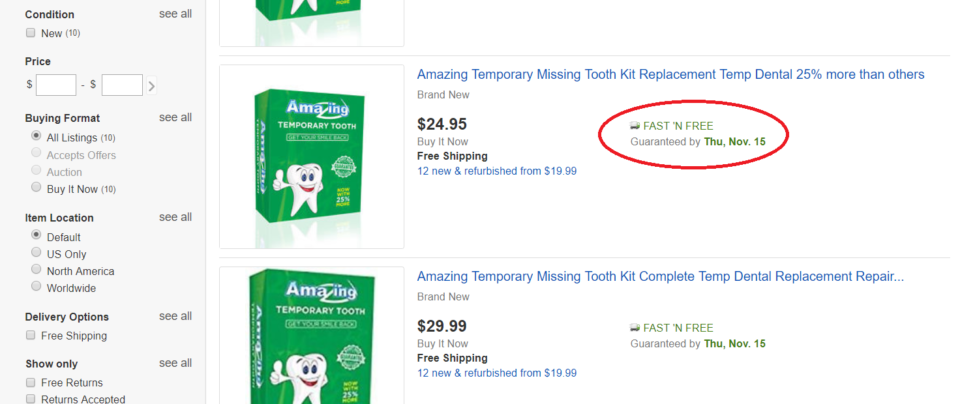 (Source: Deliverr)
Getting started with fast shipping
As we said, the best part about using fast shipping to reach more customers is that it's simple. If you're an online seller not yet set up for fast shipping, here are your options:
1. In-house fulfillment
You can qualify for the above fast shipping programs by fulfilling orders yourself in-house, using your own warehouse, staff, and shipping carrier. This is a great option if you're just starting out and have a low order volume. The in-house fulfillment requirements for fast shipping programs are:
Amazon Prime
You must be a Professional Seller who has fulfilled more than 20 Premium Shipping orders over the past 30 days and have:
An on-time delivery rate of < 96% (99% during your trial);
A cancellation rate of <1%;
Added tracking IDs to >84% of all orders; and
A rolling 30-day 4.5+ feedback rating.
Walmart Free 2-Day Shipping
You must complete a 30-day trial and achieve:
An on-time shipping rate of 95% or above;
An on-time delivery rate of 95% or above;
An accurate products' shipped rate of 99.5% or above;
A valid tracking rate of 95% or above; and
A cancellation rate of 1.5% or lower.
eBay Guaranteed Delivery
You must be an eBay Store Subscribers processing more than 100 transactions per year, with:
A late shipping rate under 5%;
A same or 1-day handling time; and once on the program
A minimum 97% on-time handling rate; and
A minimum 95% on-time tracking upload.
2. Outsourced fulfillment
If you don't have the expertise, processes, or capacity to achieve the above requirements or maintain fast shipping speeds in-house, you can outsource to a third-party fulfillment partner aligned to your current sales strategy:
Amazon-only sellers
If you're selling high-volume, lightweight, and high-margin stock on Amazon only, your best option is FBA. FBA automatically qualifies you for Amazon Prime by fulfilling orders for you – all you need to do is ship them to Amazon's warehouses. If you're selling low-volume, heavy, seasonal, or bulky products, you will find it more cost-effective using a Seller Fulfilled Prime fulfillment partner who offers an FBA-like service, at a lower cost.
Shopify, Walmart, and eBay sellers
If you're selling on one of the other online marketplaces, you can automatically qualify for fast shipping programs using Delivery. Delivery bypasses the qualification trial and fulfills orders for you, enabling you to benefit from the fast shipping programs quickly and at a reduced fulfillment cost.
Multichannel sellers
Multichannel sellers and those looking to grow their retail business should look for a multi-channel fulfillment partner who qualifies sellers for Amazon, Walmart, eBay, and Shopify's fast shipping programs.

And voila! – you're now a fast shipper.
Reaching more shoppers with fast shipping – final thoughts
Reaching more shoppers with fast shipping is easy – handling an increase in fast shipping orders while continuing to maintain fast shipping standards is the hard part. Choose a fast shipping strategy and fulfillment provider that ensures you can meet the delivery times you promise and benefit from the rewards.
Other Interesting articles:
How To Get The Amazon Best Seller Badge.
Amazon Attribution For Better Conversions.
Was this post helpful?
Let us know if you liked the post. That's the only way we can improve.