Are you looking for a membership program with exclusive benefits to help you get the most out of your shopping experience?
Look no further than Walmart+.
From free shipping to exclusive access to fuel discounts and more, Walmart+ has it all. In this article, we'll dive into Walmart+ pricing, features, benefits, and more.
Quick Guide
What is Walmart plus?
Walmart Plus is an exclusive membership program from Walmart that offers customers benefits like unlimited free delivery, fuel discounts, early access to product deals, and more!
With this membership, you can save more while shopping online and in-store. Plus, you can access exclusive discounts on specific items from Walmart's wide selection. With Walmart Plus, you can save time and money while you shop.
When was Walmart plus launched?
Walmart+ was launched in September 2020 as a membership program for Walmart customers. Since its inception, Walmart has been competing against Amazon Prime, the go-to choice for millions of Americans, for years. This service is available all across the US. Walmart+ is an exciting addition to the Walmart lineup, and it claims to provide a better value to Walmart shoppers.
How much does Walmart plus cost?
Walmart Plus costs just $12.95 a month or $98 a year. You can access exclusive benefits, like unlimited free delivery on orders over $35. Additionally, fuel discounts of up to 10 cents per gallon in 14,000+ locations nationwide, and early access to special deals and promotions like Black Friday. Plus, you'll get a 30-day free trial when you sign up, so you can try out the program at no cost.
What is the registration process for Walmart plus
Follow these steps to register for Walmart plus
1. Visit Walmart+
To get started, go to Walmart.com/plus and sign in with your existing Walmart account or start the 30-day free trial.
2. Determine if you qualify
To determine if you qualify for Walmart+, you must provide your name, phone number, and a valid shipping address, including the zip code. Once you provide this information, they will assess the available Walmart+ benefits in your area. If free unlimited delivery is unavailable at your location, you may wait a few months and try again – especially if you want to benefit from the 30-day trial period.
Once you have committed to registering, click "Continue." You would be prompted to sign in again if you have already been a Walmart user. If you are new to the Walmart marketplace and wish to create a Walmart+ account, you can create it in this step.
3. Enter your details
Enter your first and last name, a valid email, and a password, and decide whether or not to receive promotional emails from Walmart.
Once you've logged in, you can take advantage of the 30-day free trial. You'll be prompted for payment information from a credit or debit card. If you cancel your trial before it ends, your card will not be charged, although you'll immediately lose access to all Walmart+ benefits.
4. Begin shopping
Once you're ready to shop, click on the "Start shopping" button or explore the "Pickup & Delivery" area of Walmart.
All delivery orders require a minimum of $35, but there is no restriction on the number of things you can purchase. Choose the one-hour delivery slot that best suits your needs, and you can tip your driver via Walmart's website or the Walmart app.
As a member, the delivery charges will be deducted automatically for eligible orders.
What are the benefits of Walmart plus?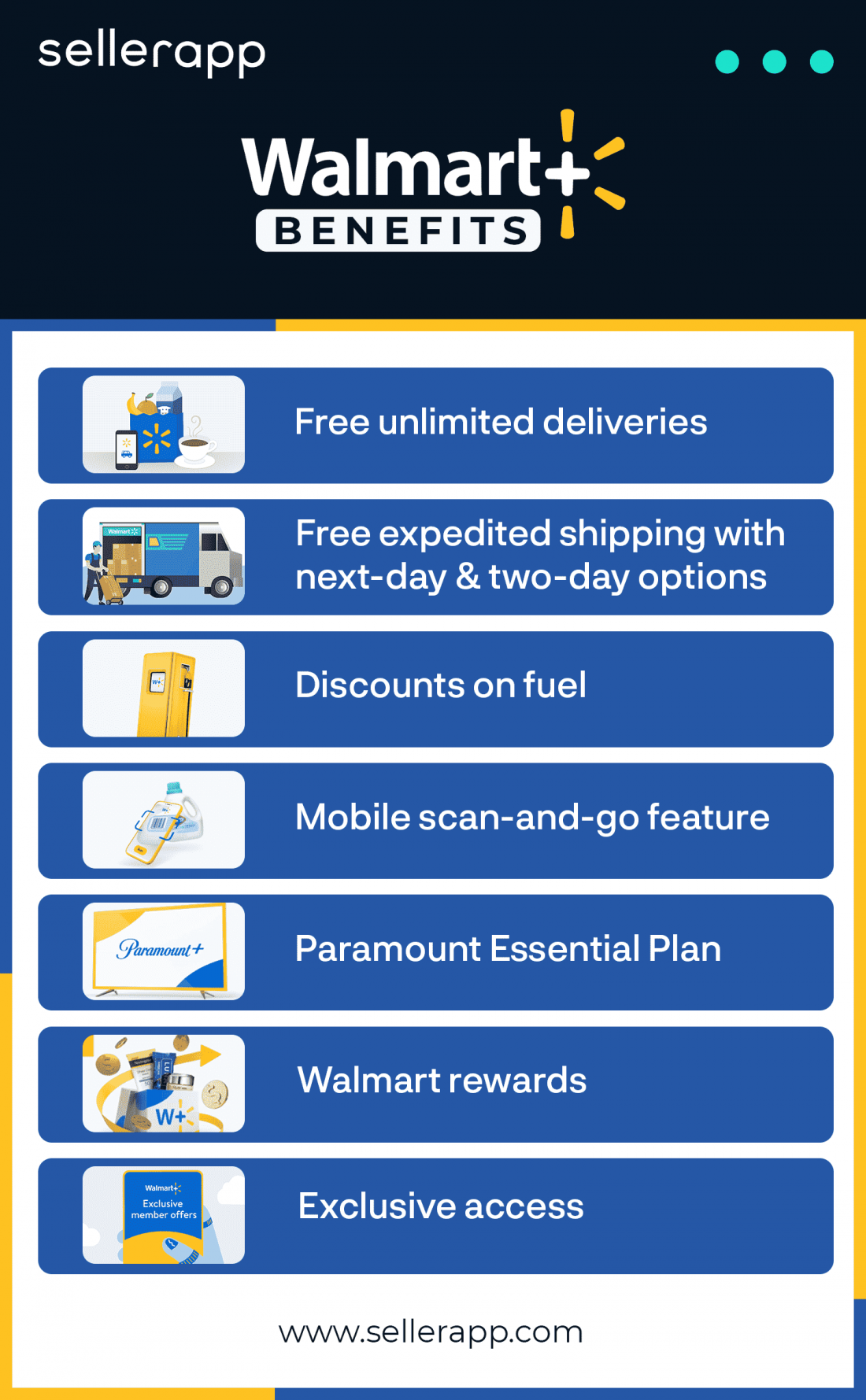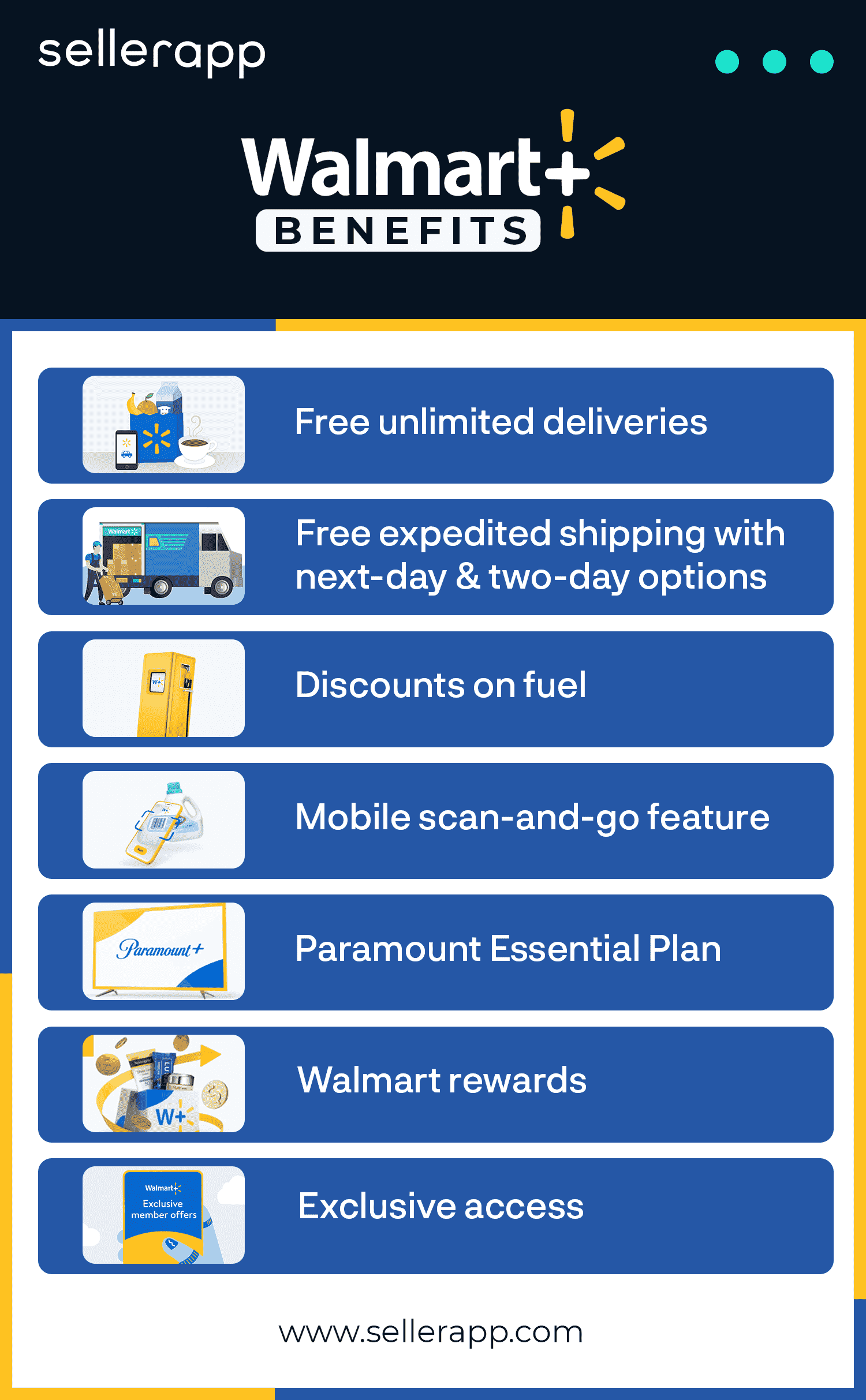 Once you sign up for the Walmart plus account, you'd receive the following benefits.
Free unlimited deliveries
Walmart Plus offers free unlimited deliveries of groceries and other items from Walmart stores. This means that customers can order groceries and other items with no delivery fees, and the prices are the same as in-store prices. The only requirement is that the order should be at least $35.
Free next-day and two-day shipping
Walmart+ offers free next-day and two-day shipping on a huge assortment of eligible items with no minimum order. So even small orders can be shipped for free without additional fees or surcharges.
Special fuel prices
The special price on fuel can add up to 10 cents per gallon, depending on the location and station. This discount can vary based on the location and station. It applies to 14,000+ locations nationwide, including Exxon, Mobil, Walmart, and Murphy stations.
Mobile scan and go
Walmart Plus's Mobile Scan & Go feature allows customers to scan items with their phones as they shop in-store. This process eliminates waiting in line to check out, making customers' shopping experience faster and more convenient. They can also track their shopping lists and budget in real-time, helping them stick to their budgets and save time.
Walmart Rewards
Walmart Plus members can take advantage of exclusive savings and rewards through the Walmart Rewards program. They can use their rewards card to earn points on each purchase and redeem them for discounts on future purchases. Members can also take advantage of special offers on everyday items, and earn better rewards for future savings.
Paramount+ Essential Plan
The Paramount+ Essential plan is one of the benefits of having a Walmart+ membership. With this plan, members can access over 40,000 episodes, hit movies, live sports, and other content through the Paramount+ streaming service. It also includes exclusive shows, movies, and on-demand content.
Exclusive access
The benefits of Walmart Plus include exclusive access to special prices, product releases, online Black Friday deals, and more. It includes early access to Walmart Black Friday. Thus, it allows members to shop before the crowds and get great deals. This is a great way for members to access the biggest discounts and offers, as well as the latest products, before anyone else.
Customers can also avail of limited-time offers like Spotify premium etc.
Key Differences between Walmart Plus vs Amazon Prime – Which is better?
Here you can find the difference between Walmart Plus and Amazon Prime.
| | Walmart Plus | Amazon Prime |
| --- | --- | --- |
| Annual membership costs | $98 | $139 |
| Monthly membership costs | $12.95 | $14.99 |
| Free trial period | 30 days | 30 days |
| Free Shipping | Next-Day Delivery, Two-Day Delivery with no order minimum | One-Day Delivery, Two-Day Delivery, and Same-Day Delivery with no minimum spend |
| Free Grocery delivery | Yes, with $35 order minimum | Yes, order minimum vary |
| Other benefits | Mobile scan and go, Paramount+ essential plan, fuel pricing, etc. | Online programs like Prime movies, songs, and e-books |
How do Walmart sellers benefit from Walmart plus
There are various ways in which Walmart sellers benefit from Walmart plus.
The sellers can easily apply the W+ badge to their Walmart listings using the Walmart Fulfillment Services (WFS) program. This badge increases visibility and conversions, as customers will be more likely to purchase products with the W+ badge.
They can also increase their visibility and conversions by becoming a Drop-ship Vendor (DSV) on Walmart, as their products will also be eligible for the Ship with Walmart badge.
Walmart Plus members receive exclusive discounts and offer on products and services, which helps sellers increase sales and profitability.
Is Walmart Plus worth it?
Walmart+ is worth the yearly fee if you shop at Walmart often and need same-day delivery (for groceries). For example, if you shop for groceries frequently at Walmart, the subscription is beneficial. Additionally, the subscription can save you money on fuel since it gives you 10 cents off per gallon. However, if you are a casual Walmart shopper, it might not be worth the cost.
Conclusion
Walmart Plus is a great way for shoppers to save time and money. With its extensive range of benefits and competitive prices, it is an ideal choice for anyone willing to shop conveniently. From free delivery to discounts on fuel, Walmart Plus is an excellent way to get the most out of your shopping experience.
Whether you're a loyal Walmart shopper or just trying it out for the first time, Walmart Plus will surely provide you with the best value for your money.
Was this post helpful?
Let us know if you liked the post. That's the only way we can improve.