Did you ever wonder why some brands consistently do better than others?
It's not just luck or a better product. These brands are successful in creating tailored strategies for each channel they sell in.
According to a study by Harvard Business Review, a vast 73% of consumers say they use multiple channels during their shopping journey. 
This means that reaching customers through social media, online websites, marketplaces, physical stores, and other channels is super-important for eCommerce businesses to succeed.
In fact, during the Black Friday, and Cyber Monday events in 2022, a staggering 48% of online sales were made on smartphones, an increase from 44% last year. 
So, if you're an eCommerce business and want to keep up with the competition, now is the time to embrace multi-channel retailing.
But what is multi-channel retailing, and how can you implement it?
This article will deep-dive into everything about multi-channel retail and tell you ways to boost sales using a multi-channel retail strategy!
Let's dive into it!
Here's a quick peek into the article:
What is multi-channel retailing?
Multi-channel retailing is a business strategy that allows sellers to sell products on different platforms. And customers can shop for products directly from the platform they are using without leaving it.
Earlier, multi-channel retail only meant two platforms, a traditional brick-and-mortar store and retail product collaterals.
However, with the rise of the internet and e-commerce, multi-channel sales have expanded to include social media, marketplaces, DTC websites, mobile apps, and traditional channels like brick-and-mortar and product catalogs.
Now, you might be thinking: "My business is doing well! Why should I adopt multi-channel retailing?"
Here are two reasons for you!
Your competitors are already using multi-channel retail to engage more customers on every step of their customer journey.
Multi-channel retail can help you grow your sales! Statistics show that shoppers who shop on multiple platforms have a 32% higher spending history (source).
Now, we've talked quite a bit about multiple channels! But what are these channels? Let's see!
What are the different types of multi-channel retailing?
To increase your revenue with multi-channel retailing, you must first understand what these channels are, how they work, and what benefits these platforms can bring!
Here are some popular platforms you can consider for multi-channel selling:
Brick-and-mortar stores
Brick-and-mortar stores have been at the forefront of traditional retail. It allows businesses to showcase their products to shoppers and connect with customers face-to-face.
With 45% of shoppers saying they still prefer in-person shopping over online shopping, brands can use these in-person stores to reach and engage with local customers and increase brand loyalty.
Wildling, for example, opened up its first brick-and-mortar store in 2022 and saw a 50% growth in first-time shoppers.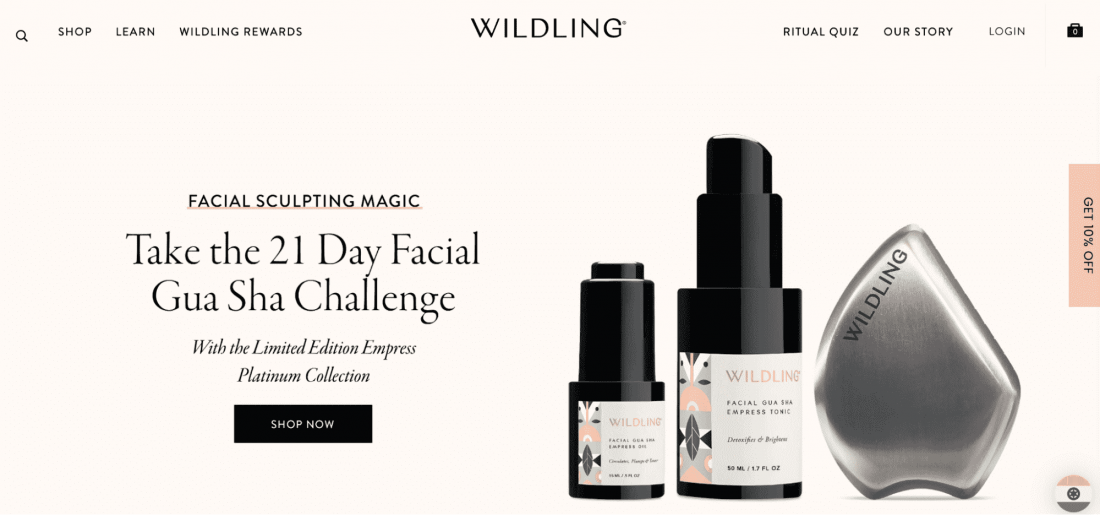 Another brand Beauty Heroes, opened up a retail store to collect valuable customer information to retarget and maximize conversion.
DTC e-commerce website
DTC e-commerce websites enable brands to sell products directly to consumers, bypassing the need for intermediaries like wholesalers or third-party retailers.
The popularity of DTC e-commerce has grown significantly in recent years, especially with the pandemic accelerating the shift to online shopping.
In fact, DTC brands' consumer spending went up to $156 billion in 2022, a 20% increase from the previous year, making it a crucial element of a modern brand's multi-channel strategy.
All that said, maintaining a profitable DTC e-commerce website comes with some challenges – ​​maintaining speed with functionality!
Studies show that even a one-second delay in page load speed can result in a 7% reduction in conversion rates, potentially costing brands millions of dollars.
Online marketplaces
Looking to tap into a vast audience base and get better ROI?
Online marketplaces are your options!
Leading platforms like Amazon, eBay, and Walmart offer a robust infrastructure and an existing large user base for seamless online buying and selling.
Shoppers also trust these marketplaces and are keener on purchasing from these platforms instead of buying from an unknown DTC website.
However, selling within a marketplace also comes with some inherent risks.
You're within the mercy of their rules. Any changes in their algorithms could significantly impact your visibility.
Therefore, retailers often choose to include marketplaces as just one component of a comprehensive multi-channel strategy. This allows them to leverage the reach offered by the marketplace while limiting their exposure to the associated risks.
Top Online Channels
| Name | Summary | Key sales categories |
| --- | --- | --- |
| Amazon | It's the largest U.S. marketplace, with 200 million prime users. | Health & beauty, apparel, electronics, home goods, books & media. |
| e-Bay | It's the largest global marketplace with 138 million buyers. | Home goods, sporting goods, toys, collectibles & vintage, fashion, motors. |
| Etsy | It's the fastest-growing marketplace for hand-made & craft items, with 88.30 million buyers in the U.S. | Jewelry, home & living, wedding & party, art & collectibles, craft supplies, and tools. |
| Walmart | It's the largest U.S. retailer and fastest-growing online marketplace, with 230 million global buyers. | Home goods, apparel, electronics, health & beauty. |
| Jet | Growing U.S. marketplace targeting "urban customers." | Pantry and household, home, beauty, fashion. |
Mobile apps
As mobile devices dominate how people access the internet, the retail landscape continues to evolve with it!
As a result, many consumers are using their smartphones to shop online. Data from Statista shows that in Q3 2022, mobile devices saw a 7% growth in online retail orders, while desktop orders dipped by 7%.
Not only that, but predictions also suggest that by 2025, 10.4% of all retail sales will occur through mobile commerce (source).
This represents one of the greatest growth opportunities for retailers!
Leading brands such as Best Buy and Chewy leveraged this trend by developing custom mobile shopping apps that offer customers a seamless shopping experience.
They allow customers to quickly discover new products, join loyalty programs, and discover exclusive deals through their mobile apps, which improves customer loyalty and retention.
With the right approach, you can also capitalize on the growth potential of mobile commerce and enhance your overall multichannel retail strategy.
Wholesale
It is an effective retail strategy that sells bulk products to other businesses rather than directly to customers. This approach opens up new opportunities for retailers to reach a B2B audience and generate additional revenue.
A notable example is Laird Superfood, which utilizes a wholesale web portal alongside its DTC website to offer bulk ordering options to its customers.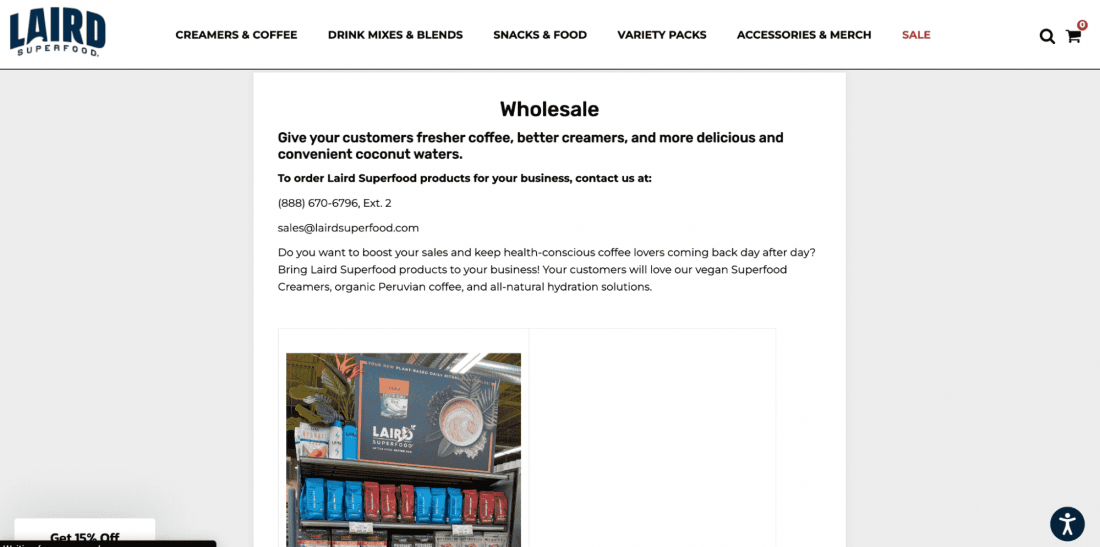 With the projected annual growth of 3.3% in wholesale trade in the U.S., it's a lucrative business model that retailers can consider a valuable addition to their multi-channel retail strategy.
Social media
Social media platforms have become increasingly important in the modern retail landscape, especially for reaching younger shoppers.
Since consumers, particularly Gen Z, use social media to discover and buy products, it has transformed social media from a simple product discovery tool to a key sales channel.
Moreover, Social commerce is projected to reach $79.6 billion by 2025, accounting for approximately 5.2% of total U.S. e-commerce sales.
It clearly shows that retailers who incorporate social media into their multi-channel strategy can tap into this growing market and reach customers where they are spending their time.
Why should your brand embrace multi-channel retail?
It's a known fact that retailers who sell on multiple channels generate 190% more revenue than retailers who just sell on one platform.
But it's just one advantage. Here are some more advantages of multi-channel retailing:
Wider reach
Multi-channel sales increase your touchpoints with customers and increase your brand exposure.
Shoppers can find your products on Google's shopping suggestions, Amazon search results, or social media channels.
It allows customers to purchase products from whichever platform they are on without leaving it.
Further, customers can better research the product by quickly scanning Amazon reviews or going to Instagram to see other people's experiences with the product.
As a result, you get more conversions.
Better customer experience
With access to different devices and platforms, the modern-day customer journey is becoming more complex and fragmented.
Shoppers often use social media, and Google search to discover new products, compare options, perform brand-related searches, look at reviews and referrals, and sign up for emails before making a purchase.
Multi-channel retailing allows a business to be present on all these platforms throughout the customer's journey and provide a consistent brand experience.
They can also customize the experience for each platform's audience by tweaking the messaging, leading to a more personalized and better experience for the customer, potentially resulting in more sales.
Better customer loyalty
In today's fast-paced world, customer loyalty is a crucial factor.
A loyal customer base not only leads to increased sales but also brings in positive word-of-mouth marketing and higher customer satisfaction.
Effective multi-channel retailing can foster customer loyalty by catering to the needs and preferences of their customers.
With multi-channel retailing, companies can gain deeper insights into their customer base through segmentation and data analysis.
It allows them to communicate relevant products and personalization to their audience.
For example, you can send personalized promotions and offers to customers who frequently purchase products from your site and show new product catalogs to shoppers who browse products on social media.
By providing a customized experience, you can build a positive brand experience and build brand loyalty.
Better data collection
Multi-channel retailing enables brands to collect a greater volume of data from various touch points.
It gives the brands valuable insights into customer demographics, purchasing behaviors, and channel performance.
Brands can use this information to gain deeper insights into their customers and tailor marketing and advertising activities to specific channels — increasing conversion rates.
For example, brands can analyze which product categories perform best on specific platforms and customize their offerings accordingly. This data-driven approach maximizes engagement and reduces the cart abandonment rate.
Challenges of multi-channel retailing
Nothing good comes easy! It's the same with multi-channel selling.
It also has its fair share of challenges that brands need to consider before embracing the strategies.
Below are some of the challenges brands might encounter with multi-channel retailing:
Picking the right channel
When you start with multi-channel, it's tempting to try to get on every available channel as possible.
But that's not always productive. You need to ensure that your presence on a platform should be relevant to your target audience and brings you more sales.
For example, it doesn't make sense to drive customers from Instagram to your e-commerce website if they can buy directly from the Instagram shop.
Similarly, If you have an ad budget of $10,000, it doesn't make sense to only run ads on one channel and redirect them to different platforms. Instead, you should divide the ad budget for various platforms based on customer retention.
A better way to solve this problem is by allocating the budget to different funnel stages.
For example, you can set a budget for your Awareness campaigns, using a combination of Amazon Sponsored Ads and Instagram ads to drive awareness of your product.
Then you can have another ad budget for your retargeting ads to convert those visitors to customers.
For example, you can use Amazon display ads and Facebook Dynamic Product ads to retarget previous visitors and convert them to customers.
Fortunately, SellerApp offers an Advertising dashboard solution to manage and automate all your Sponsored ads in one place.
With the tool, you can bid optimally, reduce ACoS and improve the ROI for your advertising campaigns.
Inventory management can be hard
Managing your inventory across different sales channels is challenging, especially for small and medium retailers.
Without keeping track of inventory on multiple channels, retailers might run out of products or have incorrect information about their stock. This can lead to loss of customers or over and under-stocking.
For example, if your brand sells products on your DTC website and Amazon, ensure inventory information on both places is in sync.
Let's say your stock runs out, and it's not updated on Amazon. Customers might have to wait, or they'll find a competitor product, which can hurt customer loyalty and your business reputation.
Or if you find that a brick-and-mortar store is responsible for 35% of your sales while only 10% come from Amazon, it makes more sense to prioritize the stock level of the brick-and-mortar location.
Sending too much inventory to an Amazon FBA warehouse can be costly in terms of both storage fees and missed sales opportunities. It's better to keep that stock in a physical store where more people can buy it.
Difficulty with pricing
For years, customers have been checking how prices compare with other competitors. But nowadays, shoppers also look up how the same products are priced on different platforms.
For that, retailers often face difficulties setting prices, particularly when it comes to online and physical stores. For example, costs incurred would be lower for a DTC e-commerce site compared to a marketplace like Amazon. So the price will be different too!
Similarly, sometimes some platforms have a discount or offer going on. It also affects the price.
Understanding the customer demographic on each channel and how much they are willing to pay is the key challenge for setting up product pricing in a multi-channel retail strategy.
Sales attributions
Let's say you have a good budget for advertising to grow your business. But how do you measure the return on investments on each platform?
With multi-channel retailing, the shoppers' journey is not linear. One channel is always assisting a sale through another channel.
Shoppers might discover your product from Instagram ads. Then they checked out the Amazon product page and bought the product! But If you see analytics, the sale will be attributed to Amazon, completely discarding the fact that the customer came through Instagram.
One way to counter this problem is by using Amazon attribution.
It allows brands to track their marketing and advertising activities across multiple platforms.
Read the Amazon Attribution Guide to learn more about it!
Multi-channel vs. Omnichannel Selling: what are the differences
In the world of e-commerce, it's crucial to have a solid marketing strategy to reach and engage customers.
One of the key aspects of this strategy is choosing the right sales approach. Multi-channel and omnichannel are two of the most popular approaches in retail, but what exactly sets them apart?
Here is an in-depth rundown of the differences between omnichannel and multi-channel retailing.
| Omnichannel Retail | Multi-channel Retail |
| --- | --- |
| In Omnichannel retail, messaging on all channels is in sync to create a unified brand experience. | In Multi-channel retail, channels are not necessarily integrated with each other. |
| Omnichannel retail puts customers at the center of the marketing strategy | Multi-channel retail puts the product at the center of the marketing strategy. |
| Here, customers' journeys revolve around different platforms, but purchase happens on one singular channel | Here, every channel is presented as a sales channel. |
| Omnichannel retail can be expensive and resource-heavy in terms of investment and maintenance. | Multi-channel retail gives more flexibility to brands if resources are limited and a full omnichannel approach is not feasible. |
| Offers smoother brand experience, higher customer retention, better sales, and greater brand loyalty. | Multi-channel retail gives more sales but does not necessarily build better brand loyalty. |
Now, let's see how different brands use these strategies in different ways.
When Jennifer Lopez collaborated with Guthy-Renker to launch a new skin-care product, they used a multi-channel strategy. It enabled them to connect with customers in creative and effective ways. For example, they created custom stores, hosted live streams with Lopez, and used multiple channels to draw attention to their brand.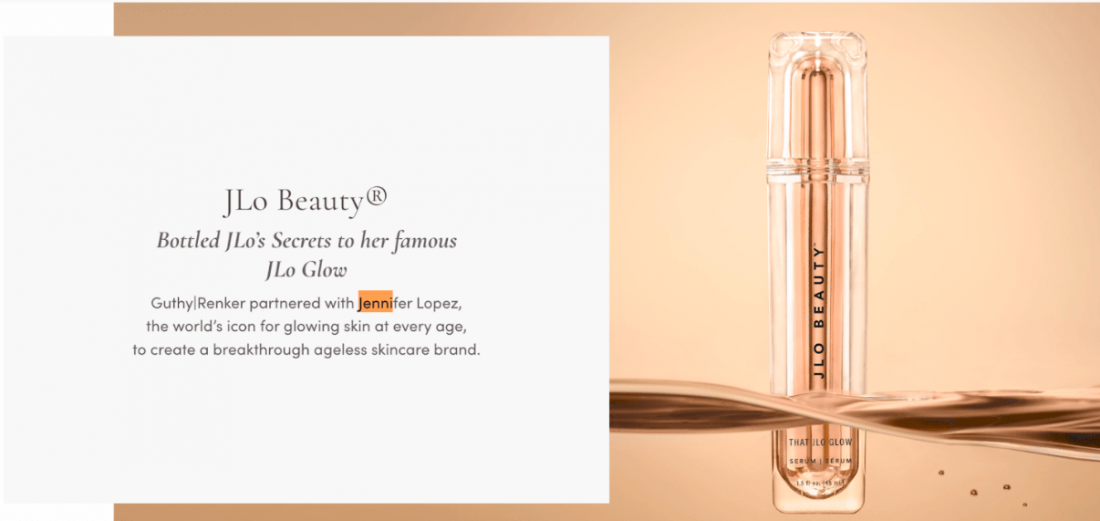 With that, they could reach a wider audience and successfully launch their product.
On the other hand, L'Oréal leveraged Amazon Marketing Cloud (AMC) to implement an omnichannel retail strategy and reached customers at every stage of the nonlinear shopping journey.
They analyzed data from the campaigns and compared different touchpoints to optimize the campaigns. This allowed L'Oréal to reach the right audiences at the right place and improve the customer experience and conversions.
Why is Amazon best for multi-channel retailing?
In an ideal situation, we'd recommend you start with any channel. However, starting Amazon is a wise choice in the world of digital commerce, as it is the most widely used platform among shoppers.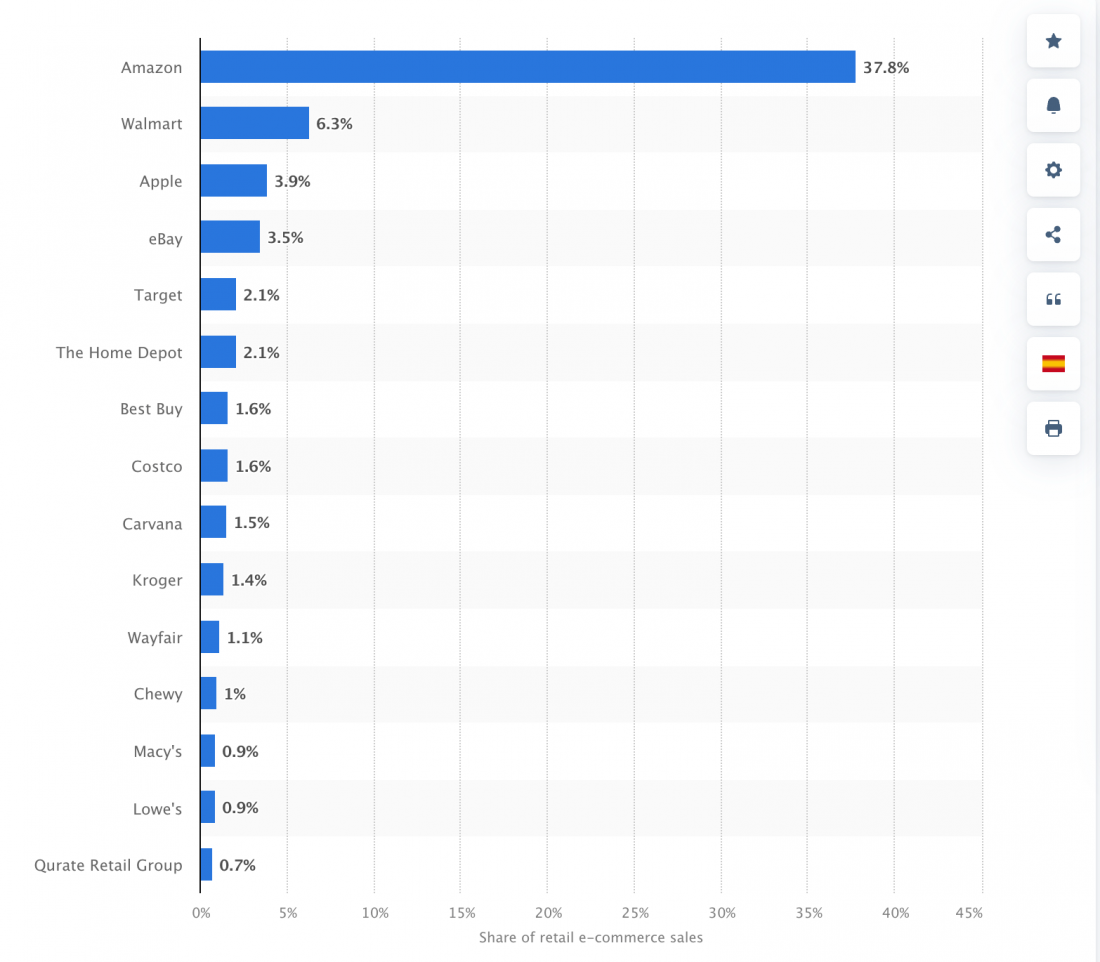 Not just that, here are some other reasons to use Amazon for multi-channel retailing:
Sellers can manage inventory from a single source.
The Amazon Multi-Channel Fulfillment (MCF) program offers sellers a convenient way to handle their sales across multiple digital channels. With MCF, sellers can use their Amazon inventory to fulfill orders from their personal websites, social media, and other channels, making inventory management a breeze.
Amazon lets you do multi-channel advertising easily.
Amazon has a wide range of multi-channel advertising options for sellers looking to advertise their products. Sponsored Display Ads, DSP, and OTT ads allow sellers to show ads on Amazon's search result page, product details page, social media pages, Twitch, and other third-party websites.
This means sellers don't have to invest in other advertising platforms, as Amazon provides everything they need to do multi-channel advertising.
Amazon provides access to attribution data.
Amazon Attribution is an advertising analytics solution that provides brands with valuable data on the performance of off-amazon advertising efforts.
With that data, sellers can further optimize their campaigns. This makes it easier for sellers to get the most out of their advertising efforts and increase the visibility and sales of their products.
You can learn more about Amazon campaign optimization from this in-depth guide.
How to get more sales using multi-channel retailing
Now that you know what multi-channel retail is and what are its advantages and disadvantages, the next step is to learn how to get more sales using multi-channel retailing.
Below are four tips to help you boost your sales using a multi-channel retail strategy.
Select the channels you want to target
If you're not a big brand, you have limited resources to allocate toward each sales channel.
So, it's crucial to prioritize the channels based on your target customer demographic.
What platforms do your customers visit more often?
Are they Gen-Z between 15 – 25 years old? Then they most likely visit TikTok and Instagram.
Are they middle-aged moms? Then they most likely visit Facebook groups and Amazon.
Understanding customer demographic and analyzing competitors will help you understand which platform to sell your product.
Different strategies for different channels
To make the most of your multi-channel efforts, creating a distinct strategy for each selling channel is crucial.
This is because each platform has its unique user base, and a one-size-fits-all approach is unlikely to be effective.
For example, when it comes to selling on Amazon, key focus areas might include PPC ads, achieving a high organic ranking through FBA, and pricing competitiveness.
On the other hand, fast delivery and competitive pricing might be the top priorities when selling at Walmart. While on eBay, the focus might be on keyword-driven research, eye-catching photos, and quick shipping times.
Here's a table to help you understand different focus areas for different marketplaces.
| Site | Focus Areas |
| --- | --- |
| Amazon | PPC ads, high organic ranking, FBA, competitive pricing |
| Walmart | Fast delivery, competitive pricing, attribute selection |
| eBay | Keyword-driven research, eye-catching photos, quick shipping time |
| Etsy | Focus on SEO and optimized listings, high-quality lifestyle images, and videos. |
| Shopify | PPC ads, Google SEO, content creation, website management |
| Newegg | Keyword-optimized product listing using high-quality images and videos |
Focus on multi-channel marketing.
Focus on having distinct messaging for different channels.
Your audience should be able to relate to your message. For instance, photos and short video copy work well on Instagram, and high-quality product images and product title works better on Amazon.
Consider incorporating the following marketing channels to effectively implement a multi-channel strategy:
DTC website: Email marketing, newsletters, e-books,
Social media: UGC content, social media ads, testimonials, influencer collaborations
Google: Google ads, display ads, shopping ads
Amazon: Sponsored ads, DSP, OTT ads, organic ranking
Print: Brochures, flyers, magazine ads, newspaper ads
Leverage these marketing channels to reach customers across different retail platforms and drive engagement and sales.
Use Amazon Multi-channel Fulfillment.
Amazon makes it insanely easy to manage inventory by providing retailers with multi-channel fulfillment (MCF) solutions.
With MCF, retailers can manage all their inventory from a single source, eliminating the need to keep track of multiple inventories for different channels.
If you are already an Amazon FBA seller, you can use your FBA inventory to place an MCF order without any additional registration.
If you don't have an FBA account, you must first register under Amazon FBA.
However, opting for MCF doesn't mean you stop monitoring your inventory.
Monitoring your inventory is critical, especially during peak seasons when sales volume is usually high.
For example, you don't want to run out of products during Black Friday and Cyber Monday sales, which will massively affect your bottom lines. It can also hurt your brand reputation and tank your ranking on Amazon.
Final Thoughts
To sum up, multi-channel retailing is a highly effective way to expand your e-commerce business, reach new customers, and increase brand visibility.
Whether you are a small brand or an established retailer, multi-channel retailing works well to diversify your e-commerce business, tap into new audience bases, and enhance your brand visibility.
Remember that boosting sales through multi-channel retailing is not a sprint – it's a marathon. So, if you are short on resources, start with one channel and expand it slowly as your business grows.
Do you want more such strategies to grow your e-commerce business?
SellerApp e-commerce growth experts have already helped large retailers like Samsung and Phillips grow their businesses multifold with data-driven e-commerce growth strategies.
Don't get left behind. Schedule a call with us and get started with multi-channel sales.
Was this post helpful?
Let us know if you liked the post. That's the only way we can improve.