You identified keywords, included them in your Amazon product listing, wrote the content, and been waiting to get an influx of sales.
But nothing!
Sounds familiar?
You're not the only one! With an average conversion rate of 1-2%, most Amazon sellers face the same issues.
The solution?
Amazon copywriting!
With the right words, you can boost your conversion rate and start seeing real results.
Whether you're a new seller or a seasoned pro, mastering the art of Amazon copywriting is the key to unlocking the full potential of your listings and reaching more customers.
So, if you're looking for a guide that teaches you to create high-converting copy that kicks your competitors to the curb, you're at the right place.
Quick Peek into the article:
What is Amazon Copywriting?
Amazon copywriting consists of the texts you use on your product listings to persuade shoppers to buy your products. That includes everything from the product titles, product descriptions, bullet points, A+ content, and image captions.
So why is Amazon copywriting so important?
In a nutshell, it's all about using the right words to make your product stand out and convince potential customers to buy. It should focus on how your product solves customers' problems and adds value to their lives.
Here's an example, let's say you're selling a new brand of organic shampoo. A regular listing title might say something like "All-natural ingredients organic shampoo. Safe for color-treated hair."
But with Amazon copywriting skills, you could say, "Revitalize Your Hair: All-Natural Organic Shampoo with Pure Ingredients: Apple Cider Vinegar & Tea Tree Oil – Restore Shine, Safe for Color-Treated Hair, Paraben-Free, Gluten-Free."
Bad Title Example:

Good Title: Example:

See the difference? The latter listing title is more detailed.
So, to boost conversion on Amazon, start focusing on your copywriting. Use relevant keywords, highlight the benefits of your product, and show customers how it can solve their problems. It may take some extra work, but it's worth it in the end.
How to Copywrite for Amazon Listing
What do Amazon buyers want?
That's the most important question worth answering in the Amazon listing! But often, Amazon sellers ignore it.
Most sellers focus mainly on optimizing keywords and improving the product's ranking. Sure, when browsing on Amazon, shoppers might see your product.
But will they convert? To shoppers, it's just another product, nothing more!
To put things into perspective, no one is dying to buy an "oven," but many dreams of being a better chef. One that excites their spouses and amazes their friends and family.
A product listing that addresses these aspects sells!
Consumers buy on emotions.
"If I had X, I would be so much….." happier, faster, richer, or productive….. The list goes on!
And you need an Amazon listing copy that taps into these desires of shoppers. Here's how you do that.
Understand your audience
Before you even start creating a copy or messing around with Seller Central, it's important to take a step back and think about who you're trying to sell your product to.
It might seem obvious, but you'd be surprised at how many sellers just start listing their product without thinking about who it's really for.
Think about your favorite brand on Amazon. What is their messaging? Who do they target? What is their language?
Chances are, you fit into their customer persona; that's why you like them.
Similarly, you need to define your target customer profile.
Who are they?
What is their age?
What kind of hobbies do they have?
What's their income like?
Are they married or unmarried? Do they have kids?
All of these questions will help you understand your target audience and craft a persona.
Once you have an idea of your buyer persona, you can start writing copy that speaks directly to them.
For example, suppose your target audience is young professionals looking for an easy, quick, and healthy meal option. In this case, you could write copy that emphasizes the convenience and health benefits of your product, using words and phrases that appeal to a busy, health-conscious person.
So, before you start listing your product, take a moment to think about your target audience. This way, you can connect and build trust with your customers.
Conduct research and find high-volume keywords.
After you understand your target audience, it's time to find high-performing keywords that shoppers search to find your product on the Amazon search results page.
Use the SellerApp Amazon Keyword tool to conduct keyword research easily. Search with the seed keyword on the tool, and sort the keyword result based on volume and relevancy.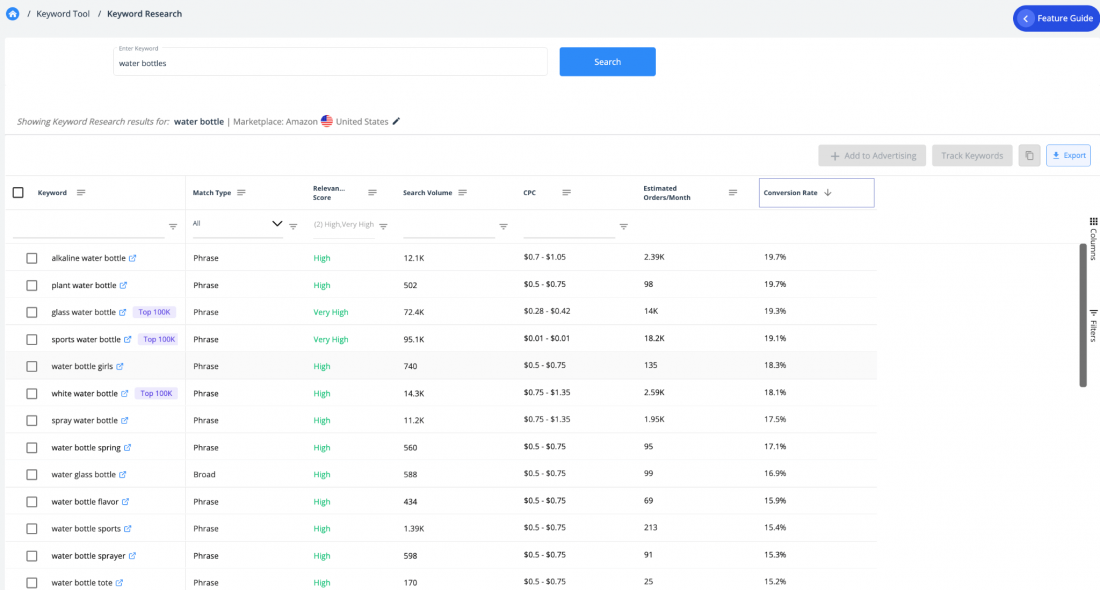 List the top 5-10 relevant high-volume and high-converting keywords to add to your listing.
You can also identify high-performing keywords from your competitors' listings.
First, identify the top 3-5 competitors on the Amazon search page.
Go to SellerApp Reverse ASIN tool, put your own ASIN and three competitor's ASINs on the tool, and hit "Search."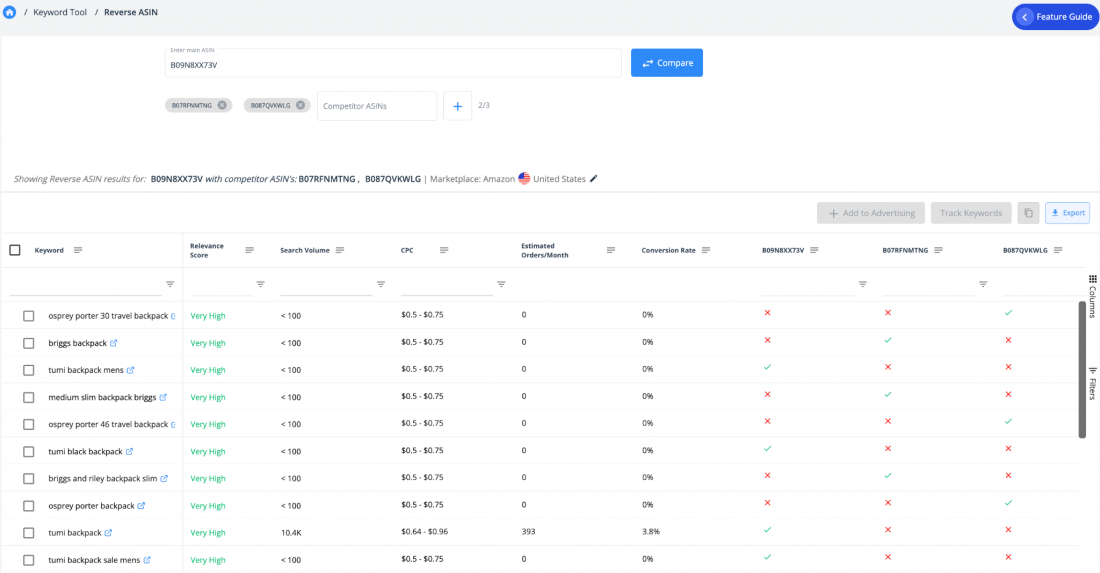 Identify keywords that your competitors' listing has and your listing doesn't. Sort the keywords based on volume and relevancy, and pick the top 5-10 relevant keywords to add to your listing.
Bingo! Now that you have a list of high-performing keywords, let's see how to create a compelling copy for your listing!
Create a product title that works
The product title is one of the first things shoppers see when browsing Amazon products after the images. And the main purpose of the product title is to get someone to click on your product.
That's not all!
Amazon's own A9 algorithm for SEO also uses keywords in the product title to decide whether or not the product is relevant for the search query.
Generally speaking, Amazon prefers product titles to keep at least 80 characters.
But we recommend keeping the character length between 150-200 characters to ensure it's detailed and include the keywords necessary to rank for relevant search queries.
One formula that works well for crafting high-performing product titles is:
Brand Name – Product Keyword – Color/Flavour/Variant – Benefits/Features – Material – Size/Quantity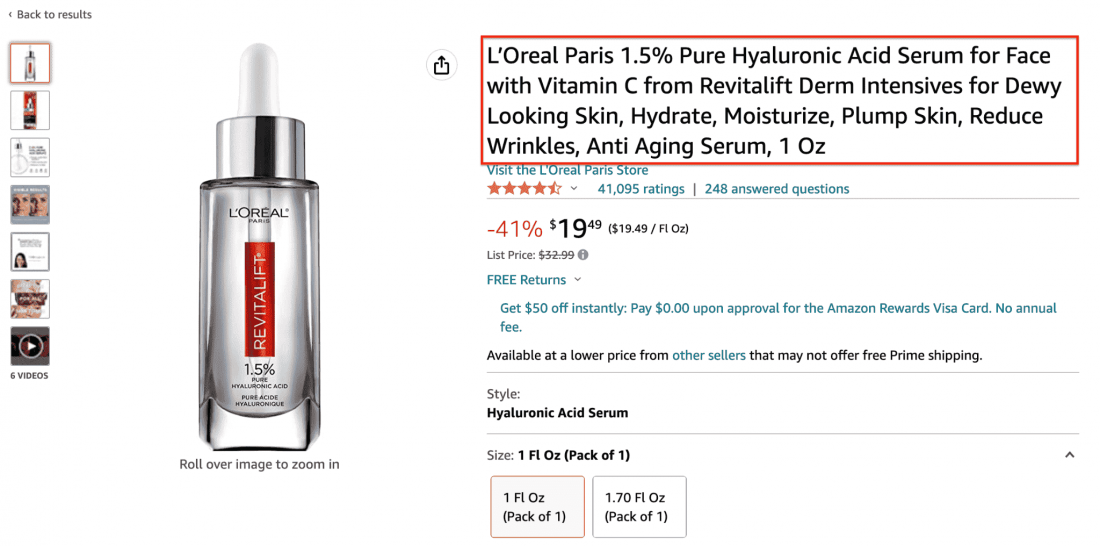 For example:
"Nomadder Foldable Water Bottle – Blue Color – BPA-Free Tritan Plastic – Lightweight and Durable – Leakproof -1L Capacity – Perfect for Hiking and Camping"
This title includes the brand name "Nomadder," the product keyword "foldable water bottle," and the features like "BPA-Free Tritan Plastic," "Lightweight and Durable," "Leakproof," and the benefits for the target customers "Perfect for Hiking and Camping."
With this format, you can create high-quality product titles and generates more clicks.
Turn clicks into customers with persuasive bullet points.
After perfecting the product title, the next step is to craft compelling product bullet points.
The bullet points allow you to highlight your product features and benefits to the shoppers.
Amazon allows sellers to add 5 bullet points, and vendors can add 10 bullet points to their listing. Use this space to the fullest to provide key features and benefits to the listing, and include relevant keywords about your product.
Here are some tips to craft winning bullet points:
Highlight the product's unique selling points in the first bullet point. This is the first thing shoppers will see, so make sure it's a compelling selling point that will make them want to learn more.
Explain the problems the product solves in the second and third bullet points. If possible, answer frequently asked questions in these bullets. This will give shoppers more insight into how your product can benefit them.
In the fourth bullet point, write important information, such as product material, capacity, dimensions, etc. This will give shoppers a better understanding of your product and its specifications.
Use the fifth bullet point to explain any offers you're giving, such as an extended warranty or a 30-day money-back guarantee. This will encourage shoppers to take the next step and make a purchase.
For example, if you're selling a portable water bottle, your bullet points could look like this:
Foldable and Convenient: Easily collapsible and takes up minimal space in your bag
Durable and Leakproof: Made of BPA-free Tritan plastic and designed to prevent leaks
Wide Mouth Opening: Makes it easy to fill, drink, and clean
Lightweight and Portable: Hit your hydration goals during on-the-go activities like hiking and camping. It's BPA Free, lightweight even with a max capacity of 20.28 fl oz.
Satisfaction Guaranteed: 30-day money-back guarantee and 1-year warranty for your peace of mind.
Here's an example of a product description directly from Amazon: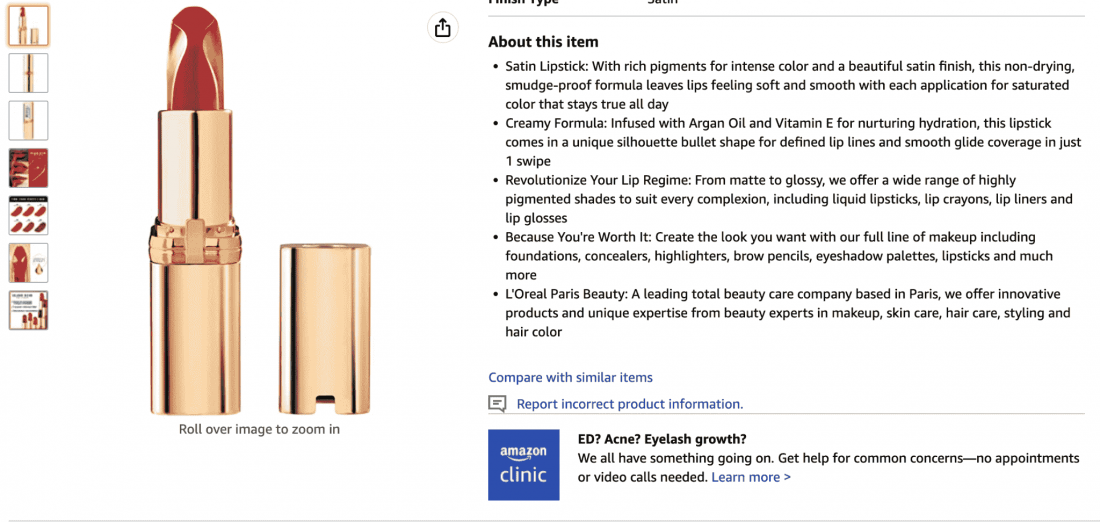 Direct conversions with strong A+ content.
If you're a brand-registered seller, you have the power to use A+ content to maximize engagement and conversions. This feature appears just below the bullet points on a product detail page, and it's a great way to give shoppers a deeper understanding of your product and why they should buy it.
Creating compelling A+ content may seem daunting, but it doesn't have to be. Here are some tips for writing compelling A+ content for your listing:
1. Highlight your unique selling points with the A+ Content
Ask yourself – what's special about your product? How would it stand out in the market?
Once you have the answer, try to identify the major benefits of using your product and how it can help customers with their daily lives.
Add these benefits throughout your A+ content to make it more converting.
2. Make the content short and simple
No one wants to read through a chunk of content to understand your product.
So, keep the A+ content short and crisp. Ideally, rely more on visual content than text to display all key features and benefits.
3. Answer customer FAQs on the A+ content
Go through the Q&A section of your and your competitors' listing to identify commonly asked questions. Address all these questions in the A+ content of your listing.
4. Avoid content errors
Amazon doesn't allow you to use some special characters and symbols in A+ content, including copyright, registered trademark, and registered brand symbols. You can't include a hyperlink to other websites, either. Make sure to avoid all these content errors when creating A+ content to get it approved by Amazon.
5. Keep design consistency
The A+ content represents your brand. So, make sure the design is consistent with your brand throughout.
Optimize your product images
"Images speak a thousand words."
Quality images can make all the difference when it comes to customers visually evaluating and comparing key features of your products.
Multiple high-quality images in the listing help shoppers see the product from different angles, increasing the product's click-through rate.
Another great tip is to include lifestyle images. These images show shoppers how they can use the product in their daily lives.
For example, if you're selling a camping tent, a lifestyle image might show a happy family enjoying a camping trip with the tent set up in the background.
A lifestyle product image triggers shoppers' desire and motivates them to make a purchase.
Given below are some of the factors to consider when creating a compelling product image:
The Amazon product details page should have at least one image. However, it's recommended to use six images, and one video
Images should be clear, high-quality, and with a clear background.
The image dimensions should be 500 x 500 or 1000 x 1,000 pixels for better impact.
Read the Product Photography Guide to create click-worthy images for your listings.
7 Tips for Better Amazon Copywriting
Till now, you've learned how to create engaging copy for your product listing. Now let's learn some tips to get into your customers' hearts and make your product irresistible.
Sell benefits, not features.
When you're writing about your product, it's easy to get caught up in listing all the different things it can do. But customers don't always care about all the technical details.
They care about how your product can make their lives better.
For example, let's say you're selling a vacuum cleaner. The features of the vacuum include things like "powerful suction," "multi-surface cleaning," and "long battery life." But what customers really want to know is that the vacuum cleaner will help them keep their home clean and tidy with less effort.
So instead of just listing the features, talk about the benefits on the product listing.
Instead of saying "powerful suction," say "sucks up dirt and dust easily, even from difficult reaching corners." Instead of "multi-surface cleaning," say "cleans carpets, hardwood floors, and tile with ease." And instead of "long battery life," say, "clean your entire home without needing to stop and recharge."
When you focus on the benefits, you'll be more likely to catch customers' attention and make them want to buy your product.
Simple sells best
Amazon is a mass market. And you sell to customers from all walks of life. So, you need to ensure everyone understands what you write in your product listing, regardless of their intelligence, race, age, or anything else.
Think about it like this: imagine you're at the store and you see two backpacks. One has a label: "Advanced, state-of-the-art, ergonomic backpack, perfect for outdoor and fitness enthusiasts."
And the other one has a label that says, "Comfortable, lightweight, easy to carry a backpack, great for hiking and exercising."
Which one are you more likely to buy? The one that is easy to understand, right?
So, review your listing, and change long and complex words and phrases to something simpler.
It makes a big difference in conversion.
Go, and test it out for a week or two! The results will speak for themselves.
Create emotional impact with storytelling
"Adventure Awaits, Travel Backpack "
That's it! Just those four words pack an emotional punch. They evoke a feeling of excitement and wanderlust as you embark on a new adventure with your new travel backpack.
That's what you want to do with your Amazon copywriting. You want to make people feel something with your copywriting. You want to create an emotional impact.
Another example is "Family Tent. Room for 8. Endless Memories"
This simple sentence tells a story of a brand new tent ready for a family to create unforgettable memories together. The 'room for 8' feature adds a sense of comfort and togetherness, appealing to the emotional side of a family looking to purchase a tent for camping trips.
So, revisit your listing copy, and find ways to portray short and simple stories to evoke emotions from the shoppers.
Create a sense of urgency
Customers often hesitate before making a purchase, especially for higher ticket items.
It's your job to write the listing copy so that the shoppers take action quickly!
Identify potential issues customers might have in the long run, and talk about how it can become a problem if you don't use the product now.
Let's say you're selling a sunscreen product. Then you might include a copy like the following in your A+ content:
"Summer is coming! It's time to go to the beach! So, don't wait; get the sunscreen and protect your skin from sunburns and wrinkles while enjoying the outdoors!"
With this copy, you gently push the customer to make the purchase RIGHT NOW and protect themselves from harm. However, ensure the copy follows the Amazon listing guidelines.
Speak your customers' language
Customers relate to you when you speak their language.
Look at the questions and reviews people leave on Amazon product listings. Write down the common words and phrases they use.
Use those words in your product title, bullet points, and descriptions to relate to the customers.
It would also help you identify low-hanging keywords and phrases that you might have missed during the keyword research.
Test, test, test!
The only way to make a larger profit on Amazon is to keep testing different product listing copies, monitor results, and tweak the copy based on data.
For example, let's say you're selling a product that helps chefs make meals faster. You might test different headlines with different benefits to see which one gets more people to click on your listing.
For example, You could try headlines like
Creating tasty meals in minutes!
Create culinary masterpieces!
Cook better for the kids!
Run each heading for a week or two, and review the CTR and conversion rate of them.
This will give you a good idea of how well a title is doing. But be careful not to test during times when sales are usually high or low because that can skew your results.
Final Thoughts
Writing Amazon copy is a continuous process, and it can be challenging! However, with the right guidance, you can create compelling Amazon product copies that sell!
SellerApp Listing Optimization Service can help you do just that!
Our team of dedicated listing copywriting experts has helped 20,000+ brands like yours create 5,000+ product listings and generated millions in revenue. And we can do the same for you!
Give us a call, and our experts will connect with you and help you create the perfect product listing!
Additional Read:
Buy Now, Pay Later [BNPL]: How E-commerce Brands are Revolutionizing Payments.
Was this post helpful?
Let us know if you liked the post. That's the only way we can improve.