Top 10 Better Ways to do Amazon Product Research Like A Pro!
In the life of an aspiring Amazon seller as well as an existing seller, Amazon Product Research and deciding on the product to be sold is the most overwhelming and stressful step. Scouring through bestseller lists, hot items, analyzing product criteria, listings, images, bullets, and competition is maddening and time-consuming.
Key takeaways:

10 ways to do Amazon Product Research
+ Free Amazon Product Launch Checklist
Is there enough demand for the product? Will you be able to sell it easily!?
Is it seasonal? Will it be good for the holidays?
What will be the return/refund rate? How expensive will it be to ship?
Do people expect it to work flawlessly for years on end? Would this require higher customer support?
In Amazon Product Research, picking the right product is the most crucial factor for success. Especially for a new seller. You don't want to be stuck with products that are not selling! So it is vital that you spend quality time finding the right product for the best chances of success.
This post will help you understand the process and steps involved in finding that perfect product to sell!
Quick and Dirty Checklist of Amazon Product Research Requirements
Identify the right products using these recommended basic criteria. We will go deep into each one of these necessary specifications and find products that match these criteria.
Average product price between $10-$50
Selling at least 10 products a day
Similar products have a best seller rank of 5,000 or lesser in the main category
Top 3 related keywords have over 50,000 monthly searches on Amazon
Lightweight (preferably under 2-3 pounds)
2-3 products with less than 50 reviews on the first page
Year-round seller (Not seasonal)
No famous brand names within the product category/niche
The product can be made for 25% or less than the sale price (quick check)
Multiple product-related keyword opportunities.
Current top sellers with room for improvement and optimization of current listings
Easy China sourcing.
Simple item that cannot be easily broken or can go faulty
Ability to expand your brand with related products
Can make a superior product over similar products in the market
Product encourages recurring purchases
How to Verify Demand for a product during Product Research
You find an excellent product that has high-profit margins and low competition, but it won't matter if there isn't anyone looking to buy your product. That is why it is very important to accurately estimate the demand for your product.
There are solid methods to measure the demand for a certain product and we are going to cover each one of them below! They are excellent metrics to ease out the risk in your Amazon product research phase.
#1 Price
Products of $15-$50 lie in the impulse buying decision range. At this price range, the customer wouldn't spend time trying to figure out the best product. As long as he thinks that the product is a good fit, you win.
To draw in a bit more context, let's take two examples.
Example 1: A product with a selling price of about $25 can be easily sourced from China for about say $5. For sourcing 500 products it would require about $5000. Looks easy, isn't it?
Example 2: A product with a selling price of about $100 can be easily sourced from China for about say $25 For sourcing 500 products it would require about $12500. A higher initial cost!
#2 Sells around 10 products per day
Say I choose a product with a selling price of $30 that sells about 10 units per day and I get a profit of $10 after the Amazon FBA fees, shipping, promotions, etc
The net gross I make per month is $30* 10 units * 30 days = $9000.
And if it all goes according to the plan, I get a profit of $10 * 10 units/ day * 30 days/ month = $3000 per month in profits.
The better the average sale units per day, the better the profits. However, on baseline criteria choose products that sell at least 10 units per day.
#3 Similar products have a BSR of 5,000 or lesser in the main category
Figuring out how often a product sells is a hard thing to do. The best seller rank is a close fit for understanding how well a product sells within its category.
For example, a product with a BSR of 20,000 is going to sell A LOT less than a product in the same category with a BSR of 2,000. The last thing you would want to do is choose a product that sells only a meager number when you hit the top spot.
Having 3-5 products that have a BSR ranking of 5000 in the main category can ensure that you will sell a huge number of products once you reach the top spot. More the number of products with low BSR rating, better the chances of success.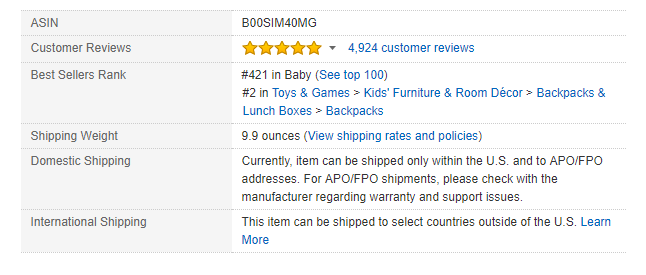 You can see that the product is actually in the 421 position in the 'Baby' category. Since 'Baby' is such a huge category you can be super sure of selling a good number of units.
For example, when you find a product, you might see Amazon BSR of 17,309 in "Pets and Supplies". You also see a BSR of 296 in "Basic Collars" for the same product. To get an accurate estimate, focus on the main category which in this case is the "Pets and Supplies". To find the right revenue and sales estimates for a particular product, you can use SellerApp for amazon product research, which estimates the lowest as well as the maximum demand of the product in their respective categories.
#3 Top 3 product keywords together have 100,000+ monthly searches
One of the other important ways to find whether there is enough customer interest in your product is to find out how many users are searching for your product on Amazon or Google. What is more crucial is to find out the demand for your primary keywords in Amazon since data suggests that Amazon typically has a conversion rate of anywhere between 12 – 17%! So if our top three product keywords together get over 100,000 monthly searches in Amazon, then it is a good sign that there is enough demand for us to sell. Try SellerApp for free to do find keyword search volume

#4 Lightweight – preferably under 2-3 pounds.
The heavier the product, the heavier the FBA fees. As the size and the weight of the product go higher, the profit margins go lower.
Shipping costs can get very high if the product weighs more than 2 pounds. Let's take the example of the bag we considered before.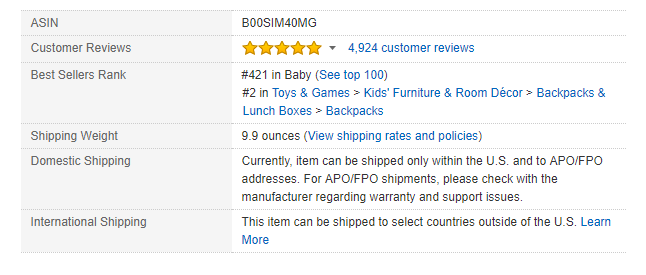 It is about 9.9 ounces – read affordable shipping!
#5 About 2-3 products with < 50 reviews on page 1
The number of reviews in the first page can help you understand how difficult it is for you to gather sales, Though it is not a very important rule, especially in categories where there are good sales. The number of reviews can still help you understand how easy it is for you to secure the top spots.
The more points in the checklist you can verify, the better. Though they are not hard rules to be followed they are the basic criteria that are recommended for a successful start.
#6 Is there Year-Round Demand?
This is important information to know while doing Amazon Product Research. Do you have a product that is only purchased during a particular season? Are people buying this product consistently throughout the year?
The best way to determine this is to head on over to Google Trends and type in the main keyword for your product. Once there you will be able to see if your product is seasonal or not.
If your product is seasonal then you will see big dips in the line graph, an example of a seasonal product is pictured below.
An example of a non-seasonal product is one with small swings and consistently bought throughout the year. Determining if your product is seasonal or not isn't very hard, but it is important to make sure that you know before you make an order since you may have stocks stuck in warehouses if it is a seasonal product. Some people don't mind selling seasonal products, but I would rather sell all year long.
#7 No big brands in the product category
This is something that deals exactly with buyer mentality. A shopper will obviously choose a famous branded product over a new product or brand. Rather than trying to compete for a product that already has famous brands, and competing with them for the sales, it is better to start on with a product that has relatively lesser competition.
SellerApp Product Research Filters
SellerApp Product research filters help you track down the exact products that cover all of the checklists. Enter the data according to the product launch checklist above and hit the search button.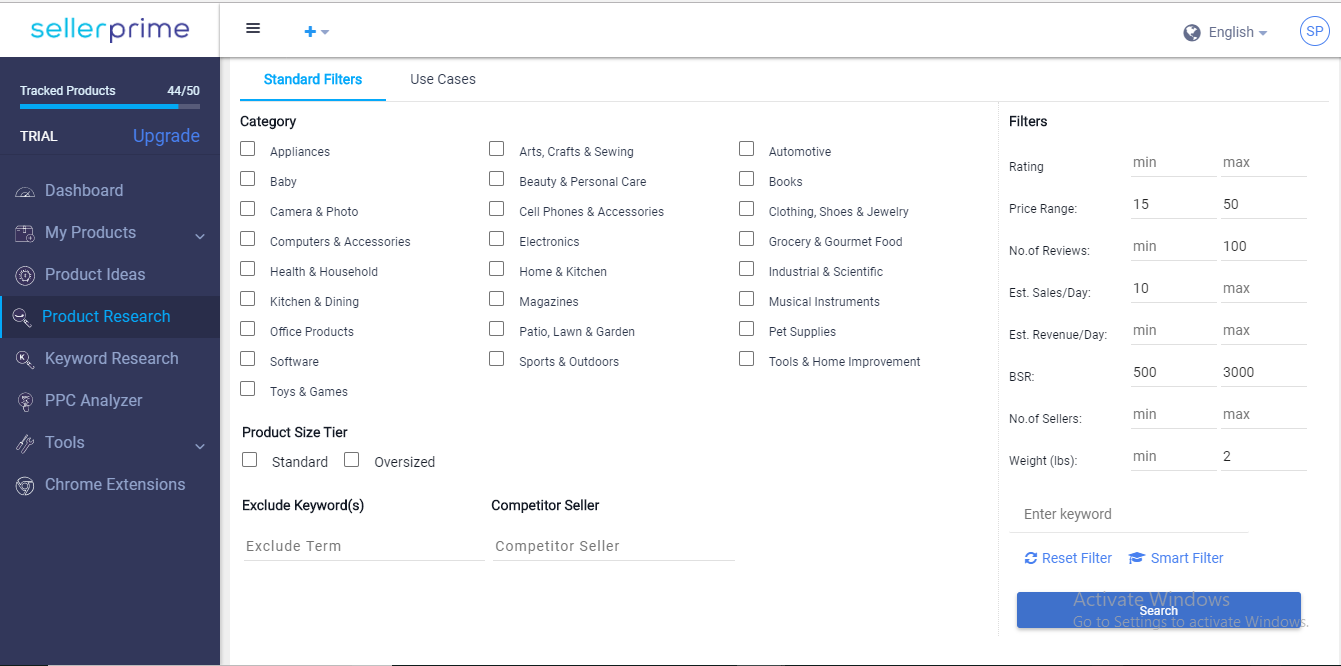 Adding an Amazon Chrome Extension to your browser can help you quickly analyze products as you browse the Amazon marketplace. On finding an interesting product, click the on SellerApp chrome extension which loads all the data required to analyze the product. Find the product interesting, add it to y0ur tracked products category to research and analyze the product for a period of time.
How to get product ideas – Tip of a lifetime!!
Now I will give you the tip of a lifetime for uncovering interesting products. You can either do all of the above, visit all the websites, click on all the potential products, put in all the price, weight and other criteria that I mentioned above, go to all the competitors, go up and down on scrolling through all the products, go back and forth switching tabs and spend hours and hours of energy and you still may not come up with any product idea. Or all you need to do is go to SellerApp and get all these tools and services at a single place.
What SellerApp does is give you an estimate of monthly sales, monthly revenue, # of reviews as well as a bunch of other helpful tools that will make you more efficient and organized. It is a great way to quickly and easily validate your Amazon Product Research.
9 Unconventional ways to do Amazon product research
SellerApp gives you 6 additional unconventional ways of doing Amazon product research using powerful data. SellerApp puts the power of real-time Amazon data at your fingertips and helps you discover countless possibilities for Amazon product research. At SellerApp, we have a curated list of Amazon FBA product ideas for you by your areas of interest. The list undergoes revisions every 8 hours. The following are how we curate product ideas so that you don't have to look for inspiration elsewhere!
1. 999 Method of finding demand
Among the many methods available, the 999 method remains the most popular Amazon Product Finder tactics. Here are the steps to find out how many items a seller currently has in his FBA inventory and how many units he sells on a daily basis.
Go to the Amazon page of the product of your interest
Add the product to your cart
In the shopping cart, click on the quantity and edit it to 10+
Type 999 (the highest number allowed) and click update
If that seller has lesser than 999 items left in his inventory stocks, it will state, "This seller only has XX of these available."
Do this for the next 7 days and keep tracking the inventory remaining on a daily basis
The difference in inventory shows you how many products are getting sold for this product & seller on a daily basis
Note: One important point to note is that if there are multiple sellers, you may want to do this for all the sellers to arrive at the right number. This method fails if the seller has put in a restriction on the maximum products that a user can buy. You reveal the maximum number the seller has allowed to be ordered for that product by entering the 999 value. This method is more accurate for Amazon FBA products rather than merchant fulfilled. Also if there is an inventory update at any point in time, there may be inaccurate numbers for the inventory.
Based on the time during which you calculate the count, caution has to be kept regarding any major sales or seasonal events that may adversely affect the sales. But the 999 method is the most accurate method to find real sales during the defined period of time!
2. Optimization of current listing
What I mean by this is that if there are results on the first page that have poor listings, there exist an opportunity to outrank and outsell them even if they are selling well now. That generally means that the competition is going to be weak and that it will be easy to reach the first page ourselves even if we have a product very close to it! SellerApp has a free tool to check the quality of any listing. Some reasons that may make a listing poor include:
Zero or Only One Product Image
Low-Quality Product Images
Short/Non-Descriptive Title
Weak Bullet Points
Minimal Description
Important Information Left Out
For a more detailed discussion on how you can improve your listing, please follow this link
3. BSR Movers!
This includes products whose BSR has significantly jumped in the past 24 hours. Now, why is this important and why should you track interesting products in this list for your Amazon product research? As mentioned earlier in this blog, the product's BSR is calculated by the number of recent sales for that specific product. It also takes into account historical sales data relative to any other products in that same category. So if the BSR is increasing suddenly and on multiple days, something about that listing or product is working really well and needs to be evaluated or understood more. This can also give us more ideas on whether we can find products that can be private labeled or sold through amazon retail arbitrage or wholesale.
Fidget Spinners took over the summer sales of 2017 in the US and the worldwide, quickly and unexpectedly. However, using our data, we saw Fidget spinners suddenly gaining BSR back in early January itself. Even in July when the market was flooded with fidget spinners, some of them were performing better than the competitors. What made them unique? Can we check how they have made their listings? What is the type of images that they are using? What specific discounts or promotions are they giving? Further analysis of the data can reveal a lot about what you can do for your listing and even for your next Amazon FBA private label product idea!
4. New Arrivals!
Find out products that are top-selling new releases on Amazon. This list is curated basis products that are hot new releases! These products are selling well despite the fact that is recent launches. An example would be products like solar eclipse sunglasses gaining momentum in July due to the major solar eclipse event happening in the USA on Aug 21st! All we see is money that sellers like you can make! 🙂
5. Trending Products!
This includes products that are hot and top trending products. These are products that are the top seller in their respective category and have a huge demand from the customer side. A good example is the bathing tub for the newborns in the Babies category. They are hot selling throughout the year! You may want to create an accessory that goes along with it!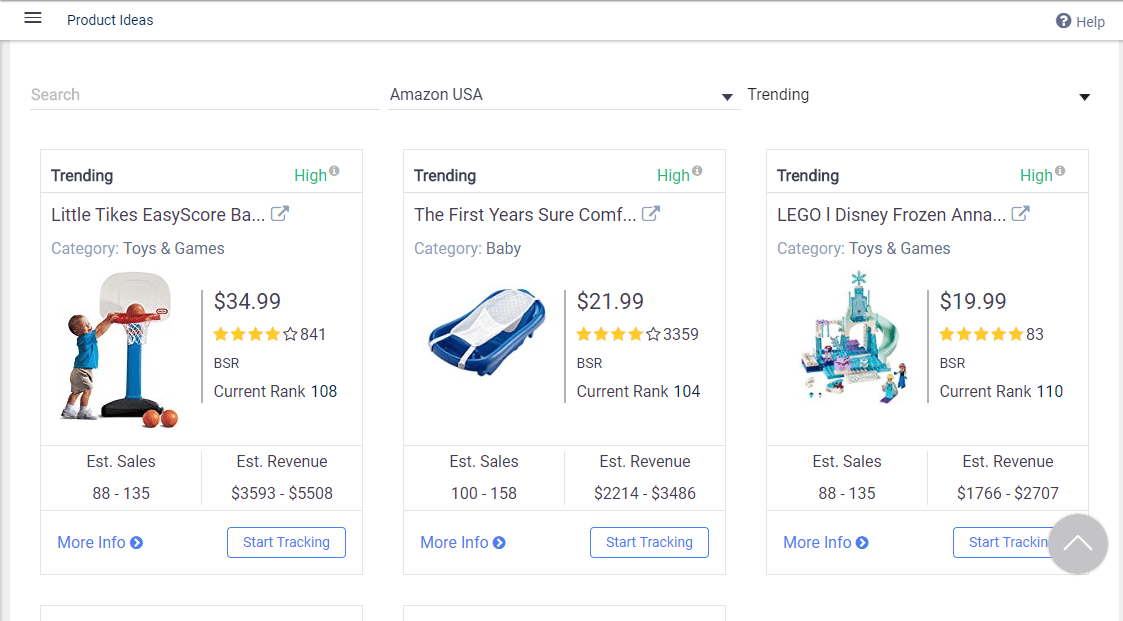 6. Most Wished Products!
Find out the most gifted and wish-listed products in your category of interest here! Isn't this so cool to know! This will greatly save your time in getting interesting products to sell while doing Amazon Product Research. In this list, you could find an awesome product that has great profit margins and low competition which can also have a huge sales demand during the holiday season!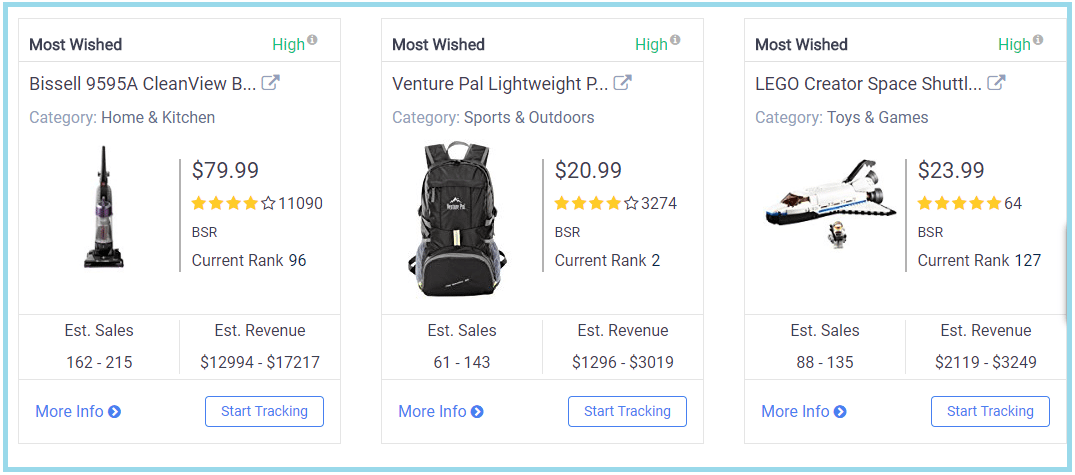 A good example, the Aromatherapy Essential Oil Diffuser which was among the most gifted products during the prime day period! I'm pretty sure that many of the most gifted products in your category can be private labeled for the upcoming holiday season!
7. Track Products of Successful Sellers
More than anything else, with SellerApp we can help you track other successful Amazon sellers and their listings. You can quickly see any new products that the seller is listing. This can inspire you for your next product and in your Amazon FBA Product Research!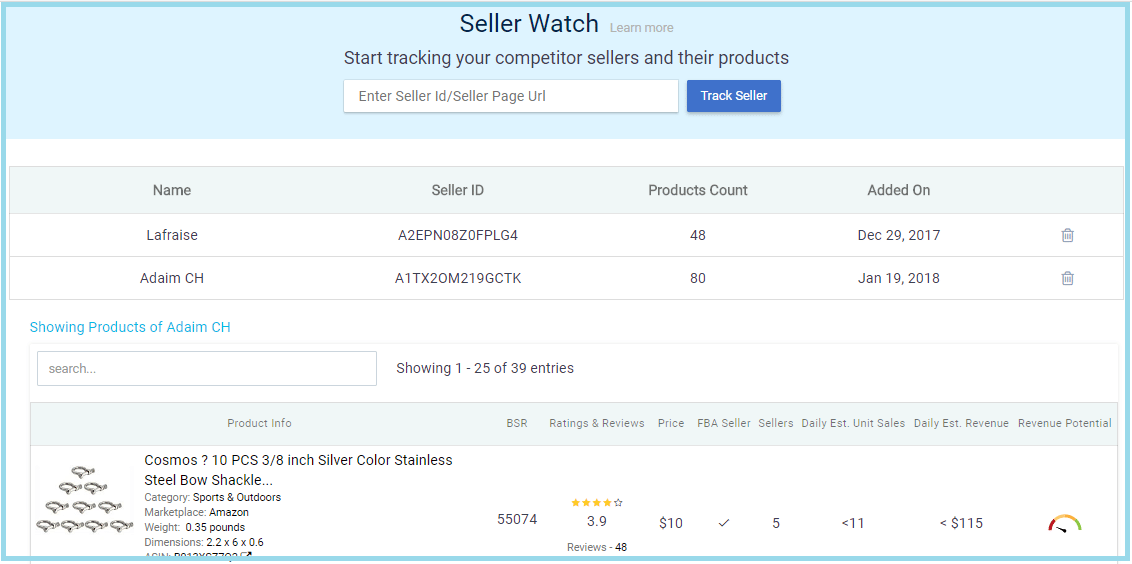 8. Use the power of keyword research to drive product research!
With SellerApp, you not only have a customized list of product ideas but also uncover product ideas by keyword search volume and their monthly usage. This will help you understand the seasonality of a particular product!
With our keyword research tool, you can find the expected monthly search volume, the ad campaign costs as well as the number of products for that particular keyword. When you expand the tab, you can further find out the top products which are ranking for those specific keywords along with the average price point, reviews, etc. on the right-hand side. Not only that we can also find out the months in which the search volume is the maximum, and this will give you an idea about the demand peaks and its best selling months!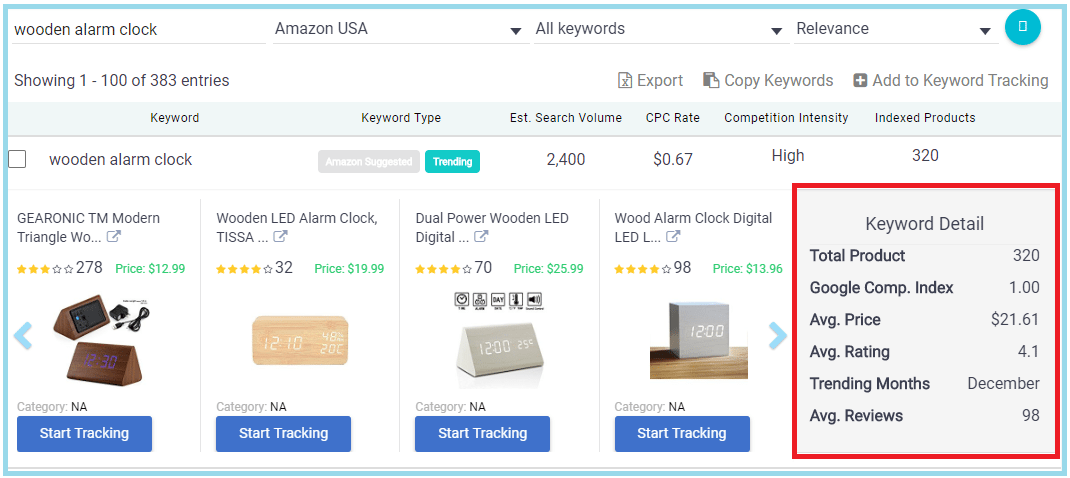 If you can find out keywords which have high competition but with low competition, along with the average results of the top 10 products meeting the traditional criteria of price demand, etc., you may be able to identify product ideas basis that.
Once you find a category and niche, you can find the top-selling products for keywords with high search volume and low competition and low CPC rates. With the keyword details table on the right you will be able to qualify the products in the traditional way (check if it falls in the right range for reviews, price, etc.)
9. Amazon Product Research Bundling Ideas
A good way to quickly determine the demand for a product is to think about the users of that segment. Ask yourself some questions and you will normally be able to tell if there is a demand for this product. If you have an idea in mind, identify the Facebook groups which respond to your ideas posted.
Is the product of a specific activity?
Can you find YouTube videos and reviews of similar products in the niche?
How many views do they have? What are people commenting about them?
Find more and understand how it is used.
Can we bundle some items together to make them more valuable?
Is there an accessory that you can add together with the main product?
Closing Notes:
For all the 9 ideas that mentioned above, you can get your product to sold in any of the ways mentioned below
Taking the same product with or without some improvement
Creating a color or size or feature variation of the same
Creating an accessory for a high performing product which may also sell well
Create variation with more gift-able packaging
Bundling is very advantageous. You can bundle the products at a reduced price. This way you provide more value to the user as well as increase your profits for the same product.
Packaging innovation of the same high selling product that may increase the appeal of buying the product.
For every product on Amazon, you can find the items that are typically brought along with it for you to get more product ideas! Going through this section for some of the high selling products will give you new product ideas to choose from!
If you follow these steps, your Amazon Product Research will not only be comprehensive but super competitive! To get the ball rolling, you'll need to identify exciting products to sell and competitively list your products to start playing with the big boys. To make that happens, it's a smart idea to have SellerApp by your side. We'll handle all the tricky bits you might not think about, but we also allow for customization when you want to step in and take control.
Go, Seller!
Amazon SellerApp Free Tools For Pro Sellers
Was this post helpful?
Let us know if you liked the post. That's the only way we can improve.
Customer Success Head at SellerApp
Customer success leader with expertise in coordinating between cross-functional teams in product development and strategy, professional services, sales, marketing and content to deliver excellent customer experience and accelerate growth within the company by ensuring clients' success.
Facebook Comments