Amazon sells every product that you can think of, but that doesn't mean you should sell just any product on Amazon. The e-commerce giant actively tries to protect its consumers from fraudulent or harmful products. In order to achieve its goals, Amazon has multiple categories that are restricted to most sellers. They are referred to as 'Restricted Categories' or 'Ungated Categories'.
What are these categories and how can you get approval to sell products in these categories? With this ultimate guide, we'll help you get a piece of the restricted pie.
Quick Guide
Restricted Categories on Amazon
Amazon has designated a few categories as 'restricted' to protect consumers. Amazon sellers need to get approval before they can sell any products in these categories. Depending on the marketplace and national laws, Amazon has a different list of restricted categories as well as restricted products. In this guide, we will be focusing on Amazon US, but many of the processes to gain approval are the same across countries.
Here is the list of restricted categories in the United States:
Holiday Selling Requirements in Toys & Games
Amazon Watch Warranty FAQs
Made in Italy
Video, DVD, & Blu-ray
Collectible Coins
Streaming Media Players
Personal Safety and Household products
Grocery & Gourmet Foods
Music Category
Lighting Category
Beauty Topical
Sports & Nutrition
Watches
Gardening & Watering
Automotive
OTC Medication
Haircare & Beauty Appliances
Baby Topicals
Toys
Pet supplies
Medical supplies & Equipment
Pet Care
Pet Food
Candles & Aroma Therapy
Power Tools
Home Environment Electronics
Wireless Accessories
Baby Feeding
Feminine Hygiene
Baby Activity Gear
Baby Strollers and Carriers
Audio Visual
Personal Safety & Household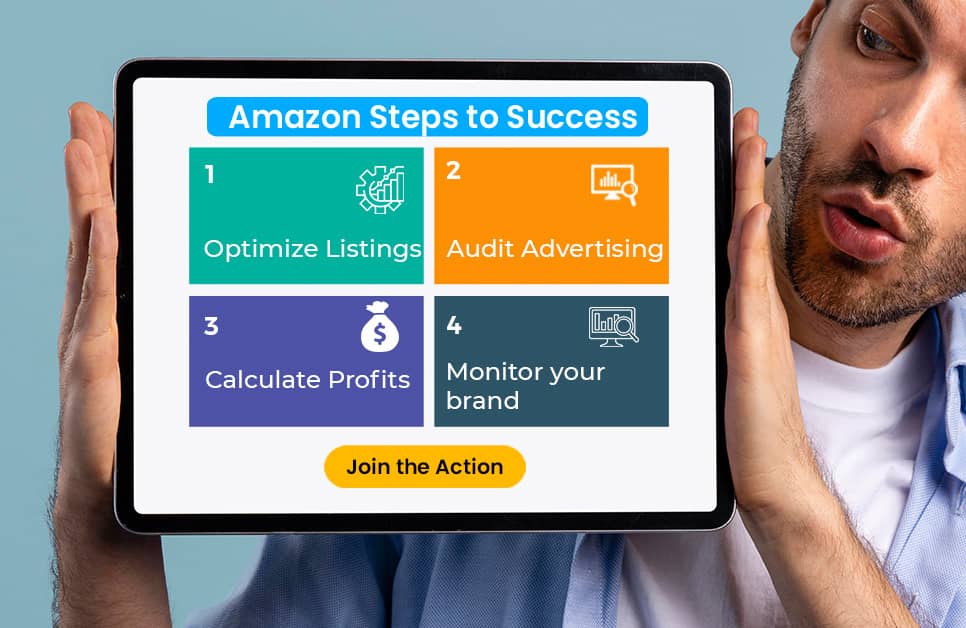 Restricted Products on Amazon
In addition to the categories, there are certain restricted products requiring approval to sell. Some of these products may also be banned on the platform. Amazon also regulates the use of brands, so if you're planning to sell a product from a well-known brand, make sure that you have permission to do so.
Here's the list of restricted products in the US:
Alcohol
Animals & Animal-Related Products
Art – Fine Art
Art – Home Decor
Automotive and Powersports
Composite Wood Products
Cosmetics & Skin/Hair Care
COVID-19 Supplies
Currency, Coins, Cash Equivalents, and Gift Cards
Dietary Supplements
Drugs & drug paraphernalia
Electronics
Explosives, Weapons, and Related Items
Export Controls
Food & Beverage
Gambling & Lottery
Hazardous and Dangerous Items
Human Parts & Burial Artifacts
Jewelry & Precious Gems
Laser products
Lighting
Lock Picking & Theft Devices
Medical devices and accessories
Offensive and Controversial Materials
Pesticides and Pesticide Devices
Plant and Seed Products
Postage Meters & Stamps
Recalled Products
Recycling electronics
Subscriptions and Periodicals
Surveillance Equipment
Tobacco & Tobacco-Related Products
Warranties, Service Plans, Contracts, and Guarantees
Other Restricted Products
Refrigerants: Ozone-Depleting Substances and Substitutes
Upholstered Furniture, Bedding, & Other Quilted Products
CPAP Cleaning and Disinfecting Devices
Just like the list of restricted categories, the list of restricted products is also updated regularly. You can keep track of any changes at Seller Central.
Additional Read: What are the most popular products to sell on Amazon?
Brand Restrictions On Amazon
Brand restrictions are brands such as Adidas, Nike, Gucci, etc that Amazon sellers are restricted to sell.
Product Condition Restrictions
Amazon includes restrictions on certain product conditions in several categories. These are the categories that are restricted for used items sales:
Baby Products
Beauty, Clothing, Accessories & Luggage
Grocery & Gourmet Food
Health & Personal Care
Jewelry Shoes, Handbags & Sunglasses
Watches
Is It Worth to Sell Restricted Categories on Amazon?
200 million unique monthly customers prefer making their purchases with Amazon over any other store.
Without further doubt, Amazon has a huge customer base and it's the largest online retailer. Instead of struggling alone, you can utilize the Amazon benefits and reputation, to sell.
But, why restricted categories? It has great benefits, which sellers forgot to notice. It has fewer sellers and, hence, less competition, which increases the chances of your listing being seen and clicked on.
However, Amazon sellers like you, are hesitant to sell those restricted categories, because knowing what has restricted itself is a tedious task.
Along with that, providing the required documents and getting approval is quite frustrating.
That's the case right? Well, if these frustrations turn easy, you may be selling those restricted categories right.
Restricted Category Approval: Getting Started
Thanks to Amazon's strict adherence to safety standards and regulations, restricted categories, and products often have less competition. This often means better sales and profits if you're lucky enough to be part of this exclusive club. Each restricted category has different rules and requires different steps before you get approval to sell. While there is no one-size-fits-all solution, there are a few criteria you need to meet before you're even considered for approval:
Be a professional seller
Professional sellers have to pay a monthly subscription fee of $39.99, along with additional selling fees. It also comes with a number of perks to help you in your seller journey. If you're confused about whether it's worth going pro, check out this handy guide.
Have good performance metrics
Good performance metrics are key to ensure your success on Amazon. To qualify to sell restricted products, your defect rate should be less than 1%, the pre-fulfillment cancel rate should be less than 2.5%, and the late shipment rate should be less than 4%.
Show proof of product authenticity
Amazon always has the interests of its customers in mind. Unless the product you plan to sell is safe and authentic, you'll have very little success with your application. In order to establish product authenticity, you need to prove that your supplier is either the manufacturer or a licensed dealer.
Maintain acceptable invoices for your inventory
Invoices must be dated within 90 days, immediately before your application date. Ensure your invoices are legitimate and make sure the company information on the invoice matches the company information in your Seller Central account. The invoice must contain the name, address, phone number, and website of the company. Double-check the information and make sure there are no discrepancies.
Maintain a company Website
A company website is not just a tool to help you get approval. If you're looking to create a lasting brand and want to get in touch with customers directly, a website is often necessary. A good company website is also indicating to Amazon that you are a trustworthy seller.
How To Get Approval To Sell On Amazon
Once you have all your required documents ready to go, requesting access is easy. Just follow these steps and you're on your way to selling a product in a restricted category:
From the Inventory menu select Add a Product.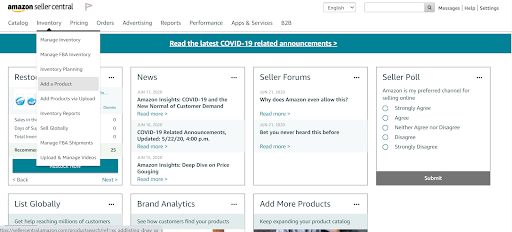 Search for the item you want to sell.
In the search results, click the Listing limitations apply link next to the item.
Click the Request Approval button to begin the application process.
The application process is different from category to category and from product to product. There is also a possibility that your application may be rejected. If you're unsure about the status of your application, you can follow these steps and check the categories in which you are allowed to sell products.
Log in to Seller Central Account
Select Add Inventory
Select Add Product
Click the link Selling Application Status.
Amazon Category Approval Services
If you're having trouble going through the application process, you could consider using an 'ungating service'. Keep in mind, ungating services are not official Amazon service providers. They can help you with the application process but cannot guarantee that your application will be approved.
If you're struggling with the application process, it might be worthwhile using an ungating service, but you can easily complete the process yourself. There are mixed reviews about third-party ungating services, so it is recommended that you finish the application yourself if possible.
Tips to Get Restricted Category Approval
While the application process is straightforward and simple, there are always things you can do to increase your odds of getting approved.
Build a good seller reputation
Getting approved to sell products from restricted categories depends on your reputation and history. Amazon tends to reject applications coming from new sellers. Building up credibility on Amazon takes some time, so it's a good idea to start from ungated categories and work your way up.
Apply using brand items
You're going to have a much better chance of success if you apply using items from well-known brands. Categories and products are restricted to protect consumer interests and minimize the sales of defective or counterfeit goods. So your private label may not always make the cut when applying to ungate a category. Even if you don't plan to sell them, using brand items in your application will help your odds in securing Amazon's approval.
Check quantities
Make sure you meet the minimum quantity requirements for each invoice. Double-check your application requirements and make sure you meet them.
Buy local or from the manufacturer
When you're applying for a restricted category or product approval, make sure you source your product from a local supplier. Amazon rarely accepts invoices from overseas manufacturers for an ungating application. If it is possible, purchase directly from the manufacturer to establish the product's safety and authenticity.
If you're looking to supercharge your Amazon seller journey, watch this guide to optimize your product listings:
Research your product
Sellers hear this all the time, but when it comes to restricted categories and products, research is even more important. Before you put up a product listing, make sure you have the approval to sell that product. If you're found violating Amazon's policies and restrictions, the e-commerce giant can take the following steps:
Cancellation of listing
Limits on listing privileges
Suspension of listing privileges
Removal of your listing privileges
Termination of your agreement and such other arrangements with Amazon.
Once Amazon takes disciplinary action against a seller, it's difficult to get reinstated.
If you're a seller participating in Fulfillment by Amazon (FBA), take special care with the products you ship to its fulfillment centers. Hazardous materials that are shipped to Amazon warehouses may be subject to disposal without reimbursement. Therefore, as an Amazon FBA seller, you have to ensure that you don't violate FBA-specific product restrictions.
Keep in mind, getting approval to sell in a category does not mean you can sell every product in that category. Some subcategories and products may still be restricted and will need further approval to sell.
Conclusion
Getting approval to sell products in restricted categories is not easy, but it is often worth the effort. Once you cross the initial barrier to entry, you set yourself apart from other sellers. Restricted categories are also less saturated, which means less competition. This will help you capture a larger market share and increase your revenue. It also gives you an opportunity to create a great brand and reputation in these categories. If you're willing to go the extra mile, this is a great opportunity to grow your business.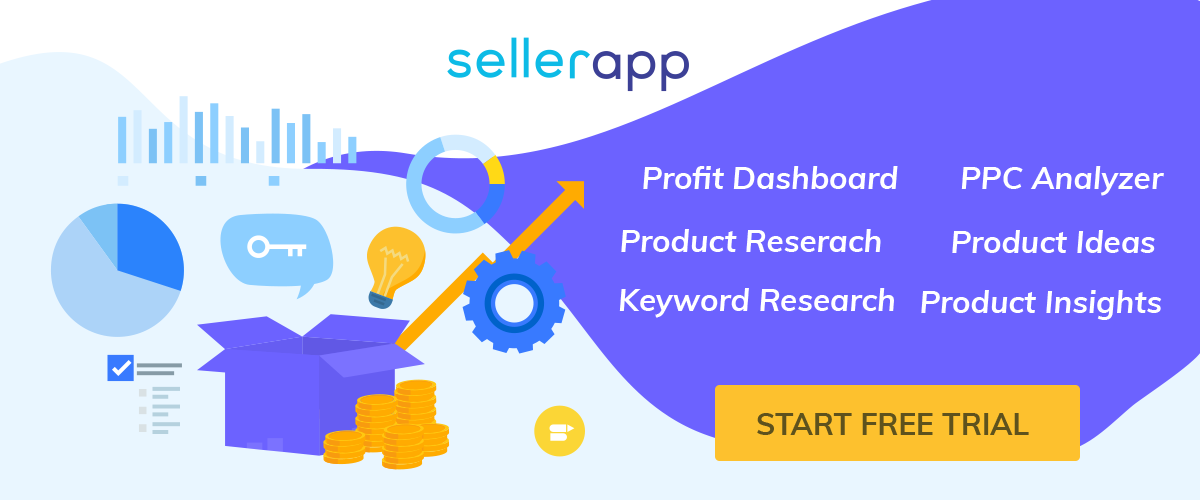 If you're looking to go that extra mile, try SellerApp's free 7-day trial to supercharge your seller experience.
Related Content:
Step by Step Guide To Manage Your Amazon Inventory Like A Pro!
Amazon Subscribe And Save Program 2019 Explained For Sellers
How To Sell Internationally On Amazon?
SellMetric: Amazon Product Opportunity Score
How To Get Approval for Topical Products on Amazon
How to Sell Alibaba Products on Amazon.
Was this post helpful?
Let us know if you liked the post. That's the only way we can improve.