Finding the perfect product is the first step towards success on Amazon. With over 350 million products being sold on Amazon, your products must stand out from the crowd. This can only be accomplished through exhaustive product research and competitor analysis. There is no other easy way around it.
This is a seller's guide on how to find the best-selling products on Amazon.
Quick Guide:
How to find the best selling products on Amazon: Getting started
The idea behind product research is simple. You're looking for a product that is in high demand, has low competition, and has great margins. While this may sound easy, the sheer volume of options on Amazon makes it harder for sellers to stand out. This is why actionable data is paramount when doing product research. Selling what you want to sell may not always pay off.
Recommended: How to do Profitable Amazon Product Research.
The easiest way to find out what is popular and trending on Amazon is to check the best-sellers, most-wished, or 'new arrivals list. If you have a niche in mind, you can filter the list by category and sub-category. This will give you a sneak peek into what shoppers are buying on Amazon. However, this is only a sneak peek.
You can use these lists to find products that you could sell, but that's only the beginning. Popularity alone cannot be used as a measure to gauge product opportunity. This step is all about identifying viable products that are profitable on Amazon. Once you've made a list of these products, it's time to dive deep into the data.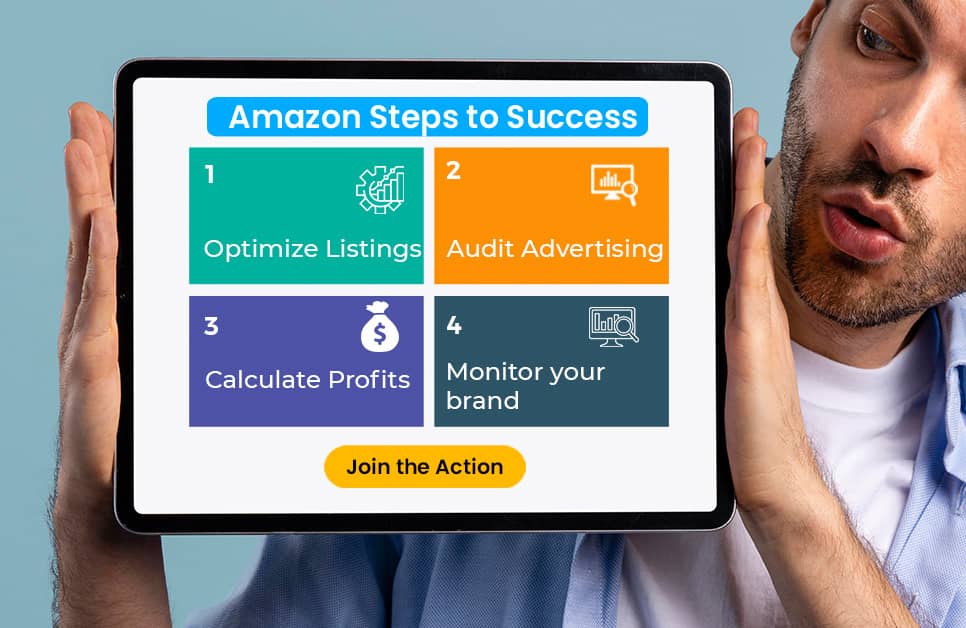 Identify best selling products with SellerApp
The easiest way to get actionable data is by using SellerApp's advanced Google Chrome Extension. The extension will give you all the product data you need, as well as spy on your competitors with the click of a button.
To get an initial overview of similar products, just type in the main keyword in the search bar and let the Chrome extension do the rest. Once you're on the search results page, the SellerApp extension will give you key metrics such as average price, average daily sales, and average best seller rank (BSR). You'll also get an overall opportunity score you can use to make an informed decision about the product. Once you've studied the overview, you can open individual product pages to study your potential competitors more closely.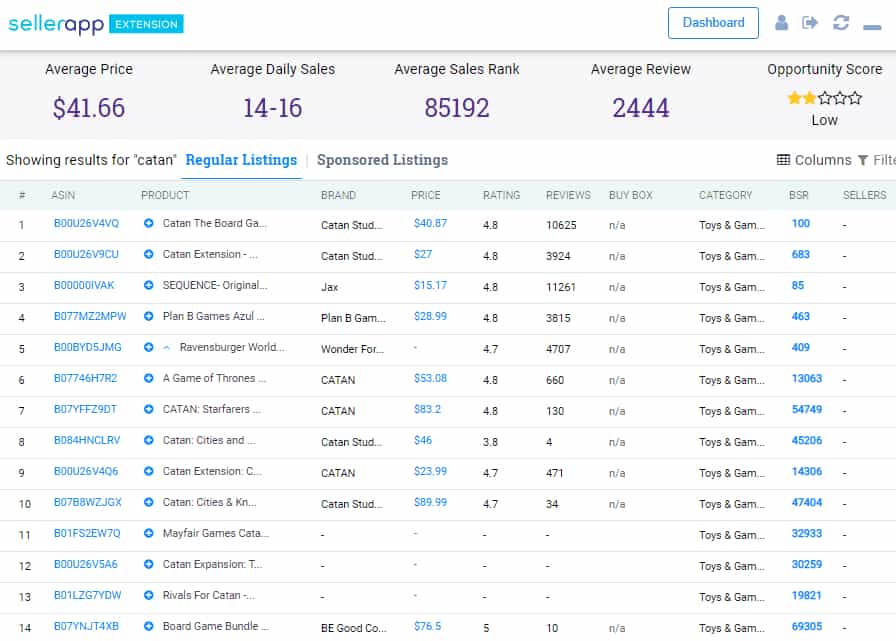 A detailed summary of products for the keyword 'Catan' compiled by the SellerApp Chrome Extension)
You can also find the best products to sell on Amazon with real-time data using the SellerApp dashboard. Once you've opened the dashboard, click on 'Product ideas' to find trending and most wished products. You can also check out the most popular new arrivals and BSR movers with the click of a button. The product ideas feature also provides BSR, estimated sales, and estimated revenue for each of these products to help sellers make an informed choice.
Additional Read: How to create an Amazon wish list.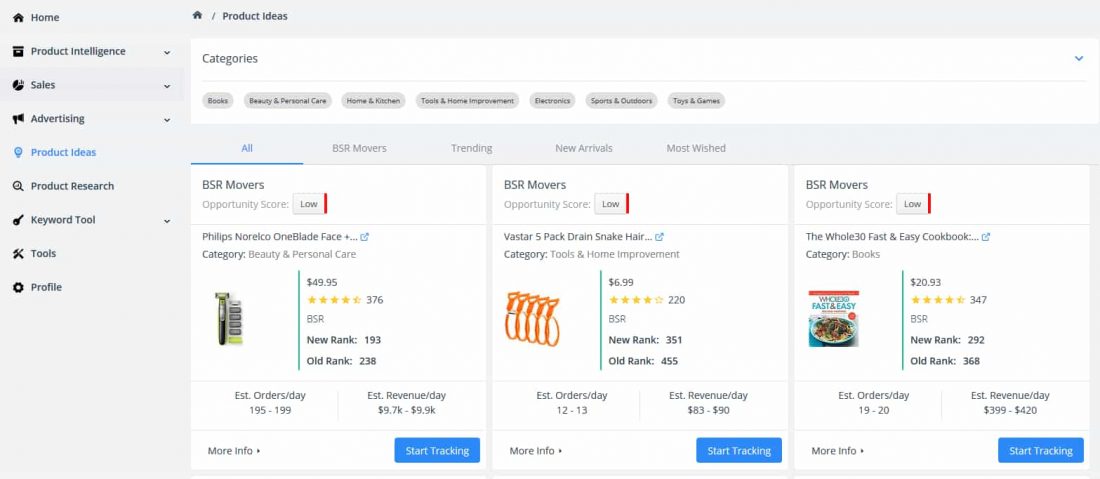 (A snippet from the product ideas tool in the SellerApp dashboard)
Additional Read: How to Sell Alibaba Products on Amazon.
Finding the right product: Metrics to watch
When it comes to product research, these are the metrics you need to keep an eye on. All you need to do is open the product listing and click on the SellerApp Chrome extension to get the necessary data. The tool will automatically retrieve real-time and actionable insights.
Sales
Ensure that the product has at least 10 sales every day. Keep checking back for a few weeks to ensure that the demand is not seasonal. The best products are those that guarantee long-term, year-round profitability.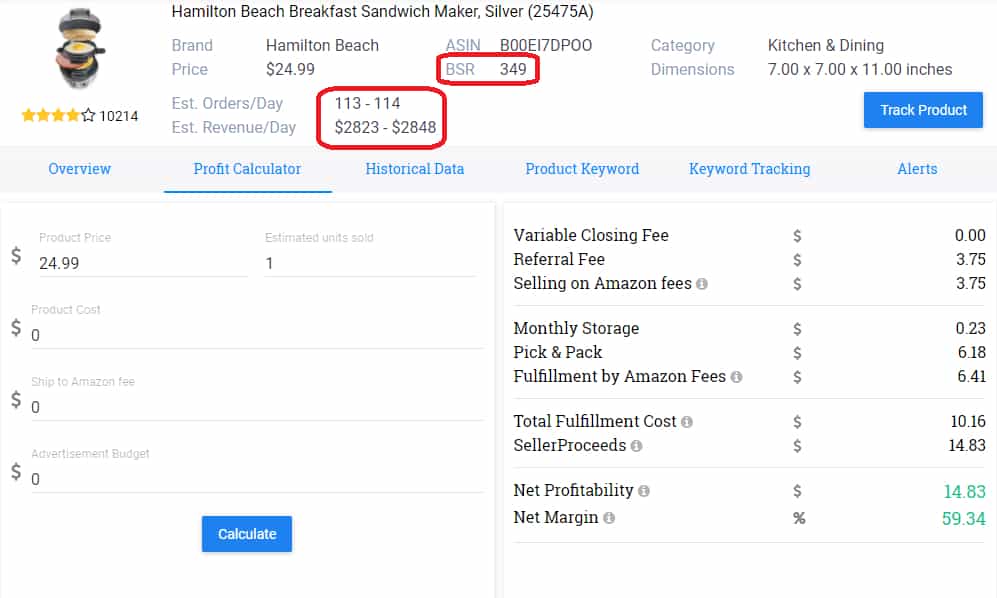 (SellerApp Chrome extension tool: Estimated orders and BSR of a product)
Bestseller rank (BSR)
Just like for sales data, keep checking BSR to gauge demand. If the rank is improving, it means there is greater demand. Ideally, there should be at least two to three similar products with BSR 5000 or better.
Keyword ranking
Track your competitor's top keywords. With the SellerApp Google Chrome extension, you can instantly get search volume and estimated cost-per-click (CPC) data. All you have to do is navigate to the "Product keyword' section in the chrome extension. Remember, you have to be on the product listing page.
Have the data? Great! Now you need to make sure that the main 3 keywords have at least 50,000 searches a month for most categories. This is another way to gauge demand for your product.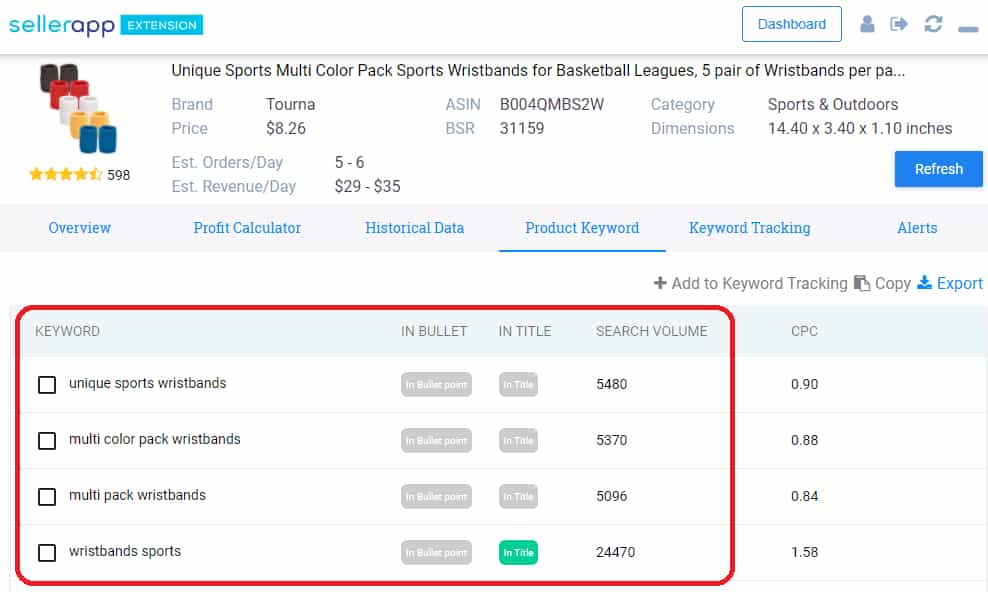 (SellerApp Chrome extension tool: Keyword search volume)
Product dimension
The size of your product will directly affect your margins. The larger the product, the more you'll have to pay for storage and shipping – even with fulfillment by Amazon (FBA). If you're a beginner seller, it is usually a good idea to avoid large products. That is one logistical nightmare you do not want to deal with. I also recommend selling a light product, preferably one that weighs less than 3 pounds.
Profit margins
The SellerApp team recommends picking a product that costs anywhere between $15 to $60, with a profit margin of at least 40% (after shipping and Amazon fees). If your product sells for less than $15, your margins won't be great after the fees are levied by Amazon. If your product is more expensive than $60, customers might prefer to buy from a more established brand. Consumers are more likely to impulsively buy products priced below $60!
You can find net profitability and margins using the SellerApp Chrome extension. While on the product page, open the extension and click on the 'Profit calculator' to get a detailed breakdown.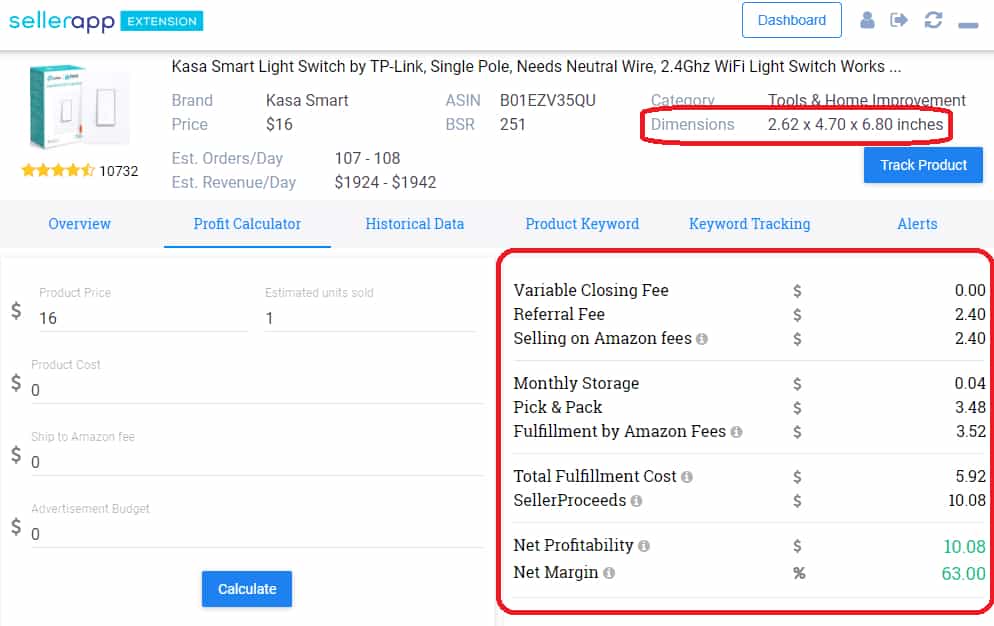 (SellerApp Chrome extension tool: Dimensions and net profitability calculator)
Amazon product research: Top 4 categories
If you manage to tap into a niche with high demand, the category of the product does not matter. That being said, information about the best categories can help sellers make informed decisions about the product they want to sell. Here are some of the most profitable categories on Amazon:
Toys and Games
You can bet that demand for toys and games will never drop! This is a broad category, so it is important to find a niche. Keep in mind that toys and games are not just for children anymore. The increasing popularity of table-top board games widens the market for this category. Expect a steep spike in demand during the holiday season as well.
There are a few product or subcategory restrictions when it comes to toys and games, especially during Q4. Make sure you check whether the product you are planning to sell requires approval from Amazon.
Baby products
Baby products are not seasonal and are generally fast-moving consumer goods. This means that there will be demand throughout the year and customers are very likely to keep buying your product if they like it. This means consistent demand. It gets better! Baby products are also usually lightweight. That means less shipping costs and greater margins!
Books
While the rise of Kindle has disrupted the paperback marketplace, books continue to have steady sales on Amazon. Hardcover books are here to stay. Textbooks are also very popular on Amazon, and they usually have great margins. Want to learn more? You can read this detailed guide on selling books through Amazon.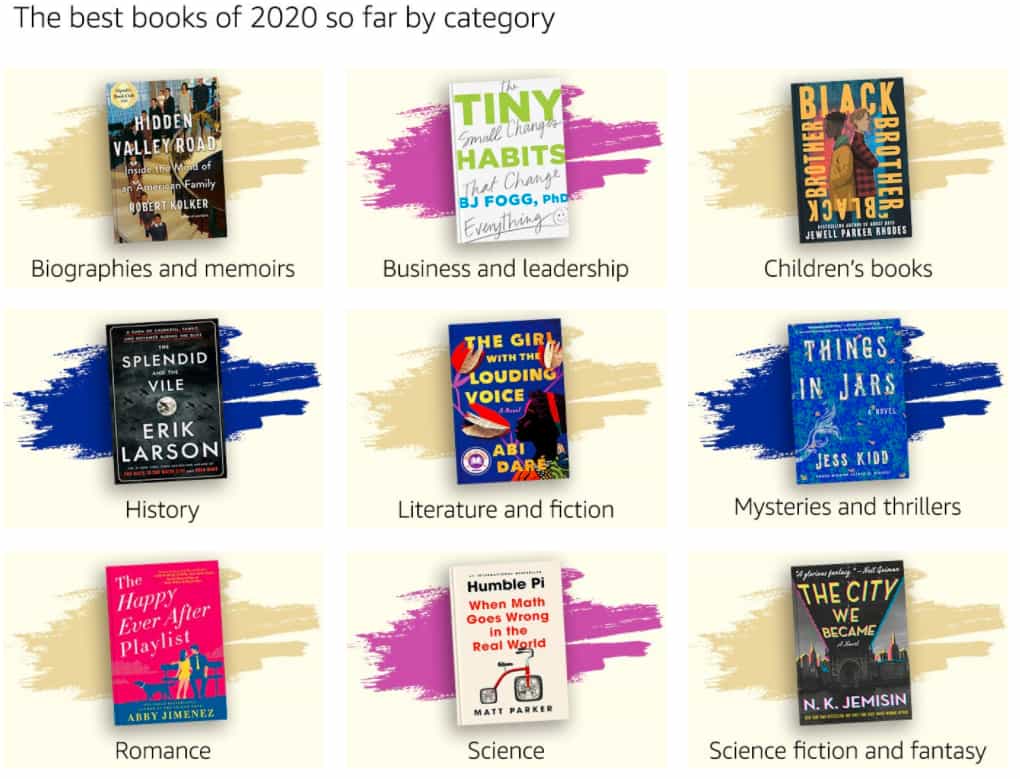 (Source: Amazon.com)
Electronics
Selling electronics (including cameras and photography equipment) can be incredibly profitable. But, I recommend staying away from the category, especially if you're not familiar with the products. These are complex products so handling, shipping, and selling are a lot more difficult. Plus, you'll be competing with massive brands with steep pockets. That is a recipe for disaster!
While most products in these categories have consistent demand throughout the year, they may be very saturated. If you do decide to sell in one of the major categories, make sure you find a niche with low competition. Some of the most profitable categories are restricted by Amazon, so make sure you get approval before selling products in these categories.
Moreover, the top categories keep changing depending on demand. For instance, Q1 2020 threw up a few surprises for sellers. According to Statista, the most purchased product categories in the United States in February and March were clothing, shoes, or accessories, pharmacy, health, or beauty products, food or beverages, and household supplies. This was largely due to the lockdown imposed amid the COVID-19 pandemic.
Final thoughts
Finding the perfect product is only step one in a seller's Amazon journey. To ensure that the product flies off the shelves, Amazon sellers need to optimize their product listings with relevant keywords and visual media. To boost sales and revenue, sellers also need to run optimized pay-per-click (PPC) campaigns. All this effort always pays off, especially if you have a trend-setting product! Don't forget, best-selling products on Amazon are a click away with SellerApp. Write to us at support@sellerapp.com to learn how you can skyrocket your sales with SellerApp.
What tricks do you use to find and sell products on Amazon? Let us know in the comments section below.
Recommended to read:
What Is An Amazon FBA Aggregator?
How to contact Amazon Seller Support?
Was this post helpful?
Let us know if you liked the post. That's the only way we can improve.