Amazon FBA (Fulfillment by Amazon) has allowed sellers to scale their business exponentially. With Amazon taking care of storage and shipping, FBA sellers don't need their own warehouses. Sellers can even save on customer support! But, these benefits do not come free.
If you're an FBA member, you'll have to pay a monthly fee. That's not all. You'll also have to pay Amazon for all your products in its warehouses. If your inventory has been at an Amazon fulfillment center for over a year, you'll also have to pay long-term storage fees.
In short, if your product isn't selling, you'll be bleeding money.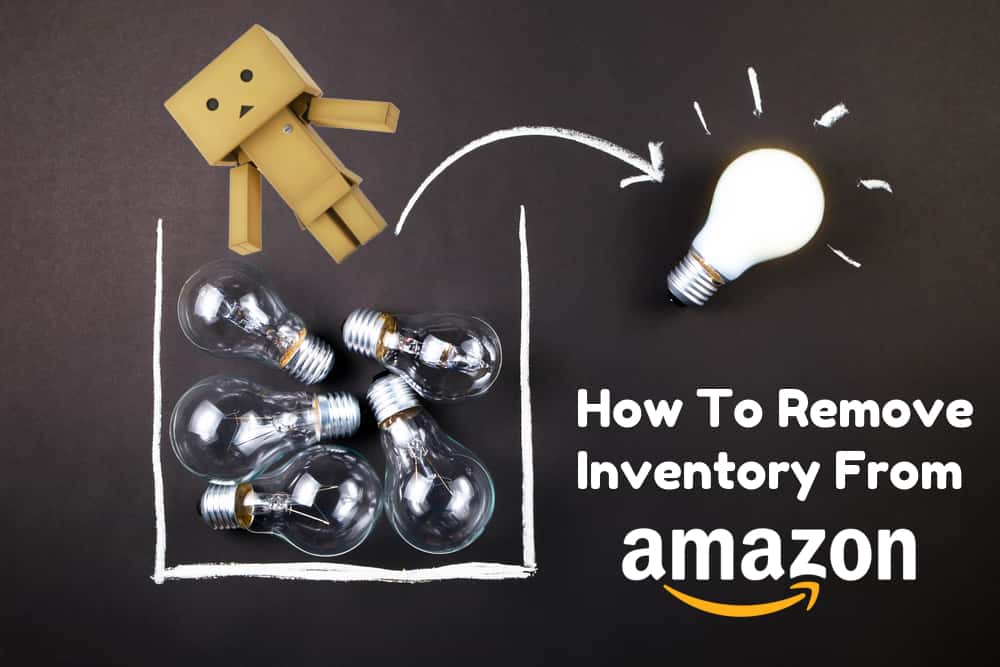 For items stored for over a year, Amazon charges the seller a fee of $6.90 per cubic foot of storage used, or $0.15 per product (whichever is greater). This fee is deducted every month. This can quickly add up.
So, if a product isn't flying off the shelves, it might be worthwhile to get rid of the unused inventory. How do you do that? It's actually quite simple. All you need to do is create a removal order on Amazon. We'll walk you through everything you need to do to remove inventory from Amazon.
Quick Guide:
Closing or deleting product listings
If you're recalling or disposing of your inventory from fulfillment centers, it's a good idea to remove the related product listing. You have two options:
Closing a listing: This means that you are only removing the product from the storefront. After closing a listing, it will be tagged as 'inactive' on the inventory page. The sales history, product information, and the stock-keeping unit (SKU) of the listing will still be available. The listing can be reactivated at any time.

Deleting a listing: When you delete a product listing, its associated sales history, product information, and SKU are permanently deleted from the seller account. You won't be able to find the product on your 'inventory' page. Sales data on the accounting pages will still be available. You should only delete a listing if you are 100% sure that you are not going to sell that product again in the future. You only have 24 hours to reactivate a deleted listing.
You can follow these steps to close or delete your listings:
Log in to Amazon Seller Central and open the "Inventory" tab.
Select "Manage Inventory" to get a list of all the product listings active on the storefront.
For the relevant listings, click on the "Actions" button. You can select multiple products at the same time.
Depending on how you want to remove the listing, you can either choose "Close Listing" or "Delete Product and Listing."
If you want to relist an item that has been closed or removed, you can follow these steps:
Go to the inventory management page and click the "Inactive" link.
Select "Actions" next to the item and click "Relist."
If the listing was deleted over 24 hours ago, you cannot relist the product. The listing has to be manually added again.
Once you have closed or deleted the relevant product listings, you can move on to removing your inventory from Amazon fulfillment centers.
If you want to learn more about the various fees associated with Amazon FBA, watch this detailed guide!
How to remove inventory from Amazon FBA
Why would you want to remove inventory from Amazon FBA centers?
Even if a product is not subject to long-term storage fees, it still costs you money if it's at an Amazon warehouse. If your product sales can't cover these costs, it's advisable to take down the listing and remove the product from FBA centers.
Here's how you can do it.
1. Create a removal order
There are two ways to create a removal order. You can do this from the "Manage Inventory" page or from the "Recommended Removal" report. The recommended removal report only includes inventory that will be subject to long-term storage fees. Through the Manage Inventory page, you can remove the inventory for any listing. Here's how you can remove inventory using either method: On the "Manage Inventory" page, select the relevant items. Select the "Action" drop-down list and pick the "Create Removal Order."
On the "Recommended Removal report," choose the "Begin Removal Process" option. You cannot use this option if you do not have inventory that qualifies for long-term storage fees. If the recommended removal list has more than one page, you'll have to create a separate removal order for each page.
Once you have begun the removal process, you have three choices.
Dispose: You can have Amazon dispose of the products. You will be charged a nominal fee for each item disposed of.
Return: Amazon will also deliver all the chosen items to a selected address. This is more expensive than disposing of the product.
A product under a removal order cannot be used to fulfill customer orders. It cannot be shipped to any other fulfillment center either.
2. Add address and order ID
If you have chosen the return option, you will need to add the address to which the products will be delivered.
No matter what you choose to do with the inventory, you need to enter a custom or random order ID. If you leave it blank, an order ID will be automatically generated. Make sure you save the order ID. It can be used to track the removal order.

3. Specify ordered SKUs/units
If you want to add more items to this list, you can search for the product using its title, ASIN, FNSKU, or MSKU. Add the relevant details into the "Search and Add Items" box and hit Search. Choose the products to be removed, and click the "Add Selected" button.
4. Add quantities to be removed
Now you need to mention the number of fulfillable and unfulfillable items to be removed. This quantity cannot be greater than the total quantity available for removal. Once you've done that, you need to review the total inventory — both available and unavailable for removal.
5. Review removal order
After you've added all the necessary details, you need to review your removal order. Check the order ID, method of removal, ship-to address, and the details of the selected items for removal. If you need to change contact details or return address, you just need to select the "Change" option. You can also see how much the order will cost you under the "Estimated Fees" option.
6. Click confirm
After review, you have the option to confirm the removal order or cancel it. Usually, the order is processed within 10 to 14 days after you confirm your order. However, it can take up to 30 business days, especially during the peak removal times, and the holiday season.
Once the removal order has been submitted, the carrier may try to contact you to organize a specific delivery time. If you are unavailable or cannot accept the delivery, Amazon assumes that the ship-to-address is incorrect. If this happens, the items will be considered as 'abandoned.' The products can then be disposed of without any reimbursements or further notice.
Wondering how you can make the most out of the holiday season? SellerApp's Customer Success Head, Ankitha Nagaraj explains how to supercharge your sales while avoiding common mistakes.
Removal Order Charges For Amazon FBA
| SIZE | Shipping Weight | Removal Fee (Per Unit) |
| --- | --- | --- |
| Standard Size | 0 to 0.5 lb | $0.25 |
| | 0.5+ to 1.0 lb | $0.30 |
| | 1.0+ to 2.0 lb | $0.35 |
| | More than 2 lb | More than 2 lb |
| Oversize/ special handling items | 0 to 1.0 lb | $0.60 |
| | 1.0+ to 2.0 lb | $0.70 |
| | 2.0+ to 4.0 lb | $0.90 |
| | 4.0+ to 10.0 lb | $1.45 |
| | More than 10.0 lb | $1.90 + $0.20/lb above first 10 lb |
For standard-sized items: Items weighing under 1 lb are rounded up to the nearest 0.1 lb. For items weighing over 1 lb, shipping weight is calculated by rounding up to the nearest whole pound.
Special handling items may include apparel, shoes, watches, jewelry, or dangerous goods.
Canceling a removal order
A removal order can be canceled only if its status is either "Pending" or "Planning." If your removal order is in the "Processing" status, it cannot be canceled.
Here's what you need to do to cancel the order:
From the "Manage Orders" page, select the "Advanced Search" option.
From the drop-down list, choose "Order ID."
Type in the order ID of your removal order and click the "Search" button.
Under "Action," select "Cancel This Order."
Automating removal orders on Amazon FBA
You can also automate the removal process for unfulfillable items and products subject to long-term storage fees. If you set up automated removals by the 15th of each month, that inventory won't be charged storage fees. This is because Amazon takes stock of inventory on warehouses on the 15th of every month.
What is an unfulfillable product?
Whenever Amazon deems that a product is not in a sellable condition, its status is changed to Unfulfillable. Amazon notifies you whenever a product becomes unsellable. If you do not create a removal order for unsellable inventory within 30 days of Amazon notification, it is likely to be automatically disposed of.
You can follow these steps to automatically remove unfulfillable products from your inventory.
On the "Settings" menu of your Seller Central account, click Fulfillment by Amazon.
Select "Automated Unfulfillable Removal Settings," and click "Edit."
Click Enable and select one of the following:

Return: to have unsellable inventory returned to you.
Dispose: to have unsellable inventory disposed of.

Select a schedule:

Immediate (only available for dispose option)
Weekly
Twice a month

In the "Email Address" text box, enter your preferred email address.
If you selected Return, provide the address and phone number for the delivery destination.
Click Update.
Similarly, you can also automate removal orders for inventory subject to long-term storage fees. Just navigate to "Automated Long-Term Storage Removals Settings" on the "Fulfillment by Amazon Settings" page. In this case, you also have the option to set the price range of the products you want to remove. In the Disposal/Return settings section, do one or both of the following:
Select Dispose. Enter the lowest and highest value for the items that you want to have disposed of.
Select Return. Enter the lowest and highest value for the items that you want to return.
Items that cost more or less than the price range will remain in your inventory and will be charged the long-term storage fee. Items within the designated price range will be marked for removal.

Checking the cost of a removal order
You will be charged for removal only after your inventory is disposed of or shipped. You can verify the costs related to your removal order on the "Payments" report.
In order to keep tabs on how much removal orders cost you, follow these steps:
Under "Payments," click on the tab named "Transaction View."
Select "Service Fees" and select the date range.
Click "Update."
Under "Product Details," look for transactions labeled "FBA Removal Order."
Final thoughts
Sometimes, taking a product off the shelves is the right call. The reasons may vary. It could be a seasonal product that you want to take off the shelf. It could be a product that just didn't sell well. Maybe you want to avoid long-term storage fees. Whatever the reason is, Amazon has made the process quick and easy.
You can also automate the removal process for unfulfillable products, and inventory subject to long-term storage fees. This is an easy way to manage your inventory on a regular basis. Plus, it can save you a lot of time and money in the long run.
Effective inventory management is every seller's secret to maintaining a healthy profit margin.
Do you have any questions about inventory management with Amazon FBA? Let us know in the comments section below.
Related Post :
Soar Your Amazon Sales with Liquidation Inventory.
How to Leverage Amazon Inventory Reports – Step-By-Step Guide
Top 3 FBA Errors and How to Get Your Money Back
How Much Could Your FBA Business Be Worth?
Was this post helpful?
Let us know if you liked the post. That's the only way we can improve.