Have you ever seen an unavailable balance on your Payments report and wondered what it is, why you have it or what you can do to minimize its cash flow burden? Today, we're going to answer all your questions about Amazon unavailable balances, so you can take better control of your income and finally grow your business.
Amazon Payments 101
First things first, let's quickly cover how Amazon payments work. For most sellers, Amazon issues payments every 14 days and includes proceeds from all orders that have been marked delivered for 7+ days since your last payment. This seven-day window ultimately acts as a buffer in case a buyer decides to return or file a claim. After seven days, Amazon assumes they're satisfied with their order and releases the funds in your next payment.
But there are times when Amazon holds the payment for longer — and that's when you might see an unavailable balance.
Amazon Unavailable Balance: What Is It & Why Do They Occur?
An unavailable balance is an amount of money Amazon is holding from your regularly scheduled payout. The amount itself could be all or part of your payment, and it could be released on your next scheduled payment or be held for longer. It really depends — and we're going to break down why.
If you have an unavailable balance, you'll find it on your Payments report in Seller Central. From there, go into Account Health to see why you have one to begin with. Chances are, your available balance will be due to one of these common factors:
Late delivery: Amazon already holds your income for 7+ days post delivery to account for returns. If they don't get delivery confirmation in that window, then they'll hold your payment for longer.
Claims or chargebacks: If you have an A-to-z Guarantee claim or chargeback within the last 30 days, you can expect an unavailable balance to occur until things get resolved. Sometimes this can take up to 14 days or longer.
Poor Seller Performance: When seller performance drops, it's usually because of increased claims, chargebacks and returns — all of which contribute to an unavailable balance.
Other Account Review: If there are sudden changes to your account, activity or sales, or if you're new to selling, you might see an unavailable balance.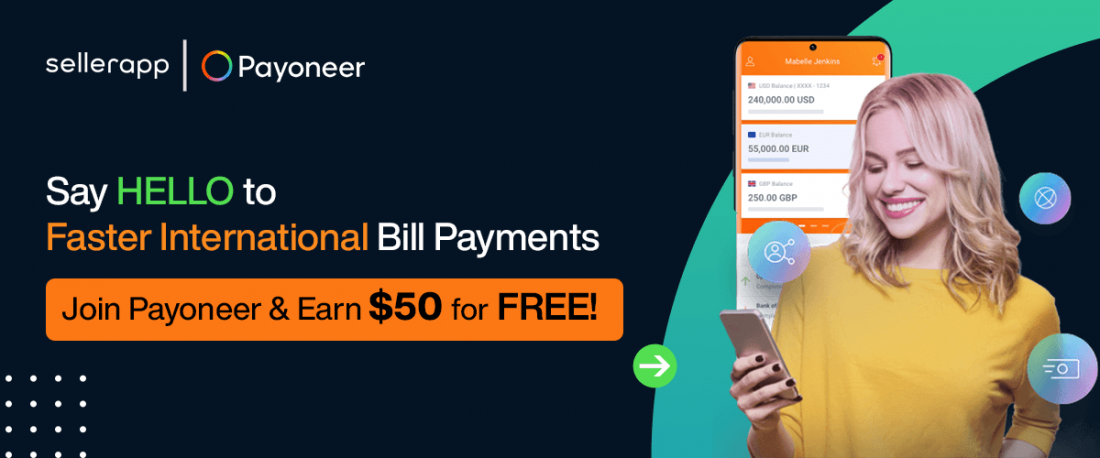 How to Avoid an Unavailable Balance
In the simplest terms, you can prevent an unavailable balance if you can avoid the common causes we just listed. For reliable delivery/fulfillment, consider outsourcing to a service like FBA and/or use a mail carrier that you trust. To prevent claims, chargebacks and returns, make sure your listings are descriptive and accurate and include a lot of visuals — you don't want a buyer to be surprised by their shipment when it arrives.
Other strategies you could implement? Be proactive with your customers — send an email after they receive an item to make sure they are satisfied and offer support if they're not. Ask for positive feedback. Respond to inquiries in a timely fashion.
At the end of the day, you want your account to be in good health. Evaluate your listings, packaging, fulfillment processes, etc. to make sure nothing needs fixing — and if it does, then find a solution fast.
One thing worth nothing: your product category might increase your chances of getting an unavailable balance. Certain areas are just more prone to them, like clothing or shoes because they're often returned or exchanged for sizing and/or fit issues. If this is the case, it might make sense to note how sizing works in your description (i.e. if it runs small, if you recommend sizing up, etc.).
If you do all these things and still get an unavailable balance, don't panic. You have options. Check out our breakdown of them in the next section.
Cash Flow 101: How to Overcome an Unavailable Balance
When you're already waiting two weeks for Amazon to pay you, you have to be creative with your cash flow. When you have an unavailable balance, you're now waiting longer than those two weeks — and you don't know exactly how much longer. This means you need a top-notch cash flow strategy, so you can continue buying inventory, making payroll, investing in marketing, etc. etc. There are several ways to increase cash flow — here's a breakdown of each, plus their pros and cons:
Solution
Pros
Cons
Credit Card (apply for a new one or ask for a limit increase)
Quick way to increase spending power
- You might need a credit card or increased limit in the future anyway
- Free spending if you pay on-time and in-full
- Can be used irresponsibly, which leads to high compounding interest payments
- Your unavailable balance might not be released by your payment due date — or be enough to cover what you ower
Bank term loan
- Large loan amounts
- Low interest rates
- Long payment terms
- Low approval rates (banks typically don't lend to small and online businesses)
- Long application process
- Lots of paperwork (including tax docs and bank statements)
- Credit checks
Online business loan
- Simple application
- Minimal to no paperwork
- Fast funding
- High approval rates for small and online businesses
- High interest rates/fees
- Short payment terms
Savings
- Immediate access to your own cash
- No application/interest/etc.
- Might not have enough
- Savings should only be used for emergencies
Supplier Terms (ask for longer payment terms)
- You can still get your inventory when you need it
- Not necessarily a long-term solution
- Your unavailable balance might not be released by your payment's due date
- Your supplier might say no to longer terms
Payability's Instant Access
- Simple application (no credit checks, bank statements or tax docs required)
- Long-term solution to cash flow issues and protection from future unavailable balances
- Double fees on rollover balances to account for added risk
In case you're unfamiliar, Payability is a financing company designed specifically for marketplace sellers. They offer long-term cash flow solutions to help online sellers increase cash flow, overcome unavailable balances, and grow their businesses. In fact, sellers that use Payability grow 2.5x faster than their competitors.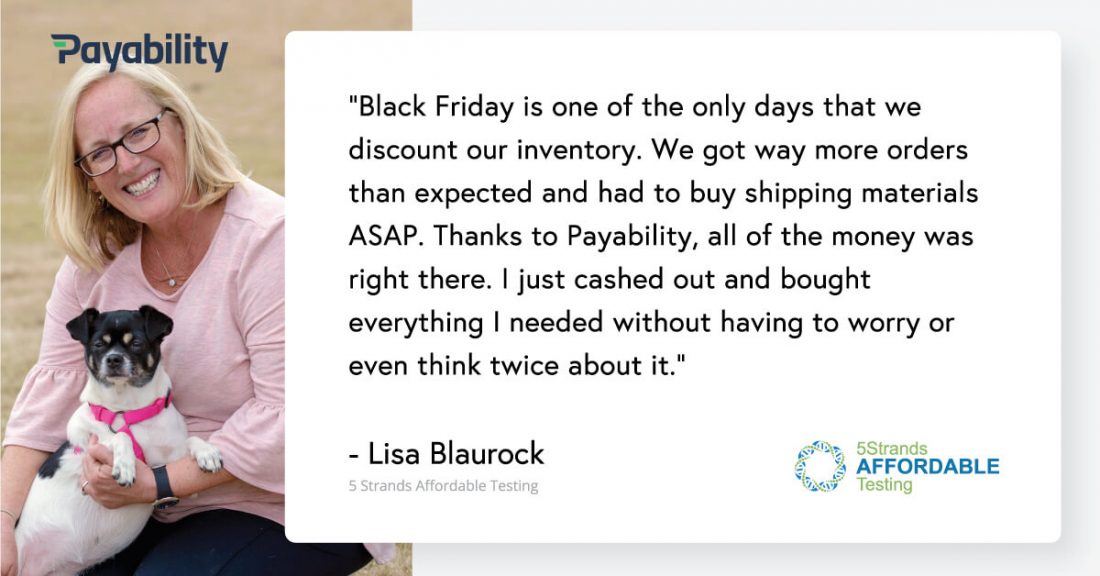 Here are their solutions:
Instant Access gets you your Amazon income the next day, every day. Payability essentially buys your daily income from Amazon and then makes 80% of it available to you the next business day. The rest is held for any necessary returns or chargebacks and is then released to you when Amazon releases your payout.
Instant Advance gets you a large lump sum of cash. Payability buys a certain amount of future receivables from you up front and at a discount.
The Seller Card gives you immediate access to your funds, can be used on-the-go wherever Visa is accepted and comes with cashback perks.
When you use Payability, you'll know exactly how much money to expect — and you'll get paid every day on yesterday's sales. Not to mention, the application process is simple and fast, which means you can start boosting your cash flow and getting over that unavailable balance in as fast as 24 hours. Decisions are based on account health and sales performance, so you don't have to scramble to get any paperwork together (i.e. no need for bank statements or tax documents) and your credit also won't be pulled.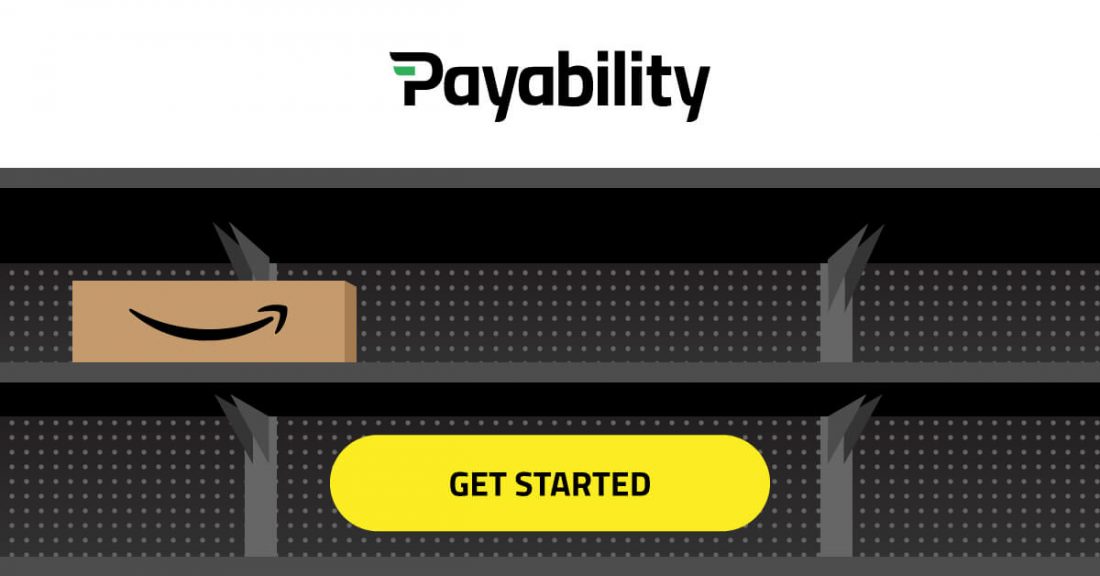 To learn more about how real-time access to your income can boost your cash flow needs, help with your unavailable balance constraints, and take your business to the next level, visit http://go.payability.com/SellerApp and get a $200 sign on bonus when you sign up for Instant Access. For more on how Amazon actually pays sellers, check out this post on Payability.com.

Was this post helpful?
Let us know if you liked the post. That's the only way we can improve.