Remember the good old days when people used to create a large list of products before they stepped out to shop? What are the benefits of such a list?
Apart from the fact that it helps you save time while shopping, this list enables you to note down an item whenever you see or recall it. You can save this list for a later point in time. You can even share this list with anyone.
With its vast customer base, Amazon allows customers to create a list of items they want to purchase. This is called Amazon Wish List or, simply, List. In short, a wish list is a way to list and save items you want to buy at the moment.
A quick peek into the article
Let's get the ball rolling!
What is an Amazon Wish List?
Imagine a customer finds a product on Amazon that she would not want to purchase immediately but at a later point.
Where will she pin this product?
This is when the Wish List feature on Amazon comes in handy.
Most e-commerce marketplaces today use this feature to help customers list the products they want to purchase later sometime. Amazon simply calls it List.
Customers can create multiple Lists and name them based on interests, purposes, etc. As of now, Amazon doesn't restrict the number of Lists someone can create.
Amazon Wish List is not just a curation of products that the buyer creates but a tool that can help you in market research. Its unique features notify your customers of price and stock changes and help them find gift ideas. So you'd eventually convert more customers.
Amazon's Wish List also serves as a gift registry. The customers can make their List public and share it with their friends and family.
How can you use the Amazon Wish List?
One can access an Amazon Wish List if and only if she owns an Amazon account.
Amazon List helps both the seller and buyer alike.
How Amazon sellers can benefit from the Wish List
Lists provide you with great information about your customers' choices and interests. There are several obvious benefits of analyzing customers' Lists.
Helps you understand product trends and optimize your strategies and increase conversions.
Gives you more customers through sharing Lists. The customers share their Lists with others. When people make a purchase for the one who shared the Wish List, they are likely to find the product or other products on your Amazon Store useful to themselves. This will generate more traffic and, consequently, more sales and organic growth. 
Allows you to make informed decisions. Information is very important to make crucial decisions. Wish Lists help you find out the products that people commonly wish to list but fail to make a purchase. You can make adjustments to the marketing strategy or pricing to make people purchase the product. 
Improves customer engagement and helps you build a deeper and more emotional connection with your customers. When your customer can save the products for later use, they will come back to your listing to follow up. This will automatically develop a good relationship between you and the customer.
Looking at people's Wish Lists, you can understand the products that can be grouped or sold together. People make multiple Wish Lists for different purposes or occasions. Each list may contain products that are related. This gives you important insights into the grouping of products.
You can make the Lists public and accessible to more people. This eventually leads to more people visiting your store. This allows you to get more customers and conversions.
You don't need to worry about losing customers because your product is out of stock. The customers can save the product in their Lists. You can alert them through the Amazon in-stock notification feature when the product is back in stock.
Allows you to measure your overall marketing efforts
Helps you pinpoint the marketing tactics that work best for you
Helps you make required corrections in your product, and sales
Some other major Amazon Wish List benefits include:
Most wished-for products: By analyzing the Amazon Lists, you can find the 'most wished-for' products. You can also search for the "Most wished-for" products in different categories. The information you gather is particularly helpful when you plan to launch a new product or start selling on Amazon.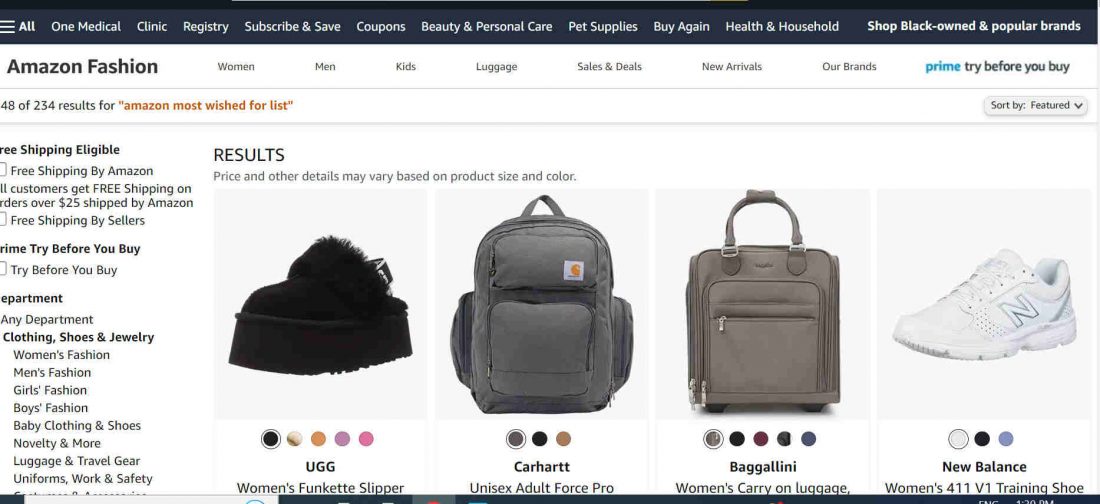 Holiday offers: Holidays are also meant for gifts. You can alert the customers about discounts, deals, coupons, offers, and gift bundles. This will make the customer add the items to their Lists and then to the cart to buy them.
How shoppers can benefit from Amazon Wish List
A List helps customers organize their shopping lists. There are certain benefits that Amazon Lists offer to customers.
Shopping list: The List acts as a purchase list for buyers. They can add multiple products to the List as and when they find products on Amazon.
One can create shopping lists or gift lists for specific events or occasions such as weddings, newborns, holiday season, birthdays, etc.
Price tracking: Customers can use Lists to track price variations of products by adding price drop alerts. Besides, Lists can help shoppers compare prices of different products easily.
Lists sharing: Shoppers can share lists and registries with family and friends. It is helpful when they plan to purchase gifts for the one who shares the List.
Amazon will automatically remove the purchased items from the List. This will help ward off duplication of purchases.
Add ideas: Buyers can also add their ideas instead of a specific product. Let's say when customers add 'shirts' to their list, they can take inspiration and buy shirts of their choice for the one who created the List.
How to add products to your Amazon Wish List
Creating a List is easy on Amazon. Here is the step-by-step procedure to create one.
Select Account & Lists from the top right corner of the Amazon home page
Choose to Create a List and give your List a name
Now select Create List
Choose Manage List from the three-dot menu to add addresses and other details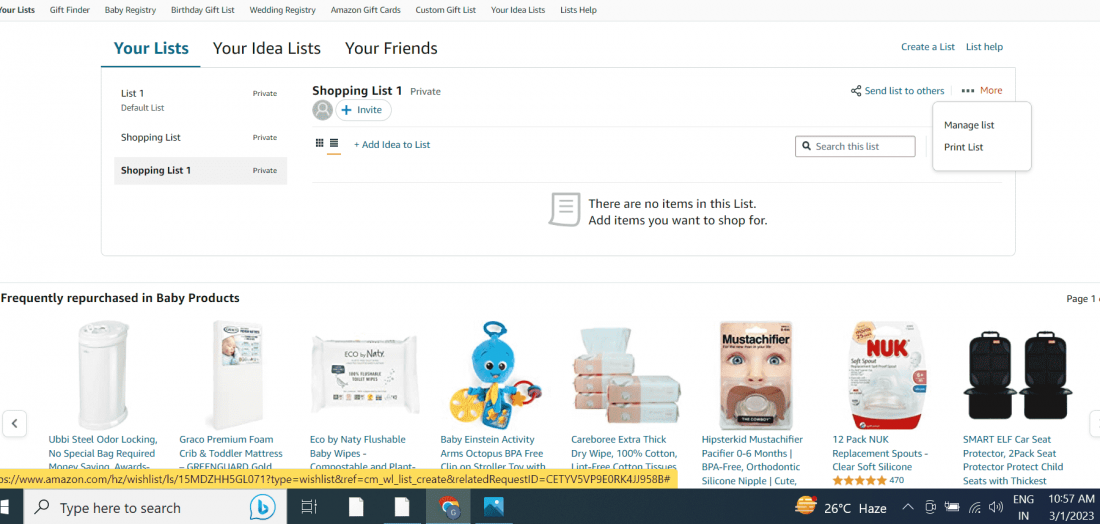 Press Save changes to finish the process
You can add as many Lists as you wish in this way.
How to manage the Amazon Wish List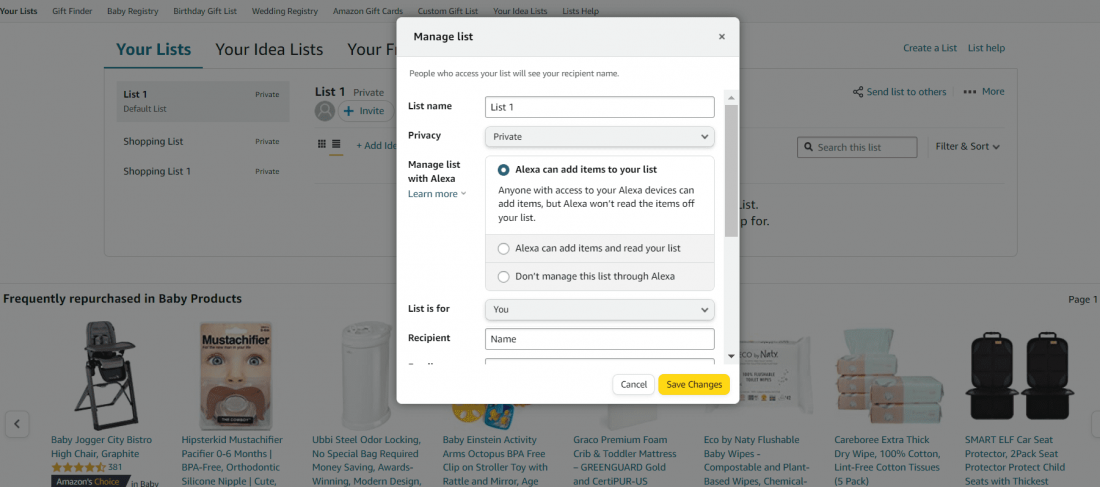 Amazon makes Wish List management easier for customers. All you need is to:
Go to your List and click the "More" button on the right side of the screen.
Choose "Manage List," and a window will appear.
Make the List Private, Public, or Shared by simple settings.
If you set it Private, only you can access it. If the setting is Public, anybody can view it. If it is Shared, only the people with whom you shared the List can view it. 
You can also use Alexa to manage the List.
You can find two options – Keep purchased items on the list and Don't spoil my surprises. When you choose the first option, Amazon will keep the products you purchased in the List with an update of the last purchase date. If you select the latter, the purchased product appears in the List of non-purchased items for a few weeks. This is helpful if somebody secretly buys a gift for you by referring to your List.
Lastly, you can delete the List if you don't want it anymore.
How to find someone's Wish List on Amazon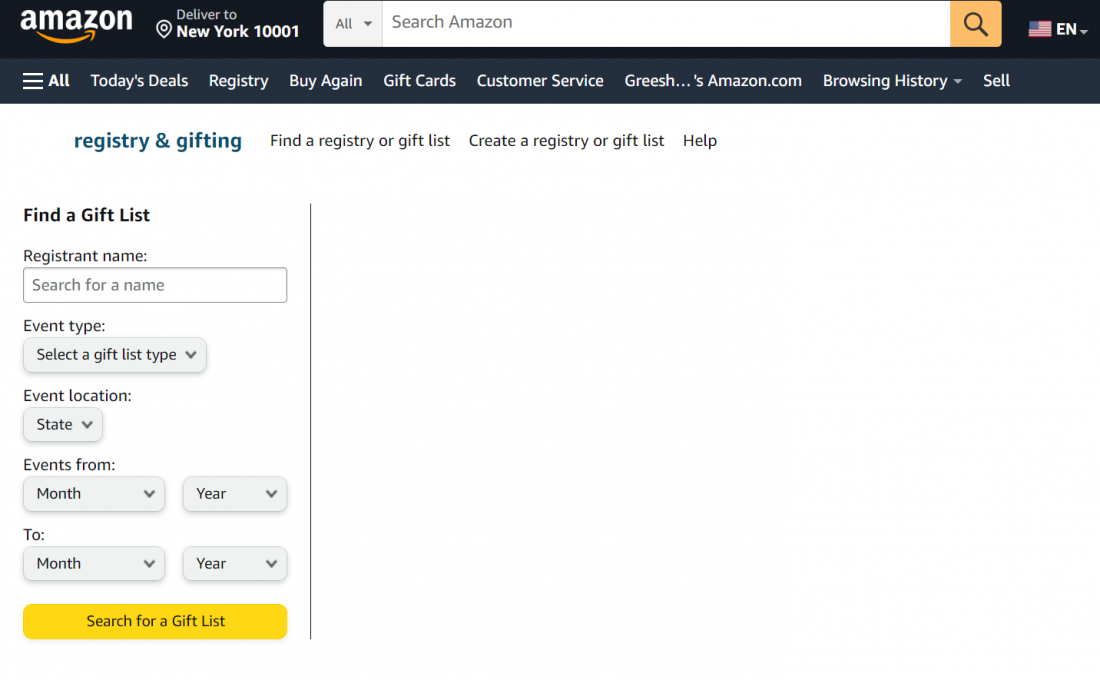 It is quite easy to find someone's List on Amazon, provided their setting is 'public' so that others can view it.
Click the "Registry" from the options at the top 
Select the "Find a registry or gift list" option
Enter the name of the person you would like to buy a gift
Select the type of gift list. You can find relevant options under the drop-down menu
Click on the Search Button, and you will find the list.
Creating a gift registry or list on Amazon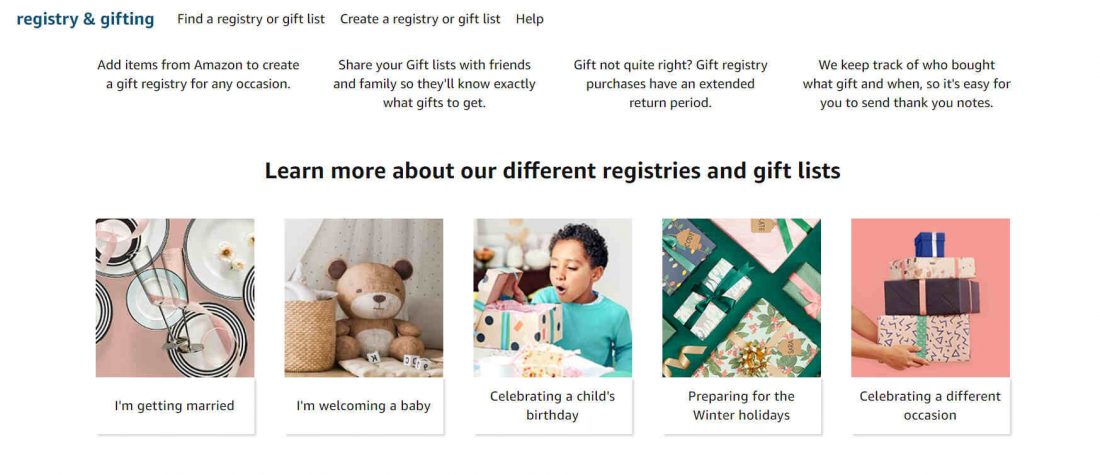 You can create your own gift registry for special occasions by following the instructions on Amazon.
Go to Registry on top of the Amazon home page.
You can create a registry for a special event or occasion. You can do it in two ways- choose from options like marriage, welcoming a baby, a child's birthday, winter holidays, etc., or customize the registry.
How to send an Amazon Wish List to Someone?
Sending your Wish List to someone is very easy on Amazon. Follow the steps to send your List to someone you know.
Go to Account & List's on top of the Amazon page. 
Choose your List from the drop-down menu
Click 'Send the list to others.'
Invite others to either 'VIEW ONLY' or 'VIEW AND EDIT' your list. If you invite people to VIEW AND EDIT your list, they can add or remove items from your List.
How do you collaborate with others on Amazon Wish List?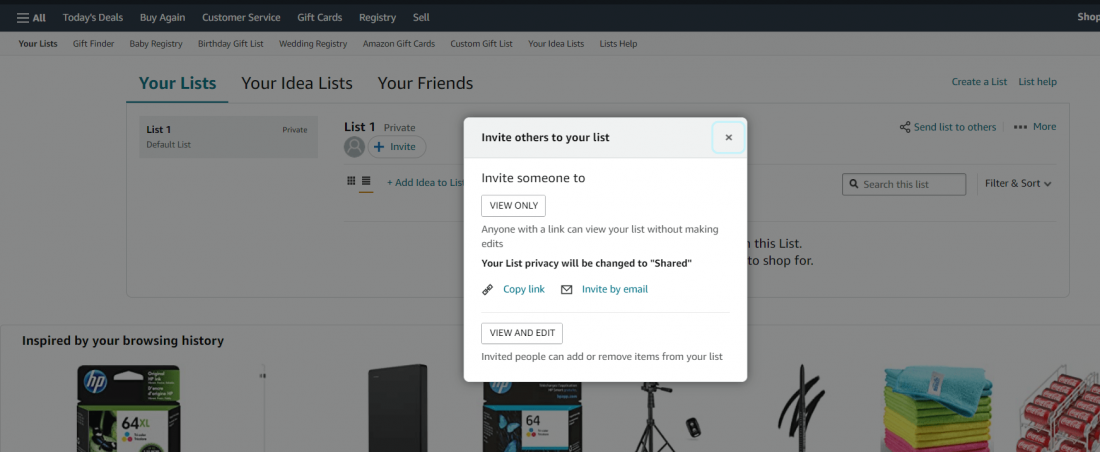 You can invite people to collaborate on your lists on Amazon.
Select the list that you want to make collaborations with.
Invite people to view your list by sharing the link to your list. You can also invite them by email.
There is also an option to make your collaborators view and edit your lists. In this setting, invited people can add or remove items on your list.
How do you know if someone purchased from your list?
Filtration and sorting using Amazon Wish List
The ability to filter through the listed items is one of the most desirable characteristics of a Wish List. This avoids confusion. Amazon makes it possible by enabling customers to segregate the products into three categories- Purchased, Unpurchased, and All items. 
If you want to see the purchased items in the Wish List, you need to
Go to Account & Lists
Choose your List
Click the 'Filters' on the right side
Choose 'Purchased' from the drop-down menu
This will give you the purchased items on the Wish List. 
Similarly, if you choose 'Unpurchased'  from the drop-down menu, you will get the list of unpurchased items.

Also, you can sort products by priority and price using the Wish List.
This enhances the effectiveness of the Amazon Wish List. As you enter a new product, you can set the priority of the same.
How to set priority in Amazon Wish List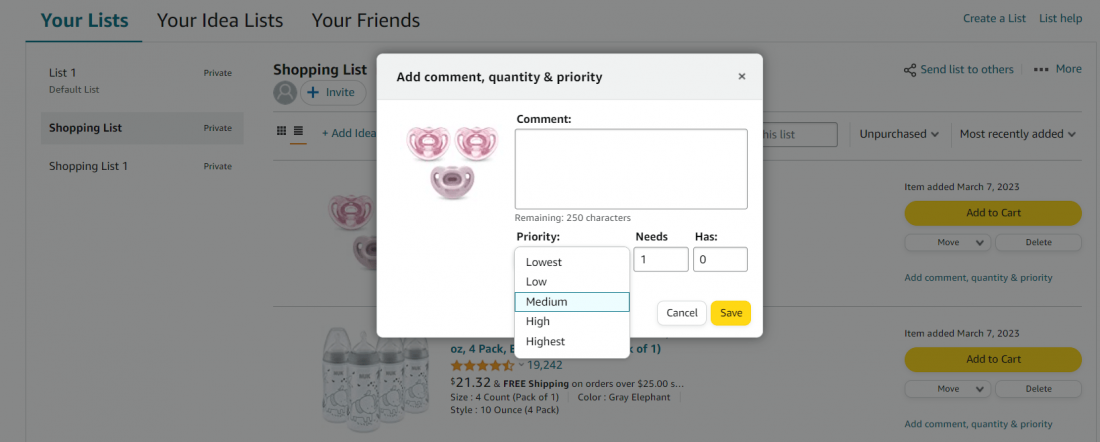 To set priority, follow these steps:
Go to 'Account & Lists' on top of the home page
Choose your List from the drop-down menu
Click 'Add comment, quantity, and priority on the right side of the listing
Set priority in the window that appears. You can choose between five options from the
'Lowest' to the 'Highest.'
Click 'Save' to save the changes.
You can set priority for all the listings. To see the Wish List in priority order:
Go to 'Account & lists.'
Choose your list and click 'Sorts:'
Choose 'Priority (high to low)'
Sorting the Wish List based on price
You can sort the Wish List based on the price of the listed items. You can either sort the product with the price in the order low to high or with the price order high to low. 
Conclusion
Amazon Wish List has revolutionized the concept of shopping lists. By sharing one's list with the other, Amazon ensures nothing goes to waste! Besides, it helps you understand your customer better and allows you to make informed decisions regarding marketing and sales.
It contributes to brand engagement and customer satisfaction. You can further drive traffic and more customers to your products. Also, it simplifies the whole gifting process and ultimately enables socialization on Amazon.
Though it appears simple, Amazon's List is a feature that makes the marketplace the favorite among shoppers.
Selling on Amazon is still lucrative for sellers today. You can leverage tools like Wish List to understand customer behavior and find ways to grow sales and increase your portfolio in a long run. As you progress, try to maximize the benefits of such features and use the Amazon marketplace to the fullest.
Did you find the information that you're looking for in the article? Do share your thoughts in the comments below!
You can also check out SellerApp's blog and YouTube channel to stay updated on the latest seller news, tips, and strategies to help you make the most of Amazon as a seller.
Happy Selling!
Was this post helpful?
Let us know if you liked the post. That's the only way we can improve.