How Does Amazon Wish List Work? – Complete Guide
Whether it is a birthday, anniversary, special occasion, or holiday season, Amazon's wish list can come in handy while sending gifts to your loved ones. This feature makes things so much easier, given that you know how does amazon's wish list works.
If you have not known if such a thing even exists on Amazon, then this is the right time to read this article, as we will delve deeper into this topic today. So, let's get started.
Quick Guide:
What is Amazon Wish List?
Amazon Wish List is a gift registry, like a baby or wedding registry where you create your wish list and your family and friends can have access to it to buy gifts for you from what you have listed. Once purchased, Amazon will deliver those items right to your doorstep as a surprise.
The concept of Amazon's Wish List came out from the idea in October 1999 when people could create a clear list of things they wanted from their loved ones and share it with others. Now, this eliminates asking someone "what do you want?"–especially during Christmas, birthdays, or anniversaries.
This was originally intended for grandparents and parents so that they could know what their kids wanted. Since then, a lot of updates have been done and changed the way they create wish lists today.
This is where Amazon's Wish List plays a big role and helps sellers to leverage this feature to sell more items.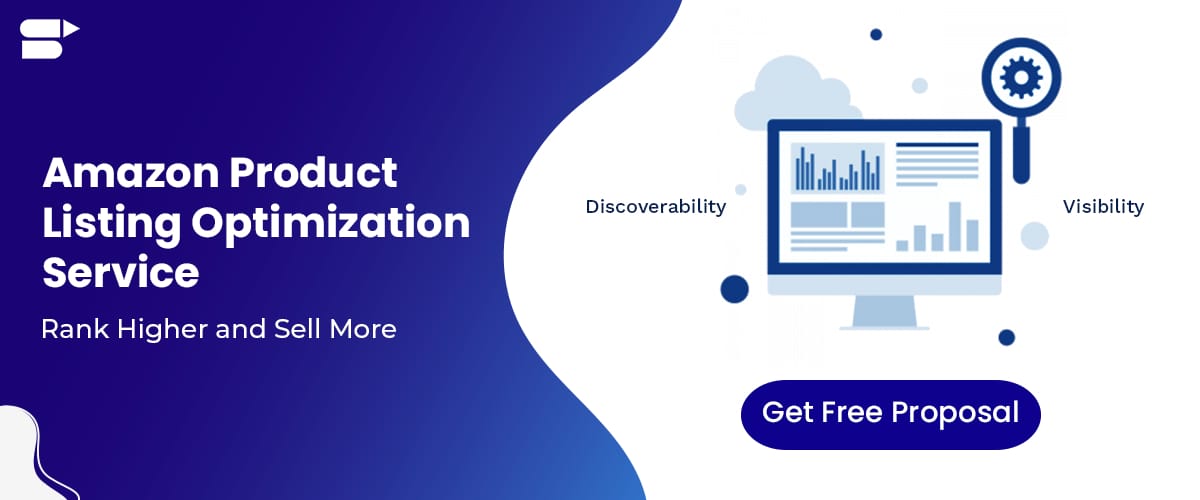 How Does Amazon Wish List Work?
So, the Wish List from Amazon earlier was straightforward. No matter what product page you were in, you had the option to do any one of these two things:
Add a product to the wish list
Add a product to the cart
If a product was bought from Amazon's wish list, then that particular item is removed so that duplicate purchases don't happen.
However, concerns about security, privacy, and the longstanding desire for stuff like collaborative lists required Amazon to take this feature more seriously and figure out things to take it to the next level.
Until 2018, the recipients could only view and share Amazon's wish list, but cannot be appended or edited. This feature was available only for Amazon's wedding registry.
But now, Amazon has launched editable wishlists for everyone whereupon the invitation from the "wishlist creator," you can edit them as well by adding, changing, or deleting the quantities. Also, a wishlist creator can have complete control on who can access it.
How Does Amazon Wish List Work For Sellers?
As a seller, you might wonder how can you leverage Amazon's wishlist feature so that customers can make more purchases. Before we can answer this question, take a moment to think about what it takes for a buyer to save an item or add an item to the wish list?
So, here are a few important things to note:
Scenario #1: An avid shopper or potential buyer is still in his or her first stage of researching: a product. He or she does not want to miss this product (and even products that might expire after a time). Therefore, adding it to the wish list makes more sense and lets him or her have a look at it whenever required.
Scenario #2: A potential buyer wants to check if the price of an item will drop someday. Once an item is added to the cart or wishlist-ed, Amazon automatically lets the buyer know if the product's price has gone down or not and if yes by how much? So, a buyer might wait for this time and then buy it after the price drops.
Scenario #3: A potential buyer might want to check if the product will be available in his or her preferred color or style, which may be unavailable at the moment. A lot of users add the default item to the wish list just to check after a few days they restock if their preferred color or style.
Scenario #4: A potential buyer might want to compare the prices with similar items or may want to look for reviews.
Scenario #5: A potential buyer might want to share his or her wish list or a particular product with family or friends.
The problem with most sellers is that they don't focus more on comprehending a shopper's browsing history, buying behavior, purchase journey, remarketing, upsells, recommendations, and so on.
So, what can sellers do to leverage the wish lists effectively?
Amazon doesn't think of their wish lists as a "selling" tool. But although their wish lists are slightly limited, there are still certain things that you can do to keep the users engaged with your marketing.
1. Encourage users to share their wish lists on social media
You may not see when a potential buyer has wish-listed your item in his or her wish list, but you can certainly market this offsite by including wishlists as a part of your marketing campaign.
Say, for instance, you can run a contest or encourage users to create their "dream wishlists" with things that they love to have. This will spur your other marketing ideas.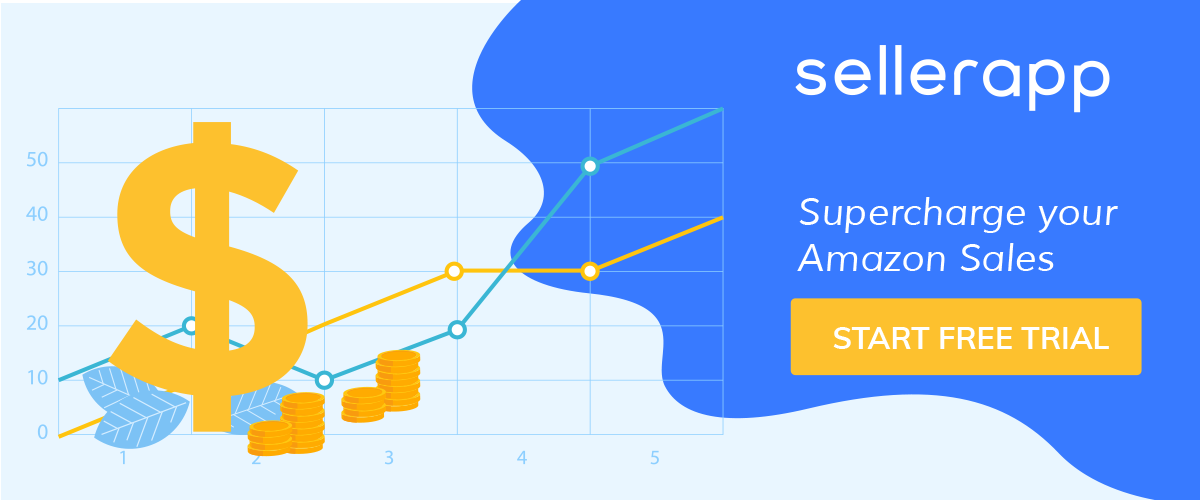 2. Follow up via emails with awesome announcements
Shoppers often create wish lists to see when product prices drop. So, why not use this to your advantage and make them aware of the declined prices via email? This is something that most businesses do.
3. Keep your buyers informed with amazing gift ideas and suggestions
You can use wish lists the way it was intended originally, and keep shoppers in the loop with some incredible gift options as well as suggestions. It doesn't matter what your domain is, but when it comes to special events or holidays, people shop a lot. That's for sure! Use this opportunity by bundling items or creating a nice gift idea list to encourage them.
How To Create A Wishlist On Amazon?
Before you use Amazon's Wishlist for your gifting needs, you will have to set up one! Also, make sure that you already have an Amazon account. If no, then create one.
Step 1: On the Amazon's home page, on the top right corner, go to Accounts & Lists and click Create a List.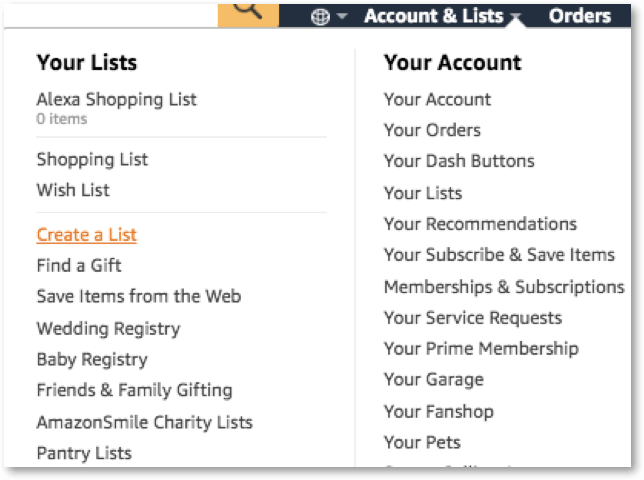 Step 2: From the drop-down menu, select if this wishlist is for You or Someone else. Also, choose the list type as Wish list.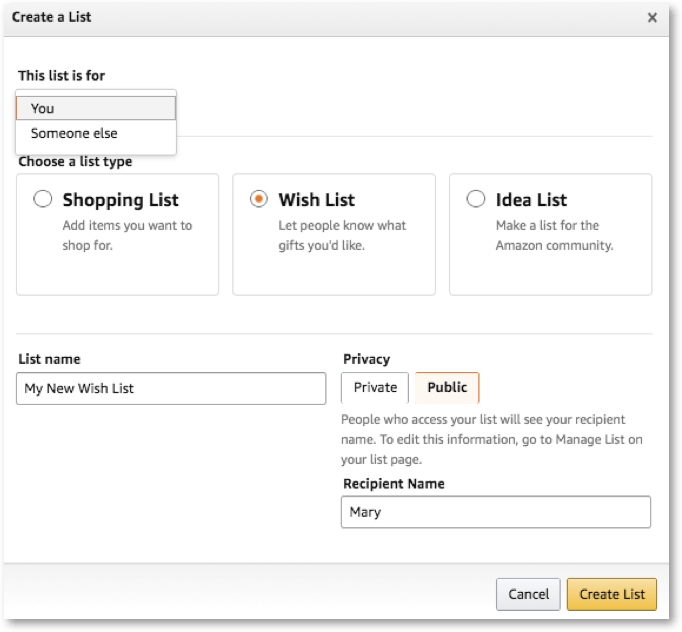 Step 3: In the text field called List Name, give your name for list.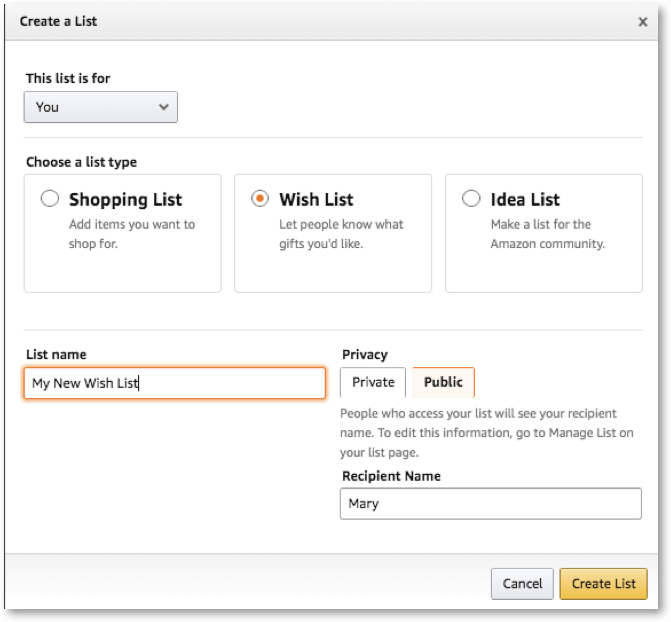 Then, select the privacy–whether you want it to make it public or private. If you choose public, your wishlist can be viewed by everyone. If you choose private, your wishlist can be viewed only with whom you prefer to share it.
Step 4: Click on the Create List button.

Once this is done, your Amazon Wish List is created. Once you have created it, you can manage it by adding more information like date of birth, shipping address, etc.
How To Manage Your Amazon Wish List?
You can easily customize your wish list or even delete it.
Step 1: To manage your wish list, go to Accounts & Lists on the home page. Under the Your Lists section, click on the list that you want to manage.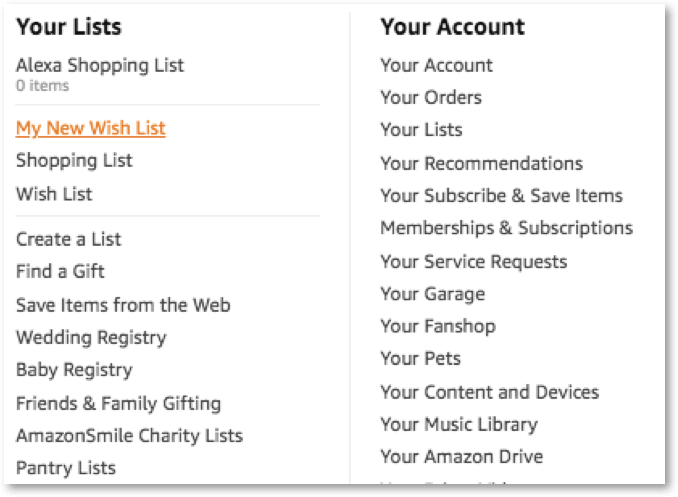 Step 2: Click on the More button on the right (near the 3 dots). Click the button Manage List.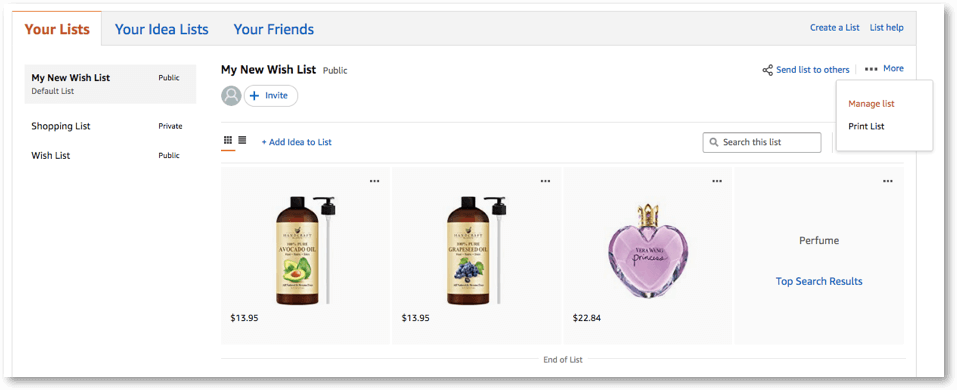 Step 3: Here, you have the option to change your last name, email address, shipping address, your name, privacy settings, birthday (if this list is for someone), website (if this list is for any organization), etc.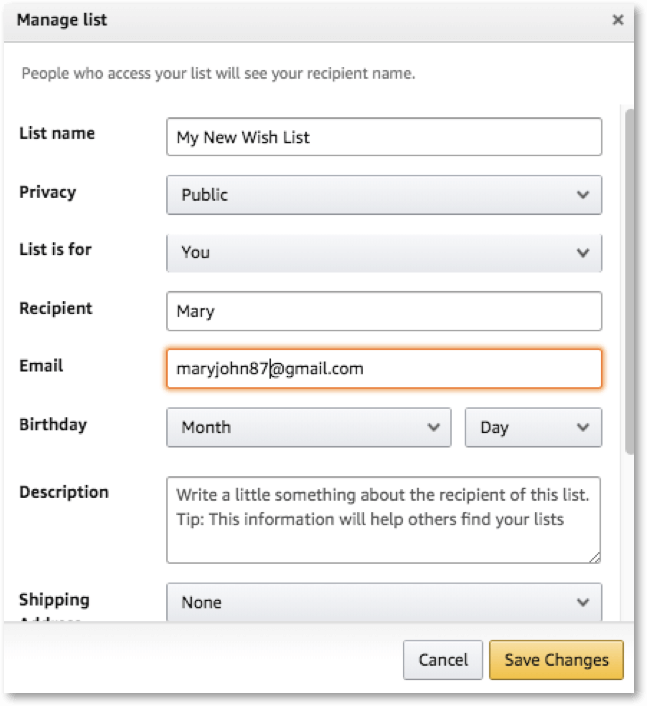 Step 6: Under the shipping address, you will see 3 options to choose from:
Keep purchased items on your list
Don't spoil my surprises
Default list
If you choose to Keep purchased items on your list, then it keeps all items on your list, even though someone purchases them for you. It will be highlighted along with the date we purchased it last.
If your created list is a gift list, then choose Don't spoil my surprises. This option shows the purchased products on the list for a few weeks. Now, if you try purchasing any item, you will get a warning that you are buying a duplicate item.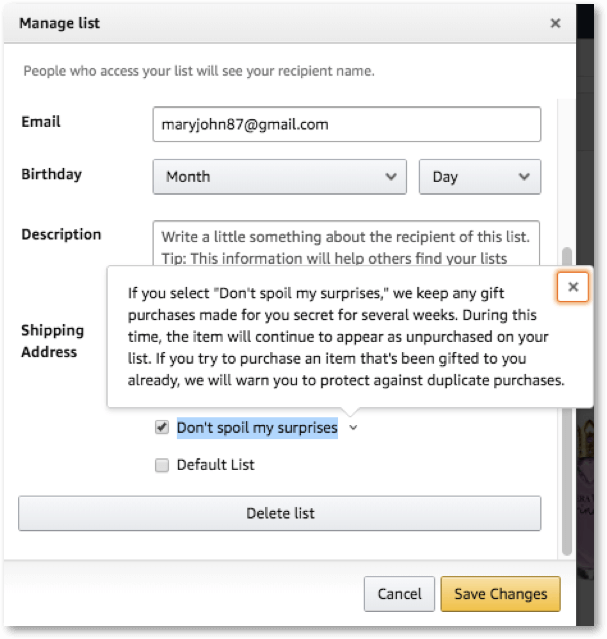 Choose your required option and click Save Changes.
Deleting your wish list is simple and is done from the Manage List feature. To delete it, click on the button Delete list and upon doing so, you will be prompted with a confirmation. Click Yes.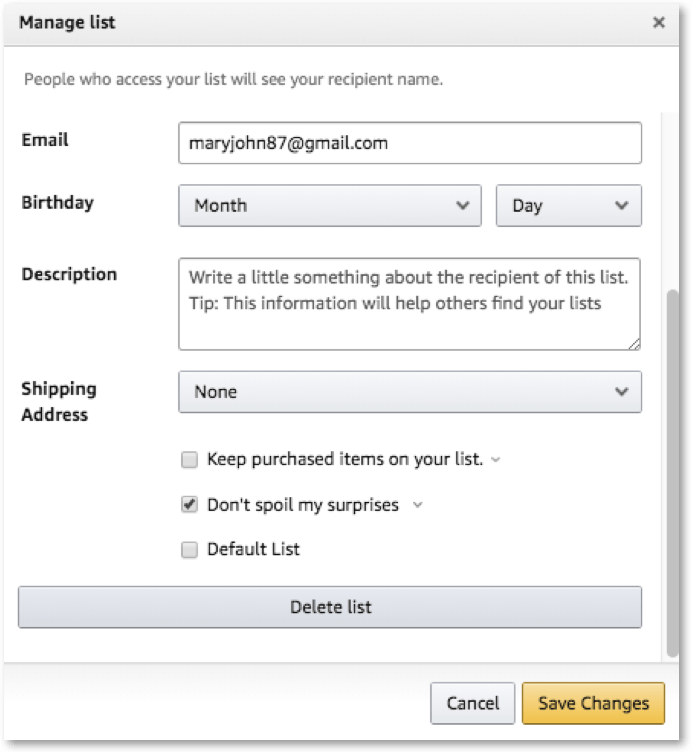 How To Add An Item To Your Wish List?
This is very simple. Whenever you are looking at an item on Amazon–be it on your desktop computer or a mobile, you have the option to add items to your wish list. This is placed below the buy box in a drop-down menu, which says Add to List.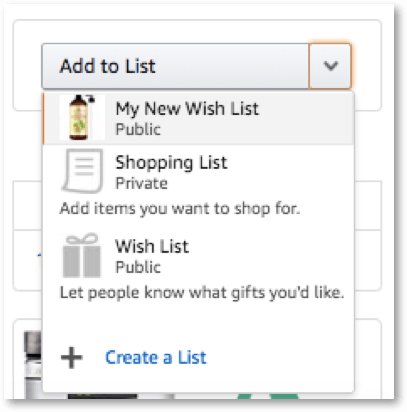 How To Share Your Amazon Wish List With Others?
You can create multiple wish lists on Amazon and set filters for who can see it and who cannot. You can share your wish list with a few members or with everyone. To share your wish list, change your privacy settings first, and then share its link.
To change the privacy settings of your wish list, here is what you need to do:
Step 1: From the list page, select More > Manage list.
Step 2: Under Privacy, click Shared or Public. If you choose Public, anyone can look for your list. If you choose Shared, only the people whom you send a direct link will be able to see it. On the other hand, the option Private hides the list from everyone.
Step 3: Click on the button Save Changes.
Note: If you have made your list PUBLIC, the list will be easily searchable after 15 minutes.
How To Share A Wish List's Link Directly?
A wish list can be viewed by others only if you set that has Shared, given that you send its link to whom you want to share it with.
Step 1: Go to Your Lists and choose the list that you want to share.
Step 2: On the right, click on the button that says Send the list to others.

Step 3: Click View Only.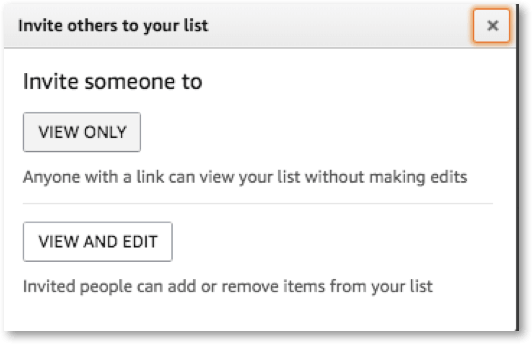 Step 4: Click on the option Copy Link if you want to share the list with others via a link. And choose Invite by Email if you want to send the wishlist's link via email.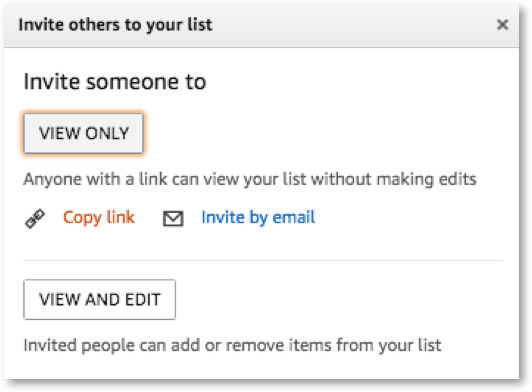 Step 5: Once done, close the pop-up window.
How To Search For Someone's Wish List (Public)?
You can easily look for someone's list on Amazon, given that they have set their list to PUBLIC (and not "private"). You will need a direct link in order to look for a Shared wish list.
Step 1: Open the search page by going to either Find a Registry/list or hover over the Accounts & Lists, and then, click Your Lists > Your Friends.
Step 2: Enter the person's name whose list is something you want to look for.
Step 4: From the list shown in the results, click on the person's name and see his or her wish list. Else, you can click on Add Friend. Upon doing so, the person gets added to your friend list.
Conclusion
Certainly, you can use Amazon's wish lists effectively via some circuitous marketing maneuvers. Though it wasn't paid much attention to, Amazon is gradually paying attention to how users use wish lists and the days are not long when you might see some fresh ways of integrating wishlists with real shopping habits.

Arishekar N has over five years web development experience and is the senior digital marketing strategies at SellerApp, Specialist in SEO, SEM and best conversion rate optimisation strategies that deliver industry leading ROI. Arishekar has helped companies through more effective search engine marketing and SEO strategies. He is most passionate about working with e-commerce companies.
Subscribe to SellerApp Newsletter