Halloween, which is also known as All Hallows' Eve, All Hallows' Eve, or All Halloween is a festival celebrated in different countries on the 31st of October every year. The history of Halloween dates back to 500 B.C, the era where ancient Celtic tribes (circa) existed.
Though Halloween evolved from the prehistoric Celtic holiday of Samhain, over the years it changed from a typical pagan ceremonial to a modern-day featuring jack-o-lanterns, costumes, parties, and trick-or-treating for adults as well as kids.
Despite people coming from different backgrounds and featuring varying ages, it is the time when many look forward to shopping. So, 2018's Halloween can turn out to be a prolific season for all the e-commerce retailers and sellers out there.
Since Halloween is the day of celebration, shoppers are more likely to buy Halloween products from big online stores. Now, when we say "big," a brand like Amazon automatically falls into the picture.
According to a survey done by the NRF (National Retail Federation) in 2017, Americans spent over $9 billion just on Halloween costumes, decorations, and candies. That's truly an awesome prospect!


Also, other statistics reveal that over 71% of online Halloween shopping is done on Amazon, followed by Walmart (with 42.9%) and Spirit Halloween (with 40%). So, this is certainly great news for all the Amazon Sellers out there.
Now, this article will guide you to plan for this year's inrush of Amazon Halloween shoppers.
So, let's get started.
A Quick Overview On Amazon's Growth
Overall, it has been an incredible year for Amazon. The e-commerce giant has not only crossed the one trillion (USD) market cap during August but is also making stable improvements into becoming history's most valued company.
Besides advancements in management and technology, Amazon Prime is sustaining the 50 percent Prime Membership Year-on-Year growth, which is also anticipated to touch 100+ million subscribers soon in the US market.
Given all the data and figures, it is truly a big opportunity out there for Amazon Sellers, especially during an occasion like Halloween.
As a seller, we don't want you to miss in terms of sales and revenue. We will explain to you what shoppers are searching for exactly during Halloween. Trust us, the stats of search results given below might surprise you or perhaps, petrify you.

Generic Categories Shoppers Search On Amazon
Halloween shopping involves a list of different things. Consumers look for the following on Amazon:
Candies

Costumes / Masks

Decorations

Greeting cards

Pumpkins

Scary movies

Lamps
Top Products That Shoppers Search The Most On Amazon
Well, the three key products that shoppers not only tend to search but also buy are listed below. Make a note that these figures are based on the data posted last October:
Halloween's decorations

– #1 with 5,084,585 searches

Halloween lights – #2 with 3,323,052 searches

Halloween candy – #3 with 2,980,004 searches
Yes, even we are surprised not to see "Halloween costumes" in the top 3 list. However, it ranks 4th in the most-searched term. So, not bad.
Now, let's talk about each category in brief.
1. Halloween Decorations
Back in the year 2007, most American households spent about $52 on an average on Halloween merchandise like decorations, candy, and costumes. However, the time has changed and so are the preferences.
To check if this figure had changed, different researchers conducted new surveys in the year 2008. The survey incorporated 1,500 households. The results showed that just in a year, the Halloween spending on an average inclined to $58 per household.
As of 2017, the graph drastically grew, and now they spend more than $2 billion on decorations. Thus, on this frightful holiday, pumpkins, festive décor, and life-sized ghosts will be abundantly seen on doorsteps and lawns. Thereby, increasing the opportunities for Halloween décor sales.
Top 5 keywords featuring "Halloween Decorations" include:
| Keyword | Searches | CPC | Competition (out of 100) |
| --- | --- | --- | --- |
| Halloween Decorations | 90,500 | 0.87 | 87.90 |
| Halloween decoration ideas | 14,800 | 1.07 | 87.72 |
| Outdoor Halloween Decorations | 14,800 | 0.98 | 88.91 |
| Cheap Halloween Decorations | 8,100 | 0.67 | 89.66 |
| Halloween door decorations | 8,100 | 1.16 | 75.29 |
2. Halloween Lights
Halloween's lights are yet another most searched product on Amazon. Ever since the craze for decorating the doors and house with spooky lights has grown, the demand for weird lights has also inclined.
Be it color, design, size, and shape – Amazon features all and so is the opportunity for its sellers.
Top 5 keywords featuring "Halloween Lights" include:
| Keyword | Searches | CPC | Competition (out of 100) |
| --- | --- | --- | --- |
| Halloween Lights | 8,100 | 1.08 | 87.60 |
| Outdoor Halloween Lights | 1,600 | 1.11 | 87.65 |
| Halloween Projection Lights | 1,300 | 0.75 | 88.10 |
| Halloween String Lights | 1,000 | 0.84 | 85.74 |
| Halloween LED Lights | 880 | 0.85 | 80.75 |
3. Halloween Candy
As far as the last October's data is considered, Amazon's candy sales inclined by 46%. This growth was seen year after year. You will be fascinated to read the fact that between November 2017 and April 2018, Amazon's sales for snacks and sweets grew by 22% year after year.
Based on the information posted by One Click Retail, an e-commerce data analyst, Amazon (United States) generated 13 million USD in October 2017 only for Halloween candy sales.
While chocolate candies accounted for 8 million worth of sales, the non-chocolate sales made 5 million. Chocolate sales almost tripled in October when compared to September.
If you'd like to learn more, read this article about the What to Sell On Amazon
Top 5 keywords featuring "Halloween Candy" include:
| Keywoed | Searches | CPC | Competition(Out of 100) |
| --- | --- | --- | --- |
| Halloween Candy | 18,100 | 0.63 | 88.07 |
| Halloween Snacks | 8,100 | 0.90 | 84.09 |
| Bulk Halloween Candy | 880 | 0.96 | 79.42 |
| Halloween Candy Bowl | 1900 | 0.57 | 86.91 |
| Halloween Chocolate | 480 | 0.64 | 83.50 |
If you are an Amazon seller, read this:
To find the best and top-performing keywords for Halloween products, use a tool that is exclusively developed to show keyword statistics for Amazon like the one from SellerApp. Don't miss the keyword opportunities for 2018.
Finally, Halloween Costumes…
The keyword or phrase "Halloween costumes for women" featured an incredible 12,954,840 searches during October 2017 and made it the 7th most common search at that time.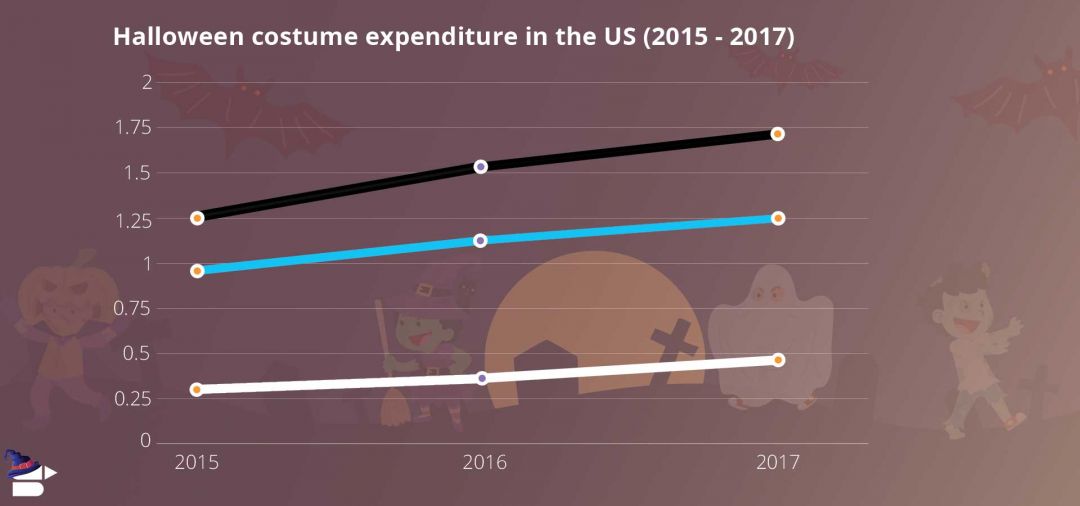 While the keyword "Halloween costumes" amplified the online sales 29% year after year, the other search times like "Halloween kids costumes," "Halloween stores," and "Halloween costume ideas" generated the maximum Google Ads impressions.
Top 5 keywords featuring "Halloween Costumes" include:
| Keyword | Searches | CPC | Competition (out of 100) |
| --- | --- | --- | --- |
| Halloween Costumes | 823,000 | 0.54 | 84.66 |
| Halloween Costume Ideas | 201,000 | 0.52 | 91.01 |
| Halloween Costumes for Kids | 110,000 | 0.83 | 87.60 |
| Couples Halloween Costumes | 90,500 | 0.36 | 88.97 |
| Halloween Costumes for Women | 90,500 | 0.54 | 84.50 |
Halloween 2018, as previous Halloweens, is going to be a fun and exciting holiday and it's less than just three weeks away. US customers are expected to break the Halloween 2017 record and spend close to $10 billion on purchases this time around. This makes this season the sweetest time of the year for Amazon sellers to trick or treat themselves! In this Amazon seller guide video, we will discuss the top products and costumes of Halloween 2017 and predict what costumes and candies will trend during Halloween 2018. We will also list precisely what consumers have searched for pre-Halloween and cover everything you need to get a competitive advantage over other sellers. So, are you all set to join SellerApp in spooking your revenues up this Halloween?!
Check out this video to know more:
Since we have entered the Q4 of this fiscal year, learn the 8 key strategies that will help you make more money this season with the right product categories from this video:
Additional Read:
How to Plan Amazon Sales Post Holidays
Was this post helpful?
Let us know if you liked the post. That's the only way we can improve.