The definitive guide to selling books on Amazon in 2021
Amazon has come a long way from its humble roots. The e-commerce giant was launched on July 16, 1995, as a platform that only sold books. Now, the online retail giant gives shoppers around 350 million product choices across marketplaces. Despite its monumental growth, Amazon has not forgotten its roots. Books still account for a sizeable part of Amazon's retail revenue as more and more buyers switch to buying them online. According to an eMarketer study, around 62% of all books, music, and videos are bought online!
See where this is going? Selling books on Amazon is profitable. Period. If you're here, you probably want a piece of the pie. Read on to find out how to sell books on Amazon and the options available to each seller.
Quick guide
1. Why you should sell books on Amazon
There is no doubt that other mediums of entertainment are gaining popularity. More and more people are now watching TV or playing video games for leisure. However, Americans still read for an average of 15+ minutes every day. So, books are here to stay, and Amazon is where people turn to when they want to buy a book. This satisfies the first condition that every seller looks at when deciding to sell a product – demand. After all, 675 million books (print) were sold in 2017 in the United States.
Besides print books, audiobooks and ebooks are grossing billions in revenue every year. There's money to be made at every step of the supply chain. It's no surprise then, that we have multiple billionaire authors. It's not just the big fish, though. Amazon and ebooks have opened up an opportunity for many authors to self-publish their work.
2. How to sell books on Amazon
Create your account
The first thing every seller has to do is set up a seller account on Amazon. You'll need to set up a seller account in every marketplace you wish to sell in.
When you're creating your account, you'll be faced with two options:
Individual seller account
This is a free option. While an amazon individual account is free to create, you will need to pay $0.99 for every sale that you make on Amazon. Other than this fixed fee, there is also a 15% consolidated fee on those sales.
Professional account
A professional account has a monthly subscription fee of $39.99 every month. There are also additional referral fees and variable closing fees. Sellers with a professional account do not have a fixed fee for every item sold. You can also sell more than 40 products in a month.
If you're only testing the waters, I suggest starting with an individual account. You can upgrade whenever you want. Keep in mind, you will need a professional account to get approval to sell restricted products.
List your book for sale
Once you've set up an account, it is time to put that book up for sale. Generally, for other products, you may need to create a product listing. This is usually a complex process where sellers try to optimize their product page to appear attractive to customers and Amazon's A9 search algorithm.
For a book, this is rarely the case. Unless you're self-publishing, it is very likely that the book already has a product page. So the easiest way to list your book is to search if it already has a page. All you need to do is type in the ISBN in the Amazon search bar and click 'Enter.'
What is the ISBN?
ISBN (International Standard Book Number) is a unique or distinctive book identifier (commercial) barcode. Every ISBN code represents a book. ISBN has 10 – 13 digits. The ISBNs assigned after January 1, 2007, will have 13 digits. The ISBN is printed on the back of the book. If the book was printed before 1970, it won't have an ISBN. In these cases, you will have to search for the book on Amazon using its title.
Once you type in the ISBN and search for a book on Amazon, its product listing will show up if it is already being sold on Amazon. If the book is already listed on Amazon, all you need to do is open the listing and look below the Buy Box. You'll notice a button titled 'Sell on Amazon.' Once you've clicked the button, you will be redirected to a page where you will have to add the following information.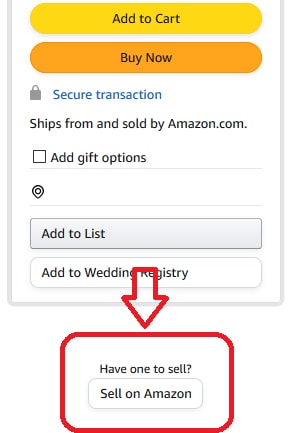 SKU: This is going to be the code for the book. You can enter a code yourself or leave it blank. If you don't populate this field, Amazon will randomly generate an SKU for your book.
Price: This is self-explanatory. Amazon has a handy button that lets you match the lowest price.
Quantity: The default quantity is one unit. You can change the number depending on the number of books you have to sell.
Condition: Amazon has five categories depending on the condition of the book. They are 'New,' 'Like new,' 'Very good,' 'Good,' and 'Acceptable.' Like any other product, only new books can win the Buy Box. Collectible books do not have the 'New' condition option. Fulfillment method: Here you enter your preferred fulfillment method. Like any other product, you have the option to fulfill the order yourself through FBM (fulfillment by merchant), or you can let Amazon take care of fulfillment using FBA (fulfillment by Amazon.)
Note: The price of a book on Amazon depends heavily on its condition. 'New' books will always be worth more than 'Good' or 'Acceptable' books.
Be mindful of fulfillment costs when listing your products. If you are selling a used book, the margins are usually slim. Sometimes it is worthwhile to list for a higher price and wait for orders than it is to lower your prices.
If the book is not already being sold on Amazon, you will have to create a product listing. It is highly unlikely that you will have to do this for books. If you do, you need to find relevant keywords for the book and write search engine optimized product descriptions and bullet points for the book. You will also have to take high-quality images of the book to be uploaded on Amazon.
If you want to learn how to create listings that sell, check out this video. SellerApp's head of Customer Success, Ankitha Nagaraj, breaks down all the tricks top sellers use when listing their products.
Sit back and wait
Once you've listed your books for sale, it is all about waiting for the sales to roll in. If sales are low, you can always try lowering the prices to be competitive. Keep your profit margins in mind when lowering your prices. For books that have low turnover, it is usually advisable to opt for FBM. Amazon FBA comes with a monthly storage fee that may eat into your margins if your book is not in demand. If you are selling a book that is in demand, always ensure that you have sufficient inventory. Download your inventory reports regularly to ensure that you keep tabs on inventory health.
3. Selling books on Amazon: A guide to book condition
When listing a book on Amazon, you will be provided with five choices to describe the book's condition. These choices are meant to reflect the condition and the wear and tear of your book. You need to be able to accurately identify the condition of the books you are selling. For brand-new, unused copies of a book, there is only one category. For used books, depending on the condition, there are four choices.
New: A brand-new copy with cover and original protective wrapping intact. The book cannot have markings of any kind. It cannot be marked as 'Bargain' or 'Remainder.' It cannot have any labels attached.

Used – Like new: Used books that have minor cosmetic defects such as marks, wears, cuts, bends, or crushes can be categorized as 'Like new.' If it is a hardcover book, the dust cover must be intact. The pages must be clean without any notes. Remainder marks on outside edges of the book are permitted.

Used – Very good: Books with minor cosmetic defects. The shrink wrap, dust covers, or boxed set case may be missing. If the book has remainder marks on the outer edges, it needs to be specified in the listing comments.

Used – Good: All pages and the cover must be intact. The book may show signs of wear. Notes and highlighting on pages are permitted. The book may include 'From the library of' labels. Like the 'Very good' category, the shrink wrap, dust covers, or boxed set case of the book may be missing.

Used – Acceptable: Unlike the 'Good' category, minor water damage is permissible. All pages and the cover must be intact, but shrink wrap, dust covers, or boxed set case may be missing. Notes and highlighting may be present. The text must be readable.
4. How to find books to sell on Amazon
Many individual booksellers on Amazon start by selling their books. While this is a good way to make a quick buck, you'll need to source your books in larger quantities to start earning a steady income. Most of these methods are for procuring used books. It is unlikely that you can compete with the publisher if you're planning to sell new, unused books.
Before you get started, these are the things you need. You'll need a phone and a book scanning app. You can even use the Amazon seller central app to scan your books. The app will give the book price and BSR (best selling rank) when you scan the ISBN code. The Amazon seller app will also give you the estimated profits and FBA fees when you scan a book's ISBN code.
Have your phone and book scanner ready? Let's look at the ways you can find a good deal.
Used book sales
These are usually run by the local library or fundraising organization. Book sales are a great way to get a lot of books for cheap. Check out the prices of the books online before you buy them. The larger the margins, the better. If you're fulfilling using FBA, you can use the SellerApp FBA calculator to figure out your margins.
Online arbitrage
All you need to do is look online for book deals. Craigslist, eBay, and the Facebook marketplace are great places to start. Pick a book that is being sold for more on Amazon. Buy the book. Sell it on Amazon. Keep an eye out for expensive textbooks being sold by former students. These textbooks are often expensive and will nearly always be in demand once universities open back up.
Thrift shops and used book stores
Thrift shops always have a great deal. Used book shops are no different. With your phone and scanner in hand, check out every book that might net you a neat profit. This might take a while, but it is usually worth the effort.
Wholesale
This is pretty much the only way you can sell new books on Amazon. Buy a book in bulk. It doesn't matter from where. When you're buying in bulk, you're likely to get a better deal for each book. This usually has the narrowest margins, but if the books have a high turnover, you'll still be well in the green.
Don't forget, the more books you buy, the lower your cost will be – at least in most cases.
Selling books on Amazon: Sourcing tips
When you're sourcing a book, there are two key factors to consider – price and BSR.
We've already talked about the price. The higher the margins the better. This means you need to consider your shipping and other logistics costs before deciding whether a book is profitable to sell on Amazon.
When it comes to BSR, the better the rank, the more books that are being sold. This means a book with BSR #10 is selling more than a book with BSR #1000. What does this mean for the seller? To avoid stiff competition, SellerApp recommends selling books with a BSR between 10,000 and 200,000. This is a great way to ensure that you won't be drowned out by the competition and that your book will sell in the first place.
5. Selling books on Amazon: Tips and secrets
Now that you know how to find the books and how to list them, let's look at how you can optimize your bookselling operations on Amazon.
Sell textbooks
Textbooks are expensive, especially in the United States. Textbooks will always be in demand as long as there are students. This means textbooks have healthy margins and will always have a buyer – everything that an Amazon seller is looking for. Come fall, students are usually in a hurry to get their material. That means they are often willing to pay a premium if you can deliver the products quickly.
Seasonality matters
Just like any other product, book sales usually pick up during Q4. Books also make great gifts, I think we can all agree with that. This is why you should ensure you have sufficient inventory during Amazon's busiest quarter.
Not all books are created equal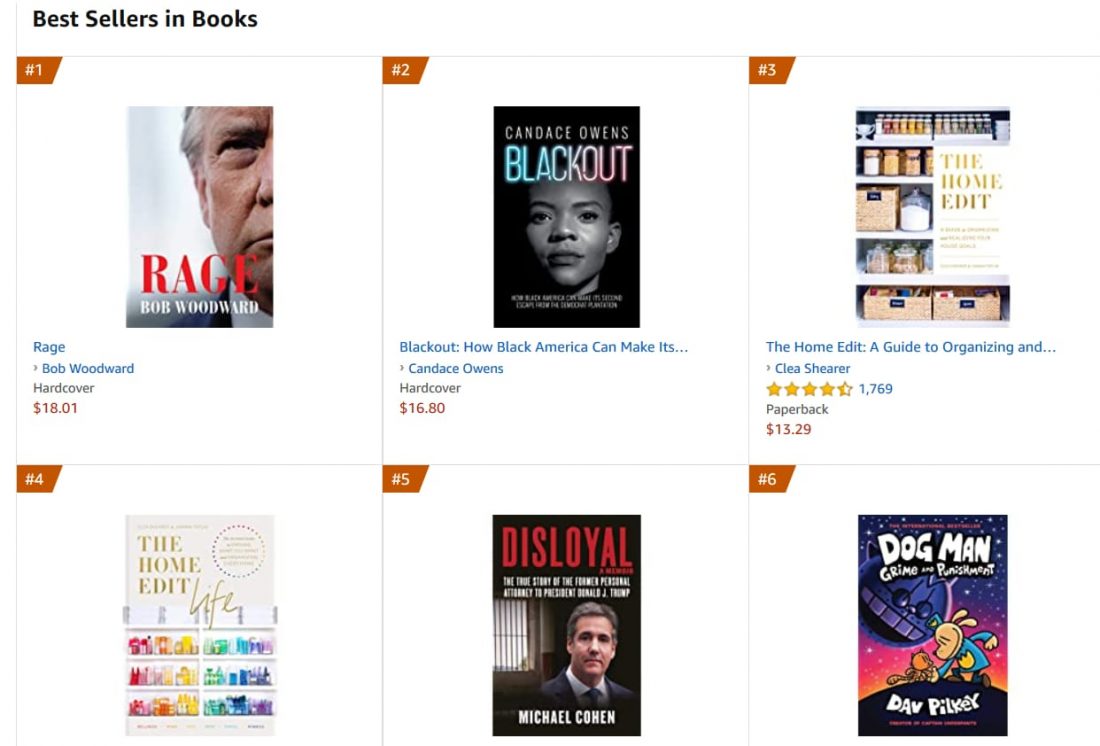 Look at the best sellers list on Amazon. Notice something in common? That's right, most of these books are non-fiction. This is because non-fiction generally performs better than fiction. This is not a universal rule of course.
In general, if you want to make money, I suggest finding and selling textbooks, and collectible editions. They generally fetch a good price. Comic books also sell well, especially if they're collectible issues.
Maintain your books
This isn't exactly a selling tip, but it will make you some extra money in the long run. This is important if you're an avid reader and you plan to sell the books you buy. The better you maintain your books, the more money you'll get for them when you sell them on Amazon. 'Like new' conditions should always be the goal.
6. Final thoughts
From an online bookstore to a retail giant, Amazon has come far. However, books continue to be a great source of revenue for Amazon and the millions of third-party sellers on the platform.
The key to successfully competing with established sellers on Amazon is a robust sourcing plan. Like any other product on Amazon, pricing can determine your sales velocity. Most of the time, you'll be selling used books on Amazon where the margins are slim. This is why sellers need to find books at the cheapest rate possible.
So, we've gone through the A-Z of how to sell books on Amazon in 2021. Do you still have any questions? We're always happy to answer. Let us know in the comments section below.

Customer Success Head at SellerApp
Customer success leader with expertise in coordinating between cross-functional teams in product development and strategy, professional services, sales, marketing and content to deliver excellent customer experience and accelerate growth within the company by ensuring clients' success.
Subscribe to SellerApp Newsletter