Amazon Buyer-Seller Messaging Update – Sep 2020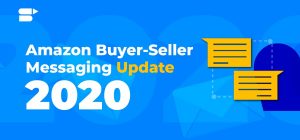 Amazon has recently updated its customer communication guidelines, including buyer-seller messaging policy. The new guidelines will go into effect on November 3, 2020.
As an Amazon seller, you need to stay updated with the changing guidelines and comply with the new information.
Let's dive right into the details.
Quick Guide:
Amazon customer communication updates – Important dates
Amazon is always making changes to its Terms of Service. Amazon has rolled out changes to its communication guidelines policy, on Tuesday, September 8, 2020. This includes changes in the buyer-seller messaging policy.
Amazon will start implementing the changes starting November 3, 2020. This means sellers have almost six weeks to align with these new changes. Amazon released these new updates in response to the concerns of third-party sellers and application providers as the communication policies with buyers were confusing.
With this new update, Amazon has clarified two main things:
You can ask buyers for reviews.
You can use a third-party application listed in the Marketplace store to ask for buyer reviews.
Amazon buyer-seller messages that are allowed
Amazon communication guidelines breakdown buyer-seller messages into two types; Proactive permitted messages and Necessary permitted messages. These permitted messages must be sent to the customer within 30 days of the original order.
Permitted messages: All the communications necessary to complete an order or respond to a customer service inquiry come under this category.
You can only send permitted messages to the customers who contact you with purchase-related queries.
Proactive permitted messages: Communications initiated by the seller, which are not responses to buyers' queries. These messages can be sent through email. You can send these messages in the following ways:
Go to Amazon seller central. In the orders page, you can click on the buyer's name and access the templated messages provided by Amazon
You can also use the Request a Review button on the order details page
Use Amazon API (Application Programmer Interface)
Pick a third-party application from the Amazon Marketplace store.
When you can use proactive permitted messages
You can send proactive permitted messages within 30 days of the order completion date. You can use this option for:
Resolving an issue that occurs during order fulfillment
Sending an invoice to your customer
Verifying a custom design
Requesting any information related to processing the order
Sending queries related to customer returns
Requesting a product review or seller feedback
Scheduling Amazon home services appointments
Scheduling product delivery for heavy or bulk items
You can also send these messages for any other reason provided it is related to the purchase order. You should send these messages in the customer's preferred language and include the 17-digit order ID in the email.
What you should keep in mind
First, you should know that requesting a product review and seller feedback is still allowed, according to the new communication guidelines of Amazon. If you are sending review requests using Amazon buyer-seller messaging service, you should be cautious about the content and the timeline to stay compliant with Amazon's guidelines.
Amazon Messaging Policy Update – What is not allowed
The following messages are not allowed, according to the Amazon buyer-seller messaging guidelines.
Shipping or order confirmations
Messages that have only 'Thank you.' Emails that offer assistance if customers have any issues
Promotional and marketing messages, which include coupons
Requests to remove or update an existing product review
Requesting for a review only if the shopper had a positive buying experience with the product
The language which encourages customers to leave a positive product review or seller feedback
A repeat request (for an order) asking for a product review or seller feedback
Amazon permitted message guidelines
While sending permitted messages, Amazon sellers shouldn't include the following:
External links unless they are necessary for order completion. These links should be secure and working
Attachments except for invoice, product instructions, or warranty details
Logos that contain or redirect to your website
Asking the buyer to opt-out of messaging
Email addresses or phone numbers
Sensitive information in text or images (e.g. violence/gore, bare skin, adult or offensive language)
Tracking pixels
Images that are not related to your company or brand
Earlier, Amazon allowed GIFs and emojis within your email correspondences. It was a reliable way to separate yourself from the rest. However, that is no longer allowed.
Apart from that, most of these communication guidelines, especially the ones about language and incentivizing customers for positive reviews, were already in place. However, you need to ensure that your brand isn't breaking any of the rules mentioned above. Be careful while adding emails, phone numbers, and external links.
Within the buyer-seller messaging, you shouldn't include the following:
📌 Emojis
📌 GIFs
📌 Overrides of Amazon's default line height, font family, or font color
📌 Fonts in more than three sizes
📌 Unsecure images (http instead of https)
📌 Spelling errors or grammar issues
📌 Message margins over 20% maximum width
📌 Message bodies that override default text alignment settings
📌 More than two line breaks in a row
📌 Accessibility issues specified in the Web Content    Accessibility Guidelines from the Web Accessibility Initiative
Order status messages
This is another form of direct communication with shoppers. Amazon gives the following guidelines:
Problem with Order Messages: Amazon sellers should communicate with buyers if the product, which was ordered by the customer isn't available to ship. As a seller, you are expected to use this messaging to update your customer on these issues.
Return-related Messages: Amazon product returns should be handled in the 'Manage Orders' section on your Amazon's seller central page. If you need any additional information to complete a return request or you want to offer a partial return, you can use this messaging to notify the buyer.
As mentioned, you can use these two communication types, if it is related to customer orders, and they are sent using your Amazon seller account.
Amazon shares order-related information with buyers using 'Your Account' updates. All the updates related to shipping and refund processing are included in this section. As customers expect timely communication of order status or refund process, we suggest you confirm shipping and refund processing quickly.
The bottom line
Amazon is making some major changes to the buyer-seller communication system to prevent sellers from manipulating or taking advantage of the system. Amazon buyer-seller messaging service allows for two-way communication between sellers and buyers. It is a great way to communicate and handle customer service queries and order-related issues. By imposing restrictions, Amazon is further tightening its grip on the buyer-seller communication service.
However, don't let these restrictions stop you from providing a great customer experience.
What do you think about the latest updates on customer communication? Let us know in the comments below.
Subscribe to SellerApp Newsletter