ECommerce is a rapidly growing industry, and this is reflected in the numbers reported by Statista. Global eCommerce sales are projected to reach $5.7 trillion in 2022, rise to about $6.3 trillion by 2023, and achieve $8.1 trillion by 2026.
At the same time, competition in all industries is getting tougher every year, and online retailers have to really make an effort to make their products stand out among so many other online offerings.
Online advertising strategy is the foundation of any e-retailer's success. As you prepare for 2023, it's a good idea to stay up to date with the latest eCommerce trends and be ready for what may happen in the upcoming years.
For the purpose of this article, we have selected 10 important trends based on several types of research from data companies and the recent Feed Marketing Report by DataFeedWatch, which analyses 15,000 stores operating in more than 60 countries and in 20+ eCommerce sectors.
Approximately 16.66% of products in all catalogs globally are not available for sale
Based on research presented in Feed Marketing Report 2022, we know that 16.66% of all products advertised online were out of stock in the first half of 2022.
This low figure indicates that many online retailers are slowly recovering from the supply chain disruptions in 2021 caused by the unexpected outbreak of the covid-19 pandemic.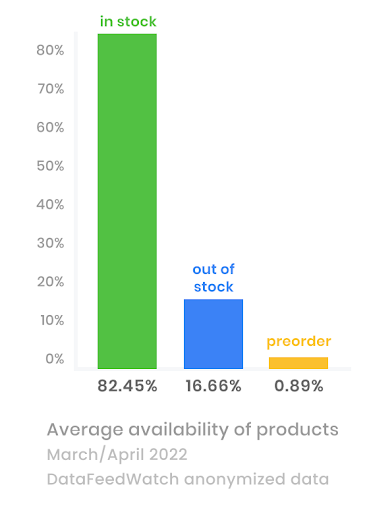 The US and EU markets were among the most affected when it comes to product shortages during lockdowns, however, from the 2022 data we can conclude that most of the advertised products in these countries are now available for purchase. Moreover, they are now ranked among the best-supplied markets.
The markets that have above-average stock levels in 2022 are the US with 85.61% available products, UAE with 89.26% items in stock, and the UK with 82.92%. Some EU markets also have impressive stock levels. In Denmark, 83.70% of all advertised products are available for purchase, and in neighboring Sweden, this figure is even higher – 92.14%.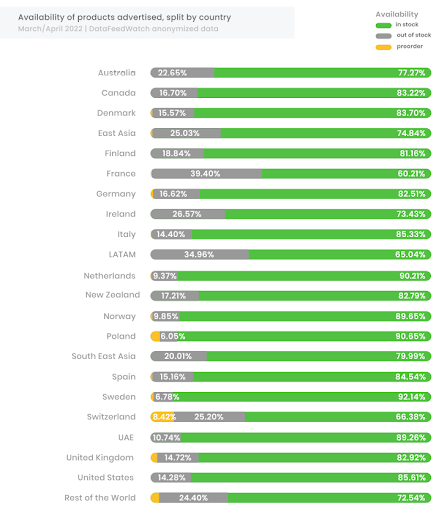 There are also discrepancies in product shortages between specific product categories. Industries such as Vehicle & Parts, Sporting Goods, and Cameras & Optics have been struggling a lot with a lack of goods throughout 2022:
Vehicle & Parts: 57.46% of products are out of stock
Sporting Goods: 40.09% of products are out of stock
Cameras & Optics: 22.29% of products are out of stock
Some eCommerce channels already are smart enough to automatically stop showing ads for items that are out of stock. Google Shopping is a perfect example. However, there are still platforms that will continue displaying products that are no longer available for purchase. Remember to always check every channel's policy otherwise you risk paying for clicks that have no conversion potential.
The best way to avoid advertising sold-out products is to ensure your data feed always contains up-to-date inventory information. If you use a feed management tool, optimizing this attribute shouldn't be a problem.
The social commerce market is getting bigger and will reach 2.9 trillion US dollars by 2026
Global social commerce sales are expected to reach 992 billion US dollars in 2022. By 2026, this figure is forecast to grow up to 2.9 trillion US dollars 2026.
These numbers clearly show us that selling and buying through social media platforms is becoming more popular every year. This is happening across a wide variety of industries in both the B2C and B2B markets. Channels such as Facebook, Instagram, TikTok, Pinterest, and Snapchat are becoming important revenue streams for companies of different kinds.
For a long time, social commerce was the domain of the B2C market only. This, however, has changed. Today, as many as 46% of B2B buyers use social media to find and search for information about available solutions for their business. 35% of them claim they browse social media for key information about specific products before making the final purchase.
When preparing your eCommerce strategy for 2023, you should definitely not overlook social media platforms. The only challenge is to choose those social media channels that best fit your business. You need to find out which platforms your target audience is present on.
Some social channels, such as Instagram or TikTok, allow you to sell directly through the platform, which can be an additional benefit that boosts your revenue.
More people buy on social media through shoppable posts
Shoppable posts allow social media users to buy your products through the platform. And this is becoming a total hit. According to Statista, approximately 97 million consumers in the US shop on social media platforms as of 2022, and this figure is growing constantly.
Advertisers create shoppable posts on Facebook or Instagram, which look like regular posts with one exception. They feature products and include links to those items directly in the post.
Shoppable posts are a very effective way to get more people to buy your products. To be successful with them, you need to keep in mind that social media platforms are very visual. You need to make sure that you choose high-quality and captivating images for these posts.
You can showcase multiple products in a single photo and link to each individual product page. Buyers who come across your post and become interested in one of your products can click on it and visit your store on Facebook or Instagram to learn more about the products. Then they may also check out other items you sell.
If they decide to buy something, they simply click a button to visit the product page in your online store and buy it.
Over 44% of online stores advertise on both Google and Facebook
Google Shopping and Facebook are the two most popular advertising channels among eCommerce stores, but they're hard to be compared. They work in completely different ways and they attract different audiences.
Google is actually a search engine that generates end-of-the-funnel conversions. Google shoppers have a very high purchase intent and search for very specific products that they want to buy. At the same time, Facebook users' primary intention is usually not to buy anything. Nevertheless, they are easily inspired by products showcased on the platform and make impulse purchases. Facebook campaigns are very useful to increase brand awareness among buyers.
44.18% of online retailers run product ads on both Google and Facebook at the same time. This high percentage should not come as a surprise as, in fact, these two channels complement one another perfectly.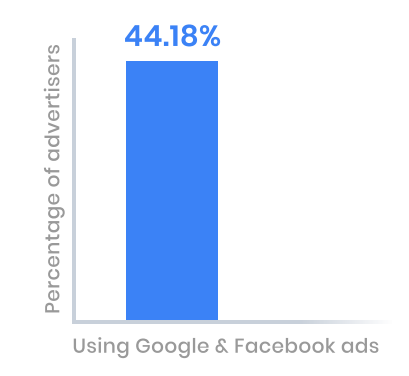 Given the fact that Facebook and Google are two top channels among online merchants, using them both gives you access to a huge number of potential future customers.
Remarkably, for 55.84% of e-sellers who advertise on both of these channels, the number of items included in the data feed differs between Google and Facebook. This shows that advertisers understand the key differences between these channels and take different factors into account when choosing a product set for each platform.
Over 27% of online shops include additional images in shopping ads
27.47% of online retailers include additional images in shopping ads. This is not a lot, considering that adding more images of the same product has a huge impact on the results of a particular ad.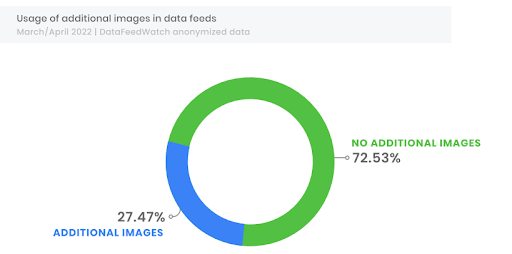 On average, every online retailer adds about 2.2 extra images.
By including multiple images of the same product, you are able to show this particular item from different angles (or with some staging elements). The flaw of online commerce is that shoppers cannot touch the product or be 100% sure how it really looks.
Adding more images helps your potential buyers leave as little as possible to the imagination, which is a good thing. You give online shoppers the best possible idea of what they are buying and in what ways it can be used. This also helps you with increasing conversion rates and reducing the number of returns. Your shoppers feel less anxious about purchasing products, they've never seen in reality.
In practice, you include the image_link attribute several times in your data feed. For example, Google allows you to add up to 10 additional images.
In 2022, Google introduced a brand new attribute. If you decide to add this field to your feed, you will get a chance to improve your ad performance by engaging your potential customers with additional images showing your products in more authentic settings.
Important tip!
All product images, no matter how good they are, lose their effectiveness over time. This phenomenon is strongest on social media. It is advisable to regularly test different types of photos (for example, regular vs. lifestyle) and replace product photos in ads with updated images from time to time.
80% of shoppers want to buy from a company that offers a personalized experience
The trend for customers' personalized shopping experience in eCommerce has been going on for some time and will continue through 2023. It has become an integral part of every successful online marketing strategy.
In fact, 80% of shoppers claim that they are likely to buy from a company that can give them a personalized experience.
Personalized or customized experience allows you to create an experience that is tailored to each individual customer of your business. It has been proven that it can increase the effectiveness of marketing spending by even 30%. Personalization also helps significantly increase customer engagement and loyalty.
Most shoppers feel appreciated when a brand is able to offer them products tailored specifically to their needs. They want to come back to this kind of company to make purchases again and again.
Since personalization is such a widespread strategy, in order to be successful with personalization in 2023, you should work out the right approach by focusing on the key components of a buyer's journey. If you do it right, you'll see your sales increase in no time.
And what if you don't personalize your customers' shopping experience across all channels in 2023? You will probably lose them to brands that invest in knowing and fulfilling their customers' needs.
Some ways of personalizing your customer's shopping experience:
Personalizing emails (creating and delivering content tailored to a specific customer's interests, using a subscriber's name in an email, etc.).
Using retargeting to remind potential customers about products they were previously interested in
Personalizing product recommendations based on product pages that your potential customers have viewed
And more
Many B2C companies are already doing great jobs in personalizing their offers. The B2B market is still learning from them, as it's a bit behind. Almost 40% of B2B buyers claim to have experienced a poor level of personalization when buying online, meaning irrelevant marketing and messaging.
Fashion, Beauty & Furniture retailers lead in discount strategies
In general, 26.49% of all products advertised across paid channels are on sale. Many product discounts are the answer of online shops to the global uncertain economic situation caused by the Covid-19 pandemic. This includes factors such as rising inflation and supply chain disruptions resulting in significant price spikes.
Discount strategies are expected to become more and more popular throughout 2023.

The level of discounts differs between industries.
The Apparel & Accessories sector is a leader in implementing discount strategies with 36.98% of products being on sale. It is followed by the Health & Beauty sector with 33.12% discounted items and the Furniture sector with 32.77% items sold at a promotional price.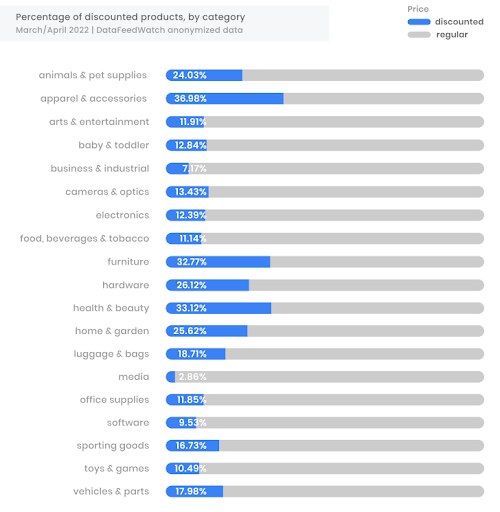 Incorporating product discounts into your online commerce strategy is a very effective way to get new customers and boost your revenue. However, it should always be well thought through and analyzed. Thanks to discount implementation you get higher conversion rates but at the price of a lower profit margin on the on-sale products. You earn more because you sell a bigger number of products but you earn less on each individual item.
Amazon and eBay are the hottest pair among marketplaces
In Feed Marketing Report 2022, we can find some statistics on the global use of online marketplaces. Those platforms were included in the data sample: Amazon, Beslist, Bol, eBay, Fruugo, Houzz, Manomano, Miinto, OnBuy, Spartoo, and Vida.
Online retailers using marketplaces often advertise on more than one of them. The typical choice of e-sellers running a multi-channel strategy is Amazon and eBay. Up to 68% of retailers decide to go with this duo, which in fact beat any other channel pairing up to 13 times!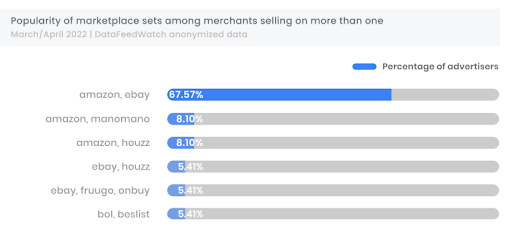 Let's face it. Amazon and eBay are two marketplace giants and their popularity is undeniable at this moment. Shoppers actually find both of them as very effective platforms for discovering new products or brands and online sellers are very aware of that.
What is important for advertisers using more than one marketplace is to pay special attention to the alignment of orders and stock information in the product feeds submitted to each marketplace to avoid overselling.
Once you are successfully selling in your chosen marketplaces, there is a simple way to increase revenue which is to expand to other countries. After a platform approves your listing in one country, it's much faster and easier to start selling in others.
No way to go without a wide range of modern payment options heading into 2023
According to Statista, digital and mobile wallets are responsible for around 50% of eCommerce payment transactions globally, making them the most widely used online payment method.
It is expected that mobile wallets will continue to transform the eCommerce world in 2023. With 426 million active users, PayPal is one of the largest online payment gateways. 7.8% of all online shoppers across the globe made an online payment via PayPal in 2020. This figure rose to 8.2% in 2022 and is projected to reach 9.1% in 2025.
Shoppers abandon their shopping carts for various reasons, but one of the most common ones is an overly complicated payment or checkout process. If they encounter problems completing the purchase, they will look for another online store where the buying experience is nicer and the payment action less difficult.
New generations entering the market expect a variety of payment options, and online retailers are being challenged to meet their demands. Some modern ways of conducting online transactions include:
allowing mobile wallets
purchasing directly through shoppable posts on social media
using one-click checkouts
Over 73% of online shoppers use more than one channel during their customer journey
At the turn of 2022 and 2023, all online businesses probably know how important it is to track the buying journey of potential customers and determine whether certain leads are likely to convert.
Consumers use digital media for a wide variety of purposes, and they typically visit many online places before making a final purchase. Their online activities include searching for products, reading articles, using many different apps, and visiting social media. Even if you can't see it at first glance, there are always some intersections and connections in these uses.
As many as 73% of eCommerce consumers claim to use multiple channels during their customer journey, before ultimately buying a product.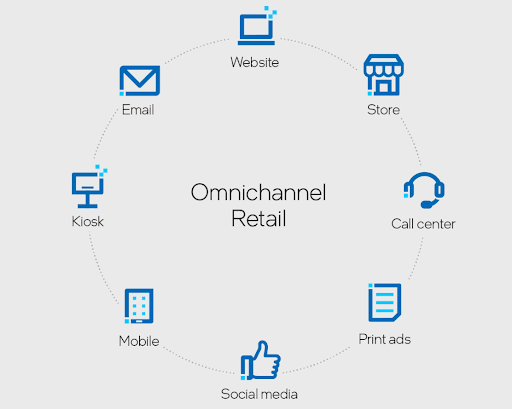 All of this adds up to the fact that online retailers will need to focus on omnichannel sales in 2023. Only by applying this strategy, they will be able to track customer interactions and behaviors across all channels without losing context.
Some omnichannel experiences that you should be delivering are:
Providing flexible fulfillment and return options
Enabling store employees to access customer account details to improve customer service
Making sure that your stock level is reflected in real-time online
Investing in AR and other modern technologies to create the most natural online shopping experience possible
Brands that can deliver seamless omnichannel shopping experiences and eliminate friction between digital and physical locations will continue to thrive in 2023 and beyond.
Summary
The eCommerce industry is constantly changing, and the only way to stay in the game is to adapt to new trends.
Business decisions should always be made on the basis of real data and never on gut feeling. We hope our 10 eCommerce trends will help you understand which market opportunities to take advantage of and which pitfalls to avoid.
Was this post helpful?
Let us know if you liked the post. That's the only way we can improve.