In today's 8fig review, we're going to be exploring the benefits and features of the funding and planning platform for e-commerce businesses.
Imagine what your business could do if you didn't have to worry about cash flow.
What could you accomplish if you knew you had all the cash you needed to stock up on supplies, work with the best freight providers, and ship items to customers around the world? That's the question 8fig attempts to answer for e-commerce business leaders.
8fig was designed to help e-commerce businesses scale their operations and unlock new opportunities. Aside from flexible funding, 8fig also offers comprehensive planning tools built to assist sellers in mapping out their supply chains, managing cash flow, and improving overall decision-making.
Whether you're selling on marketplaces like Amazon or operating independently, 8fig aims to give you both the funding and resources you need to thrive.
Let's take a closer look at what 8fig can do for your business.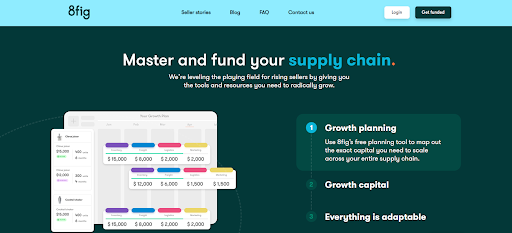 8fig is a growth partner for e-commerce businesses. In other words, the platform doesn't just offer funding, but a comprehensive toolkit for store development. It provides a combination of dynamic, continuous financing as well as virtual solutions for managing supply chains, cash flow, and business planning.
Founded in 2020 by supply chain, e-commerce, and finance experts, 8fig aims to address the core challenges e-commerce leaders face in driving growth.
Unlike other financing and funding solutions, 8fig doesn't offer support based on revenue but instead allocates cash according to your business's projections. This ensures that you have more flexibility over your funding process. You can even submit change requests for your funding in a matter of seconds.
8fig optimizes your payback schedule according to your cash flow and gives you enhanced flexibility, with each batch of inventory getting its independent funding line. Remittance isn't based on interest either – it's based instead on a fixed cost of capital – so you have more scope to plan.
Beyond providing funding to cash-strapped e-commerce businesses, 8fig also provides the much-needed tools businesses can use to streamline and manage supply chain processes. 8fig's free planning tool helps you allocate the funds according to where your business needs it most and at the most optimal times conducive to store growth and a healthy cash flow.
8fig Review: The Core Features
8fig's core features break down into two main areas: supply chain management and planning software, and capital support. 8fig's dashboards are user-friendly, replacing complex and unreliable spreadsheets with line-based visuals mapping out a business's supply chain and tracking products according to unit economics and other crucial metrics.
In addition to tracking the funding received, the platform can also help with forecasting sales, managing logistics, setting revenue targets, monitoring trends, and benchmarking against competitors.
The Central Funding Dashboard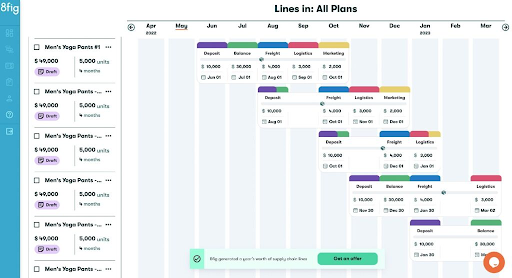 Within the core dashboard for 8fig, you'll find a comprehensive landscape in which you can construct an independent supply chain "line" for each different product you sell. This helps sellers calculate the capital required to produce, market, and deliver each batch. You can input your numbers and dates for deposits, freight, logistics, balances, and marketing.
The dashboard includes 3 core components:
Line lab: The line lab allows users to build a plan for sustainable growth, one batch of inventory at a time. You'll be able to visualize your business production schedule according to expenses, target dates, deposit amounts, marketing budgets, and more.
A Line: The line tracking technology shows you how well you're performing in the context of your projects. It offers insights to help businesses adapt to changing market conditions and make modifications to their funding and business approaches over time.
Change requests: The change request section allows you to react quickly to unforeseen requests. You can make rapid change requests to update your projects, and alter your funding and payback strategy according to your needs.
After users fill out the information required within the funding dashboard, the ecosystem runs a profitability check to ensure the business can generate revenue based on its current plan. If you discover you'll end up with a deficit, you can go back and make changes to your supply chain strategy, looking for ways to cut costs or increase profit.
Once you've completed a line for each product, 8fig will also automatically create a plan with lines for the next couple of years (2 years by default). This helps sellers visualize their revenue and budget requirements every month, and gives them a comprehensive timeline to work with.
8fig Funding Options
Notably, one aspect that separates 8fig from other funding providers is that they don't give you pre-set packages to apply for. The funding solutions are entirely bespoke, to suit the needs of different businesses and their requirements. The entirety of the funding process involves the store owner explaining to 8fig how much capital they think they will need, backed up with data analysis and projections.
To ensure your plan is viable after you make your initial funding proposal, 8fig calculates the numbers on your behalf to check the validity of your projects. They then create a custom "Growth Plan" for your business. This is the only funding package offered by 8fig, and it's tailored to each company's specific needs. As such, 8fig's Growth Plans are intended to support the rapid scaling of your e-commerce venture. What's more, 8fig is willing to provide virtually unlimited access to ongoing funds.
The Growth Plans include:
Access to continuous capital
Operations and management support (CFO and COO level)
No equity requirements
Who is 8fig Funding For?
While just about any e-commerce business can apply for funding from 8fig, there are some caveats. You will need an active online store to apply for financing, and funding is not provided for businesses with only physical retail stores. Hybrid models, such as online retailers with both physical and online stores, can be eligible for 8fig funding.
You'll need to run your store on a well-known platform, such as a marketplace like Amazon, eBay, or Walmart, or an e-commerce stores builder like Shopify or Wix. As of today, to be eligible to receive 8fig Growth Plans, your e-commerce store needs to have a significant volume of sales in the United States. However, you can still apply for funding if your store is based outside of the US, and if it meets the aforementioned requirements.
Perhaps the most important thing to point out here is that 8fig is designed to offer "continuous funding" to e-commerce stores. In other words, it's not a solution for startup capital. 8fig works with businesses that already have a proven track record in their industry.
However, you don't necessarily need a vast sales history to receive funding. To be eligible for 8fig's Growth Plans, according to its website, you must have owned and operated your online store for 6 to 12 months or more with revenue exceeding $100,000.
Additionally, we should also point out that 8fig's funding is based heavily on supply chain analysis. During the application process, you'll be asked to estimate the size of your next batch of inventory and provide information about your supply chain stages and expenses.
The 8fig Sales Dashboard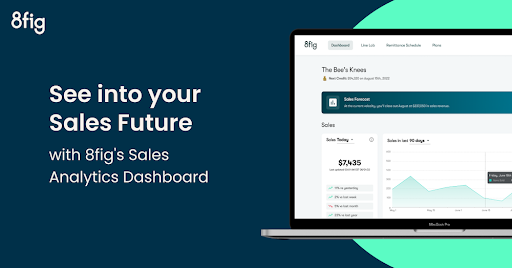 As mentioned above, 8fig isn't just a funding provider. The company is a growth partner, with the goal to help with all aspects of e-commerce growth – not just financing. Outside of the funding, you'll also find other tools to help you analyze your e-commerce business's performance and accelerate growth.
For instance, 8fig offers a comprehensive Sales Dashboard, which provides useful insights from data and metrics surrounding your supply chain, cash flow, and even competitor benchmarks. Notably, the Sales Dashboard is free and available to all e-commerce sellers, regardless of whether or not they're receiving funding from 8fig.
The Sales dashboard includes the following tools:
Sales Summary: The Sales Summary tool provides a quick overview of your total sales over a specific time period (a day, week, month, etc.). You can dive deeper to analyze trends and fluctuations in sales, and the solution updates with real-time data, too.
Sales Graph: Designed to help you visualize your data, the Sales Graph tool can display sales over custom ranges of times, providing clear insights into macro and micro changes. This helps you to adapt quickly to real-time changes.
Sales Forecast: The Sales forecasting tool provides insight into monthly revenue projections and helps you to understand whether or not you're on the right track to meeting your sales goals. You can also use the data to adjust your sales targets.
Product Trends: With the product trends feature, users can see which of their products are generating the most revenue and opportunities, as well as which items might be underperforming. This helps you to make adjustments, which can boost revenue.
Forecasted Revenue Breakdown: The Forecasted Revenue Breakdown tool dissects your revenue into specific COGS categories, so you can identify weaknesses and strengths in your cash flow easily. This ensures you can use your capital correctly.
COGS Benchmarks: Through the COGS benchmark feature, you can compare your COGS with other similar e-commerce brands. This ensures you can see how your spending stacks up against the competition.
The 8fig Mobile App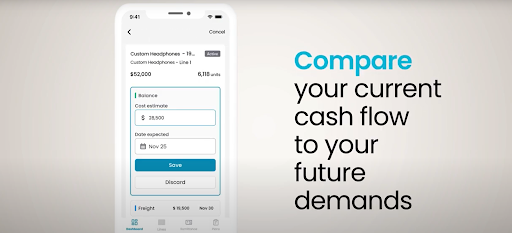 One of the benefits of working with 8fig is that it doesn't limit you to accessing your data and tools only from a computer. Running an e-commerce business often involves being on the move, and 8fig has a mobile app to suit those needs.
The 8fig mobile app allows users to:
Access the sales dashboard:
You can tune in to your sales dashboard remotely, accessing important information about sales metrics, forecasts, KPIs, upcoming COGS, and more, all without having to turn on your laptop.
Leverage real-time notifications:
The 8fig app can help you to stay informed about what's happening in your business with real-time sales projections and notifications. You can receive alerts when you're running low on inventory, if sales go up or down, or if your demand projections are different from what you expected.
Monitor your growth plan:
You'll be able to monitor what's happening in your Growth Plan from anywhere in the world. You can dive into the plan in detail, viewing upcoming remittances and payments, as well as tracking supply chain flows via Lines. The Line lab is also accessible, so you can track and plan every batch of inventory over both the long and short term.
Adjust upcoming lines:
If your business needs to suddenly change track, you can add changes to your business as quickly as necessary using your mobile device. Adjusting upcoming lines will allow you to stay up-to-date with new orders, changes in expenses, disruptions, delays, and anything else that might be thrown your way.
Submit change requests:
Within the Change Requests section of the mobile app, you'll be able to change any aspect of your Growth Plan in real time to reflect what's happening in your e-commerce business. You can access change requests anywhere, at any time.
The 8fig mobile app is currently available to download and use for free from either the Google Play Store or Apple App Store. 
8fig Freight Capabilities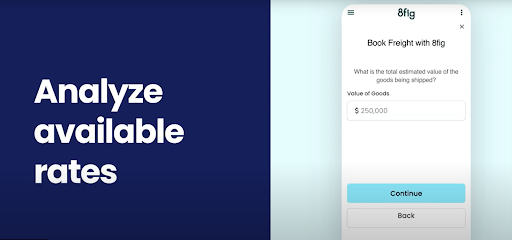 Another feature offered by 8fig is the "Freight with 8fig" solution. This is a relatively new service within the 8fig platform which streamlines the process of requesting and receiving quotes and information from shipping and freight services. You can also pay for freight requirements directly from within the platform using 8fig funds.
The Freight with 8fig service gives e-commerce businesses access to competitive and exclusive prices and rates they may not be able to find elsewhere. This can be particularly useful for smaller and growing brands that are still working on building relationships with logistics providers.
All sellers need to do to access the functionality and the competitive repayment rates offered by Freight with 8fig is to enter a few details. You'll need to provide information on upcoming shipments, and 8fig will handle the rest for you.
8fig Ease of Use: How Simple Is It?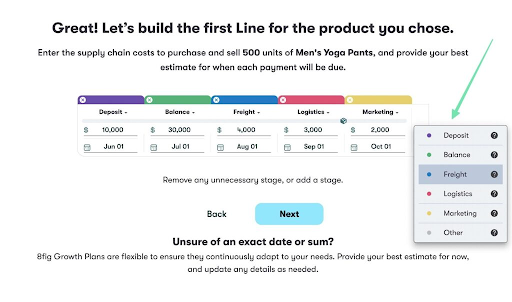 8fig strives to make all of its services as streamlined and as simple as possible for beginners. Although you will have to fill out some forms and enter some details to create your Growth Plan, this ensures that the funding you receive will be tailored to your specific needs.
Getting started is simple. Business owners can sign up for an account in a matter of minutes, answering a few questions about their regular income and their preferred selling platform (such as Amazon or Shopify). Online stores connect directly to the 8fig platform so that 8fig can analyze the health of the business without having to fill out heavy paperwork.
Currently, 8fig works with experienced wholesale and private label sellers on Wix, Shopify, Amazon, BigCommerce, eBay, WooCommerce, and Magento.
Once you've connected your store, 8fig will examine metrics like your sales projections, unity volume, and revenue trends. You can then input the amount of capital you believe you need to fuel your growth, using the 8fig core funding platform to help you with planning lines and expenses.
Using all the information provided, 8fig determines how much funding you are eligible to receive. You then have the option to examine the offer, approve it and agree to the terms before accepting the financing. The capital is strategically deployed according to cash flow demands, rather than given in a lump sum, so you can use it effectively towards your supply chain's most pressing needs, whether it's ramping up your marketing campaigns, expanding your product lines, or just ensuring your most valuable items stay in stock.
Once you're set up with an account on 8fig, using its various features and tools is straightforward. The platform's interface is crisp and streamlined, from the funding platform to the sales dashboard.
Most users will have no trouble navigating through funding requests, products, profiles, remittance schedules, and more. Plus, you can set up custom notifications based on your requirements if you want to be kept in the loop about any changes.
8fig Security and Customer Support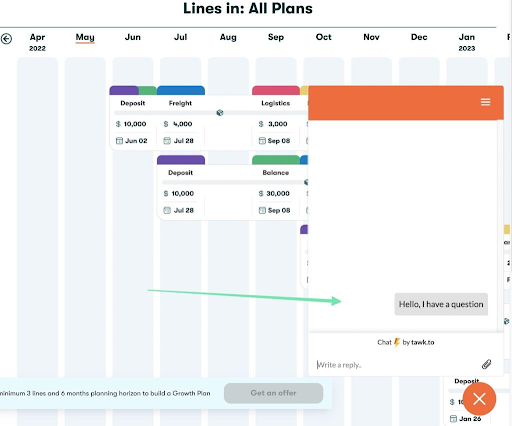 From a security and privacy perspective, 8fig holds itself to the highest standards, much like many financial companies. As the privacy policy for the company outlines, private information collected about a client is kept secure and credit card information is never stored. 8fig also uses industry-standard measures to protect against unauthorized access or disclosure of your information.
When it comes to customer support, 8fig offers a number of ways for customers to get help from their team and resources. There's a blog and FAQ section on the website where you can find some useful information answering questions about funding and other 8fig services. The company also regularly hosts webinars, where you can learn how to become a better e-commerce seller, expand into foreign markets, and more, with guidance from industry-leading professionals.
For direct contact with 8fig, you'll need to reach out through a dedicated email address or the contact form on the website. The support team is available 24/7 and aims to get back to customers as quickly as possible. While there's no phone number available for the company, you can reach out to them on a number of social media channels if you're struggling to get a response.
Generally, 8fig's support is fast, knowledgeable, and friendly.
8fig Pros and Cons
No matter what kind of service or solution you want to access for your business, there will always be pros and cons to consider. While 8fig offers an excellent service for e-commerce growth, it may not be suitable for every brand. Here are the core pros and cons you'll need to think about:
Pros:
Flexibility: The capital you can access grows with your business. As you scale, your funding opportunities will scale too, providing you with almost uncapped resources.
Bespoke support: Rather than giving you a range of pre-set funding strategies to choose from, 8fig tailors its solution to suit your business's needs.
Comprehensive toolkit: Alongside capital support, you can also access valuable tools for projecting your growth, tracking metrics, and managing freight.
Mobile app: The 8fig mobile app makes it easy to monitor important information about your business on the go, so you're always tuned in.
Less restrictive: Because funding is based on your future potential, you're not restricted by the historical performance of your company.
Customization: You can easily make changes to your funding strategy and plans based on changes as they happen in your company.
Limited personal risk: You don't need to put down any equity or collateral, so there's minimal risk.
Cons:
Only for e-commerce brands: You will need an active online store to get started with 8fig. The company doesn't support retail stores that have zero online presence.
No startup capital: 8fig only works with established businesses (although you only need 3 months of sales history). It's not a startup funding company.
Only in the US: 8fig currently only caters to e-commerce businesses that have a significant volume of sales in the US.
Finishing Thoughts
Overall, 8fig offers a flexible and easy-to-use solution for e-commerce businesses looking to scale. The platform's wide range of planning and supply chain management tools go hand-in-hand with the optimized funding 8fig provides. The recent additions of the mobile app and freight capabilities represent the company's continued expansion of its platform, which seems to be headed in the direction of becoming an all-in-one e-commerce management platform.
Was this post helpful?
Let us know if you liked the post. That's the only way we can improve.