Do you work with digital agencies or freelancers to manage Google ad campaigns?
If so, you most likely have to share your Google Ads account with the account manager, freelancer, or employees.
But here's the problem – sharing your Google account username and password can compromise the security of your business, especially after sharing your password with other members of your team, which may give you thoughts on how secure is my password after giving this sensitive information.
With plenty of sensitive information tied to your Google account, including access to Gmail, contacts, and financial information, it's not worth the risk. Plus, Google has other security systems, making it difficult to log in even if you share your login credentials.
It's a hassle you don't need.
Luckily, there's a better way to share your account without having to share your password. In this post, we'll show you how to do it.
Let's get started!
How to share access to Google Ads accounts without sharing a password
First, log in to the Google ads account you want to share access to.
Click on the "Tools and Settings" option from the top navigation bar.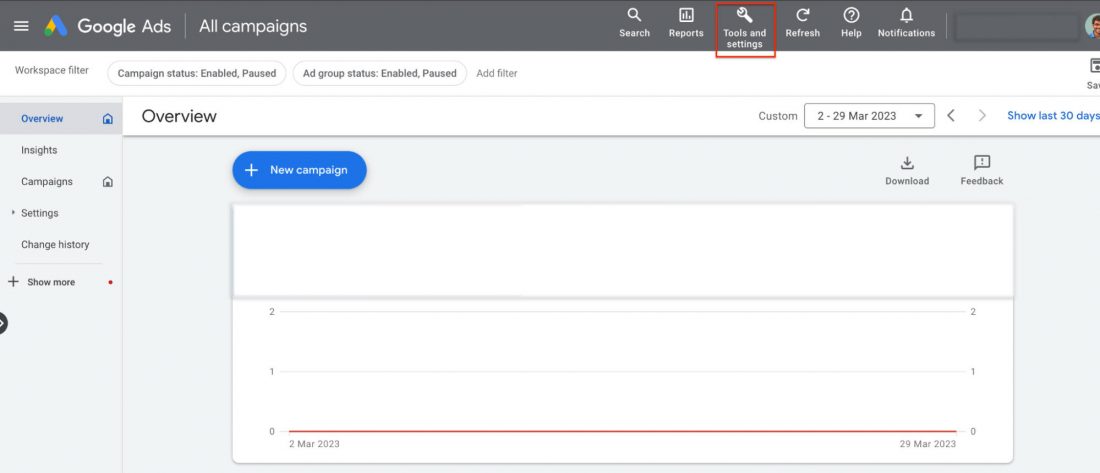 From the drop-down menu, select "Access and Security."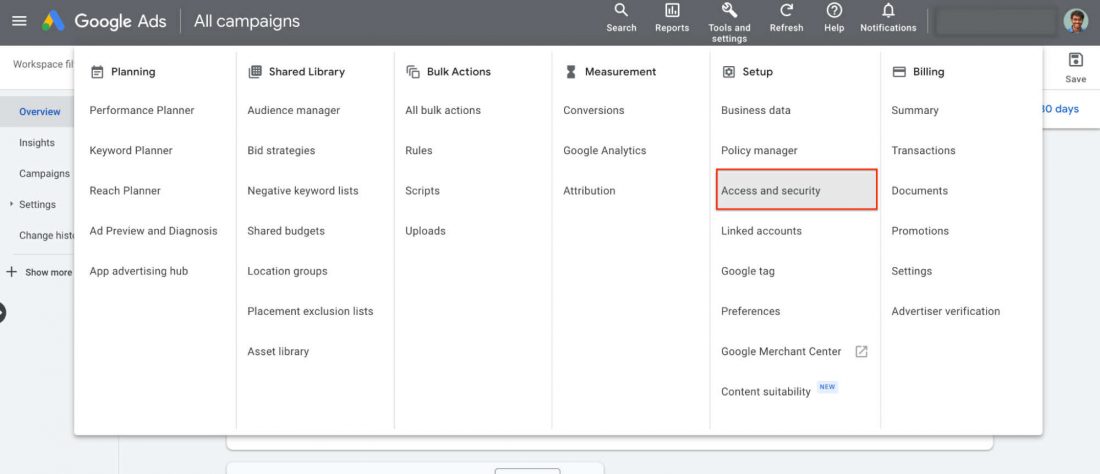 On this page, click the blue plus button to add a new user.

Next, enter the email address of the user to whom you want to give access. Additionally, choose the level of access you want to give to the user.

Email-only: The user can view your account reports only.
Billing: The user can view and edit billing information.
Read only: The user can view all account information without editing
Standard: The user gets access to all information except edit products links and users
Admin: The user gets full access to the ad account.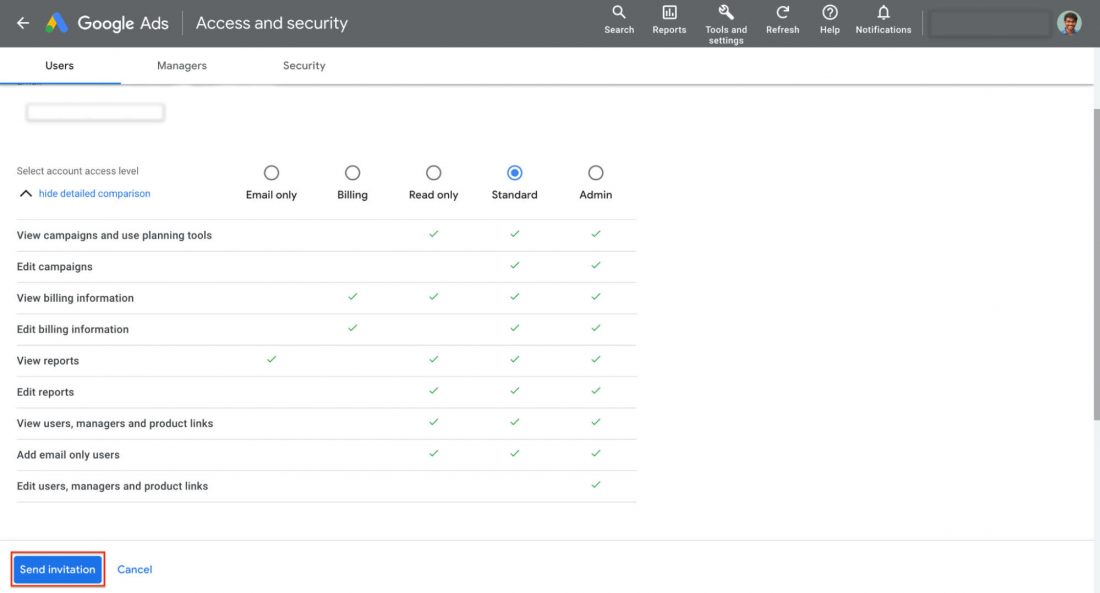 Once you have added the new users' email IDs and selected the desired level of access, click on the "Send Invitation" button below.
The user will get an invitation in their email like the following: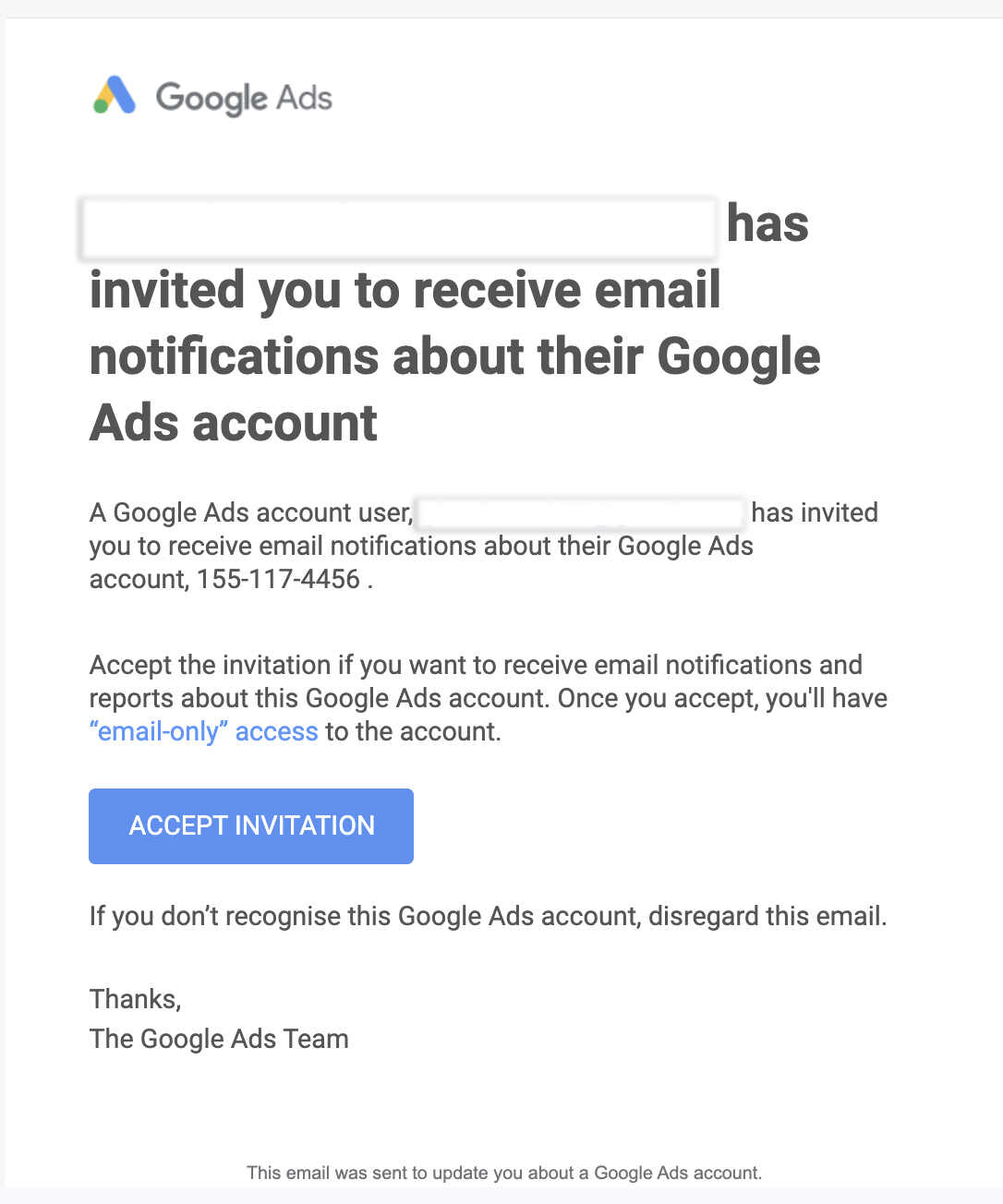 Once they click on the "ACCEPT INVITATION" button, they'll get access to your Google ad account—no more sharing passwords with other people.
Final Thoughts
In conclusion, sharing your Google Ad account with others can be risky, particularly if it involves sharing login credentials with others.
However, you can minimize the risk by following the simple steps outlined above while allowing others to view and edit account information as needed.
Want to know more about PPC? Schedule a call with us, and our experts will help you with everything related to creating a successful PPC campaign.
Was this post helpful?
Let us know if you liked the post. That's the only way we can improve.