What is Amazon Brand Registry & Why Is it Important? Ultimate 2018 Guide
Amazon has introduced the brand registry program for sellers to help manufacturers maintain their product identity and to initiate trusted product customer experience. Amazon brand registry existed for quite a while but has gained momentum after 2017.
What is Amazon Brand Registry?
Amazon Brand Registry helps you protect your intellectual property (such as patents & Copyrights) and it creates an accurate and reliable experience for Amazon customers
TABLE OF CONTENTS
If you are a new manufacturer who has something unique to offer to the market, there are certain things you need to be careful of. For instance, rival sellers can try to catalog the same products on their page and the worst are those who attempt to re-brand your product as their own. How do you combat all that, manage an identity of your own and make a living at the same time?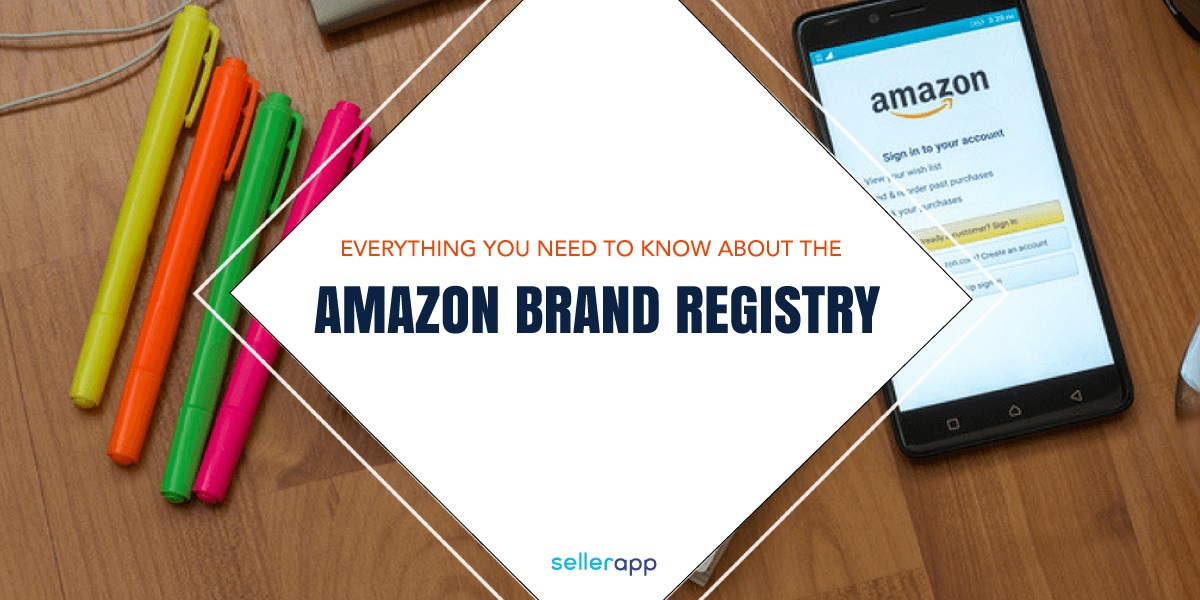 Here are some reasons why you should consider enrolling in the Amazon Brand Registry Program. You:
Have the unique product(s) to offer

Want complete control of your brand image

Are traditional manufacturer/Sole Proprietor or a Dealer

Your products are rare and handcrafted

Are the only supplier of a product that is traditionally produced by someone else
When you register with Amazon, you claim your brand image and protect your products from being replicated by others. It also helps maintain your brand quality.
Why Is It Important? What Do I Need to Know About it?
When it comes to Amazon product listings, certain sellers have more control over the listing than others. Those with the least control are the multiple vendors who sell branded products on Amazon. If there is no information about the brand owner, these sellers can contribute and change the product images, title and description. However, Amazon will not accept their suggestion if the brand is already registered on seller central. If you have registered your brand on seller central, you are the brand owner and therefore have complete authority on the name, description, photos, and listing. Other vendors cannot change the listing, images or re-brand your product. This will also put you in the position where you can act against those who try to re-sell or re-brand your product, and brand registry helps you to secure your branding.
Some Things To Keep In Mind Before Registering On Amazon
Taking on the Brand Registry Program may not be as complicated as you may think. It is a step by step process that will give your brand an official identity within a matter of days.
You Must Have A Website
Remember, your brand must have its own website for it to be recognized on Amazon. When you register your brand on Amazon, you must connect it to your Amazon account. Do make sure your contact information, name, email id and phone number is on the front page of your website. Make sure the given information on your website is same as the one you provided to Amazon. This will help Amazon verify your brand and the process will be much faster. Any mistakes here can delay the process of approval.
Logo
You must also ensure that your brand has its own unique logo. There have been cases when Amazon rejected the registration of a product because of an unclear logo.
Amazon does not approve of stickers which is why you must ensure that your logo is engraved on your product and your packaging and is clearly visible on your website.
If the product is very small like a ring or a watch, it is not possible to click a photo where the logo is visible, in this case, a clear image of the logo on the packaging should be acceptable.
Product Number
Most manufacturers like to purchase a unique product code (UPC) or European Article Number (EAN) before they start listing their product. You can easily purchase a UPC beforehand but in case you don't have a UPC Amazon will give you a catalog number or a manufacturer part number (MPN). This is a hassle-free process where you can apply for the MPN number when you fill out the application form.
In Case Of Distributors
In case you are selling a product that is branded by someone, else you must have an authorization certificate. Amazon already has an authorization template ready for second party sellers. Which is why it is fairly simple – all you have to do is receive a signature from the brand owner as an approval to sell their brand on Amazon.
Brand Registry Benefits For Amazon Sellers
If you aren't convinced already, here are some benefits that might push you further to register your brand on Amazon.
You Are In Control: If you are a seller and are yet to register your brand, you would know exactly how frustrating it is to open a case with Amazon every time another seller goes ahead and changes the images or the description of your listing.
After you register your brand on Amazon, you are in complete control of the images, title, and the description. No one else can copy your images or your product description, nor can they change the photos or descriptions of your products.
Product Suppression: This often happens to those who haven't registered their brand on Amazon. If a product featured in your shop receives a complaint, Amazon will automatically suppress or withhold, the visibility of your product until you prove that you are the owner of the brand. This can be a tedious process where you can lose out on many sales.
If you have your brand registered with Amazon, the chances of this happening are almost nil. This is because Amazon has already approved your brand. The only instance where your product can get suppressed is if it is poorly ranked by a majority of customers.
Amazon Listings: Another benefit is that your brand will not be merged with other listings. You will get your own unique brand listing for Amazon brand registry.
Amazon Buy Box: The Amazon Buy Box is a product detail that appears on the bottom right of the product purchase page. It allows customers to buy more products from the same seller.
Many shops on Amazon have seen a boost in the number of product purchases after adding the Amazon buy box.
The reason why it generates sales is that not every seller can feature it on their purchase page. Sellers must compete against each other to get the Amazon Buy Box. Once you register your brand on Amazon you get the Amazon buy box along with it. This ultimately helps you generate more sales and rank your products higher than your competitors.
Enhanced Brand Content: The Enhanced Brand Content (EBC) on Amazon is a feature that is only available to registered brands. It allows you to make unique product proposals with high-quality images and descriptions. Just like the Amazon buy box, the enhanced brand content helps you stand out. You can add high-quality images and add descriptions that will attract customers towards your brand. This is important when you are just starting out with your brand on Amazon. Studies show that many brands make an income on Amazon after they avail the EBC on Amazon.
Headline Search Ads: Headline Search Ads (HSA) is the product advertisement that you find in the top center of the Amazon homepage. This is another facility that is available to you once you have registered your brand on Amazon. The fact that it is visible as soon as buyers open their homepage, makes it a key tool to build traffic around your brand and listings. This also helps generate sales and helps you stay ahead of your competitors.
Amazon Trademark Registration Limitation
Though the benefits exceed the limitations by a large margin it is important to keep a note of them. Do keep in mind that some products are not eligible for Amazon brand registration. This includes books, Music DVDs, most creative content, and collectibles.
Secondly, the Amazon Brand Registry program is not a full proof technique.
It does not stop other sellers from selling your product, but it exemplifies the difficulty for them to sell your brand. Firstly, they have no rights to the images and the description of the product and secondly you can ask them to it take down at any given time. This makes it exceptionally hard for non-brand represent to sell your brand.
It is not difficult to apply for your brand registration, but it is important to correctly fill the form the very first time. If your logo or product images are not clear, it may take longer for you to re-apply for the registration. So, make sure you get it right the first time.
How to Set Up Brand Registry On Amazon
You will get the Amazon brand registry application form on sellercentral.amazon.com.  The form is extremely straightforward and easy to fill.
When you register the brand name on the application, make sure it is the same as the name on your website. So, for instance, your brand name is 'MYBRAND', You cannot register it as My Brand or my brand. A small mistake like this can result to a rejection.
Lastly, when it comes to picking a category for your product, you can pick as many categories as you like, so long as they are interconnected. For instance, you have a brand related to fashion and the latest trends you can list your brand under 'clothing', 'beauty' and a few other categories that will describe it accurately. But remember to carefully choose the categories for your product. Do not clump unrelated categories together as this will make the approval process really tedious.
If you sell a variety of products that are not connected to each other, you can register each of their brands individually. You will require a website with your contact information (name, phone number, business address and email ID) on each brand.
Once you submit the form, Amazon will send a verification code to the firm that filed your trademark. Earlier it was possible for companies to register their brand without trademarking it. Recently, with the increase in competition and product catalogs and a remarkable increase in the number of applicants, Amazon pays great value to brands that already trademarked their product. So, make sure you trademark your product before you register your brand.
Before Start Registering Your Brand Check this Amazon Trademark Search Tool
How Do I Know If The Process Was Successful?
So, you have filled the form and are awaiting their approval. How do you know if the brand is approved by Amazon? Here are a few simple ways to do so.
Once you see the unique identifier on your product (the UPC, EAN etc) it is confirmed that your brand has been approved by Amazon. Sometimes Amazon assigns Global Catalogue Identifiers if you are the only person selling that unique product. If you see an Amazon Standard Identification Number (ASIN) it means your brand is yet to be approved. So, keep your eye open for identifiers.
Using Enhanced Brand Content
If you are denied EBC this means that Amazon is yet to approve your brand for various reasons. So, try to play around with your brand profile and see if you make progress.
Amazon Brand Registration Help
The most convenient way is to call the Amazon Service Centre. A customer care representative would be happy to tell you if your brand has been registered. They will also help you solve any issues for which your brand is denied registration.
If you are a small manufacturing company, a sole distributor or one who has a unique product for the market, it is highly suggested that you register your brand in the program. Benefits like the EBC, HSA, Amazon Buy Box will give you a head start on your business. It also gives you complete control of your brand. You are in control of the products you display, your logo and product descriptions. This is important if you want to maintain the integrity of your brand. Make sure to fill in the form carefully so that your brand is registered after your first try.